Transform the humble cut of beef into a flavorful comforting dish! A tough cut of beef is cooked with aromatics and braised in brandy and red wine until tender.
It screams comfort food. A big scoop of brandy braised beef and its fantastic gravy on a bed of creamy mashed potatoes will be sure to put a big satisfying smile on your face.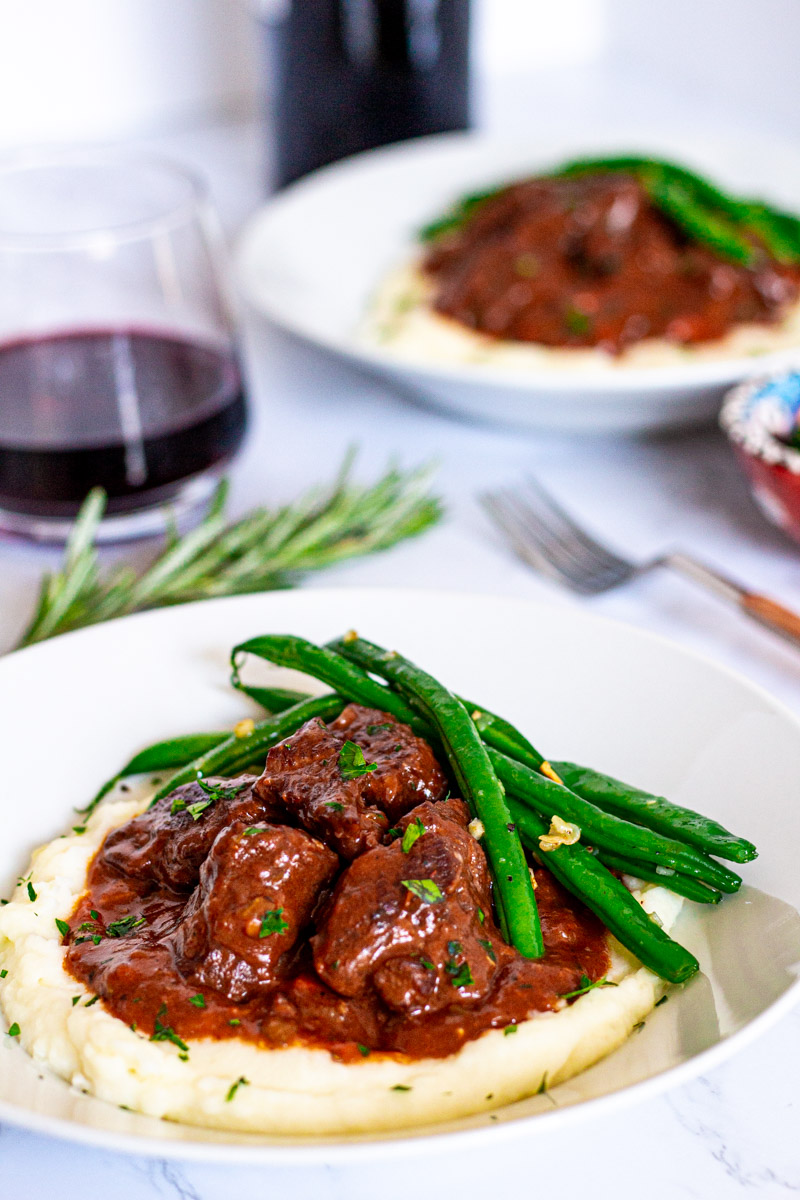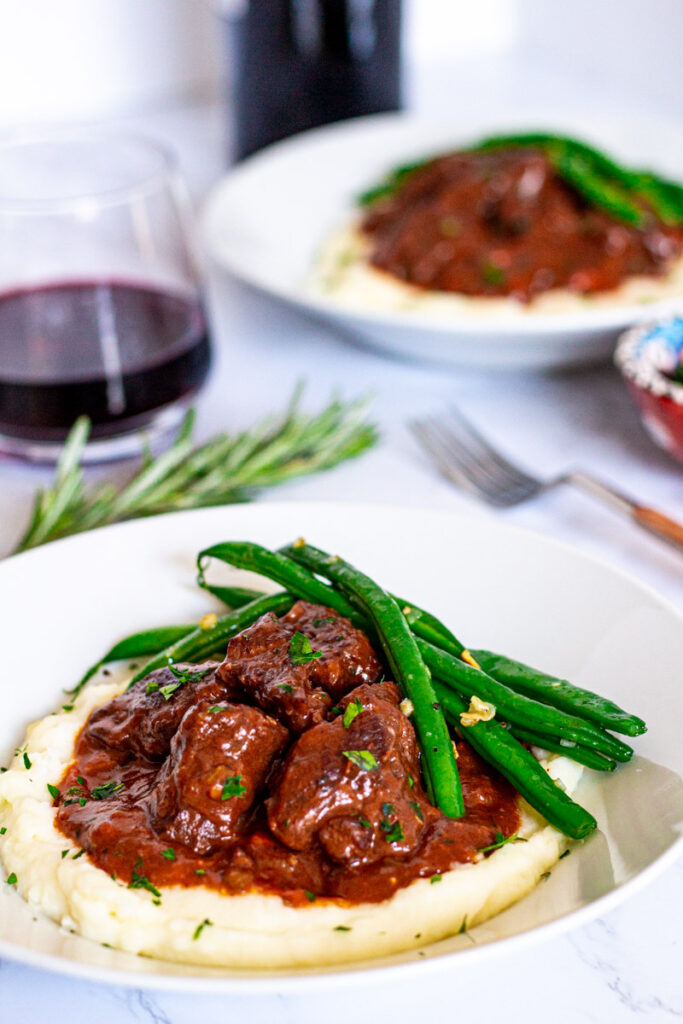 Ever since I worked as a cooking instructor at a local cooking school (TSpoons Cooking School), I have been collecting recipes that I absolutely adore. Chefs at my cooking school were kind enough to let me share the recipes on my blog. This is one of the many great recipes from courtesy of TSpoons Cooking School.
Jump to:
What is braised beef?
Braising is a cooking method where the meat or vegetables are browned at a high temperature, then slowly cooked in a cooking liquid. Well-known braising dishes are pot roast, chicken cacciatore, coq au vin, beef bourguignon, and tajines.
What's the difference between braising and stewing?
Although stewing and braising use the same cooking method, stewing is when your meat and/or vegetables are completely submerged in the cooking liquid.
Another difference is that braised dishes usually use a large cut of meat whereas stew dishes use a much smaller cut of meat.
So technically, this particular dish that I'm sharing with you today is somewhat in between braising and stewing because we will be using a smaller cut of beef with a little more liquid and reducing the liquid at the end to make gravy.
Ingredients
There are 3 main components to the dish. The beef, aromatics, and liquid.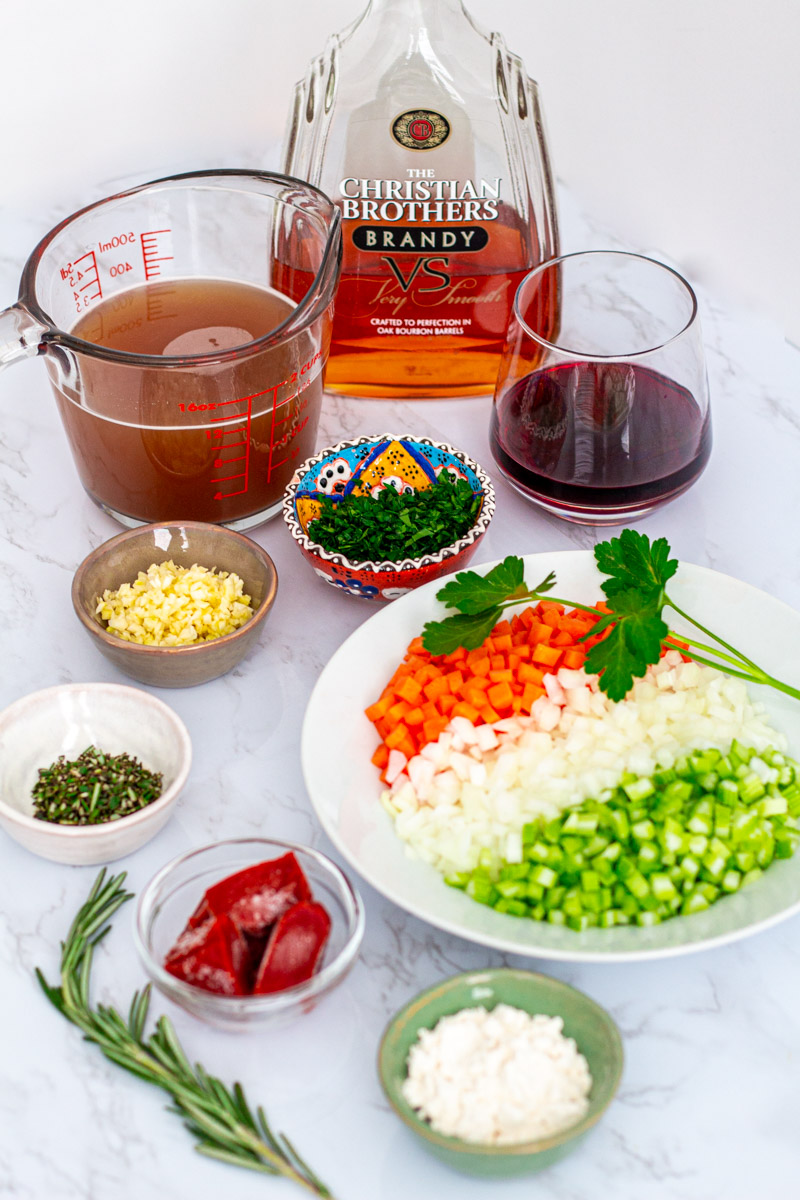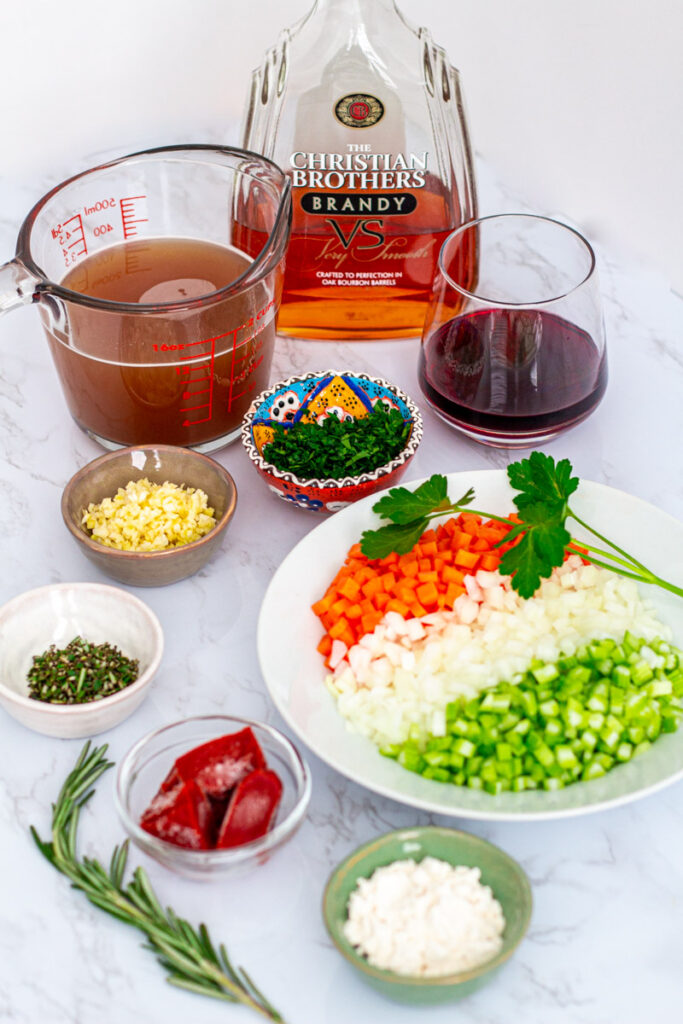 Beef - Chuck roast (also known as center-cut chuck roast, chuck center roast, chuck pot roast, and pot roast beef)
Aromatics - Onion, celery, carrot, garlic, and rosemary
Liquid - Brandy, red wine (any dry red wine), and beef broth
See the recipe card for quantities.
Steps to make brandy braised beef
There are 6 steps to make this dish.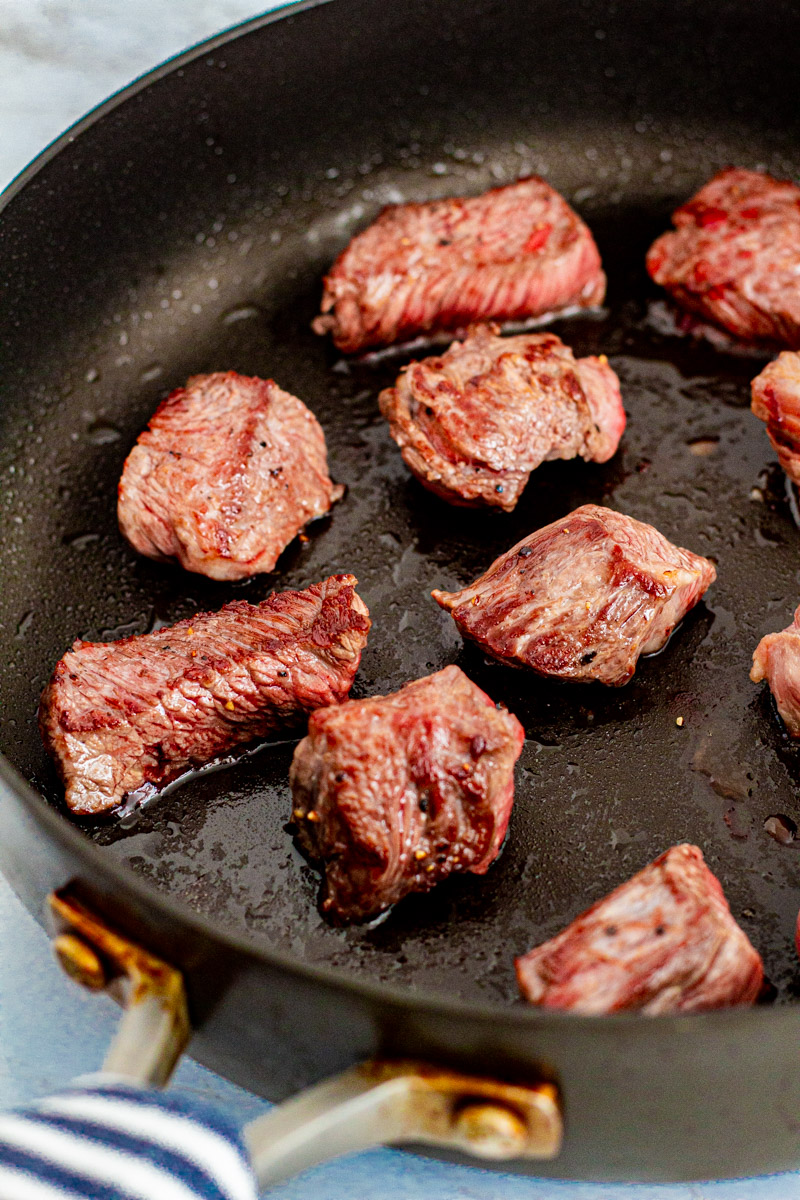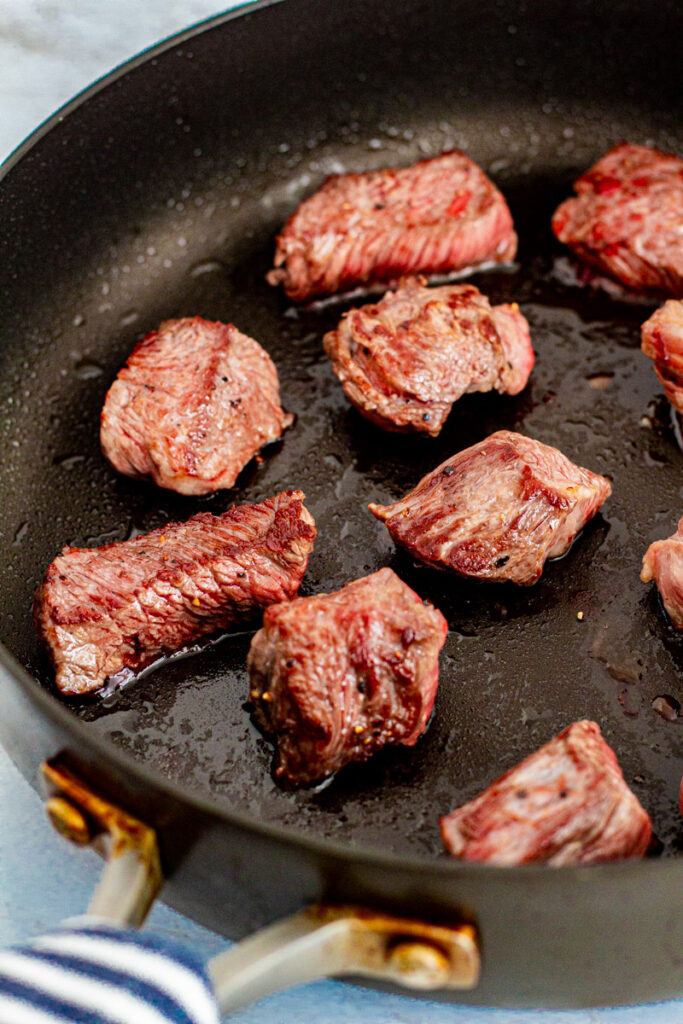 Sear the beef - brown the meat to maximize the deep meaty flavor and color. This is to develop a nice sear on beef rather than cooking them through.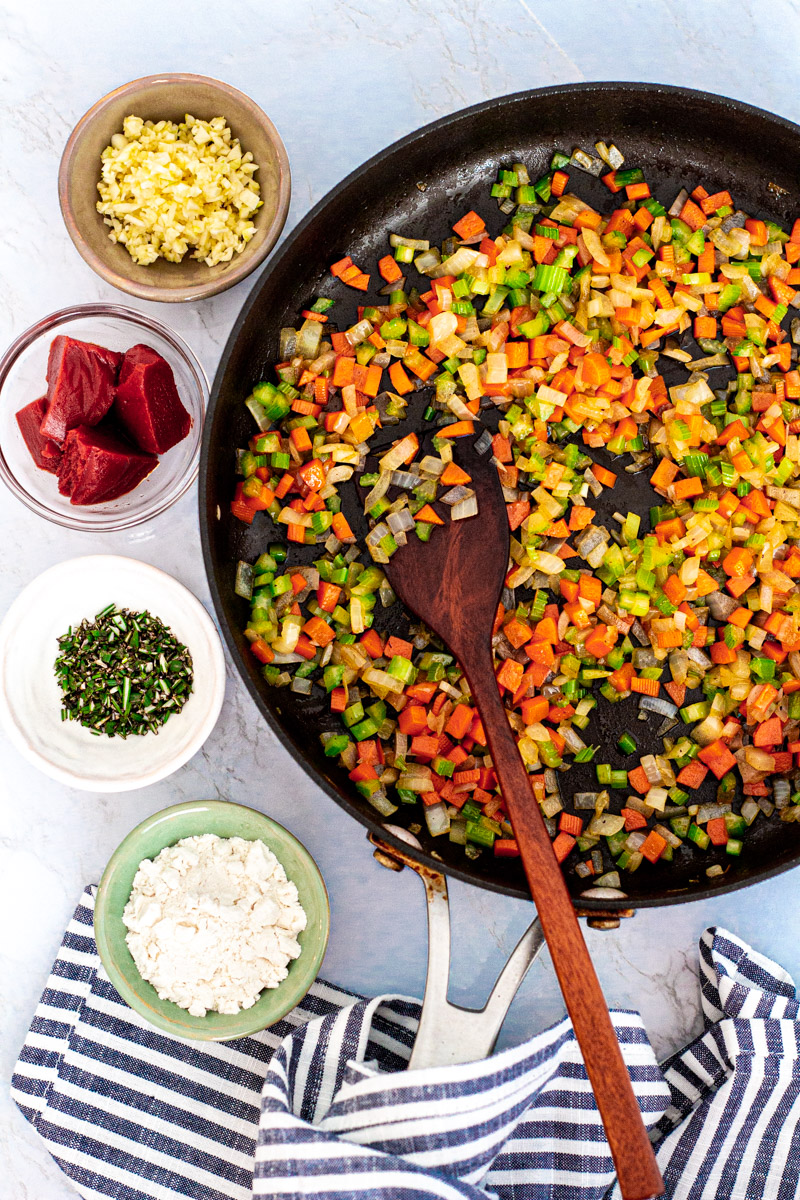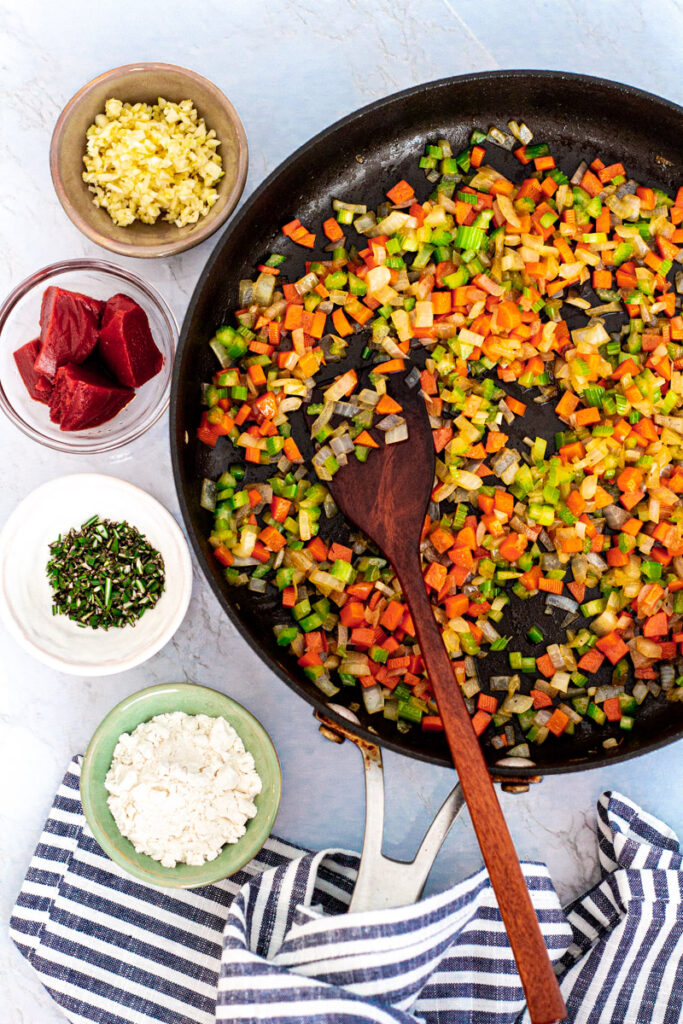 Cook the aromatics - adding onion, celery, carrot, garlic, and rosemary to build flavors. I highly recommend using fresh rosemary in this recipe. Try freezing the fresh herb in olive oil and storing them in the freezer.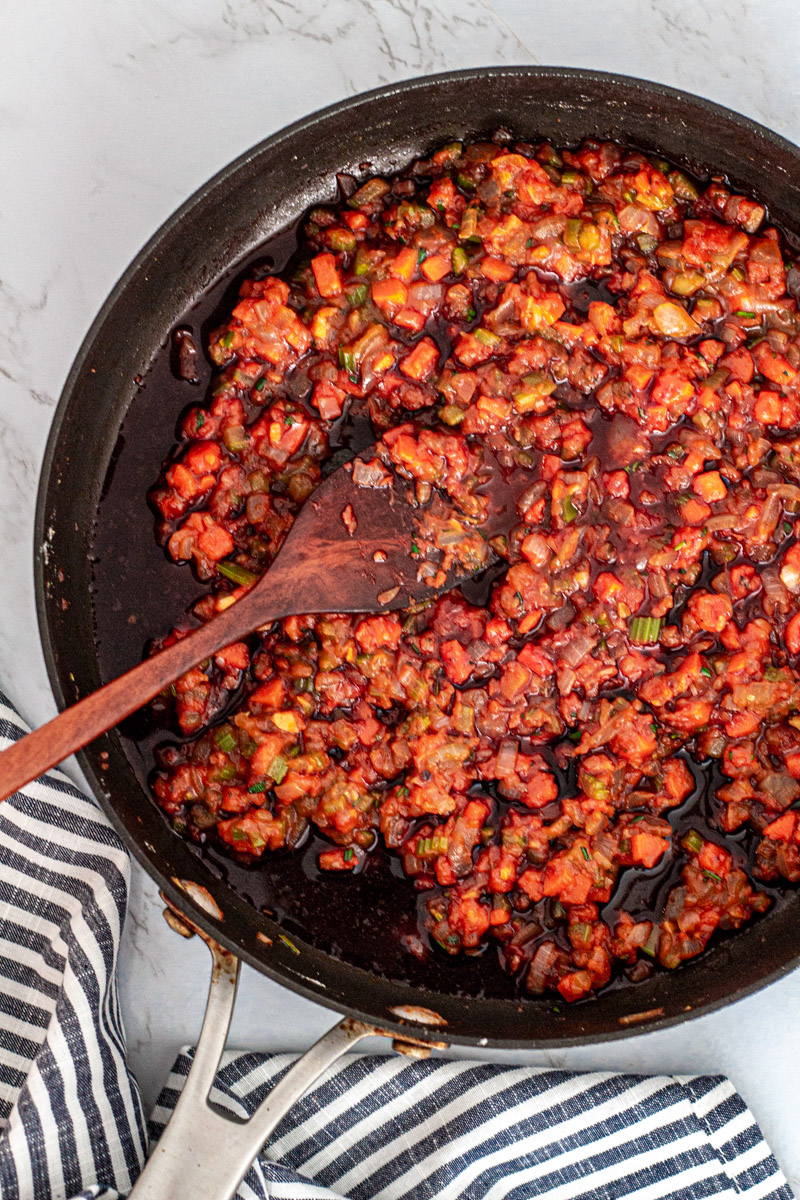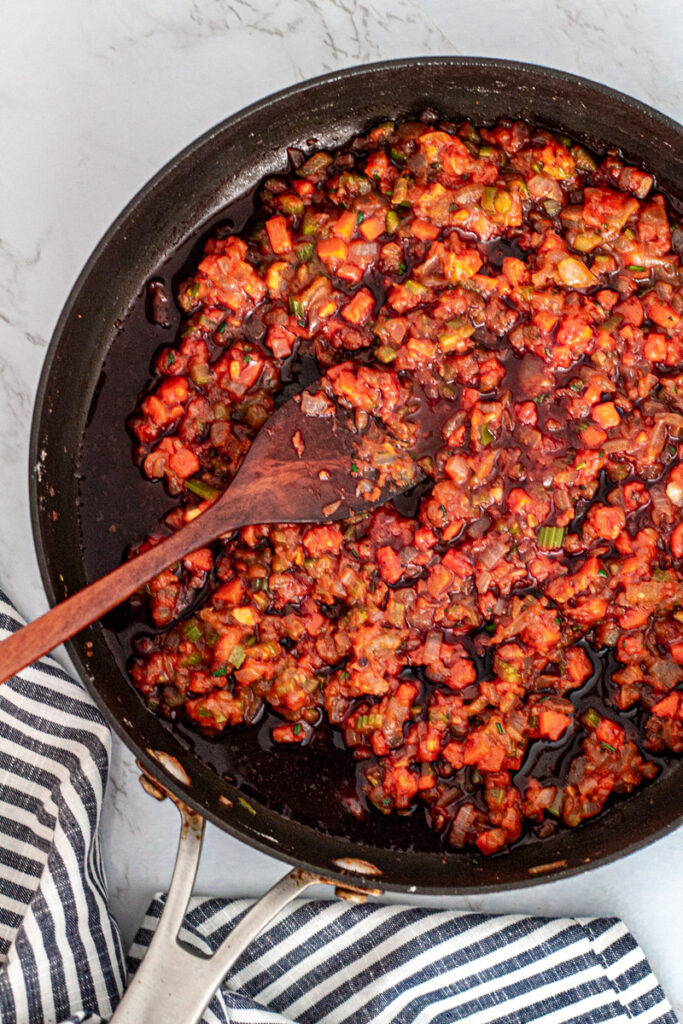 Deglaze the pan - adding brandy and wine will lift any brown bits in the pan (a.k.a delicious flavor bits).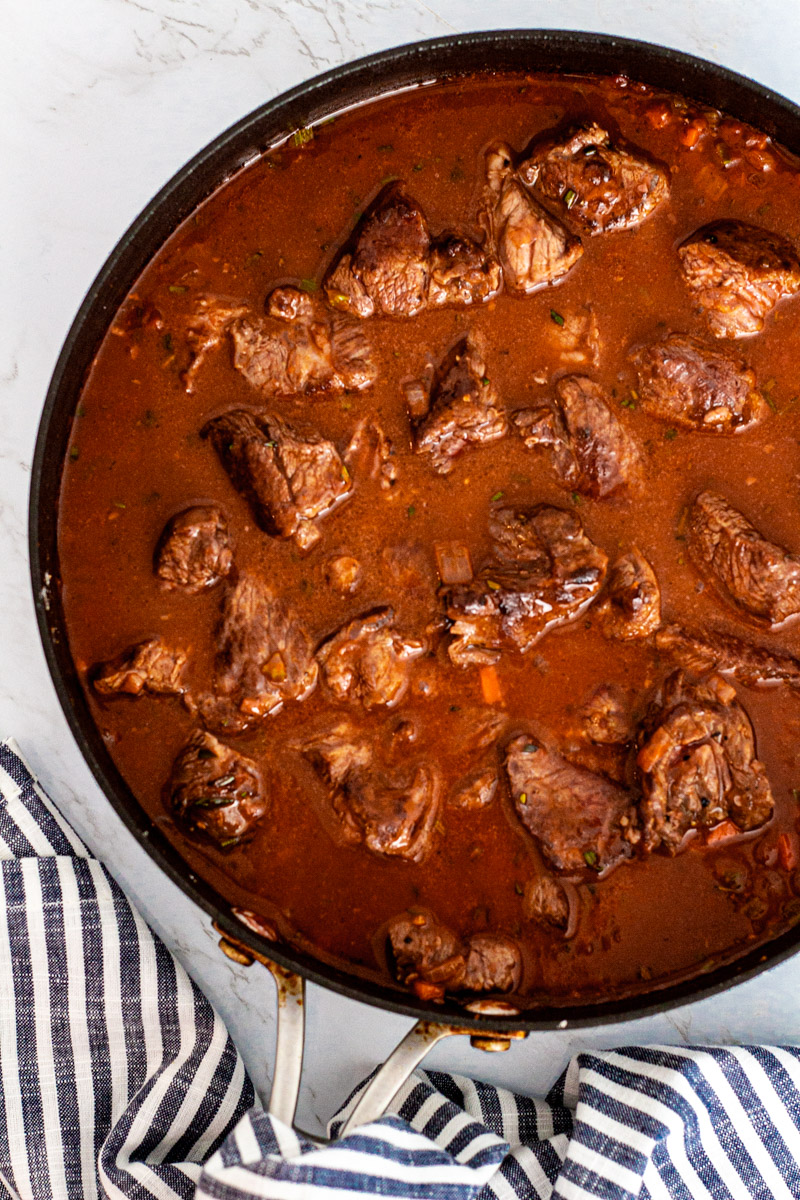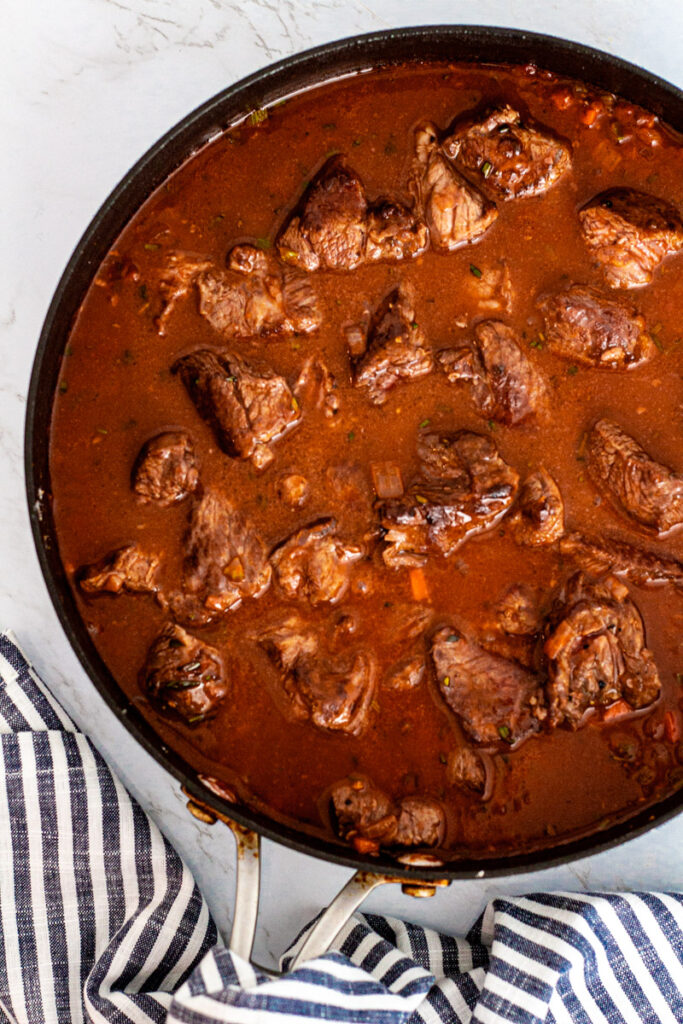 Add the beef broth to fortify the beefy flavor in the dish. And add the seared beef back into the pan/pot. Don't forget to add back all the collective juice from the seared meat.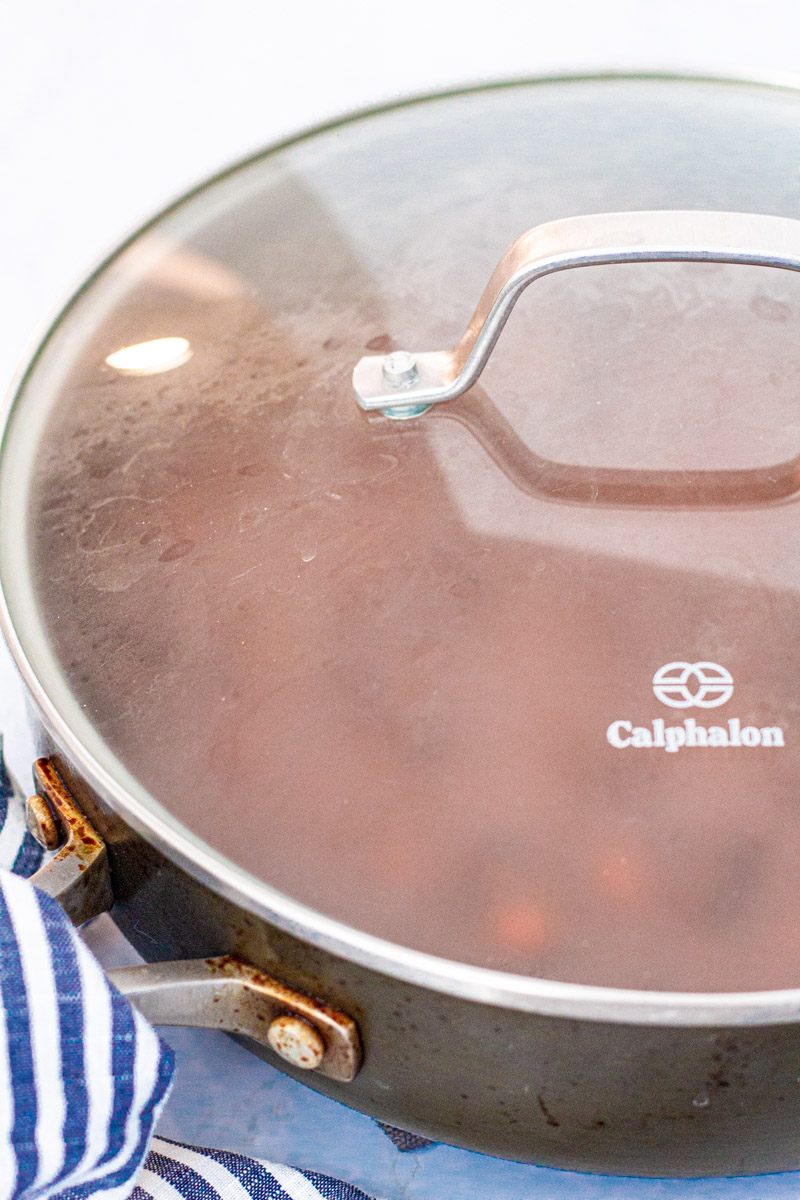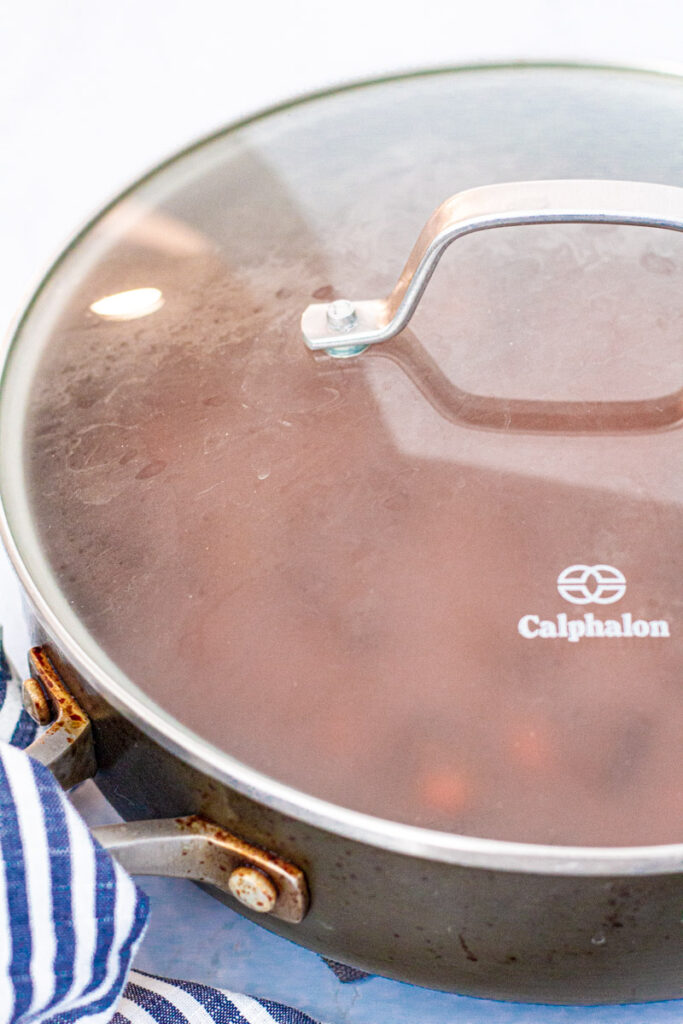 Simmer - Place a lid on top, cook it low, and slow until the beef becomes tender about 1.5 to 2 hours.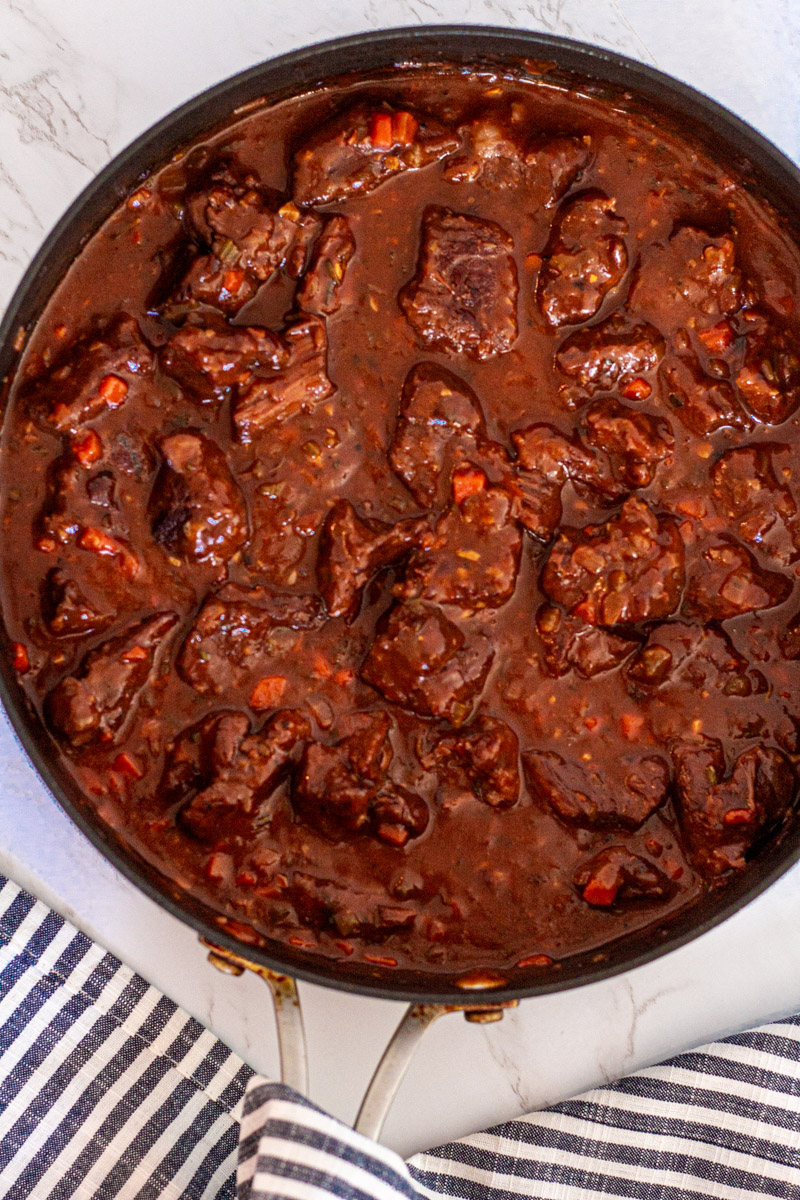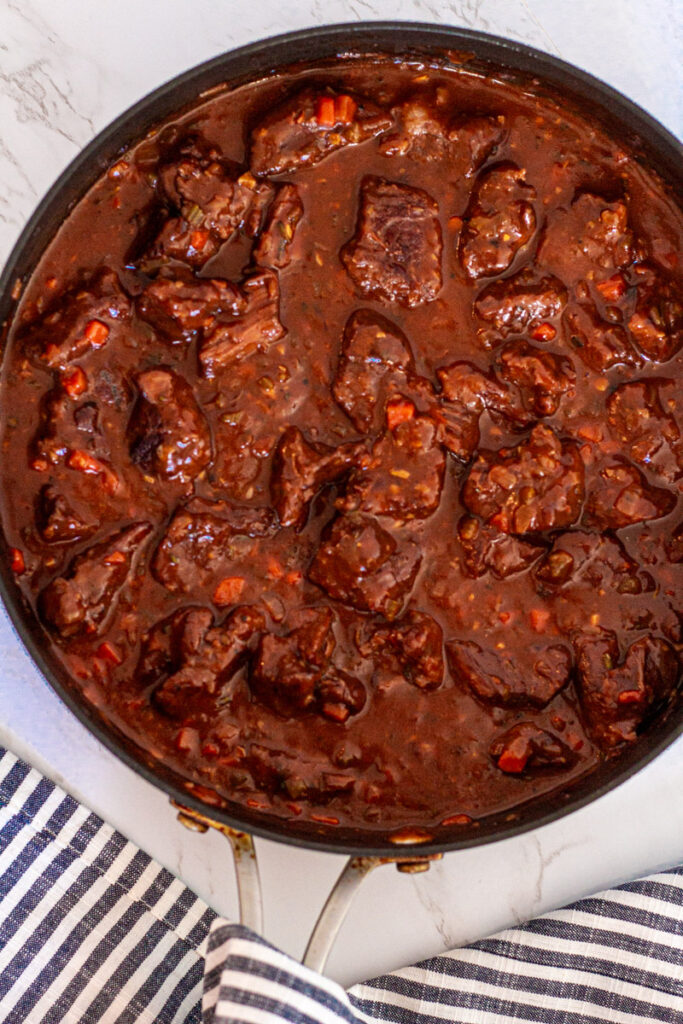 Reduce and season - Take the lid off and increase the heat to high. If your mixture/gravy resembles more broth than gravy, turn up the heat to reduce the sauce. Once the sauce reaches its desired consistency, season your gravy with salt and pepper. The reason why we don't season until the end is that the sauce can become salty after reducing the liquid.
Storage and Reheating Instruction
Let the dish cool to room temperature and store it in an airtight container for 3 - 5 days in the fridge.
This dish is also freezer-friendly. Cool your dish to room temperature and transfer it to a freezer-safe bag. Make sure to squeeze out as much air as possible. You may freeze this for up to 3 months.
You can reheat using a microwave or skillet. Adding a splash of water or beef broth when reheating the dish in the skillet will be ideal. But I found microwaving the dish will do in a pinch. Just make sure to cover your dish with a microwave-safe cover to prevent any mess and to prevent drying the dish.
For frozen braised beef, you can defrost it in the fridge and reheat it as directed above.
Helpful Tips
Pat your beef dry to develop a nice sear. When there is moisture, the beef will steam instead of sear.
To reduce the cooking time, you may cut your beef into smaller sizes rather than big chunks.
If your beef is still tough after about 1.5 to 2 hours, continue to simmer until they are tender.
Make ahead. You can make this dish 3 to 5 days in advance. Keep the dish in the airtight container in the fridge and reheat on a stovetop until heated through. You may add a little water or beef broth if the dish seems dry.
If you do not want to use alcohol, you may increase the amount of beef broth and use some apple juice. Because the apple juice is a lot sweeter than brandy, I recommend using ¼ cup of apple juice and replacing the rest of the alcohol amount with beef broth.
FAQ
What cuts of beef should I use for braised beef?
Chuck roast is a perfect cut for braising. It is also known as center-cut chuck roast, chuck center roast, chuck pot roast, and pot roast beef. The chuck roast is a shoulder area of the meat. Although it has a great beefy flavor, it is a tough cut of meat but that's why we are braising it to make it tender.
How long do I need to braise?
The short answer is until your beef is tender. We are cooking about 1.5 pounds of beef and it usually takes me about 1.5 to 2 hours.
Why is my beef tough after braising?
After braising your meat for 1.5 to 2 hours and they are still tough, continue to simmer with the lid on until they are tender. The meat needs a little more time to break down its connective tissue. 
What types of brandy and red wine do I need to use?
There is no need for you to use expensive brandy. In fact, what I use for this recipe is very affordable (see the ingredient photo above).
Any dry red such as merlot, pinot noir, or cabernet sauvignon works for red wine. When cooking with wine, I wouldn't use any wine that you don't want to drink. In fact, this dish is great to enjoy with a glass of red wine. 
Do I need to use both brandy and red wine?
I made this dish using only brandy and it was delicious. When I have an opened bottle of wine or plan to enjoy this dish with a glass of wine, I will use both. But if not, I will just add a little more brandy or beef broth. 
If you were to make this dish using only red wine, the flavor would be similar to beef bourguignon. 
I enjoy the sweet (and somewhat less acidic) flavor that brandy brings to the dish. If I have to choose which alcohol to use for this dish, I will choose brandy over red wine. Plus, brandy (the brand I use) is cheaper than a bottle of red wine!
What to serve with brandy braised beef
Whenever we make this dish as part of the class at TSpoon, we like to serve this with mashed potato with either roasted asparagus or sautéed green beans. But I made brandy braised beef with polenta before and I think it's another fantastic side dish to enjoy this delicious comfort food. Here are some of my go-to side dish recipes.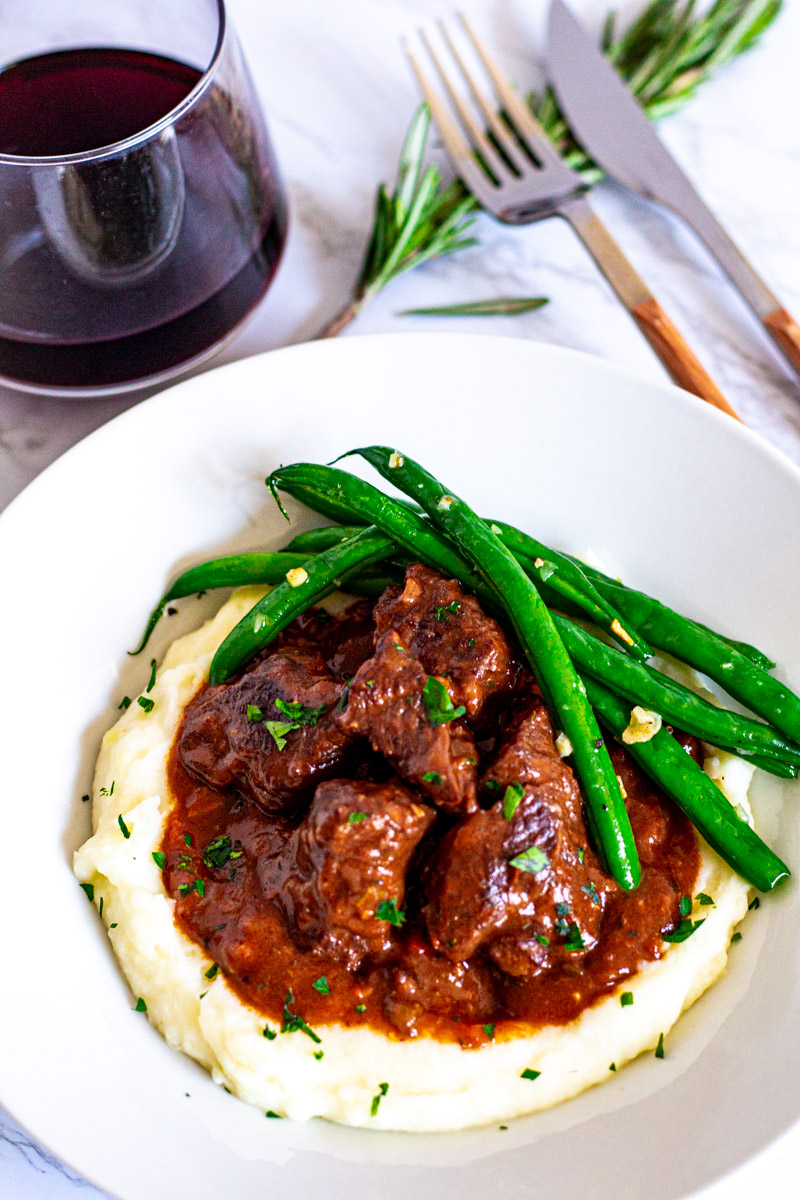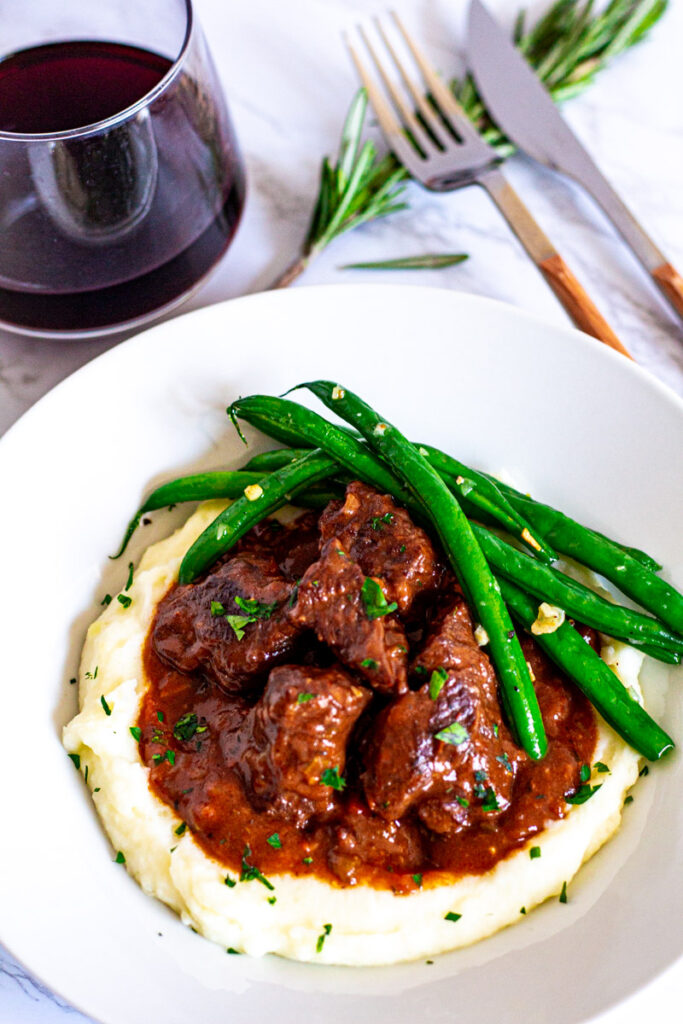 Print
Brandy braised beef with red wine
Transform the humble cut of beef into a flavorful comforting dish! A tough cut of beef is cooked with aromatics and braised in brandy and red wine until tender. 
Author:
Prep Time:

30 minutes

Cook Time:

2 hours 30 minutes

Total Time:

3 hours

Yield:

4

servings

1

x
Category:

Main

Method:

Braising

Cuisine:

American
Olive oil, as needed to coat the pan

1 ½

pounds chuck roast, cut into

2

-inch pieces
Kosher salt and black pepper, to taste

2 tablespoons

unsalted butter

1 cup

diced yellow onion

½ cup

diced celery

½ cup

peeled and diced carrots

4

cloves garlic, finely minced

 

1 tablespoon

fresh rosemary, minced

2 tablespoons

tomato paste

2 tablespoons

all-purpose flour

½ cup

brandy

¼ cup

red wine

 

1.5 cups

beef broth

 

2 tablespoons

fresh parsley, chopped (as garnish)
Instructions
Season the beef with salt and pepper.

   

Sear the beef in batches. Coat the pan with oil over high heat (ensure the oil is hot before adding beef). Sear beef until deep golden brown and turn to sear the other side, about 8 minutes total. Remove and set aside.

 

Add the butter to the same pot. When the butter melts, add onions, celery, and carrots. Sauté until onions are translucent and tender, about 5-6 minutes.

 

Add minced garlic and rosemary. As soon as you smell the garlic (about 30-45 seconds),

 

add the tomato paste and stir to incorporate it into the mixture.

 

Sprinkle flour into the pot and stir to coat the vegetables.

 

Cook flour for one minute.

   

Carefully add brandy and red wine and let them come to a boil. Use the liquid to scrape up any browned bits from the bottom of the pan.
Once the liquid comes to a full boil, add the beef broth and return the beef and any collected juice to the pot. Bring the mixture to a boil. Once it comes to a boil, adjust the heat so that the mixture is simmering. Cover the pot and cook for 1.5 to 2 hours or until the beef is tender.
When the beef is tender, remove the lid and increase the heat so the sauce can be reduced to its desired consistency. Season to taste with salt and pepper. Serve with your favorite side dishes such as mashed potato or polenta with a sprinkle of fresh chopped parsley.

 
Notes
When searing the beef, pat your beef dry before searing and sear in batches. You don't want to steam the meat instead of sear. 
Use fresh rosemary instead of dried rosemary for maximum flavor. 
You may substitute more brandy with red wine. If you don't want to use alcohol, you can use ¼ of apple juice and the rest of the alcohol amount with beef broth. 
If your meat is not tender after 2 hours of simmering, continue to simmer with the lid on until tender. 
When reducing the sauce, stir the pan occasionally so the sauce won't burn. 
Keywords: brandy braised beef with red wine