Are you looking for a delicious small bite to enjoy with a glass of wine? How about a spoonful of slow-roasted cherry tomato on top of crostini with creamy fresh mozzarella?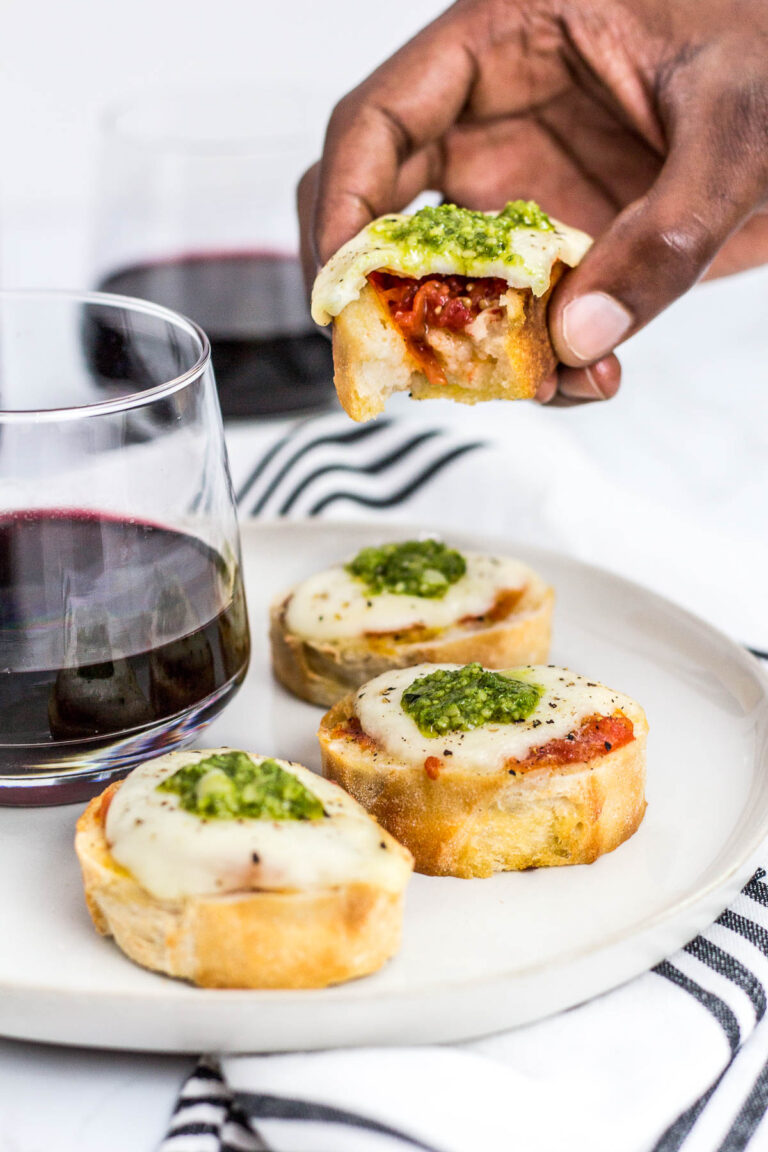 What is crostini?
Crostini is a small slice of grilled or toasted bread topped with different toppings. Crostini is one of my favorite appetizers because it's perfect finger food. You don't really need an individual plate for this appetizer. The bread serves as a perfect vehicle to deliver whatever you piled on top of the bread. But wait, this sounds awfully similar to Bruschetta!
What is the difference between crostini and bruschetta?
Crostini and bruschetta are very similar. Bruschetta is a grilled bread topped with olive oil, salt, and different toppings. The most well-known and familiar topping is tomato. But wait, crostini and bruschetta sound exactly the same! Well, they kind of are! I think the main difference is bruschetta is a larger piece of grilled bread where crostini is a bite-sized piece of toast.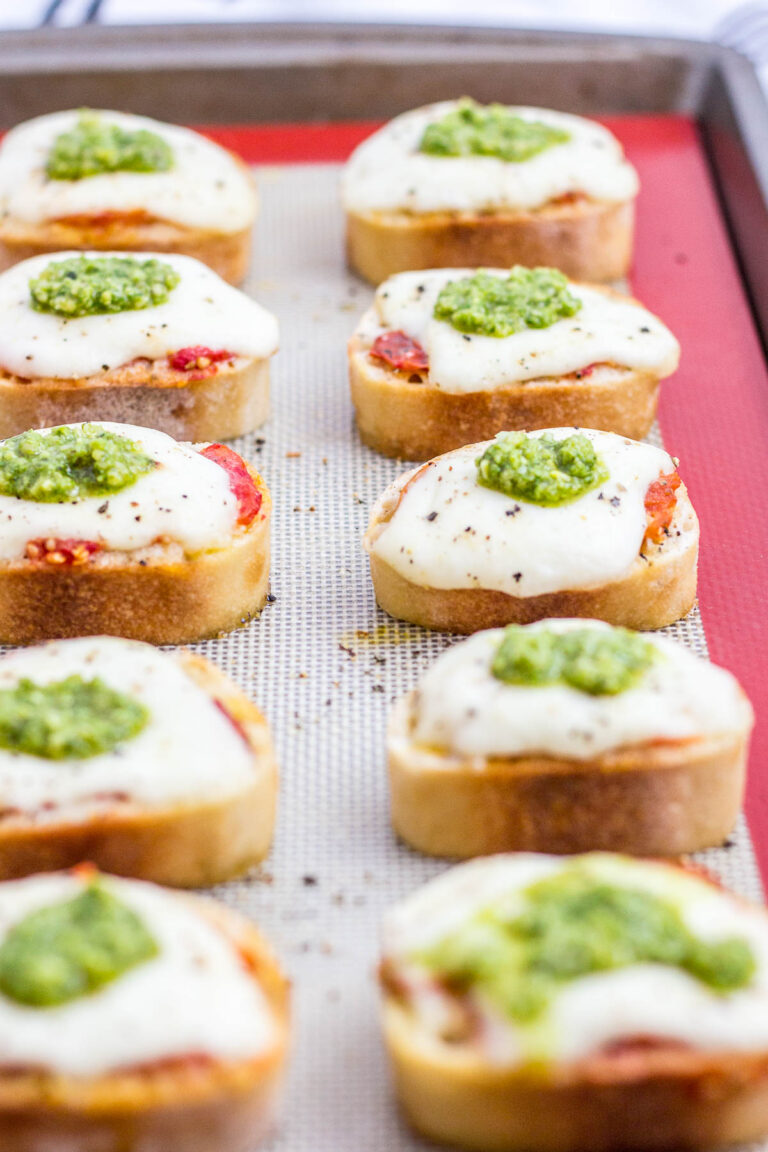 How to make Roasted Cherry Tomato Crostini with Fresh Mozzarella
Bread – I use a small baguette for this recipe. Baguette is perfect for making crostini. It's crusty outside and still chewy inside. Such a character of baguette makes it possible to pile different toppings without having the bread fall apart.
Roasted cherry tomato – Remember my recent post about how to slow-roast cherry tomato in olive oil? When you crush the roasted cherry tomato on top of crostini, you create this delicious and light tomato sauce. Another option is to use your favorite sun-dried tomatoes in olive oil.
Fresh mozzarella – I use fresh mozzarella because of its creaminess and high water content. I like my crostini to be crusty on the outside but chewy on the inside. Using the olive oil from the slow-roasted cherry tomato and fresh mozzarella prevents my crostini to be too hard.
Pesto – Everyone knows basil and tomato go perfectly together! A small dollop of pesto brightens the flavor of the crostini!
This crostini is perfect finger food for a party or for a date night! All you need is your favorite glass of wine and good company to go with this delicious appetizer!
Happy eating, my friends!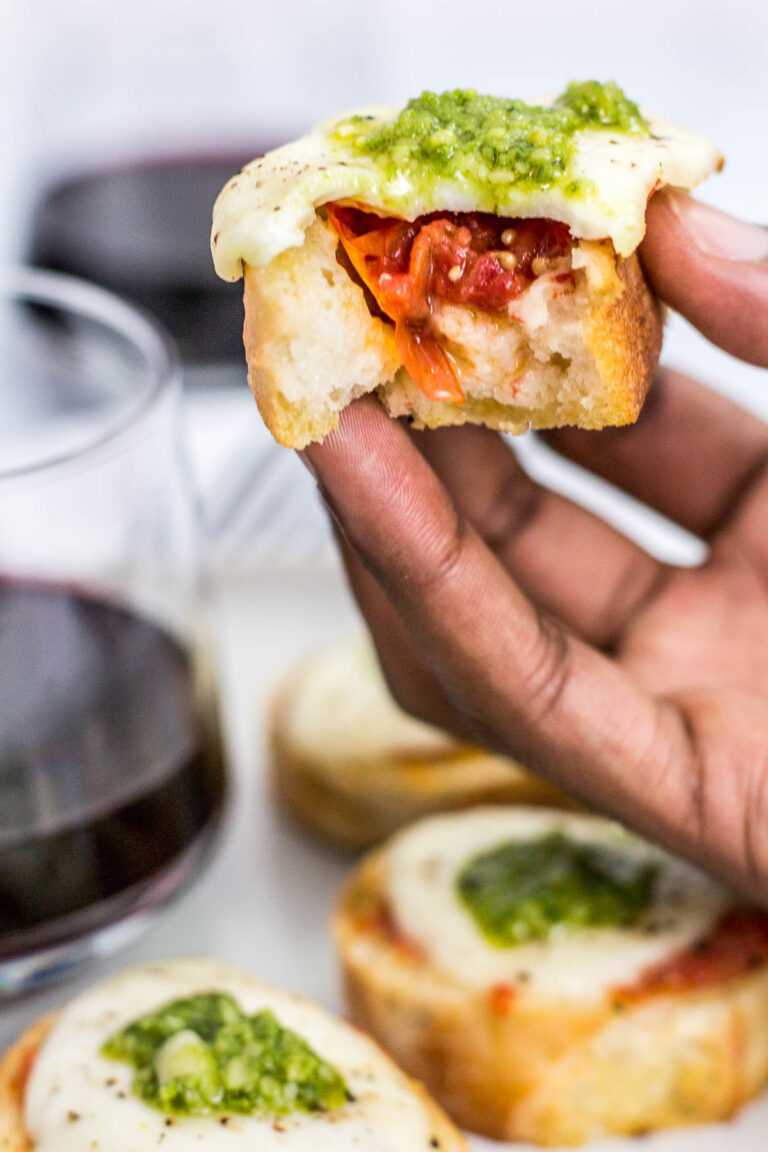 Print
Roasted cherry tomato crostini with fresh mozzarella
Are you looking for a delicious small bite to enjoy with a glass of wine? How about a spoonful of slow-roasted cherry tomato on top of crostini with creamy fresh mozzarella?
Author:
Prep Time:

10 minutes

Cook Time:

7 minutes

Total Time:

17 minutes

Yield:

10

crostini

1

x
Category:

Appetizer

Method:

Bake

Cuisine:

Italian-Inspired

Diet:

Vegetarian
Instructions
Preheat the oven to 400F.
Slice the baguette into a small dish, about 1-inch thickness.
Place the baguette onto a baking sheet.
Place one roasted cherry tomato on top of each baguette with some olive oil from the roasted tomatoes. Using a fork or a spoon to mash the tomato on top of the baguette (tomatoes should be tender enough to be mashed).
Place the fresh mozzarella slices on top of the baguette and season with salt and pepper.
Bake for 7 minutes until mozzarella melts a little and toast the crostini. 
Take them out of the oven and let them cool for several minutes. 
Top each crostini with a small amount (about 1/2 teaspoon) of pesto. 
Serve and enjoy. 
Notes
If you didn't make slow-roasted cherry tomatoes in olive oil, you can use sun-dried tomatoes in olive oil instead. However, you won't get the same velvety texture the slow-roasted cherry tomatoes will offer. 
You can use other bread and cheese. However, I find that the baguette holds its shape and texture the best for making crostini. Also, try to choose a cheese with a neutral flavor so the flavor of the tomato can be highlighted. 
Keywords: Roasted cherry tomato crostini with fresh mozzarella, roasted tomato crostini, crostini appetizer, crostini