Super Easy 5 Ingredients Egg Fried Rice - With only 5 ingredients, you can make this delicious and easy fried rice at home. This quick fried rice recipe will be ready in less than 20 minutes. I guarantee my "Super Easy 5 Ingredients Egg Fried Rice" recipe is going to be your favorite recipe!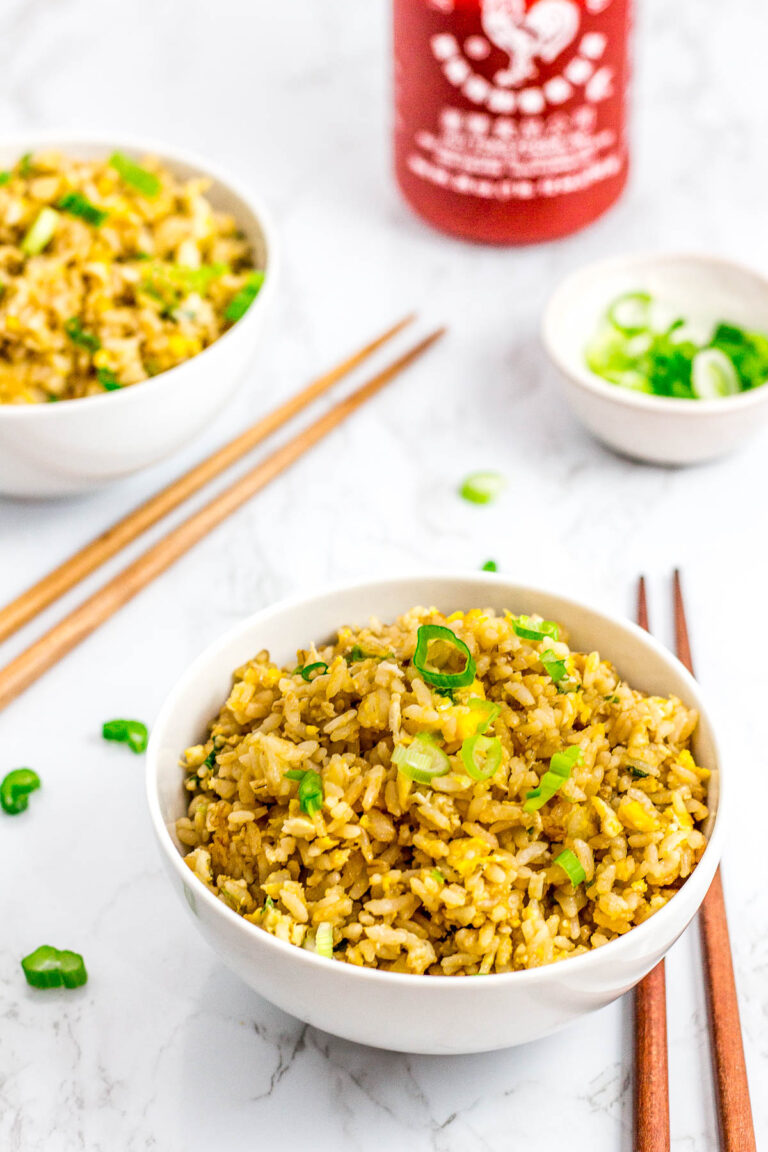 As much as I'd like to take credit for this tasty fried rice, I really can't take any credit for it. This egg fried rice is apparently a pretty popular recipe in Korea. When my friend from Korea visited me last winter, she briefly told me about this recipe but I never thought to make it until a couple of days ago. And it exceeded my expectation! Because it was so delicious and easy to make, I made it again the very next day for my husband and he absolutely loved it as well!
Original Korean Egg Fried Rice
The original recipe requires you to mix together the raw eggs and cooked rice together prior to pan-frying it. I think that is to let your rice soak up the egg. Then it is stir-fried with oyster sauce and finished with some black pepper.
How to make Super Easy 5 Ingredients Egg Fried Rice
Grapeseed oil - I used grapeseed oil because it has a very clean taste and a high smoking point. It is great for any stir fry dish. If you don't have grapeseed oil, you are more than welcome to use vegetable oil, canola oil, or peanut oil. What I do NOT recommend is sesame oil. Sesame oil has a low smoking point and it isn't the best oil for stir-frying. I personally like to use sesame oil as a finishing oil.
Green onion - Did you know if you fry the green onion in oil prior to adding any ingredients, it flavors the oil with such a pleasant depth of flavor? This technique has been used in Korean cuisine for a very long time.
Eggs - You can use as many eggs as you want to but I think 2 eggs per serving is a good amount. Since this recipe is for 2 servings, I used 4 eggs.
Rice - I almost always eat/cook short grain rice (also known as sushi rice). I'm Korean and that's the rice that I eat most of the time. I buy 15 to 20 pounds bag so I hardly ever run out of this rice and I used short-grain rice for this recipe. However, you can easily use jasmine rice or even leftover white rice from Chinese takeout.
Vegetarian stir fry sauce (vegetarian oyster sauce) - This sauce is what makes this dish vegetarian. The original recipe calls for the oyster sauce but vegetarian stir fry sauce tastes pretty darn close to the real thing. Because this sauce is very flavorful, I don't think it even needs a dash of black pepper.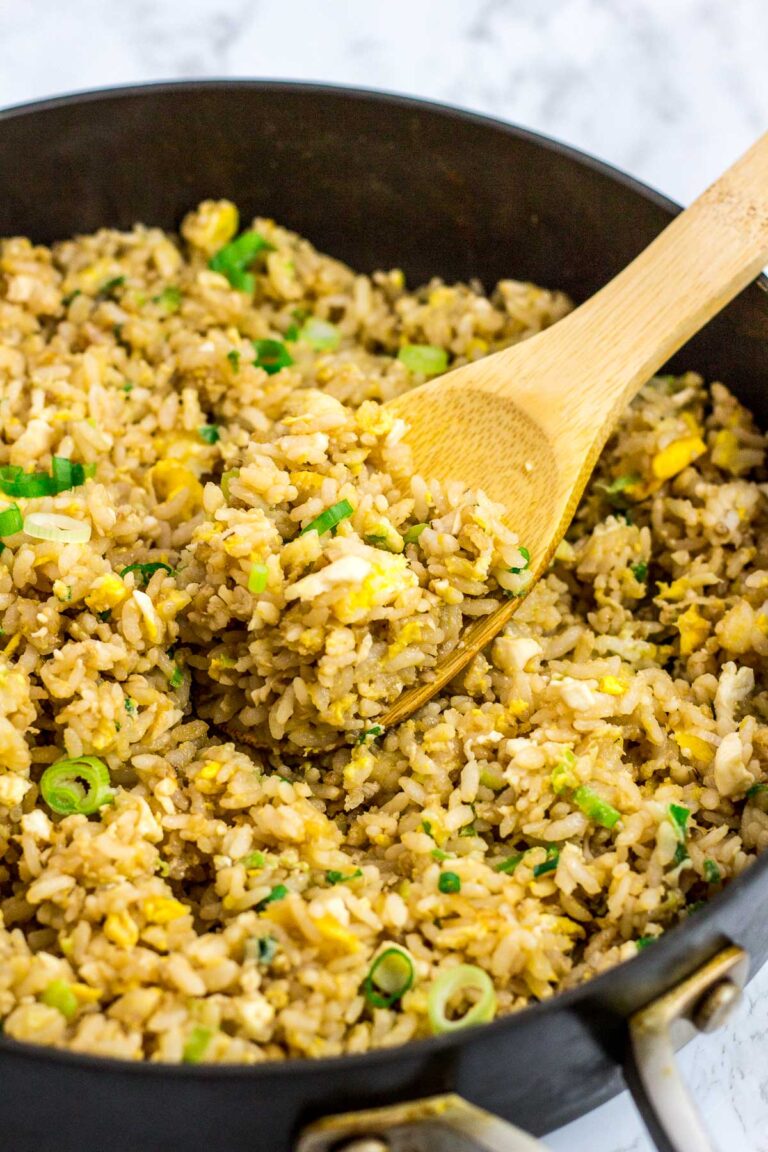 Vegetarian Mushroom Stir Fry Sauce
Although I really LOVE using this vegetarian stir fry sauce for a lot of Asian dishes, it is not necessary for you to purchase this separately if you already have oyster sauce at home. If you are not vegetarian and have oyster sauce at home, go ahead and make it with oyster sauce. However, if you are vegetarian, I highly recommend you pick up this sauce. It's AMAZING!!
I tried all these products and like all of them!
Lee Kum Kee Vegetarian Mushroom Flavored Stir-Fry Sauce (comes in 12 bottles) - This is what I've been using for a while now. But if you order them on Amazon, it comes with 12 bottles!!!! Obviously, I don't buy them on Amazon but buy them at my local Asian grocery store one bottle at a time. If you have access to an Asian grocery store, this would be a great choice.
This dish literally takes less than 15 minutes to make but this is far better of fried rice than most out there. Once you try this, I bet this will become your go-to, last-minute recipe you will cherish forever!
Happy eating, my friends!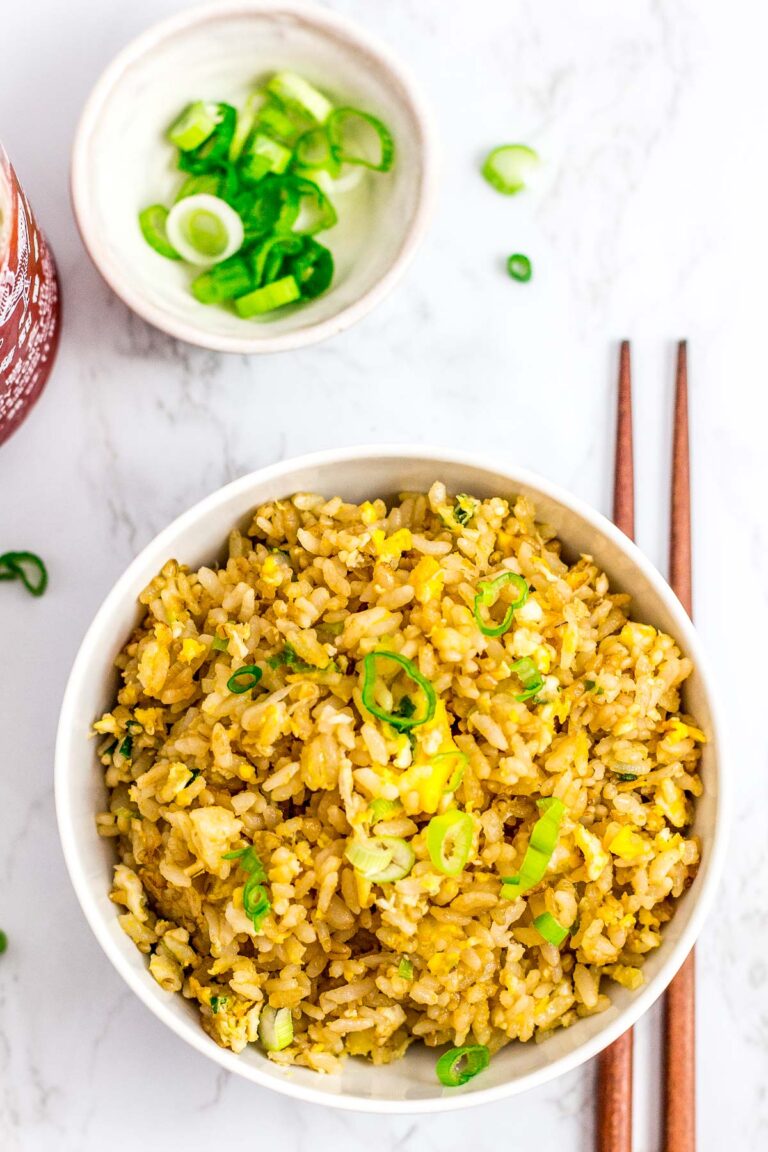 Print
5 Ingredients Easy Egg Fried Rice (Vegetarian)
5 Ingredients Easy Egg Fried Rice (Vegetarian) - With only 5 ingredients, you can make this delicious and easy egg fried rice in less than 20 minutes!
Author:
Prep Time:

5 minutes

Cook Time:

15 minutes

Total Time:

20 minutes

Yield:

2

servings

1

x
Category:

Fried Rice

Method:

Stir fried

Cuisine:

Chinese-Inspired

Diet:

Vegetarian
3 tablespoon

grapeseed oil (vegetable oil or canola oil works too)

2

-

3

green onion, thinly sliced

4

eggs
Pinch of salt

4 cups

cooked rice

2 tablespoons

vegetarian stir fry sauce (for vegetarian) or oyster sauce (for omnivore) - Please see the "Vegetarian Mushroom Stir Fry Sauce" section above 
Instructions
Heat the oil in the large skillet. Add the green onion and cook them until they are fragrant, about a minute or two.
Add the eggs to the pan and add a pinch of salt on top. Stir the eggs with a wooden spoon to make the scrambled eggs.
While the egg is still runny and not cooked all the way, add the rice and mix until everything is well incorporated.
Add the vegetarian stir fry sauce and mix well. 
Serve right away. If you'd like your fried rice to be spicy, serve with sriracha sauce.
Notes
If you are vegetarian, please read the "Vegetarian Mushroom Stir Fry Sauce" section above and see the list of sauces I've tried. 
If you have oyster sauce on hand, there is no need for you to purchase the vegetarian stir fry sauce. Just use oyster sauce in the recipe. It will be as delicious.
This recipe will yield 2 BIG bowls of fried rice. 
If you like little heat, serving this fried rice with sriracha. 
Keywords: Super easy 5 ingredients egg fried rice, egg fried rice, fried rice, vegetarian egg fried rice, vegetarian fried rice