We will be discussing what a recipe is, what type of information can be found in a recipe, and how to choose a recipe for a beginner cook.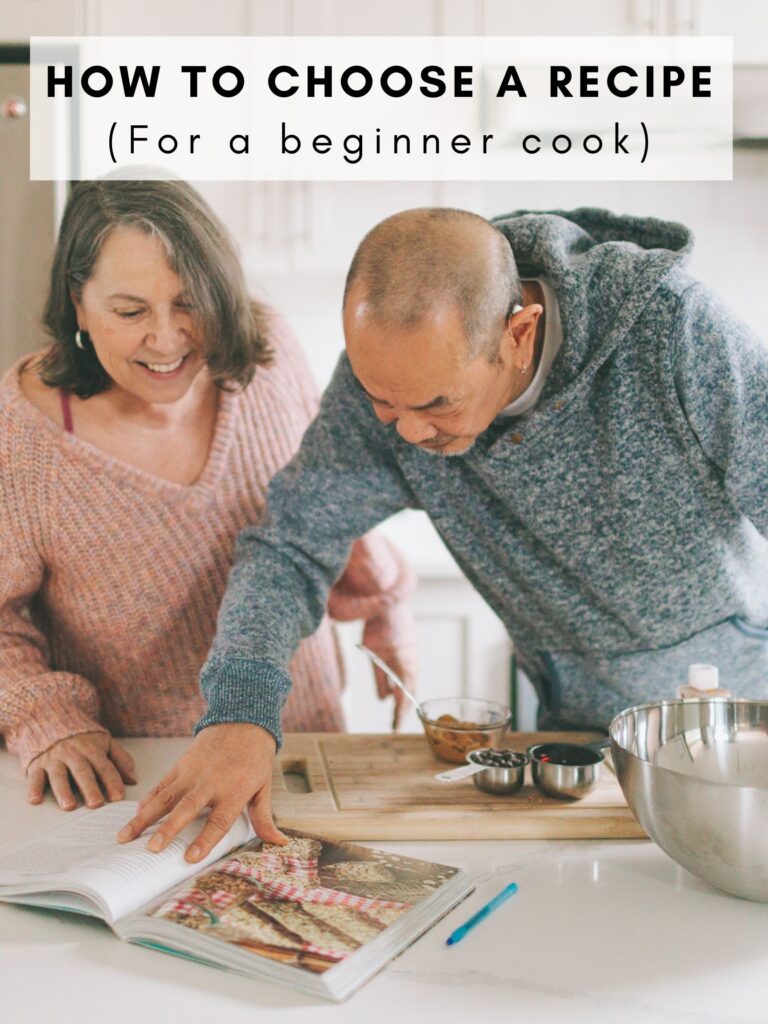 What is a recipe?
A recipe is a set of instructions that will help you to prepare a dish or a drink. The goal of a recipe is for anyone who is reading the recipe to be able to recreate the dish using the information provided on the recipe.
What information can be found in a recipe?
Information that a typical recipe should have are title, ingredient list including the measurement, and instruction. But the information is not limited to a description of the dish, preparation and cook time, serving size, notes on substitutions, and nutritional information.
Although it can be an overwhelming amount of information, it is providing you with critical information to make the dish. However, not all recipes are created equal. There are such things as bad recipes. And there are things beginner cooks should pay close attention to when choosing a recipe.
The followings are my advice for choosing a recipe:
Choose a recipe with a simple ingredients list.
Pick a recipe that you know what it will taste like.
Consider the recipe time.
Consider the portion size.
Check for special tools or advanced techniques.
How to choose a recipe
1. Choose a recipe with a simple (and familiar) ingredient list.
If you are relatively new in cooking, don't pick a recipe with 30 ingredients. This is a sure way to overwhelm yourself. Even if a majority of ingredients are going in at once, measuring 15 different things to put in your boiling pot may make you feel like you are running behind.
Also, I don't recommend choosing a recipe with unfamiliar ingredients. If you don't know what the ingredient tastes like, where to buy it, or even how to pronounce it, you might want to try this recipe once you feel a little comfortable in the kitchen. This is NOT to discourage you to be adventurous but rather to ease you into cooking.
2. Choose a recipe that you know what it will taste like.
Getting a recipe you like from your friends and family members is always a great idea. There is a huge advantage in cooking by knowing what the end result will look like, smell like, and most importantly, taste like. It is also a great idea to ask them to cook with you so that they can show you how to prepare it. This is my favorite way to learn a new recipe.
If you want to try a recipe that you have found online, make sure you know what the recipe should taste like and check out the review. Even though everyone has different tastes, if 500 people liked it, the chances are you will enjoy the dish.
3. Consider the recipe time.
The recipe time has two parts: preparation time (mise en place) and cooking time. Almost 99% of the time, it takes longer to make the dish than stated on the recipe. That is because most recipes don't account for proper mise en place time.
Mise en place
Mise en place (pronounced "meez ahn plahs") is a French term for everything in its place. This means all of your ingredients are prepared, pre-measured, and all the equipment and tools are gathered to make the dish.
Such process is done in every professional kitchen. This is a crucial step in cooking quickly and effectively. If you ever wonder why your cooking at home seems so much more hectic than people you saw on cooking shows or even social media, that's because they have proper mise en place.
Another thing that contributes to the difference in recipe time is your comfortability in the kitchen and your cooking skills. If you don't know where you placed your dried oregano and can't find the lid for the pot is going to cost you time. Also, if your knife skill needs improvement, it will take longer to dice the carrot.
My rule of thumb for cooking time if you are a beginner cook:
If your cooking skill needs improvement, at least double the prep time.
Give yourself at least 30 minutes of mise en place time.
Give yourself extra time for cooking. However, if you invest in proper mise en place time, this will help you to achieve similar cooking time as the recipe stated.
4. Consider the portion size of the dish.
The portion size is sometimes what people overlook when choosing a recipe. If you live by yourself and want to try to make a dish that feeds 12 people, you need to honestly ask yourself "Am I going to eat this all by myself?" I know many people think they will eat that for the rest of the week. But no matter how delicious the dish is, it's unlikely that you will enjoy the dish with the same enthusiasm after eating it four times in a row.
Another reason why considering portion size is important to a beginner is because of the preparation of the dish. There is a significant difference in washing, peeling, and chopping between making 2 serving food and 12 serving food. You didn't even start the heat but having been chopping for the last 30 minutes is not going to get you excited to actually cook the food.
5. Check for special tools and advanced techniques.
The chances are if the recipe calls for special equipment outside of the essential tools, you would want to dial down your enthusiasm and try a recipe using common kitchen tools. If you were to purchase a tool that you don't already have and are not sure how to use, you are adding more tasks to your list. This means you will need to add extra time to learn how to use the equipment on top of preparing ingredients.
And when you read the recipe and notice a technique that you are not familiar with or involves intense labor, I recommend saving that recipe for the future unless you have someone to help/guide you.
Now that you have discussed what a recipe is how to choose them, let's talk about how to PROPERLY read the recipe!