Vegan Soy Chorizo Potato Hash - big, bold, and complex flavor from soy chorizo meets tender and creamy potato to elevate your breakfast plate.
I LOVE savory breakfast. In fact, I'd take a savory breakfast over a sweet one any day! So it's a no brainer why I love this spicy hash that's creamy inside and crispy outside. Before we get to the recipe part, let's talk about chorizo.
What is Chorizo?
Chorizo is chopped or ground pork sausage that's liberally seasoned with different spices in Mexican and Spanish cuisine. So there are mainly two different types of chorizo: Mexican chorizo and Spanish chorizo.
When most people think of chorizo in the United States, people think of Mexican chorizo first. Mexican chorizo is a raw, spicy sausage in crumble form where Spanish chorizo is smoked sausage. Paella is a dish that uses Spanish chorizo.
What is vegan chorizo?
I believe all the vegan chorizo in the market currently (as of 2019) are Mexcian style chorizo. The main ingredient is usually soy protein or vital wheat gluten. Vegan chorizo uses the same spices as the meat chorizo to mimic the flavor.
My personal favorite vegan chorizo is the Soy Chorizo from Trader Joe's. It is spicy, flavorful, and the texture is similar to meat chorizo. But honestly, its big bold complex flavor is better than some of the meat chorizo I've had before!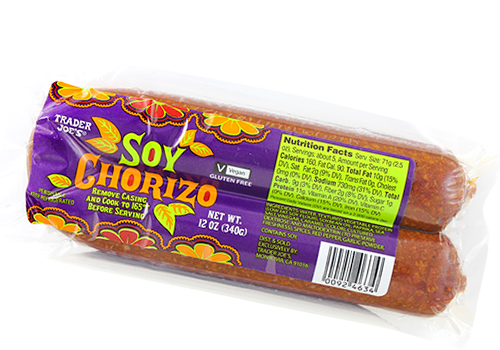 Is vegan chorizo healthy?
The short answer is NO. Vegan chorizo is a highly processed product with a high level of sodium (A little less than a quarter of the vegan chorizo from Trader Joe's has a 30% daily sodium level). Yes, it has fewer calories and fat than meat chorizo and contains some fiber but I wouldn't exactly place vegan chorizo as a healthy food category.
But like all good things, moderation is key. Because vegan chorizo is already heavily seasoned, I was mindful not to use additional salt (except to boil the potato but you may skip this step) to make the hash.
Now that we covered vegan chorizo, let's talk about the potato.
What type of potato should I use for breakfast hash?
Technically, you can use any potato you want to use. But I recommend Yukon Gold Potato.
Yukon gold potato: Creamy and great in holding its shape
Russet potato: Creamy and not so great in holding its shape
Red skin potato: Great in holding its shape but not as creamy
If you are looking for a sweet and savory combination, you can use sweet potato or even winter squash like butternut, acorn, and delicata squash.
How to cook potato for the breakfast hash
If you were to make breakfast hash using raw potato, you will end up using quite a bit of oil. Because you will have to keep adding oil as the potato cooks and to avoid them from burning. The trick to this situation is boiling the potato first before you fry them.
I know it is an extra step but it is a worthy one. You don't feel like cutting up a potato into ½ inch size? Cut up potato in a larger size and just boil the potato a little longer until they are cooked. Problem solved, ta-da!!
Cooking Tip:
Have you wondered which vegetable should be cooked in boiling water and which vegetable should be placed in cold water then be boiled? Well, I have an answer for you!
If the vegetable grows underground, place them in cold water and bring them to a boil. If the vegetable grows above ground, place them in boiling water!
Since the potato grows underground, I place the potato in the pot, cover them with cold water, and bring them to a boil.
Tips on making Vegan Soy Chorizo Potato Hash
Are you a garlic fan? You can use fresh minced garlic instead of garlic powder. Add the minced garlic when you are cooking the diced onion.
Bulk it up with leftover vegetables in the fridge. Kale, bell pepper, and even leftover corn make a great addition to the dish.
Do you have leftover roasted potato? Perfect!! You can use roasted potato instead of boiled potato. If your roasted potato is liberally seasoned, you can either:

Reduce the amount of soy chorizo
Bulk it up with other vegetables like onion, bell pepper, and kale to balance the seasoning.
What to serve with vegan soy chorizo potato hash
For vegan
For vegetarian and omnivore
A sunny-side-up egg over the vegan soy chorizo potato hash and a side of buttery biscuit would make a perfect breakfast for anyone!
Print
Vegan Soy Chorizo Potato Hash
Vegan Soy Chorizo Potato Hash - big, bold, and complex flavor from soy chorizo meets tender and creamy potato to elevate your breakfast plate. 
Author:
Prep Time:

10 minutes

Cook Time:

20 minutes

Total Time:

30 minutes

Yield:

Serves 4

Category:

Breakfast/brunch

Method:

Sauté

Cuisine:

American

Diet:

Vegan
1

pound of Yukon gold potato, diced into

½

inch cube

1 teaspoon

salt (optional, see note below)

4 ounces

of vegan soy chorizo (

⅓

of Trader Joe's Soy Chorizo)

¼

large onion, diced

1 tablespoon

olive oil, divided

1 teaspoon

onion powder

½ teaspoon

garlic powder
Instructions
Wash the Yukon gold potato and diced into ½ inch cubes. Place them into a medium-size pot and cover it with water. Add 1 teaspoon of salt (optional) and bring it to boil.
Once it comes to a boil, continue to boil for 5 minutes. Drain the potato and set it aside. 
In a large non-stick skillet, cook 4 ounces of soy chorizo on medium heat for 3-5 minutes. The chorizo should crumble easily. Stir frequently with a wooden spoon. Once it's cooked, take them out of the pan and set them aside.
On the same skillet, add about ½ tablespoon of olive oil and cook the diced onion on medium heat until onions are translucent. 
Add the boiled potato to the pan and add the rest of the olive oil. Season the potato with onion powder and garlic powder. Stir so the potato is well coated with the seasoning and oil.
Arrange the potato so that they form a single layer in the pan. Without stirring or touching the potato, cook for 3 minutes. This will brown the potato nicely.
Flip the potato and arrange them in a single layer again. Cook without stirring for additional 2 minutes. 
Add the cooked chorizo and stir in with the potato. Cook for 1-2 minutes. 
Notes
Adding salt when boiling potato is optional. The soy chorizo is pretty high in sodium and if you are watching your sodium level, feel free to skip this step. I personally think adding salt will bring out the flavor of potato but it is not necessary.
It is important that you cut your potato into ½ inch size so that it will cook in 5 minutes of boiling time. If you don't want to cut up a potato that small, you can boil it for a longer period of time. The potato should be cooked but hold its shape. 
When cooking soy chorizo (from Trader Joe's), make sure you remove the casing. The casing is plastic and you don't want to cook the plastic with your food!
Keywords: Vegan soy chorizo potato hash, potato hash, vegan chorizo hash, breakfast hash, vegan breakfast, potato hash, vegan hash, hash