How about a delicious and easy homemade Vegetarian Summer Veggie Enchiladas for dinner tonight? Delicious enchiladas packed with black beans and healthy summer vegetables like zucchini, yellow squash, tomato, and bell pepper!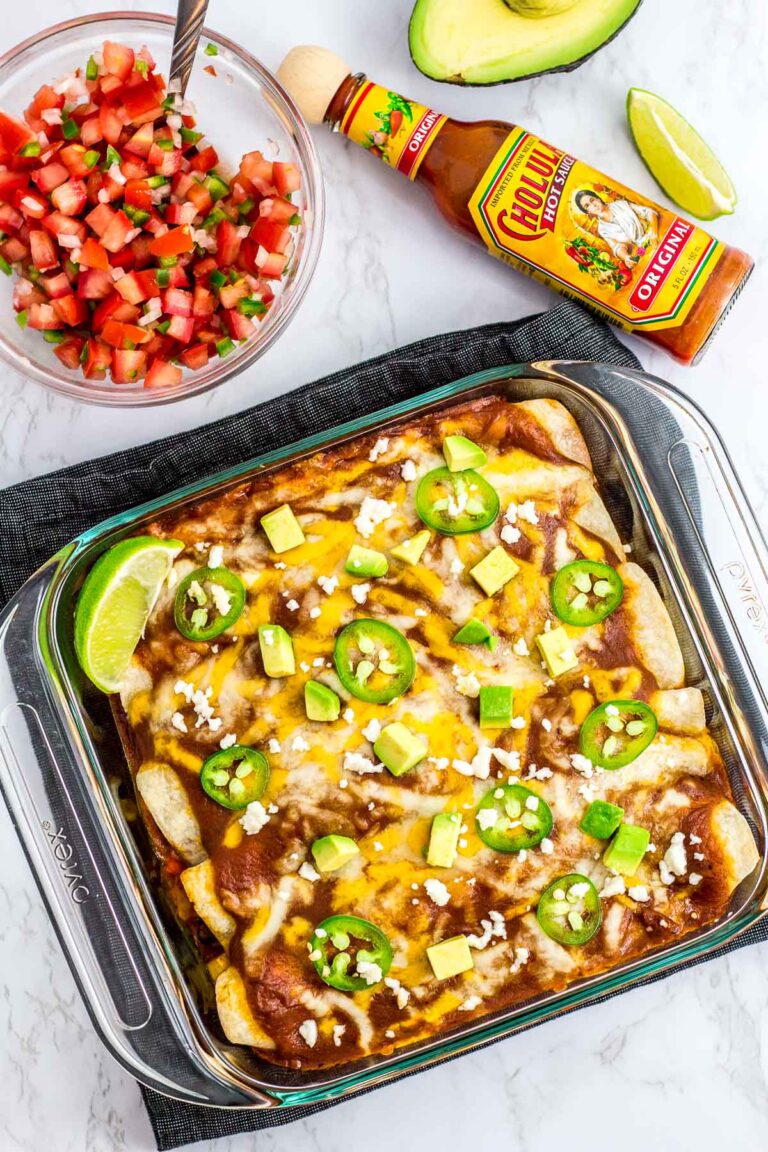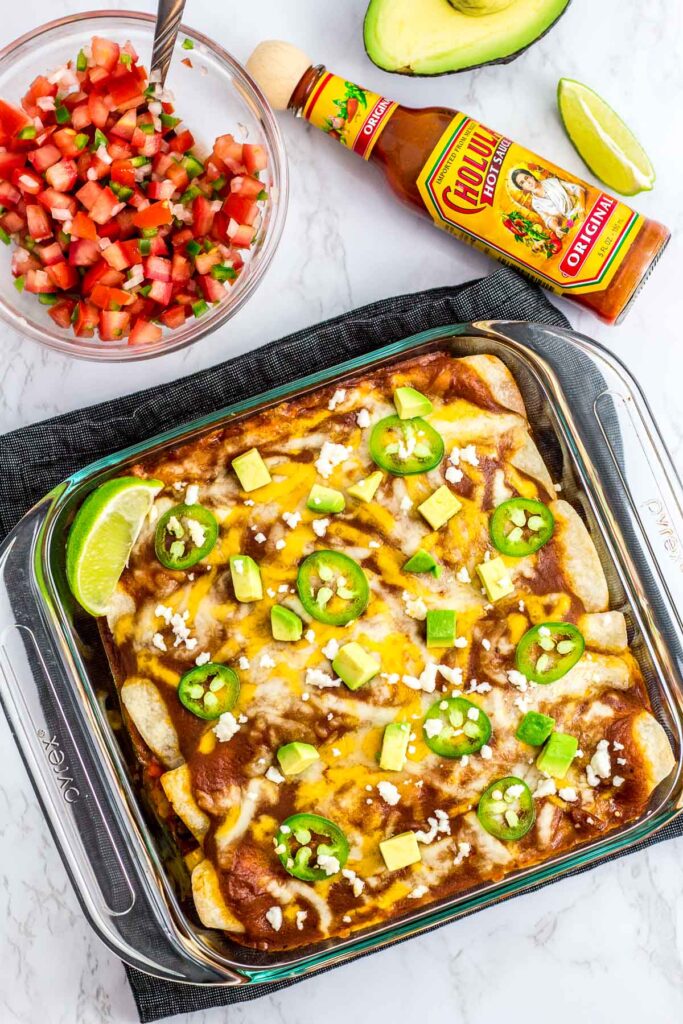 Summer is a great time to fill your belly with fresh fruits and vegetables! And I can't think of a better way to celebrate the season with a light healthy summer dinner like veggie enchiladas!
What vegetables are in summer season?
The classic summer vegetables are tomato, bell pepper, corn, summer squash (zucchini and yellow squash), cucumber, and greens.
A great way to find seasonal fruits and vegetables is to pay attention to what is displayed at the grocery store. Also, for the summer vegetables, think of the vegetables that make the appearance at the BBQ party.
How to make vegetarian summer veggie enchiladas
Prepare the enchiladas sauce - I like to use Cookie and Kate's Homemade Enchilada Sauce. It is hands down my very favorite enchilada sauce. It's easy to make and tastes so much better than store-bought sauce!
Make the enchiladas filling - Sauteed zucchini, yellow squash, onion, bell pepper, and tomato. Adding corn (either fresh or frozen) is another excellent choice!
Assemble enchiladas - Fill the tortillas with delicious filling, roll, and repeat!
Bake in the oven - Bake at 400F for 16 to 18 minutes. Everything is cooked but we are baking them to let the cheese melt and everything gets acquainted with the sauce.
Garnish and enjoy - Creamy avocado, refreshing salsa, and/or sprinkle of fresh cilantro or green onion will take the dish to another level!
FAQs
Which tortillas should I use for enchiladas?
You can use either corn tortillas or flour tortillas. Traditionally, corn tortillas are used in enchiladas but I like to use flour tortillas because it holds its shape better. 
How do you keep the enchiladas from falling apart?
Corn tortillas tend to fall apart more so than flour tortillas. To prevent this, you can fry your corn tortillas in oil before adding the fillings. I am too lazy to go through this step so I just use flour tortillas. 
Can you freeze leftover enchiladas?
YES! You can wrap the leftover enchiladas with plastic wrap, cover them tightly with aluminum foil, and store them in the freezer bag. This redundant covering is to prevent enchiladas from absorbing any off-flavors and freezer burn. It keeps in the freezer for up to 3 months. 
What type of cheese should I use for enchiladas?
Traditionally, Queso Blanco is used. I used a Mexican blend cheese in this recipe but you can use pepper jack (for extra kick) or even mozzarella.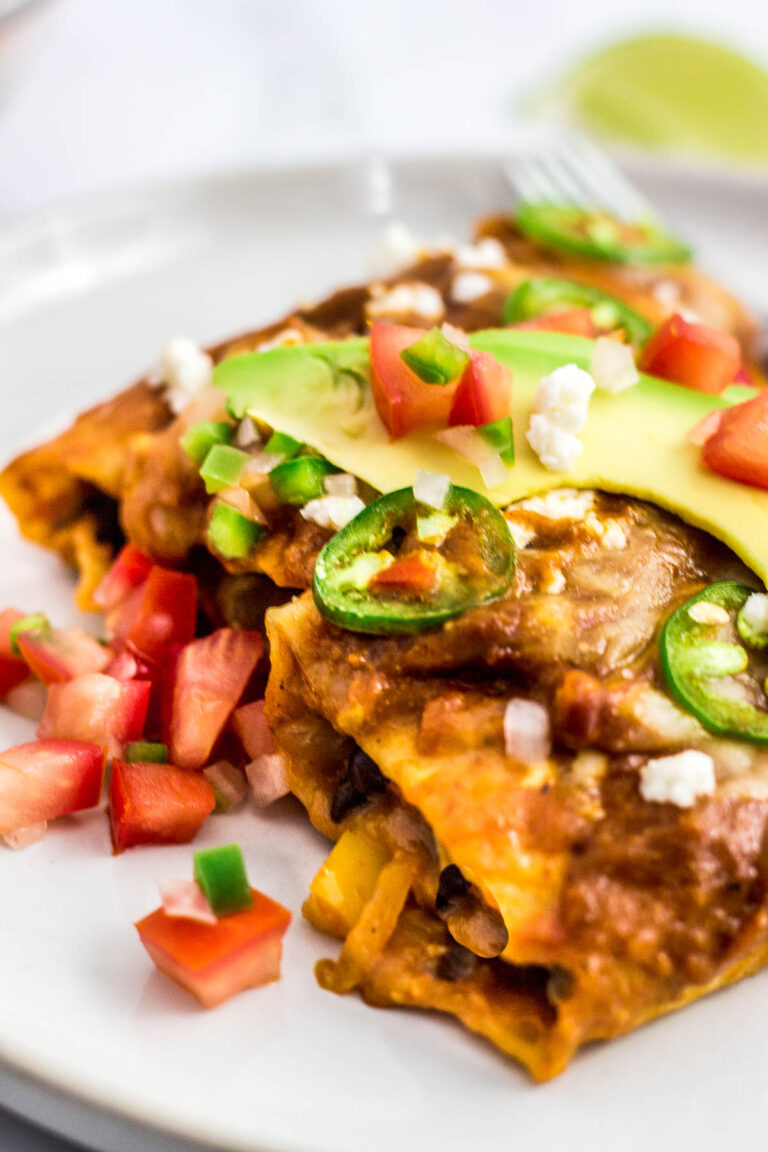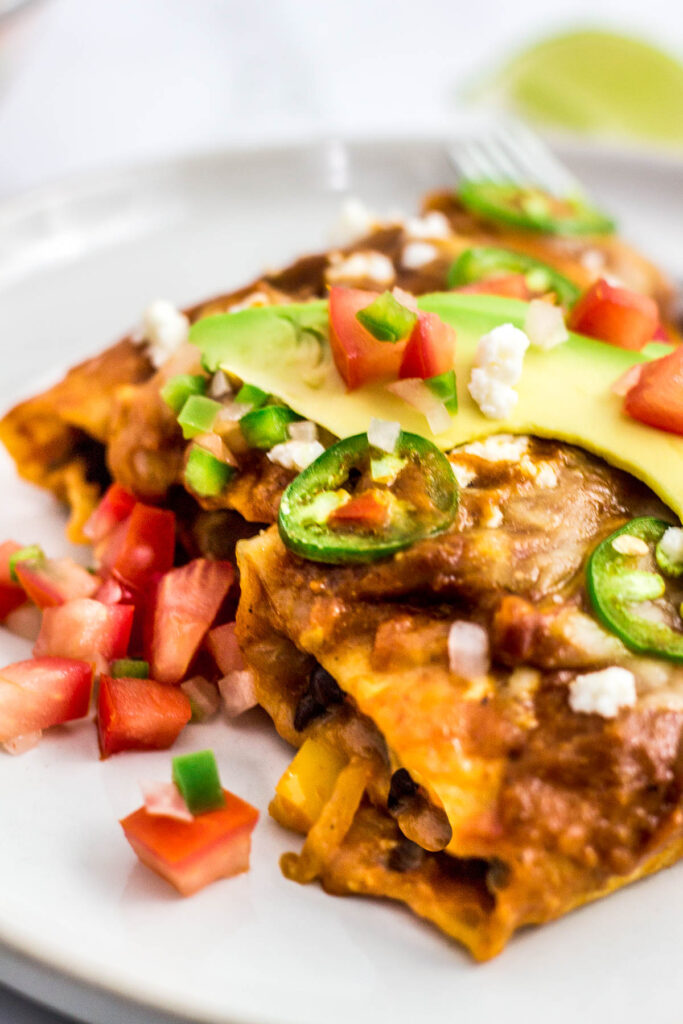 Helpful Tips
You can use zucchini and yellow squash interchangeably. If you have zucchini but not yellow squash, just double the zucchini amount. And vice versa.
Add other vegetables of your choice. Corn is an excellent addition. I added ½ cup of frozen corn when I sauteed other vegetables and it was delicious.
Not a big fan of black beans? You can also use pinto beans. If you are not a vegetarian, adding shredded chicken is another tasty option!
If you are vegan, use vegan cheese to make the dish vegan-friendly.
When using corn tortillas, fry them in oil before filling. This will help enchiladas not fall apart or get soggy. If you are too lazy to go through those steps like me, you can always use flour tortillas. They tend to keep their shape better.
Cooked enchiladas can be stored in the refrigerator for 3 to 5 days and freezer for up to 3 months.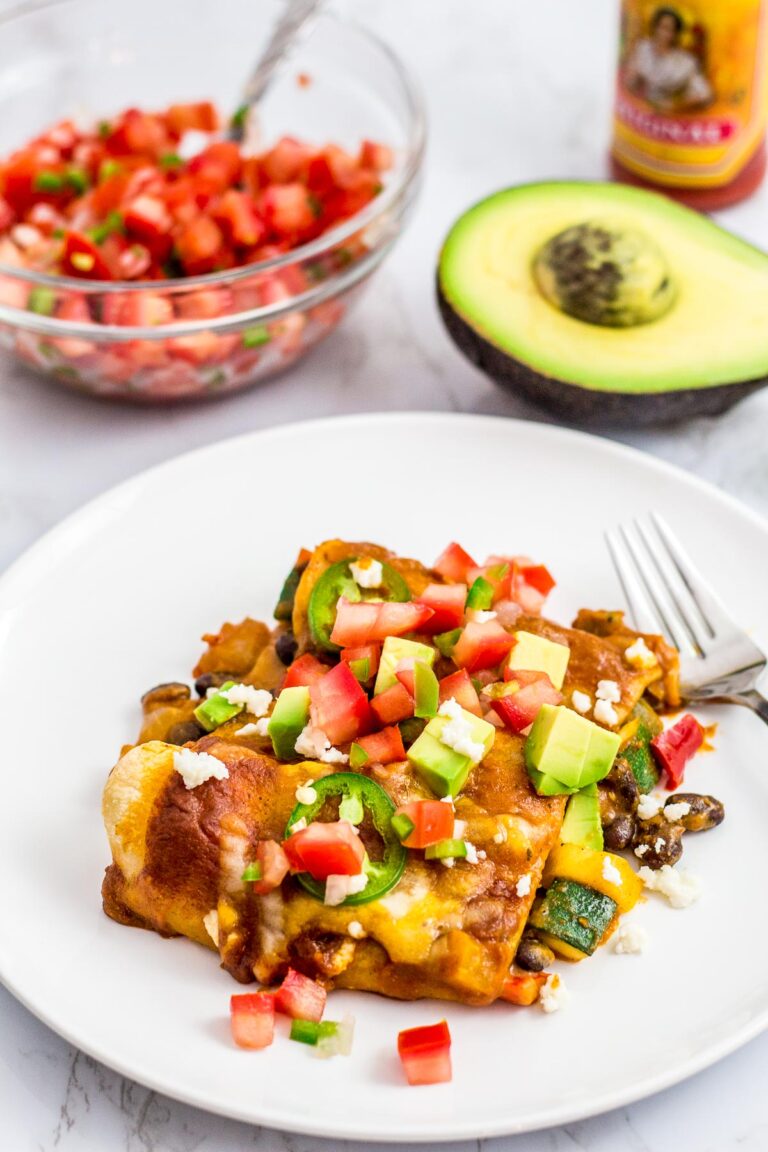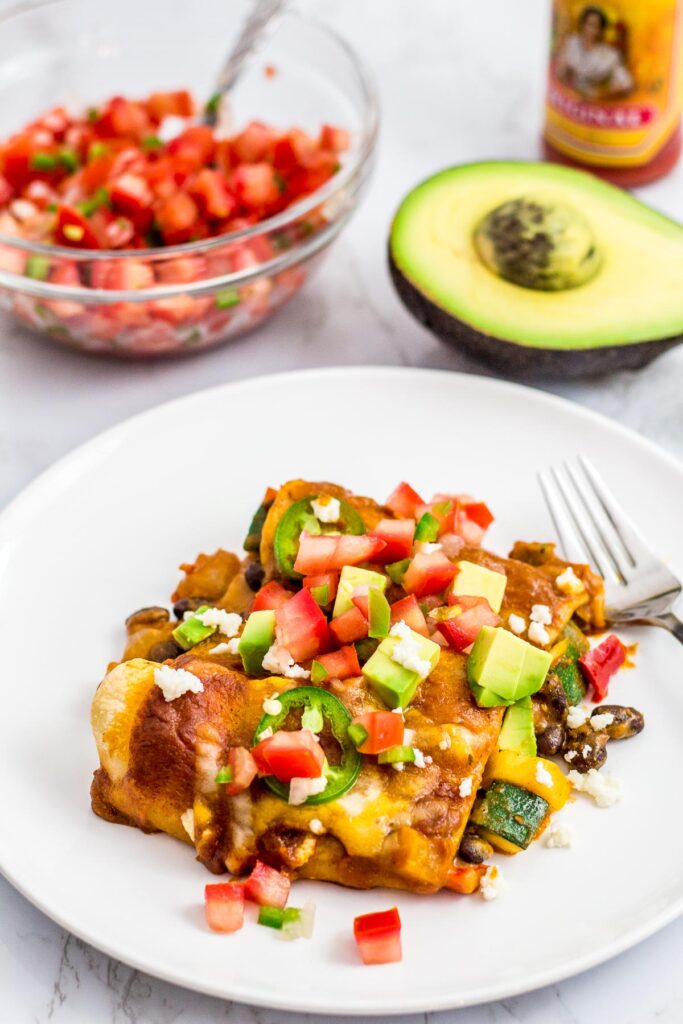 What goes well with enchiladas?
Chips, refreshing salsa, guacamole, Mexican slaw, and rice are all great side dishes to serve with enchiladas.
To wash down this deliciousness, I like to serve mine with this tasty frozen mango and pineapple margarita!
Looking for more light summer vegetarian dinner recipes?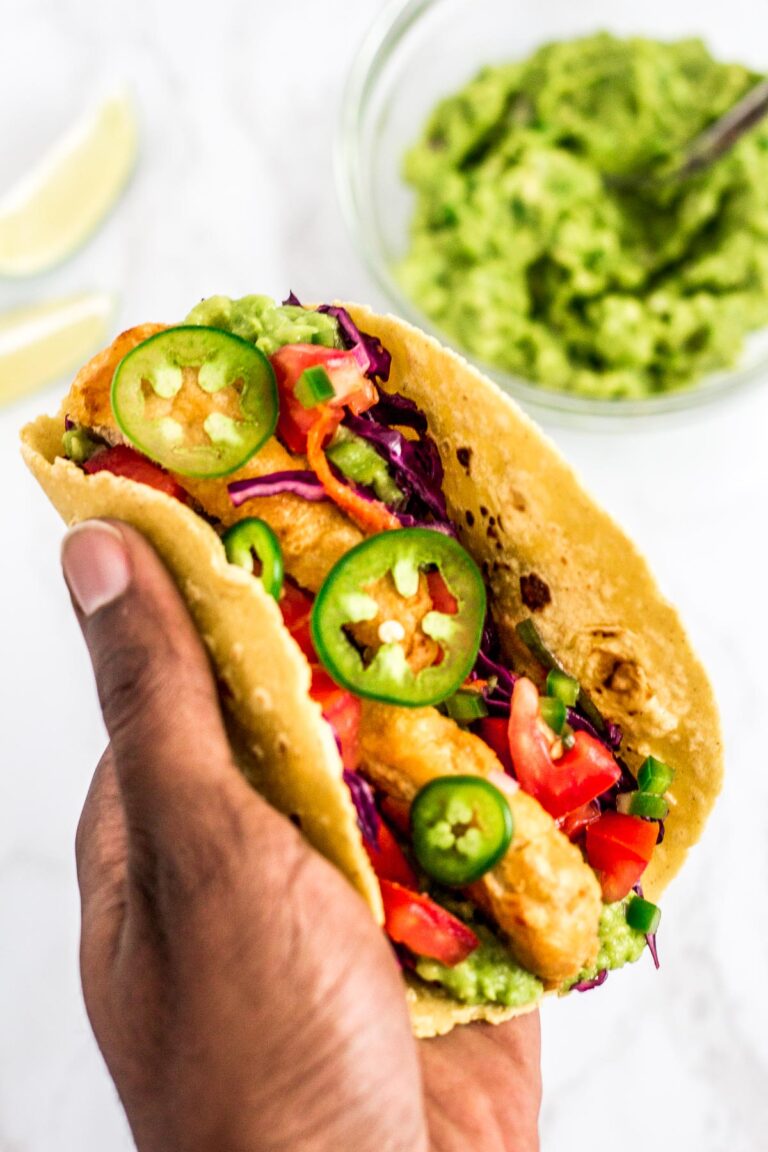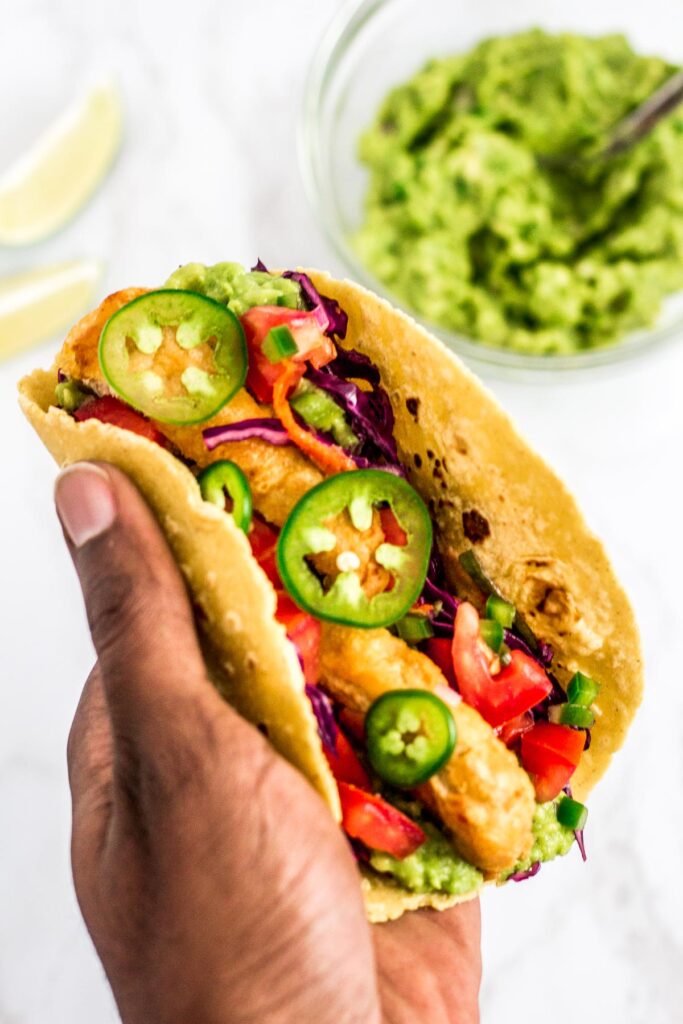 Print
Vegetarian summer veggie enchiladas
Vegetarian summer veggie enchiladas - Easy and healthy dinner perfect for light summer dinner! Packed with tasty vegetables and black beans!
Author:
Prep Time:

15 minutes

Cook Time:

25 minutes

Total Time:

40 minutes

Yield:

Serves 4

Category:

Main course

Method:

Bake

Cuisine:

Mexican

Diet:

Vegetarian
½

zucchini

½

yellow squash

½ teaspoon

salt + more to taste

1 tablespoon

olive oil

½ cup

chopped onion

½ cup

chopped bell pepper

1

small size roman tomato, chopped

1 teaspoon

cumin

½ teaspoon

chili powder

¼ teaspoon

pepper

1

can black bean, drained and rinsed

¾ cup

Mexican blend cheese (or cheese of your choice)

1

and ½ cup of red enchilada sauce 

5

to

6

tortillas (I use 10-inch flour tortillas)
Avocado, jalapeno, and/or queso fresco (for garnish)
Instructions
Wash the zucchini and yellow squash and them in half, lengthwise. Cut the zucchini and yellow squash in half lengthwise again and cut out the seeds. Cut them once more by half, lengthwise. Dice the zucchini and yellow squash into small cube pieces.
In a shallow bowl, place a clean paper towel on the bottom and transfer the cut zucchini and yellow squash on top. Sprinkle about ½ teaspoon of salt over them. Gently toss together so the salt can cover the zucchini and yellow squash evenly. Let them salt while you prepare other vegetables. 
Heat a tablespoon of oil in a large skillet. Add the onion and bell pepper. Cook until onion becomes translucent, about 3-4 minutes. 
Add the chopped tomato to the mixture and continue to cook for couple more minutes. 
Using the paper towel, pat the zucchini and yellow squash dry. Add the zucchini and yellow squash to the mixture. 
Add the black bean, cumin, chili powder, and black pepper to the mixture and stir until everything is well mixed. Add about a pinch of salt to the mixture. 
Remove the mixture from heat.
Add about ⅔ cup of red enchilada sauce and ½ cup of cheese to the vegetable mixture. Mix well. 
Preheat the oven to 400F. 
While the oven is preheating, assemble the enchiladas. 
Place about ½ cup of red enchilada sauce on the bottom of a 9 x 9 inches baking pan. Spread the sauce so the bottom is completely covered with the sauce. 
Place about ½ cup of the vegetable mixture on top of tortillas and roll them tightly. Transfer to the baking dish, the seam side down. Repeat until all the vegetable mixture is used up. 
Pour the rest of the enchilada sauce on top of the assembled enchiladas and sprinkle with the rest of the cheese.
Bake for 16-18 minutes. Garnish with fresh avocado, jalapeno slices, and/or queso fresco. Serve right away. 
Notes
You don't have to use both zucchini and yellow squash. You can use either.
Adding other vegetables such as corn, broccoli, and spinach is a great idea. 
If you don't have black beans on hand, you are more than welcome to use other types of beans such as pinto and kidney beans. 
You will need 5 to 6 tortillas depending on how thick you roll your enchilada. I tend to roll mine thick so I only ended up using 5. Also, I have used whole wheat and corn tortillas for these enchiladas and they tasted great!
Keywords: Vegetarian summer veggie enchiladas, summer veggie enchiladas, veggie enchiladas with black bean, vegetarian enchiladas