Creamy Vegan Butternut Squash Soup - a soup that is creamy, velvety, subtly sweet, and savory! Perfect for fall dinner or crowd-pleasing appetizer.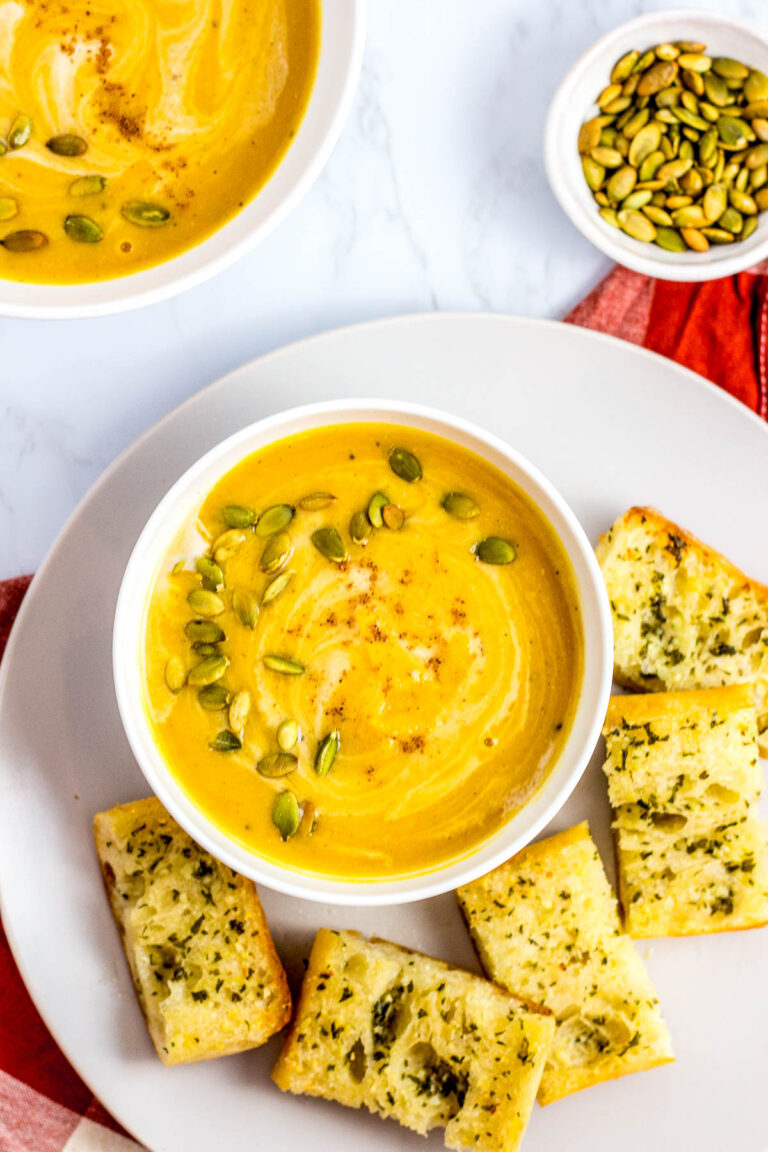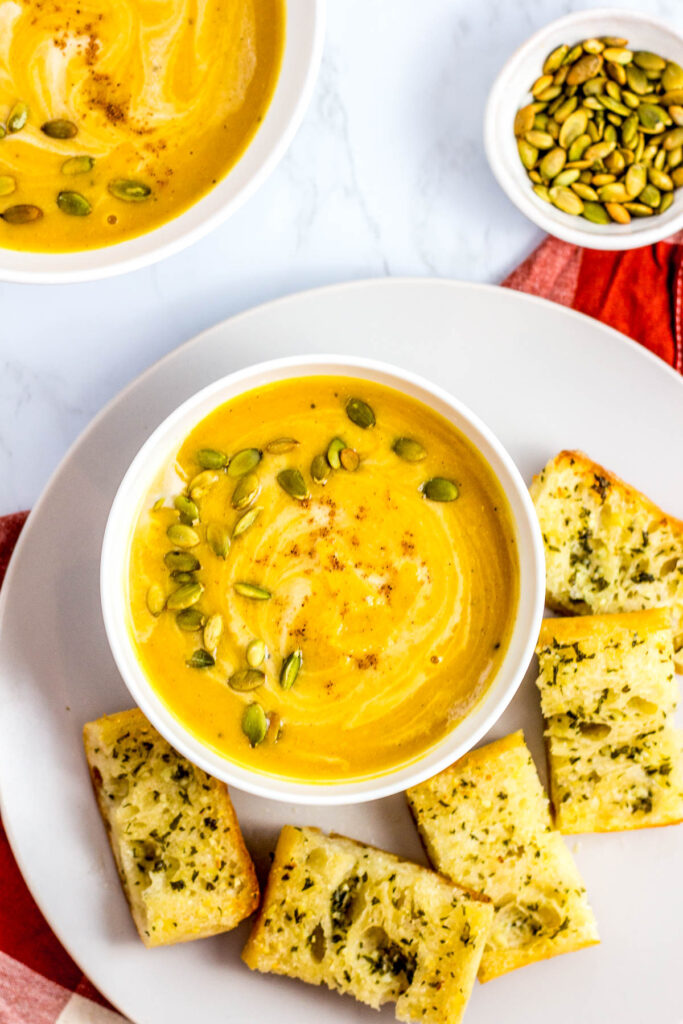 It is fall! The weather here in LA doesn't feel like fall (it is still pretty summery) but I can tell it is fall by certain items in the grocery store. The pumpkin spice in the spice section, pumpkin puree in the canned good section, pumpkin spiced latte flavor coffee creamer in the refrigerated section, and all different sorts of pumpkins and squashes in the produce section told me fall has arrived.
When I think of fall food, a couple of things pop up in my head. One is some sort of baked good. Like pies, quick bread (such as pumpkin bread), scones, and muffins. The other thing is soup!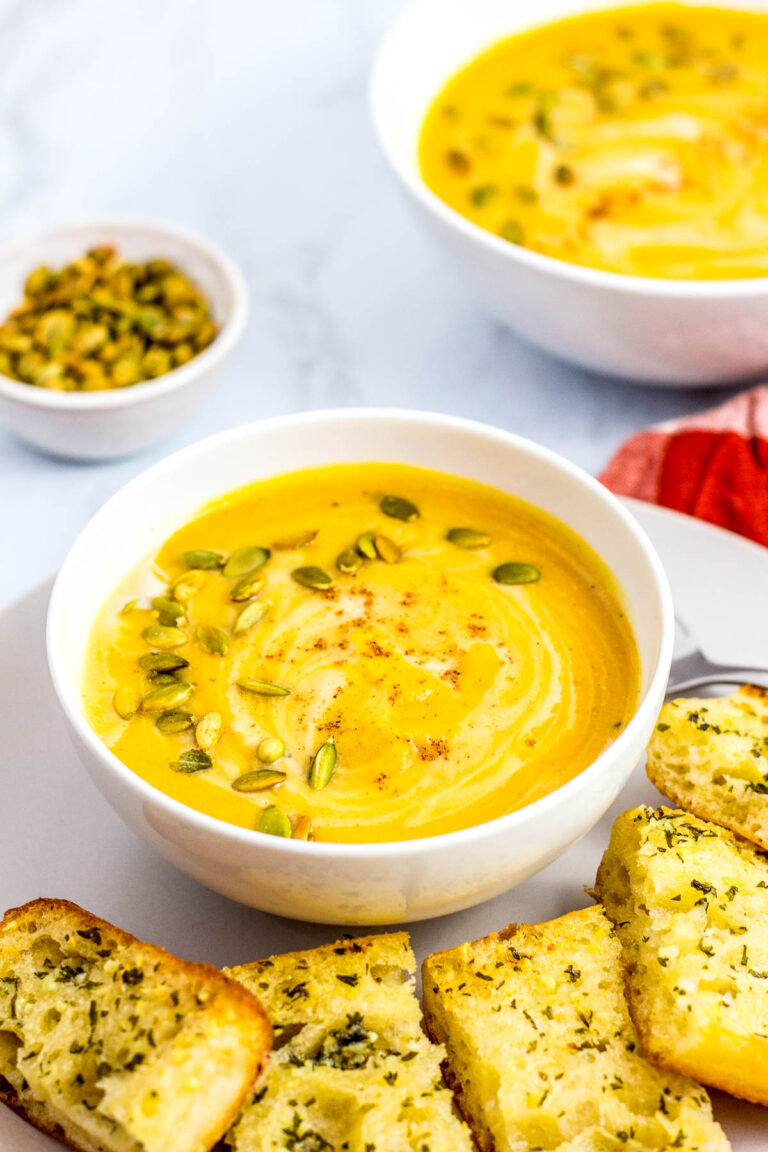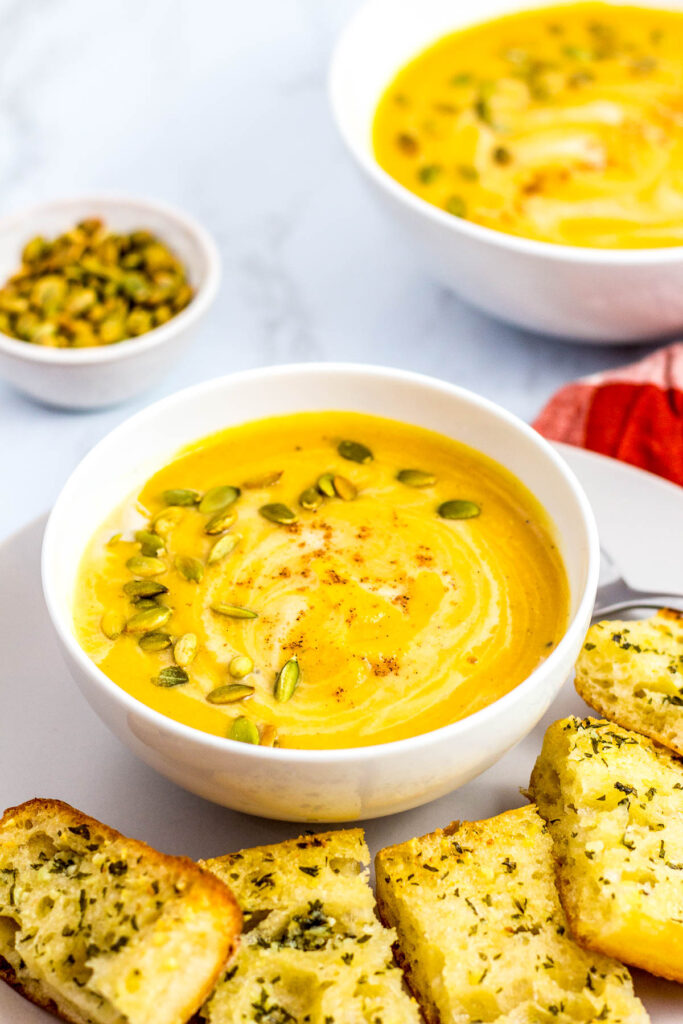 Soup is comforting, warm, and nice. I'd be perfectly content with eating a big bowl of soup as a meal. My husband, on the other hand, would like the soup to be served as an appetizer or at least with a small sandwich. So I served this soup with some homemade garlic bread.
How to make the butternut squash soup vegan
I used to make something very similar using heavy cream and a half and half. But this vegan version of my soup uses oat milk. I know coconut milk can also be very thick and creamy but it does have a very distinctive flavor profile. Oat milk, on the other hand, has the texture of milk with a very mild flavor which makes it a perfect alternative to milk.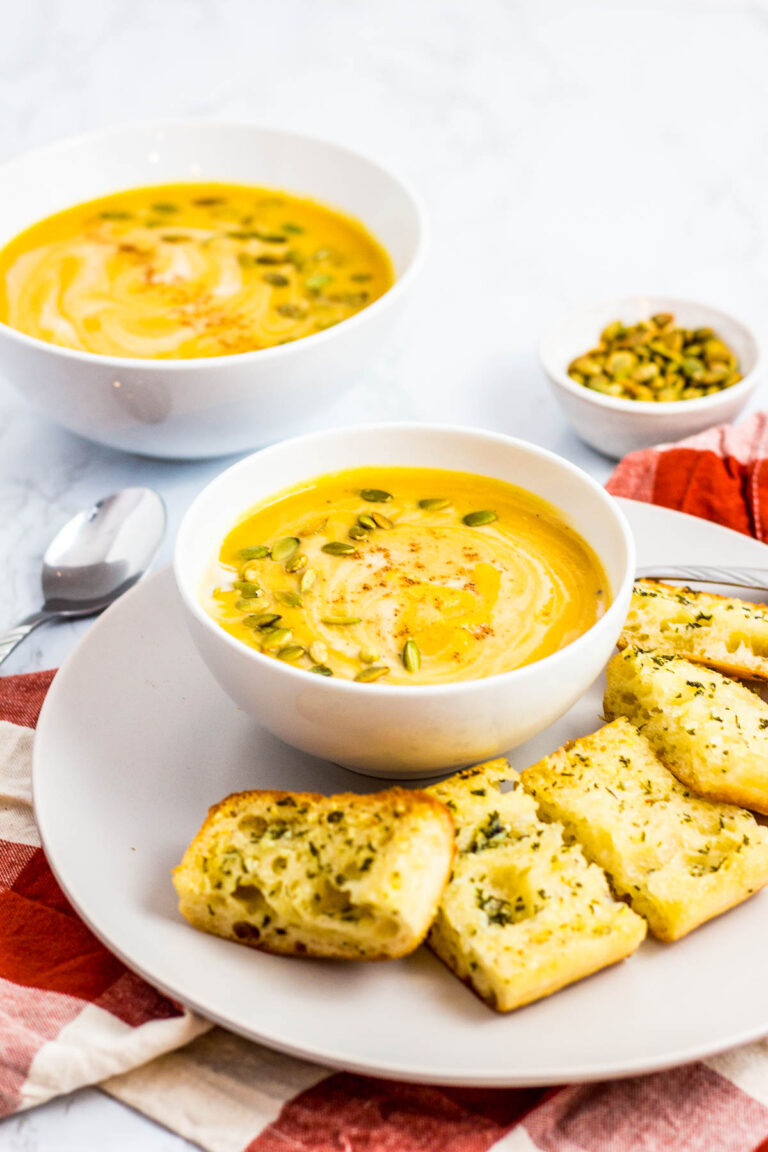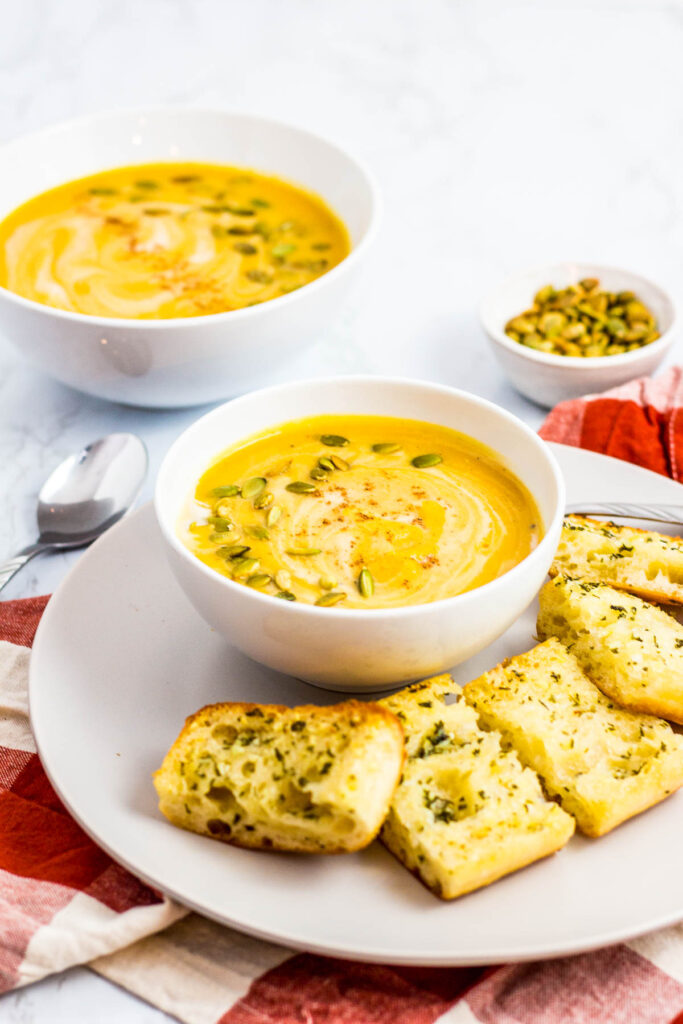 People recognize the arrival of fall differently. It may be the chilly air in the morning, colorful leaves on the tree, or by different items displayed at the grocery store. No matter how you celebrate the beginning of fall, I think my creamy vegan butternut squash soup deserves a spot on your cozy fall dinner table.
Would you like more recipes with butternut squash/winter squash?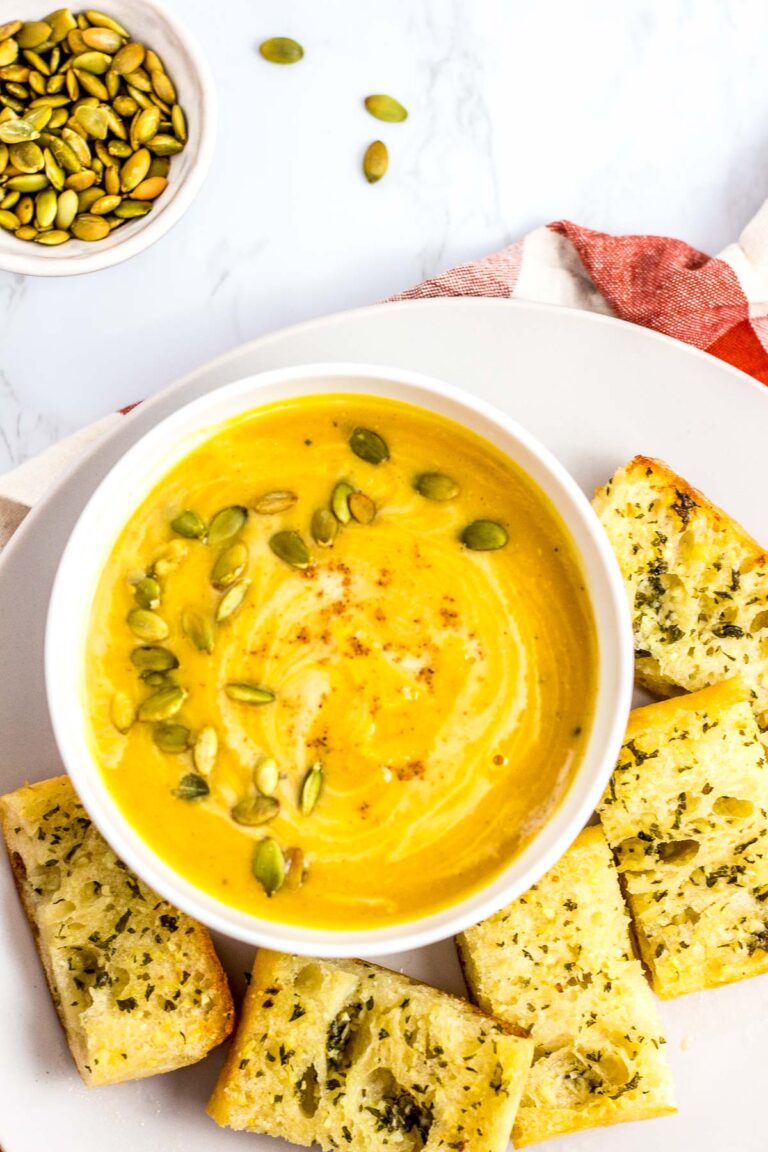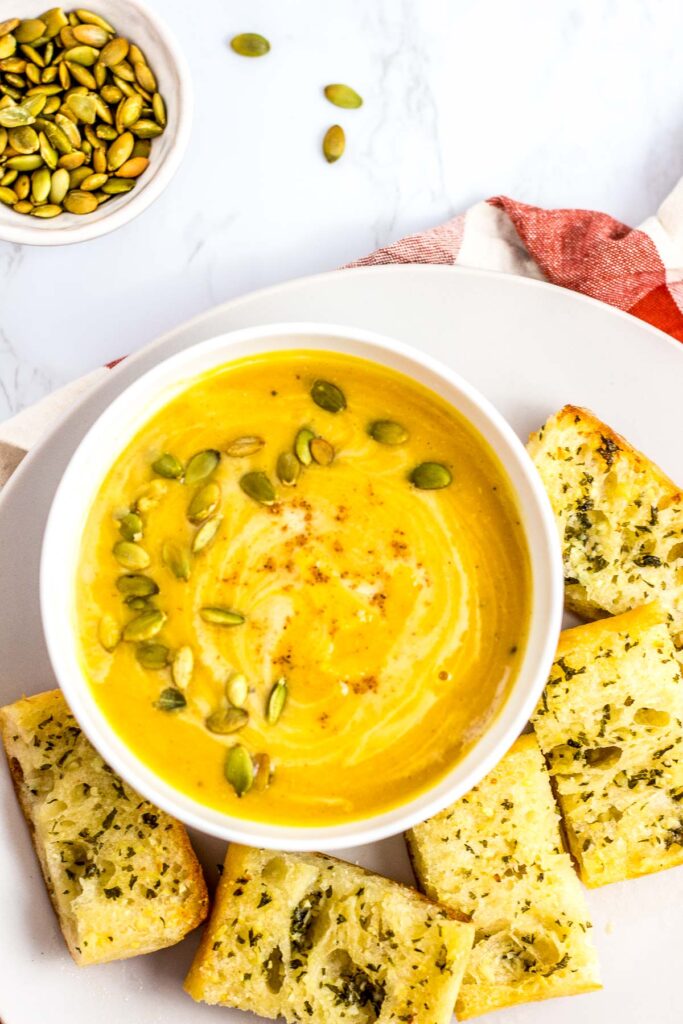 Print
Creamy Vegan Butternut Squash Soup
Creamy Vegan Butternut Squash Soup - a soup that is creamy, velvety, subtly sweet, and savory! Perfect for fall dinner or crowd-pleasing appetizer. 
Author:
Prep Time:

20 min

Cook Time:

2 hours

Total Time:

2 hours 20 minutes

Yield:

serve 6

Category:

Soup

Method:

Boil and blend

Cuisine:

American

Diet:

Vegan
Instructions
Preheat oven to 375F
Cut butternut squash in half (lengthwise) and take out/scoop out the seeds and inner membrane. You can additionally cut it in half lengthwise to shorten the roasting time.
Drizzle olive oil on cut sides of butternut squash so the surface is coated with oil. Sprinkle with salt and pepper. 
Place the squash in the oven and bake for about 1.5 hours or until the meat of the squash is tender. Let it cool so that it will be easier to scoop out the meat of the squash.
While the squash is cooling, heat a large-size heavy pot in medium heat. Add 1 tablespoon of coconut oil. 
Add the onion and cook until it's translucent.
Once the onion is translucent, stir in ½ teaspoon of salt, ¼ teaspoon pepper, ¼ teaspoon nutmeg, and ½ teaspoon cinnamon. Cook for another minute.
Add the peeled and diced apple and the cooled butternut squash to the pot.
Continue to cook by stirring the mixture to break up any big chunks. Cook them until the fiber of the squash breaks down further. The mixture should resemble chunky apple sauce.
Once the mixture feels soft, stir in 2 cups of water and the vegan chicken flavor seasoning. Bring the mixture to a boil then reduce heat to a simmer.
Place a lid and let it simmer for 15-20 minutes.
Using an immersion blender, blend the mixture until very smooth. you may also use a high-speed blender.
Add the oat milk and stir to mix. Season the soup with salt and pepper. Garnish the soup with a drizzle of oat milk, vegan sour cream, or a sprinkle of cinnamon and nutmeg.
Notes
Cutting butternut squash can be very difficult. That's why I roast them relatively big and scoop out the meat once they are soft rather than dice them in the beginning.
Sauteing onion in coconut oil brings out the sweetness of the squash. You can hardly taste the coconut flavor in the soup. However, if you do not like coconut flavor, substitute it with olive oil. 
If you don't want to use the chicken flavor vegan seasoning, you are more than welcome to use vegetable stock/broth. I personally think this seasoning enhances the subtle but pleasant savory flavor of the soup. 
Keywords: creamy vegan butternut squash soup, butternut squash soup, soup, vegan soup