Vegan Chicken Flavor Bouillon Powder - Tired of numerous cartons of veggie and chicken broth taking up your pantry spaces? I've got just the thing for you!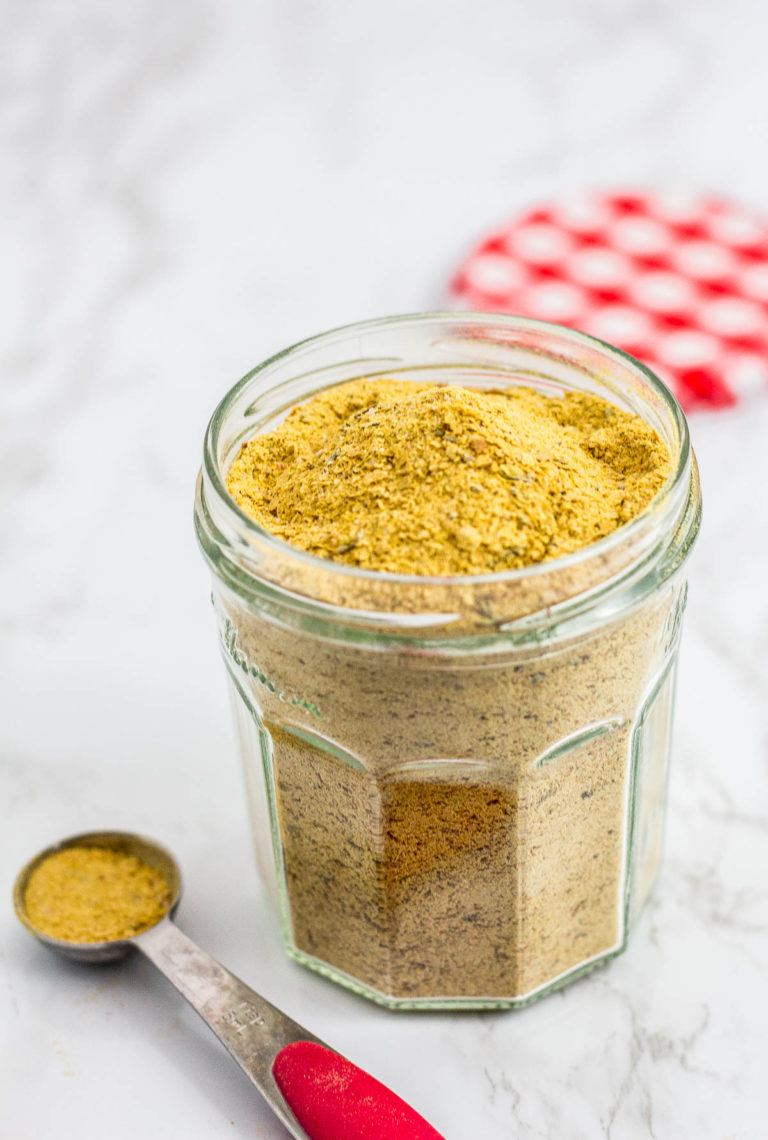 Hello friends! How is quarantine treating you these days?
It is a difficult time for everyone. We all got cabin fever and looking to find some normalcy in this chaos. I am having a hard time not moving around as much as I used to, not being able to walk into a store to get what I needed, and interact with family members and friends through some sort of screens only.
Things that I am not saying I'm having a difficulty per se but certainly have been annoyed by are: longer than usual online delivery time (if you are lucky enough to find them in first place), having to carry enormous amount of grocery to my apartment since I only shop twice a month (if that), and running out of space to put away my grocery!
Considering I used to go grocery shopping two or three times a week, it is challenging enough to find spaces for all the non-perishable items int he pantry. I honestly don't have space to stock up veggie broth. But then again, even if you have the space, wouldn't you like to save your money by having much cheaper option? Yes, you can make veggie broth at home but it will take up your precious space in the fridge! And here is where my Vegan Chicken Flavor Bouillon Powder recipe makes the appearance and save the day! 😉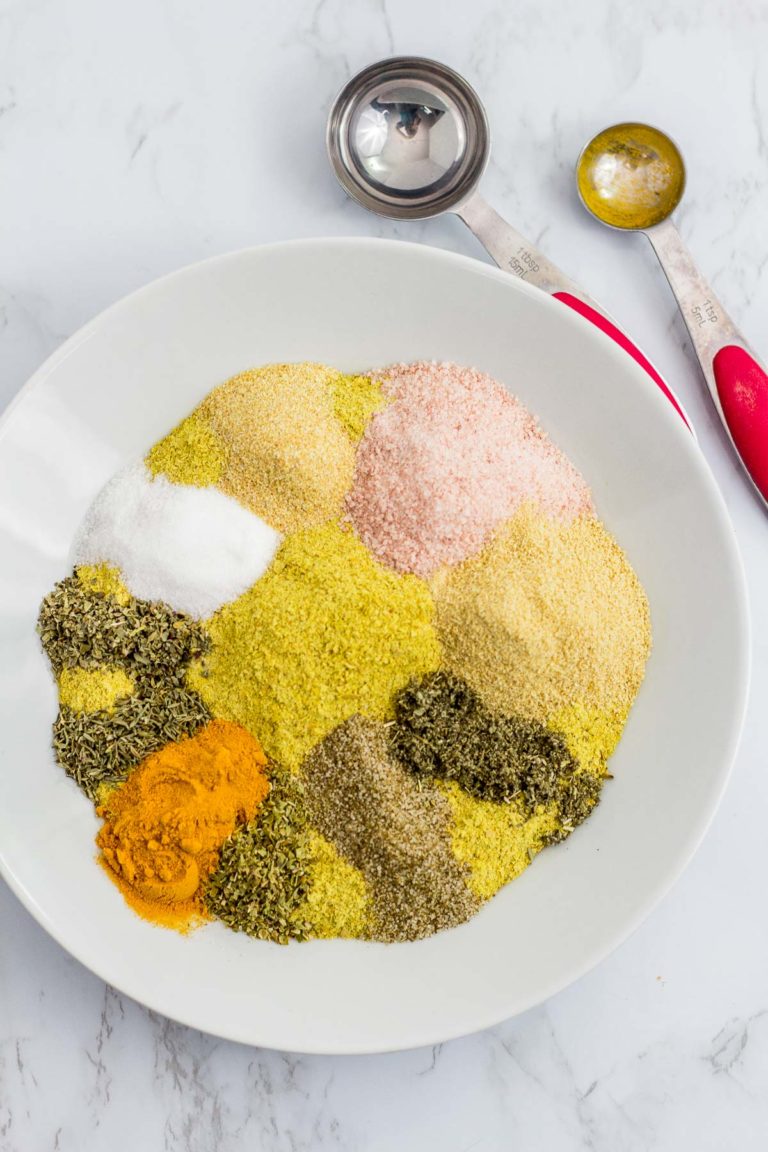 I used to buy Orrington Farms - Vegan Chicken Flavored Broth Base. It is seriously delicious and taste just like chicken without any chicken in them! But it got expensive buying them ALL THE TIME. So I started making my own by trying different recipes online. Then I finally came up with my own that I think it taste pretty close to Orrington Farms' vegan chicken flavored broth base!
What is in my Vegan Chicken Flavor Bouillon Powder?
Nutritional yeast - This is the main ingredient!
Salt - If you buy low sodium or no salt broth, you can omit this.
Onion powder - This ingredient contribute to the savoriness of the broth.
Turmeric - This gives that rich yellow color in chicken broth. Plus, it's very good for you!
Sugar - I have made it without sugar but I find that little sugar gives much better flavor to the broth.
Garlic powder - Gives the broth the depth of flavor.
Celery salt - This really adds the similar flavor of chicken stock because chicken stock often is made with celery.
Dried thyme, dried oregano, dried basil, and dried sage - These are main ingredients to make poultry seasoning so it's not surprising to add these herbs to echo the flavor of chicken that we are familiar with!
To make the bouillon powder, you just simply need to mix all these ingredients in a big bowl, mix well and transfer it into a jar. I use 2-3 teaspoons of the bouillon powder in a cup of water to replace 1 cup of veggie broth or chicken broth.
Where else can you use this bouillon powder?
You can pretty much use it in any places where it calls for chicken or veggie broth.
Soup - It is great in every soup! But have you made my Creamy Vegan Butternut Squash Soup? I cannot wait to get my hands on butternut squash so I can make this soup again!
Chili - Chili is great way to use this bouillon powder. Especially if you are making vegan or vegetarian version. This bouillon powder gives another layer of savoriness to compensate for not using any meat in the dish. For example: Vegetarian Roasted Winter Squash Chili.
Gravy - Who wouldn't want a gravy on a mashed potato?!
Rice and/or quinoa - If you'd like extra flavor in your grains, try to put some of this bouillon powder. You probably will never go back to eating plain rice and quinoa.
Although I have these petty complaints like not having enough pantry space, I really am grateful that all of my family and friends are safe and healthy. I hope my recipe can help you free up some of your pantry space in this crazy time!
Happy eating, my friends!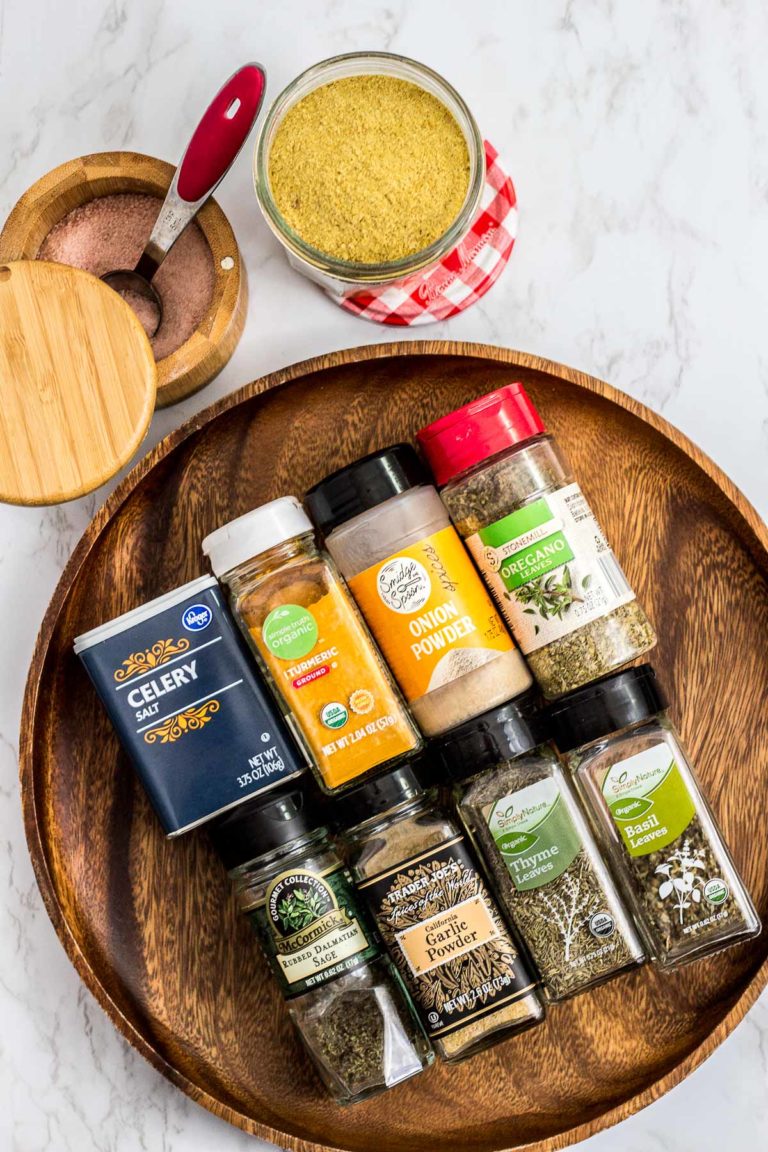 Print
Vegan Chicken Flavor Bouillon Powder
Vegan Chicken Flavor Bouillon Powder - Tired of numerous cartons of veggie and chicken broth taking up your pantry spaces? I've got just the thing for you!
Author:
Prep Time:

5 min

Total Time:

5 min

Yield:

1 cup

of bouillon powder

1

x
Category:

Condiment

Method:

Mix

Cuisine:

American

Diet:

Vegan
1 cup

Nutritional yeast

1 teaspoon

sugar

1 teaspoon

garlic powder

1 tablespoon

salt (you can adjust the amount if you are watching sodium level)

1 tablespoon

onion powder

½ tablespoon

turmeric

1 teaspoon

dried thyme

½ teaspoon

dried oregano

½ teaspoon

dried basil

1 teaspoon

celery salt

1 teaspoon

dried sage
Instructions
In a large bowl, mix all the ingredients well. 
Transfer into a jar with a lid. (2-3 teaspoons of powder in a cup of water equals 1 cup of chicken or veggie broth)
Notes
If you are watching your sodium intake, adjust the amount to your liking. 
If you don't want small flakes of herbs, you can always put the powder into a food processor or blender to make the powder more fine. I personally don't mind flakes of herbs. 
Keywords: vegan chicken flavor bouillon powder, vegan broth powder, bouillon powder, chicken bouillon powder