Getting low on your kimchi supply? Worry not! Homemade vegan kimchi (version 2) is as delicious as my original vegan kimchi made with fewer ingredients!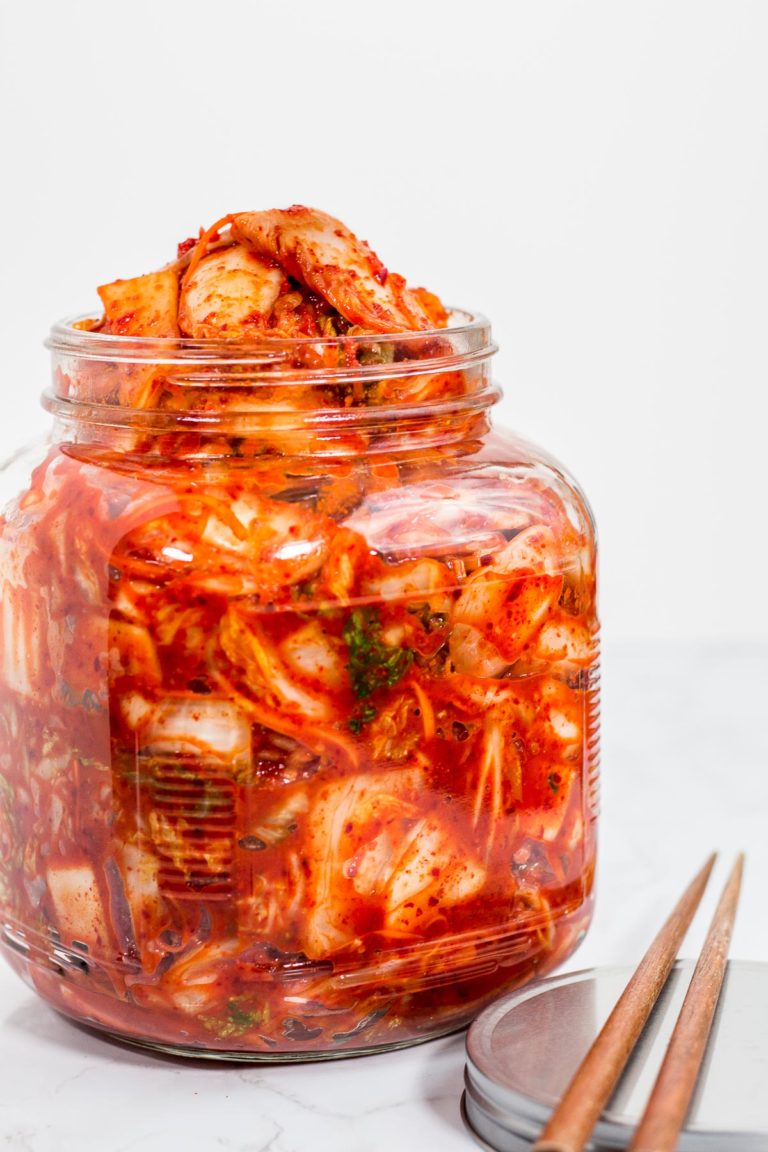 How are you handling the quarantine these days? I am doing well overall. I'm an extreme homebody so being stuck in the house doesn't really bother me. But I almost had a small anxiety attack in the beginning when the stay-at-home order was announced where I live. Not only because it was alarming but because I was almost out of my kimchi!
I know this may sound silly to you but the food is VERY important to me when it comes to comfort. I eat when I'm happy, I eat when I'm stressed, I eat when I'm sad, and I eat when I get excited! And Kimchi is an essential staple in every Korean household!
So my husband and I ran to the store to get some Napa cabbage and daikon/Korean radish at a nearby grocery store. I still had Korean coarse sea salt and red pepper flake at home so I didn't have to go to the Korean grocery store. The thing is I had most of the ingredients to make my original vegan kimchi but not all the ingredients. So what did I do? Improvised, of course! And this is how my homemade vegan kimchi version 2 was born.
If you have not checked my Homemade Korean Vegan Kimchi recipe, you really should. I have successfully made delicious vegan kimchi following this recipe for over a year now. My version 2 is actually very very similar to version 1/original recipe. The overall process is almost identical. The main difference is in ingredients. Version 2 is made during quarantine time, it has fewer ingredients. But there was no compromise in taste and satisfaction though!
How is my Homemade Vegan Kimchi (Version 2) different from the original?
As I mentioned earlier, the overall process/instruction is the same. The difference is in ingredients.
Common ingredients: Napa cabbage, Korean coarse sea salt, dried kelp (Da-shi-ma), garlic, onion, apple, carrot, daikon/Korean radish, and Korean red pepper flakes
Ingredients in the original recipe that are not found in version 2: Sweet rice flour, Medjool dates, red Aleppo pepper, green onion
Replacement ingredients in version 2: Regular flour for sweet rice flour. White sugar for Medjool dates. Omit red Aleppo pepper and green onion.
I must say, every single ingredient in my "Version 2 recipe" is an absolute necessity in making vegan kimchi. I know it still may seem a lot but you can find almost every single one of them in the produce section of your grocery store. The "ethnic" ingredients you may have to make a separate trip to international grocery stores or Asian markets are now available online.
Ingredients you may have to purchase online (or make a trip to an Asian grocery store):
Korean coarse sea salt - I bought a 2 pounds bag last year and I still have some leftover after making kimchi numerous times.
Dried Kelp/Kombu (Da-shi-ma) - You can buy any brands. I'm familiar with Korean brands like Ottogi and Chun Jung One. But I have used other Japanese and Korean brands and they were all good.
Korean red pepper flakes - If you like Korean food and plan on making other dishes, you should definitely have these ingredients on hand. Once you open a bag of red pepper flakes, store them in your freezer. Otherwise, it will turn black and lose its flavor.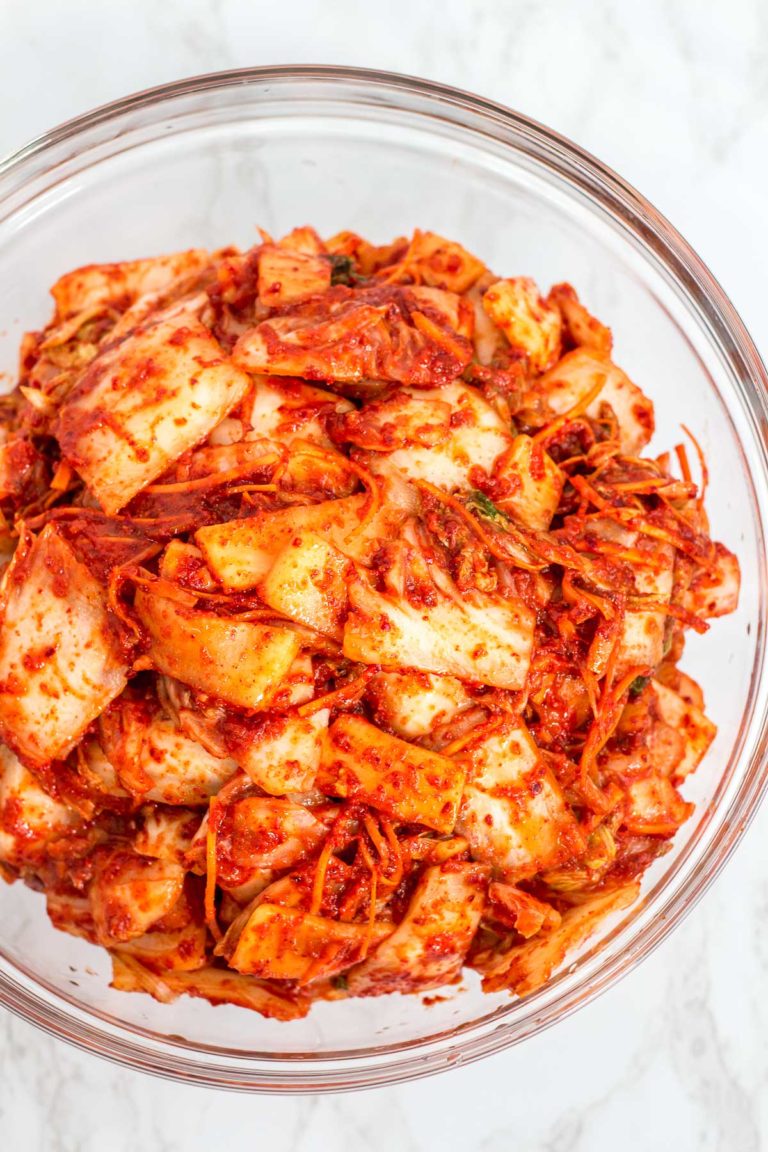 How to make Kimchi:
Kimchi is actually very easy to make. However, it is not a food that you can whip up in less than an hour. It takes at least 4 hours to make and that is not counting the fermentation time. But don't be scared just yet. The bulk of the time is spent on salting the cabbage.
The general method of making kimchi is simple. You salt your cabbage. Meanwhile, chop up the carrot and daikon/Korean radish and make the kimchi sauce. Once the cabbage is salted, mix it all together and transfer to a container, ferment your kimchi and enjoy. That's it! Easy enough, right?!
Tips on making homemade kimchi:
Salt your cabbage properly - The salting time of the cabbage differs every time because your cabbage is different every time. How I determine when my cabbage is done salting is by looking at how it bends. Grab a piece of cabbage that was a part of the stem (thick white piece) and try to bend it with your fingers. If it bends without breaking into two pieces, it's ready. Another way is to taste the cabbage. Grab a piece of cabbage and rinse quickly under cold water and taste it. It should taste slightly salty.
Vegetables other than Napa cabbage in the kimchi - We are in the midst of quarantine due to Covid-19. If you can't find carrots or daikon/Korean radish. Don't sweat it. Just make it with Napa cabbage. I promise you it will turn out great.
When mixing the sauce with the cabbage, don't use all the sauce at first - Dump half of the prepared kimchi sauce into your salted cabbage and mix gently until all the cabbage pieces are coated with the sauce. Then taste your kimchi. Everyone has a different spice level. If you want more heat, add more sauce. If you want mild kimchi, you can stop here. The leftover sauce freezes really well. Just place them into a zip lock bag and keep it in the freezer until you are ready to make your next batch of kimchi!
Gently toss your cabbage with the sauce - Don't be rough with your vegetable. If you are rough in mixing the vegetable process, it may make your kimchi mushy after fermentation.
So here I spilled all of my secrets in making delicious vegan kimchi at home. At an unsettling time like this, I think it's really important that I don't run out of something that brings me so much comfort and connects me to my root and culture. I hope my vegan kimchi can provide you with small comfort, too.
Happy eating, my friends!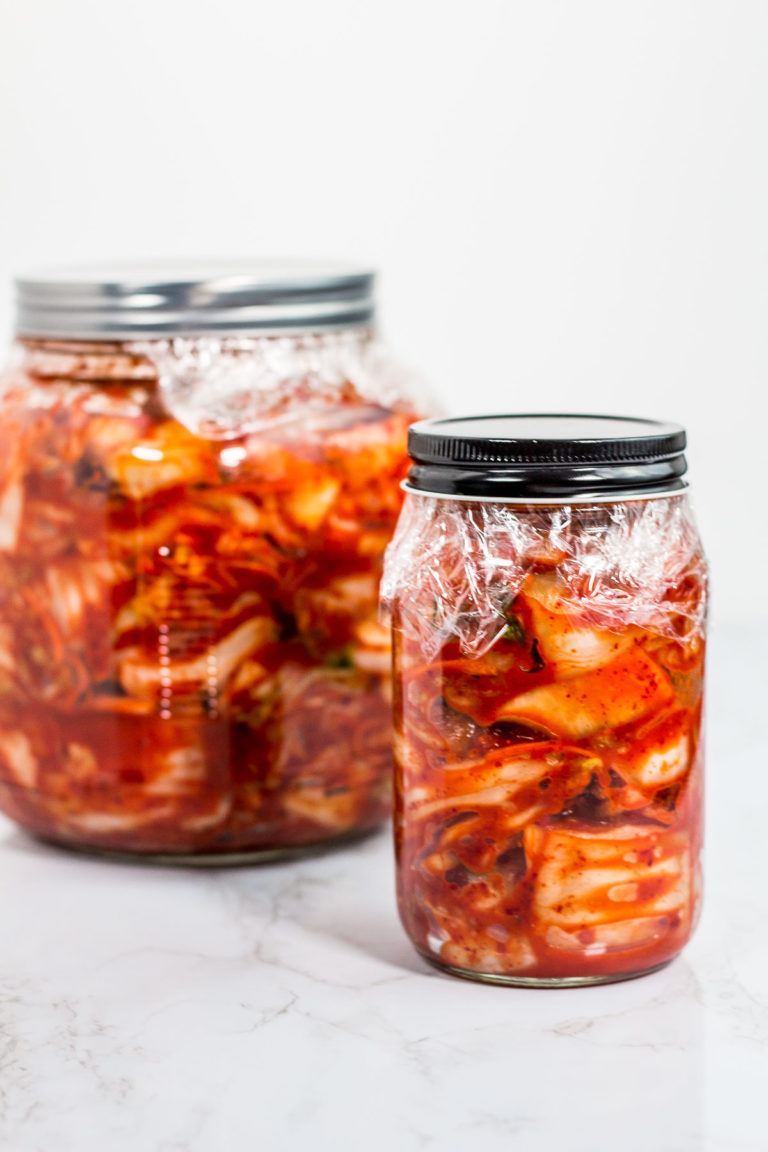 Print
Homemade Vegan Kimchi (Version 2)
Getting low on your kimchi supply? Worry not! Homemade vegan kimchi (version 2) is as delicious as my original vegan kimchi made with fewer ingredients!
Author:
Prep Time:

4 hours

Total Time:

4 hours

Yield:

About 5 pounds of kimchi

Category:

Side Dish

Method:

Mix

Cuisine:

Korean

Diet:

Vegan
1 large Napa cabbage, about 4 pounds

½ cup + 1-2 tablespoons Korean coarse sea salt

2 cups of water

2-3 pieces of Korean dried kelp/kombu (Da-shi-ma)

2 tablespoons flour 

6-7 cloves garlic

1-2 tablespoons sugar

¼ large onion, roughly chopped

1 small apple, roughly chopped

1 carrot, cut into match stick

1 small size daikon (about 1 pound), cut into small pieces

¾ cup Korean red pepper flakes (gochugaru)
Instructions
Cut the cabbage in half, lengthwise. Cut them again lengthwise. Cut them once again lengthwise. Cut the cabbage into big bite-size ( they will shrink after the salting process). Place the cabbage in a large bowl and soak them under cold water. 

In another large bowl, take some of the cabbage out of the water (No need to drain them well) and sprinkle about a couple of tablespoons of Korean coarse sea salt on top. Repeat the process until all the cabbages are sprinkled with salt. Pour about 1 cup of water on top. Let the cabbage salt for about 90 minutes. 

About after 90 minutes, mix the cabbage around. It is perfectly normal to see a large amount of water collected at the bottom of the bowl. Try to place the cabbage that was soaked under the water to the top and bring cabbages they were on top to be submerged on the bottom. This ensures all the cabbage pieces to be salted evenly. Continue to salt the cabbage for additional 45-60 minutes. 

Cut the daikon into small pieces. In a medium-size bowl and pour about ½ cup of the salted water that was collected on the bottom of the cabbage. Soak the daikon for 15-20 minutes. Drain the daikon and set it aside.

Prepare your kimchi sauce. Boil about a cup of water. Once the water comes to a boil, turn off the heat and place the dried kelp/kombu in the water. Let it steep for 10 min. Take the kelp out of the water and add 2 tablespoons of flour and whisk until you no longer see the clumps of flour. Turn on the heat to medium and let it simmer for a couple of minutes until it thickens. After a couple of minutes, turn off the heat and let this mixture comes to room temperature. 

Either using an immersion blender or regular blender, blend the garlic cloves, onion, apple, and flour mixture until smooth. Transfer this mixture to a bowl and mix together Korean red pepper flakes, sugar, and 1-2 tablespoon of Korean coarse sea salt. Set aside.

Grab a piece of salted cabbage (the white stem part of the cabbage) and try to bend the piece. If the piece bends without breaking, it is ready. Rinse the cabbage under cold water a couple of times. Squeeze out the water from the cabbage and transfer them into a large bowl. 

Gently toss together (don't be rough with the vegetables) your daikon, cabbage, carrots, and half of the sauce until all the veggies are well coated with kimchi sauce. Taste your kimchi and adjust the sauce. If you want it to be a little spicier, add more. 

Transfer the kimchi into a big container. You can enjoy the kimchi right away. If you want your kimchi to be sour, let your kimchi sit on the countertop for a day or two until it ferments to your liking. Keep in the fridge afterward. 
Notes
When making the sauce, you can adjust the sugar and salt amount. Don't be afraid to taste your sauce to adjust the amount.
Don't be rough mixing the sauce and the vegetables. Gently toss them together until all the veggies are coated with the sauce. This helps your kimchi stay crisp longer.
When transferring your kimchi to a container, do NOT overfill. Leave about 3 inches of room on top of kimchi. I overfilled the kimchi for picture taking purposes only. I transferred my kimchi into a second container afterward. When kimchi ferments, it produces water. If you overfill your kimchi, the water produced by the cabbage and other vegetables WILL leak out and make a stinky mess. 
Keywords: homemade vegan kimchi version 2, homemade vegan kimchi, vegan kimchi, how to make vegan kimchi