Would you like to feel organized and in control while cooking? Would you like to follow along with the recipe with efficiency and ease? The key to doing all of these is to perform thorough mise en place. We will be discussing what mise en place is and how to perform them.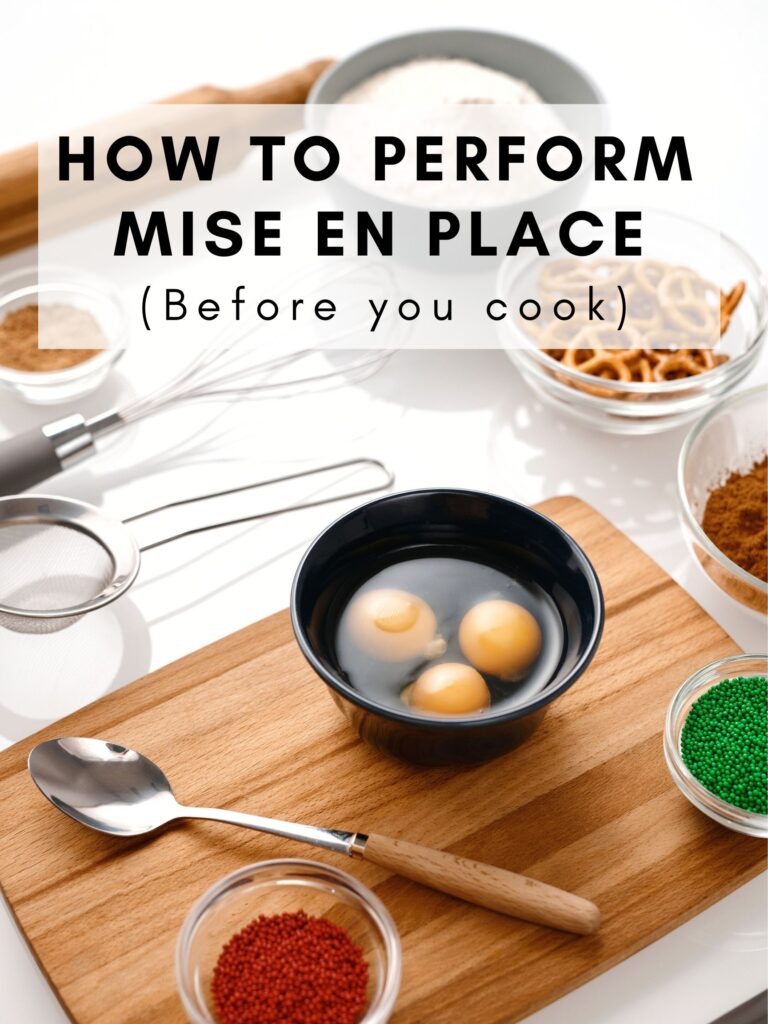 Have you ever wondered why your kitchen looks like a disaster, took nearly three times longer to cook the dish, and ended up with a mountain load of dishes? If this is you, mise en place is the solution to avoid these situations.
What is mise en place?
Mise en place is a French term for "Everything in place." This means all the ingredients are prepared, pre-measured, and all the tools/equipment are gathered prior to cooking.
Although I have always performed some type of mise en place without knowing, I've learned to adapt this critical step in my own kitchen ever since I started to work as a cooking instructor at my local cooking class.
At the cooking school, the chefs and instructors perform mise en place prior to the class. In this case, students can focus more on cooking instead of preparing the ingredients. Mise en place is also done in all of the professional kitchens to maximize efficiency.
I believe performing mise en place is what's missing for beginner cooks to feel more confident and in control in their own kitchen. So how should we perform mise en place at home?
How to perform mise en place:
Read the recipe.
Gather all ingredients and kitchen tools.
Place the tool(s) in their appropriate places - this could mean placing a skillet on a stovetop, clearing your counter space to put your cutting board and other ingredients, boiling a big pot of water for pasta, preheating your oven, and/or gathering measuring tools.
Divide ingredients by vegetables and fruits, spices and oil, and protein.
Wash (and dry) the ingredients if applicable.
Prepare the vegetables and fruits - this may require peeling, dicing, chopping, slicing, mincing, as well as measuring.
Prepare the protein - this could involve thawing your protein as well as cutting them into the appropriate size for the recipe.
Gather the spices and oil. Pre-measuring is optional but recommended for beginners. I like to use a little dipping dish to measure out spices.
Organize the ingredients in the order of the instruction. I recommend using a big plate or even a baking sheet to place all the prepared ingredients in one place. This will not only help you organize your cooking space but also save time in gathering ingredients to use in each cooking step.
Start cooking by following the recipe.
To demonstrate how to perform mise en place, I'm using my Easy Egg Fried Rice as an example.
Example
The ingredient list:
3 tablespoon grapeseed oil (vegetable oil or canola oil works too)
2-3 green onion, thinly sliced
4 eggs
Pinch of salt
4 cups cooked rice
2 tablespoons oyster sauce
The order of performing mise en place would be:
Read the recipe.
Gather grapeseed oil, green onion, egg, salt, cooked rice, and oyster sauce.
Set a large skillet aside near the stove. Grab knife and cutting board. Also gather a wooden spoon and measuring spoons and cups on the countertop.
Place green onion and rice in one place, place oil, salt, and oyster sauce near each other, and place eggs in another place.
Wash green onion.
Thinly slice green onion.
Crack the eggs in the bowl and set them aside.
Gather the oil and sauces.
Place oil and sliced green onion first (the first step in the cooking process). Then place eggs and salt (scrambling eggs is the second step). Place rice behind the eggs (you are adding rice in the third step) and salt (season with salt). And place the oyster sauce last (the last step).
After organizing the ingredients in the order provided in the recipe, start cooking.
The ingredient list and instruction should provide sufficient information to perform mise en place.
Advice in performing mise en place
My general advice in performing mise en place:
Clean as you go. I like to clean as I perform mise en place but if I don't get to do that, I would at least clean right after performing mise en place and before starting the actual cooking. This way, you get to deal with a more reasonable amount of dishes and have clean space to cook with. A messy kitchen tends to make people feel overwhelmed even before cooking.
Read the recipe to perform mise en place first prior to cooking. Pay close attention to the ingredient list and instructions on how to prepare the ingredients rather than how to cook when reading a recipe first.
When organizing the ingredients, use a baking sheet. If you ever took an in-person cooking class at places like Sur La Table, they mise the ingredients and organize them on a baking sheet for you. You can easily adapt this practice at home!
Performing mise en place may be a foreign concept to you. But you must have performed mise en place before without you realizing it. The goal is for you to perform mise en place in a more constructive and thorough way so that you can be more organized and efficient in cooking.