Hoisin Tofu Sushi Bowl - Vegan-friendly sushi bowl everyone can enjoy! Filled with sweet and sticky hoisin tofu and refreshing vegetables!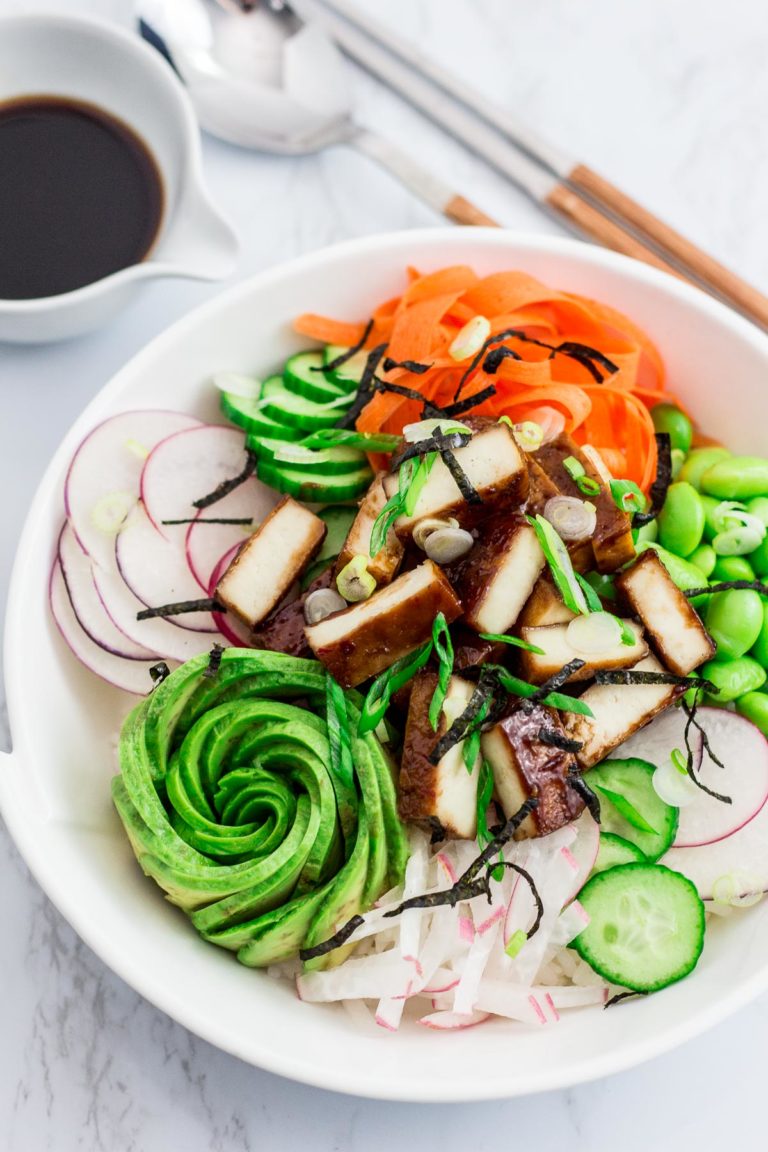 Many people think the word "Vegan" and "Sushi" can not exist together since vegans do not consume any animal products. But this couldn't be further from the truth. Sushi actually means vinegared rice. So you can absolutely have sushi and still be vegan!
I love a sushi bowl. It is so satisfying to gorge on different vegetables on the bed of seasoned rice. It's not a secret that I love rice. Rice is probably my favorite choice of carbohydrates. I would not complain if I have to just eat a whole bunch of veggies with rice but if the bowl accompanies a delicious form of protein, I am so there!!!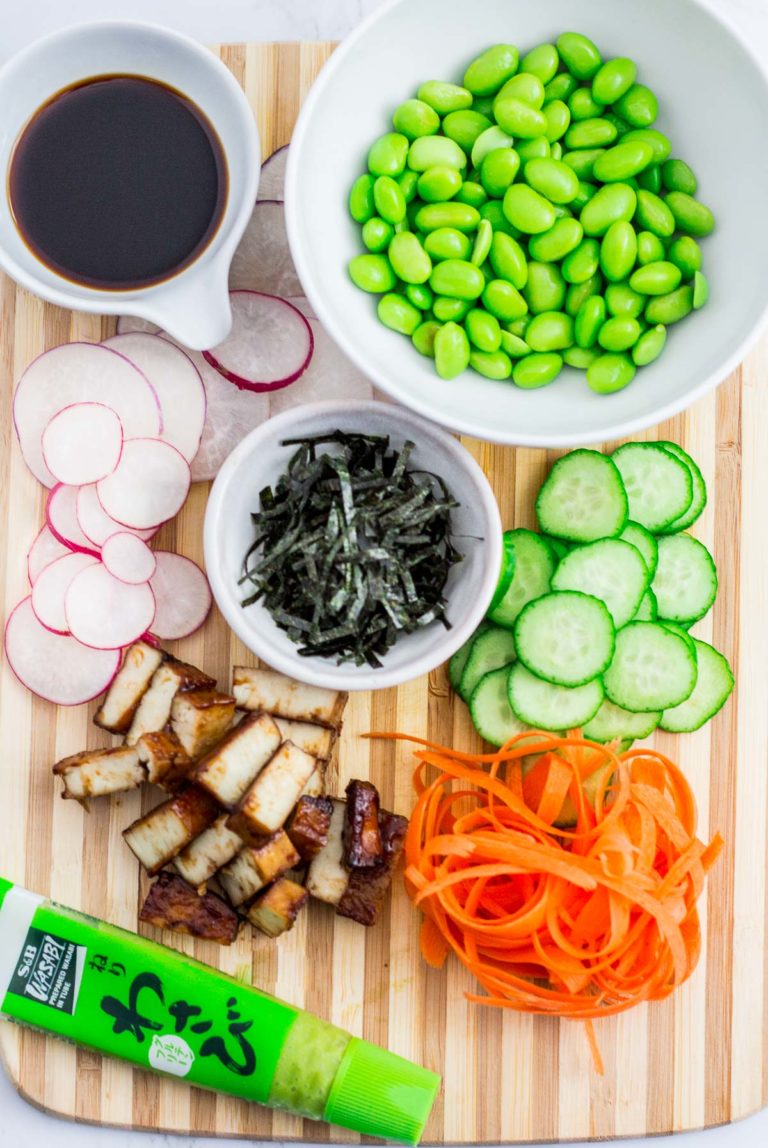 What makes this Hoisin Tofu Sushi bowl so special?
Two things! Number One: seasoned rice! The rice is seasoned with vinegar, sugar, and salt. Number Two: hoisin tofu! My last post was about this delicious, sweet, and sticky hoisin tofu that is absolutely addicting. This hoisin tofu is so very tasty in my summer rolls but in this sushi bowl?!!! Oh boy, be prepared to make a very very large bowl!
How to make sushi rice:
The sushi bowl rice is prepared the exact same way as you would make any sushi roll. In my How to make Vegan Green Sushi at Home post, I shared the recipe that I used. For every 2 - 3 cups of cooked sticky (sushi) rice, you would add 1 tablespoon of apple cider vinegar, 1 tablespoon of rice vinegar, 1 tablespoon of sugar, and 1 teaspoon of salt. I actually like to mix vinegar, sugar, and salt in a small bowl to make sure the sugar and salt are completely dissolved in vinegar first then I mix it with the rice.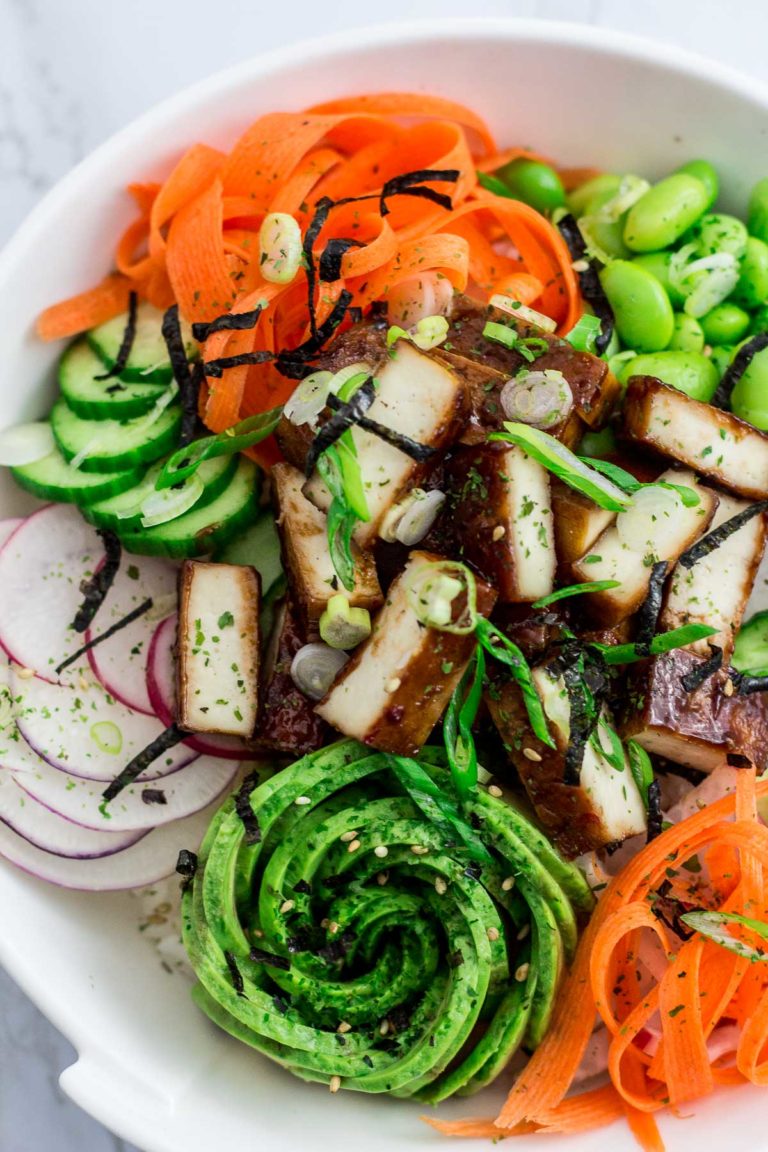 Tips on making Hoisin Tofu Sushi Bowl:
Season your rice! - Yes, plain rice would be quicker to make this bowl but you will probably end up using more soy sauce and overpower the taste of refreshing vegetables.
Use these absolute "Must" toppings - they are hoisin tofu, cucumber, and avocado. I feel that these three ingredients really make this sushi bowl what it is. I do NOT recommend omitting these ingredients in making the bowl.
Don't be afraid to customize your bowl - We are in the midst of quarantine so I can't really pick and choose my vegetables. I would have loved to use some purple cabbage for extra crunch and color and red bell pepper for sweetness but I didn't have any. So use what you have in the fridge. As long as you have my recommended "Must-Have" ingredients, you are golden!
Sauce it up! - Since my hoisin tofu packs some serious flavor and I seasoned my rice, I could get away with only using a little bit of soy sauce with wasabi. But if you are looking for an extra kick, don't be afraid to use spicy mayo or sriracha if that's what you are craving.
So how would you like to feast on this gorgeous and delicious sushi bowl for your meal? I don't know about you but I'd be pretty happy if this is what I'm having!
Happy eating, my friends!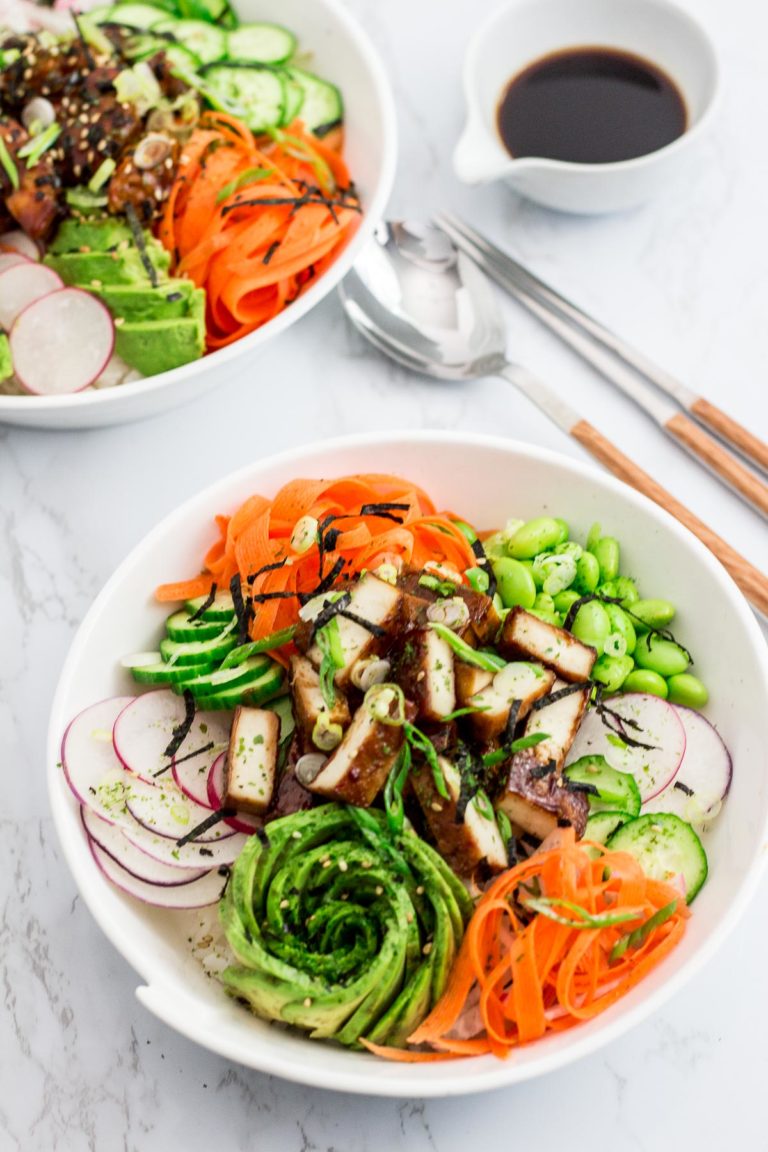 Print
Vegan Sushi Bowl with Hoisin Tofu
Hoisin Tofu Sushi Bowl - Vegan-friendly sushi bowl everyone can enjoy! Filled with sweet and sticky Hoisin Tofu and refreshing vegetables!
Author:
Prep Time:

20 min

Total Time:

20 min

Yield:

2

bowls

1

x
Category:

Buddha Bowl

Method:

Assemble

Cuisine:

Japanese-Inspired

Diet:

Vegan
For the rice:
3 cups

cooked sushi rice

1 tablespoon

Apple Cider Vinegar

1 tablespoon

Rice Vinegar

1 tablespoon

Sugar

1 teaspoon

salt
For the sushi bowl:
Hoisin Tofu (I used about ½ cup per bowl)

1

Persian cucumber, cut thinly 

1

Avocado, diced

1

Carrot, shredded or cut into thin strips

½ cup

cooked edamame

⅓ cup

thinly sliced radish
Seaweed strips, sesame seeds, thinly sliced green onion (for garnish)
Soy sauce 
Wasabi (optional)
Instructions
Add vinegar, sugar, and salt in a small bowl and mix until sugar and salt are all dissolved. You can microwave the mixture for 10 seconds if you want sugar and salt to dissolve fast. 
Mix the seasoned vinegar with cooked sushi rice. Set aside the rice but cover with a kitchen towel so the rice won't dry out. 
Prepare all of your vegetables. 
Assemble the bowl - place the rice on the bottom of the bowl (about 1.5 cups). Add all the vegetables on top of the rice and add tofu in the middle. 
Garnish with seaweed paper strips, sesame seeds, and/or green onion. 
If you are using wasabi, mix a small amount of wasabi with soy sauce (I used ¼ teaspoon of wasabi with ½ tablespoon of soy sauce) and pour over the assembled sushi bowl.
Mix and enjoy right away.
Notes
If you don't have rice vinegar, replace it with apple cider vinegar. I have done this before and my rice still turned out delicious.
This sushi bowl is very customizable. If you don't have all the vegetables I used in the bowl, no worries. Use what you have in the fridge but I highly recommend adding avocado and cucumber for that classic sushi bowl taste. 
If you are not a fan of wasabi, do not use wasabi. I personally love wasabi flavor but you are more than welcome to just use soy sauce. 
Keywords: the best hoisin tofu sushi bowl, vegan hoisin tofu sushi bowl, tofu sushi bowl, sushi bowl, vegan bowl, vegan sushi bowl, buddha bowl, rice bowl