Vegan Green Sushi Roll Recipe (vegan uramaki) - Stop wasting your money on expensive vegan sushi rolls! This is an easy recipe (with step-by-step photos and instructions) showing you how to make Vegan Green Sushi Roll at home!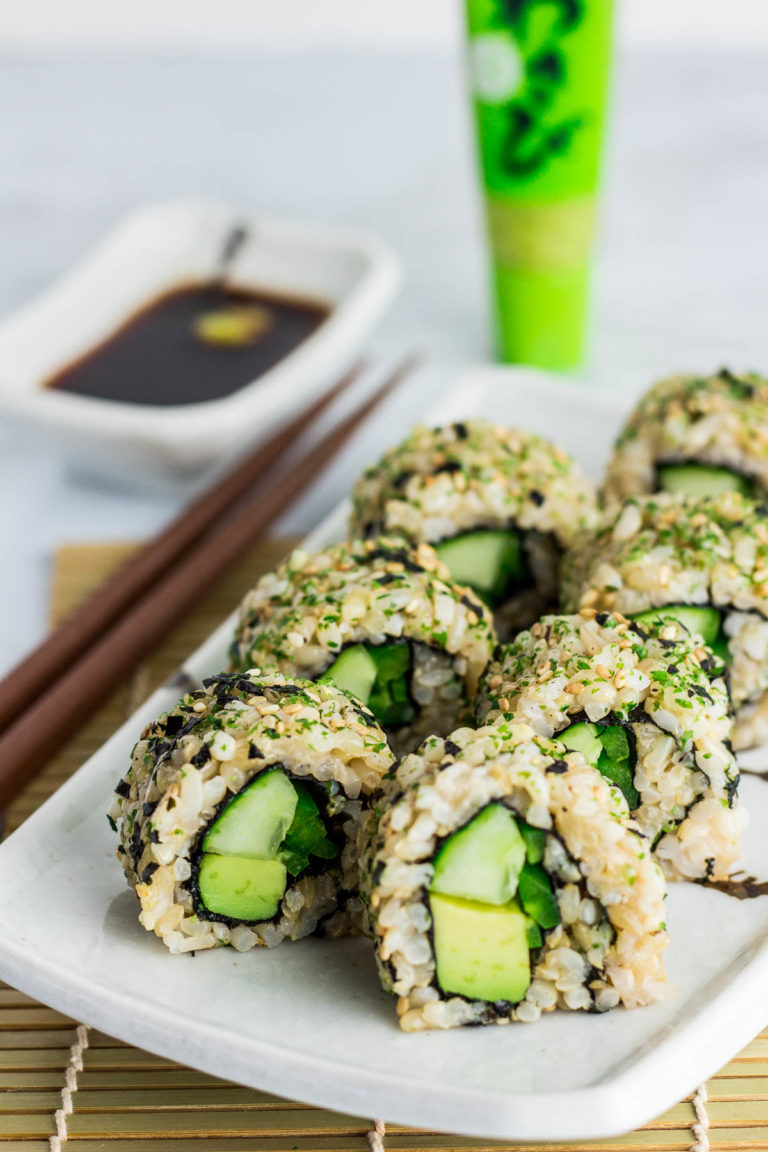 When I decided to become a vegetarian, I honestly thought I had to give up eating sushi. Saying goodbye to one of my favorite food seems too crule. So I got creative!
Because my Vegan Sushi Rice Ball Sandwich (Vegan Onigirazu) was a huge success, I thought I'd bring back the classic - vegan sushi roll recipe!
What is Sushi?
Contrary to what many people believe sushi to be, sushi actually means "sour rice/vinegar rice." When people think of sushi, they automatically think of raw fish and different types of seafood served with seasoned rice. But sushi can easily be vegan or vegetarian friendly since what makes sushi is the sour/vinegar rice!
Types of Sushi
Sashimi: Sashimi is technically NOT sushi since they are just pieces (often thinly sliced) of raw fish. But many people think of sashimi as sushi.
Nigiri: Nigiri is thinly sliced, raw fish on top of a small amount of sushi rice. Nigiri translates to "two fingers" and they are about the size of two fingers and almost always you order them a la carte (individually priced).
Maki: Maki is probably the most familiar type of sushi. It is a sushi roll. There are many different types of maki depending on the ingredients and shapes.

Uramaki: Uramaki means "inside-out roll." I'm showing you how to make cucumber avocado uramaki here!
Temaki: People use bamboo mat/sushi mat to make Maki and uramaki. But you don't need a sushi mat to make temaki. Temaki is hand-rolled sushi. You also see them under a la carte menu at a restaurant.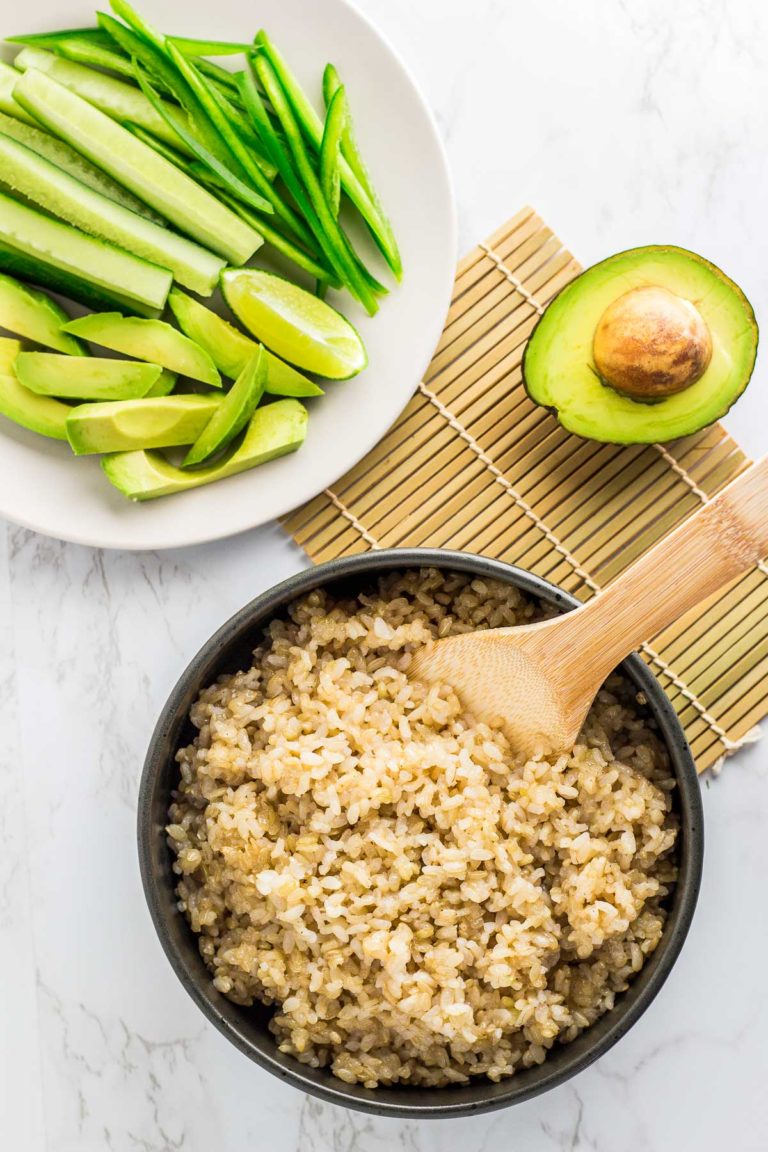 How to make sushi roll at home
Rice - To make sushi, you have to use sushi rice. Sushi rice is short-grain Japanese or Korean rice. They have higher starch content and they tend to stick together when you cook them. I like to use brown short-grain rice.
Rice seasoning - I like to use a mixture of rice vinegar and apple cider vinegar. I know most people tend to use rice vinegar to season their rice but I like the extra tang that apple cider vinegar brings to the table. The ratio of seasoning per 1 cup of cooked rice looks like this:

½ Tablespoons Sugar
⅓ -½ teaspoon Salt
½ Tablespoons Apple Cider Vinegar
½ Tablespoons Rice Vinegar

Sushi mat - The sushi mat is not required unless you are making your roll inside out like I am showing you below. But if you are making your sushi the normal way, meaning your seaweed paper is outside and your rice and fillings are inside, you don't necessarily have to have a sushi mat. It certainly is helpful if you don't have lots of experience.
Helpful tips for vegan sushi roll recipe:
Let your rice cool to room temperature - if you place hot rice on seaweed paper, it tends to wrinkle the seaweed paper. Let the rice cool before you make your sushi.
Put your rice on the right side of the seaweed paper - did you know seaweed paper has two sides?!!! One side is smooth and shiny and the other side is rough. You want to place your rice on the rough side.
Wet your hand before you handle sushi rice - sushi rice can be very sticky and it helps to wet your hand before you handle the cooked sushi rice. Another way is to wear a plastic glove when you are handling the rice.
Put the right amount of rice on your seaweed paper - what I like to do is put about a cup of cooked seasoned sushi rice on the seaweed paper and spread them out evenly. If you don't aliquot the sushi rice ahead of the time like this, you will end up putting more and more rice to the seaweed paper and your roll will be too fat to roll. If you see a spot that needs more rice, try to spread the rice evenly instead of adding more rice from the pot.
When rolling the sushi, roll and gently squeeze grabbing the outer part of the roll to the center, instead of the center part to out - this way, your fillings will stay inside instead of squeezed out. Avocado is slippery so pay attention not to squeeze your roll too hard in the center. Otherwise, your avocado will want to come out of each end instead of staying inside the roll.
Wet your knife with water or spray lightly with neutral-tasting oil before slicing the rolls. This process prevents sushi rice from sticking to the knife.
Slice your roll in a sawing motion to cut instead of cutting them straight down. If you were to cut the rolls straight down, it will crush the roll.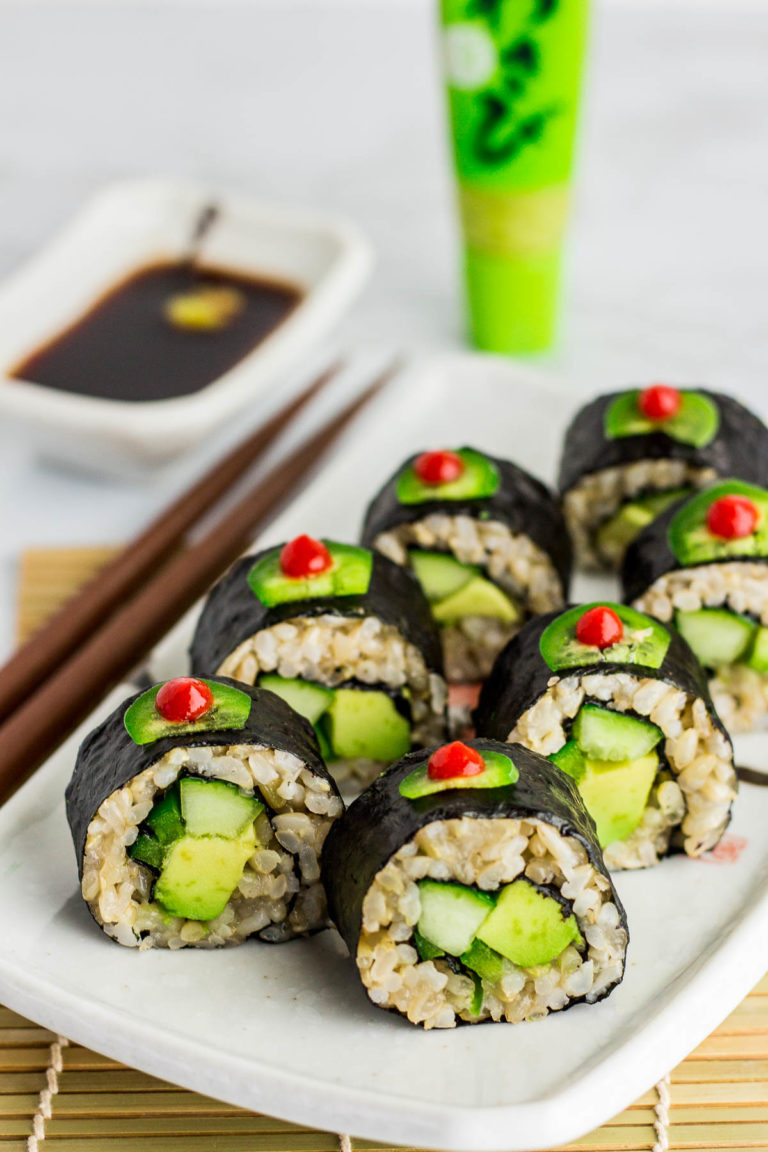 Ingredients
Avocado - I feel like this creamy fruit is a MUST on any sushi.
Cucumber - refreshing and crunchy cucumber make a perfect combination with avocado
Jalapeno (optional) - I know some of you are intimidated by this ingredient but worry not. If you remove the seeds, they are really not spicy at all. Try adding a couple of thin slices and decide for yourself. The dark green color and extra crunch that jalapeno is bringing are what make my vegan green sushi green.
Seaweed flakes (optional) - You can easily find seaweed flakes at an Asian grocery store. If not, you can buy it here on Amazon. This will enhance the mild yet complex umami flavor that you get from seaweed. Since there is no meat/fish in the roll, extra umami flavor is very welcome.
What to serve with vegan sushi roll
Edamame is an always great vegan appetizer
Crispy and savory vegan veggie tofu gyoza will go great with your vegan uramaki
Who wouldn't enjoy a bowl of vegan miso soup to go with your sushi roll? It's a classic combo!
Here you have it! Although my sushi does not have any fish, the combination of these wonderful green veggies will definitely satisfy you. I hope you enjoy these rolls as much as I did.
Happy eating, my friends.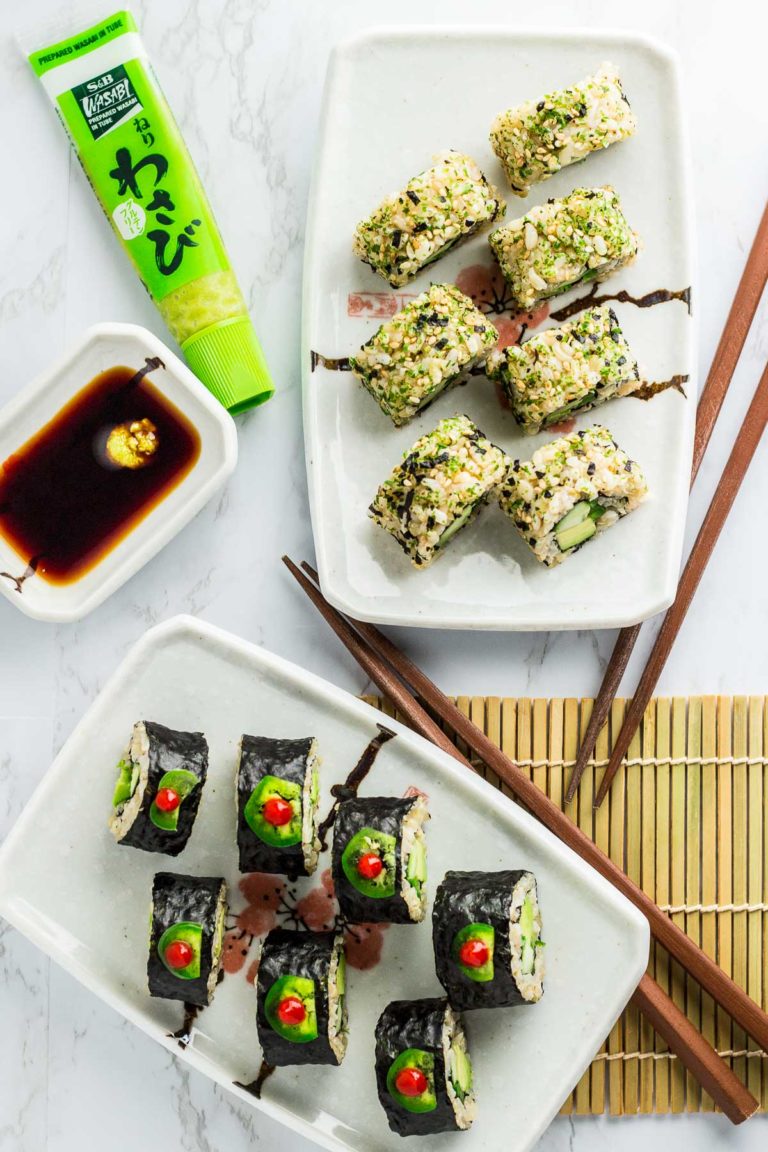 Print
How to make Vegan Sushi Roll at Home
Stop wasting your money on expensive vegan sushi rolls! This is an easy recipe showing you how to make a vegan green sushi roll (vegan uramaki) at home!
Author:
Prep Time:

30 minutes

Total Time:

30 minutes

Yield:

4

vegan green sushi rolls

1

x
Category:

Main course

Method:

Assemble

Cuisine:

Japanese

Diet:

Vegan
For sushi rice
2 tablespoons

sugar

2 tablespoons

apple cider vinegar

2 tablespoons

rice vinegar

1.5 teaspoons

salt

4 cups

cooked sushi rice
Vegan Sushi Roll
½

English cucumber, cut lengthwise into

8

strips

1

small avocado, sliced

1

large Jalapeno, seed removed and thinly sliced lengthwise(optional)
Seaweed flakes (optional)

4

seaweed paper/nori
Instructions
In a small bowl, add apple cider vinegar and rice vinegar. Microwave for 10-15 seconds. Take the vinegar out of the microwave and dissolve sugar and salt into the vinegar.
In a large bowl, mix together the cooked sushi rice and sushi vinegar mixture. Mix well so the rice is seasoned evenly. If the rice mixture is hot, let it cool to room temperature.
Wrap your sushi mat completely on both sides with plastic saran wrap.
Place a seaweed paper on top of the wrapped sushi mat.
Add about a cup of seasoned sushi rice to the seaweed paper and spread the rice evenly leaving about an inch of the seaweed paper on top. 
If you are using the seaweed flakes as I did in the picture, sprinkle the flakes on top of the rice. Gently press the flakes into the rice. 
Grab the top part of the seaweed paper and carefully flip it towards you. Now you should be seeing seaweed paper only. Not the rice. If you flip the bottom part of the seaweed, you shouldn't see the rice. 
Near the bottom part of the seaweed paper, add the cucumber and avocado. If you want extra crunch and little heat (once the seed is removed, the jalapeno shouldn't be that spicy), add the jalapeno. 
Grabbing the bottom part of the seaweed paper, roll it over the ingredients, and carefully roll them using the sushi mat. The plastic saran wrap will prevent your rice from sticking to the mat. Take your time rolling the sushi. 
 Once you are done rolling the roll, place the roll on the dish, seam side down.
Continue to make the rest of the rolls. 
Cut the sushi roll into bite-size and serve with soy sauce and/or pickled ginger.
Notes
Wrapping your sushi mat with plastic saran wrap prevents your sticky rice from sticking to the mat. This is a MUST step if you want your roll to be inside out (rice is outside of the roll and seaweed is inside of the roll)
If rolling your sushi inside out is too much work, you can simply add your ingredients on top of rice and roll them using a sushi mat. In this case, you don't have to wrap your sushi mat with plastic saran wrap.
A sprinkling of seaweed flakes is totally optional. It does add a little extra seaweed flavor to the roll but it is not required. You can purchase seaweed flakes at any Asian grocery store. If you don't have an Asian grocery store, you can order it on Amazon, here. 
Adding a jalapeno is optional. My husband and I both love spicy food and once the seeds of jalapeno are removed, we don't find it too hot. But if you don't want to use jalapeno and want extra crunch, use green bell pepper. 
When slicing your sushi roll, it makes it a lot easier to wet your knife before cutting into the roll. This process prevents rice from sticking to the knife. 
Keywords: vegan green sushi roll, vegan sushi roll, sushi roll, green sushi roll, sushi, vegan uramaki, uramaki