The best oven baked hoisin tofu - With only 5 ingredients, you now can make this sticky, spicy, and sweet goodness. Be aware - it's super addicting!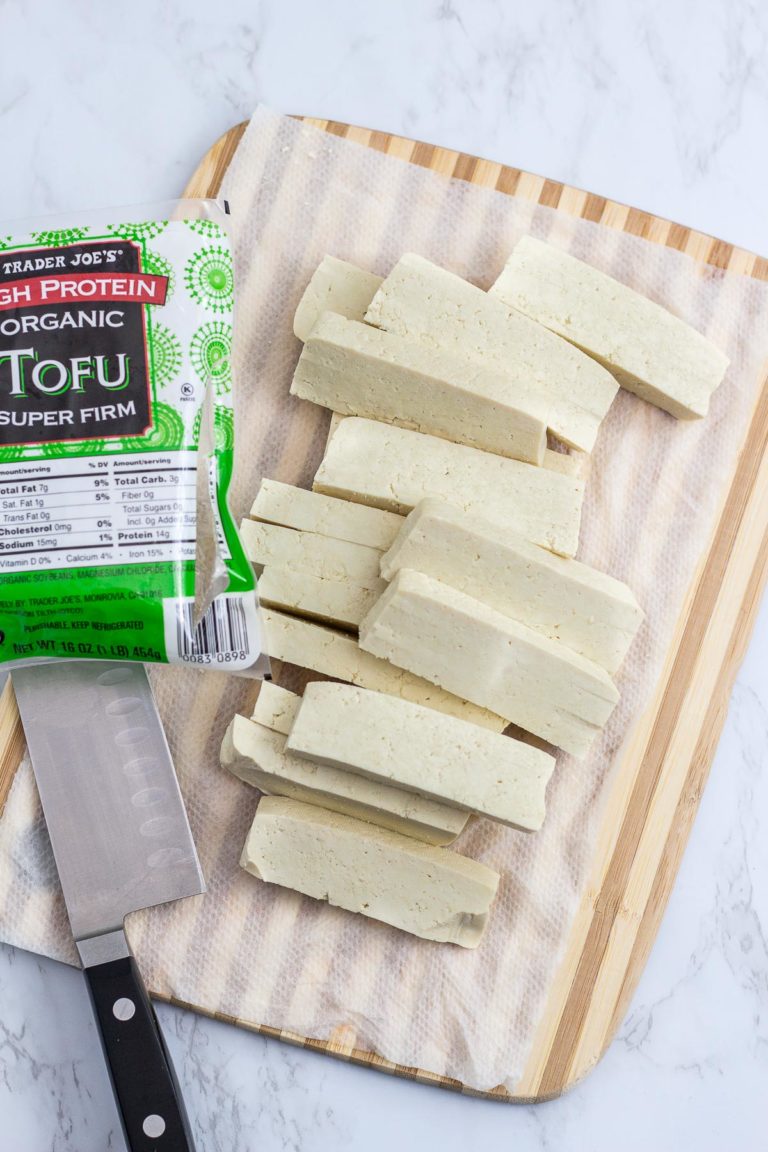 Are you a fan of tofu? I am!!!
When I talk to someone who doesn't like tofu, most of them would say tofu really doesn't have any flavors. I actually appreciate the mild and nutty flavor of tofu. Plus, that makes tofu very versatile since it can absorb any flavors! But if you are still not convinced about tofu having any flavors, let me tell you this recipe is going to change your mind about that!
I actually came up with this recipe, especially for my Vegan Rainbow Summer Rolls. I love these summer rolls because they are so refreshing and easy to make. But if you were to have these for a meal, I feel like it was missing a savory component. And here is where my oven-baked hoisin tofu comes in. Since the tofu is already marinated in hoisin sauce, you don't have to make spicy hoisin sauce to enjoy with the summer rolls. When I first made this, oh my... it exceeded my expectation! It was so delicious. Even my "not-so-much tofu fan" husband enjoyed it!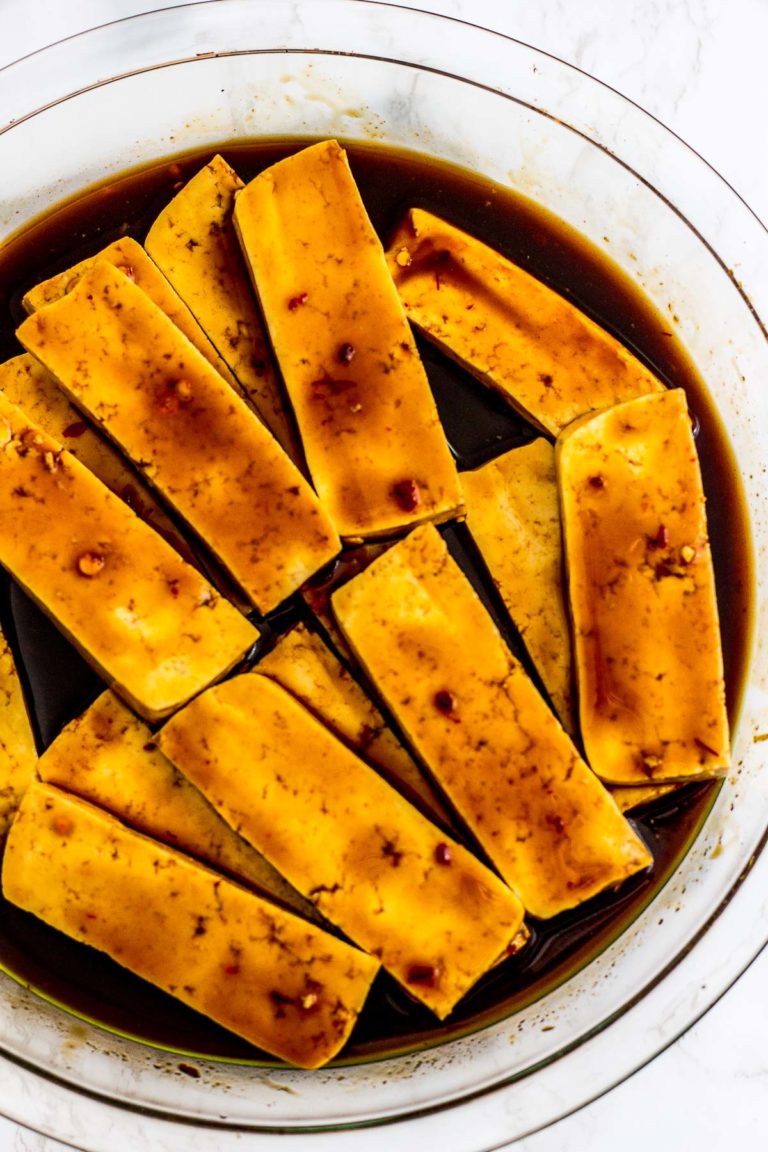 The key to making this tofu is to marinate the tofu. The sauce/marinade is very flavorful but it needs time to penetrate into tofu! Based on my experience, it needs at least an hour to marinate. That is probably the hardest thing about this recipe - patiently waiting for the tofu to soak up this jam-packed flavor of the sauce! So how do you make this magical sauce? Well, let's get to it!
Ingredients for the hoisin tofu marinade:
Hoisin sauce - Hoisin sauce already has so much flavor. It tastes like an Asian version of BBQ sauce. It's saucy and sweet.
Soy sauce - Although hoisin sauce already has salt in them, I find using the extra soy sauce helps season the tofu.
Garlic chili sauce (a.k.a Sambal Oelek) - This is where the kick (spiciness) and tang come from.
Brown sugar - This adds extra sweetness and stickiness to the baked tofu.
Tofu - well... duh!
Water - Since the hoisin sauce is pretty thick, it helps thin out the sauce so the tofu can properly absorb the flavor.
Tips to making oven baked hoisin tofu:
Not a fan of spicy food? Worry not! - You can actually skip adding the garlic chili sauce. Instead of adding sambal oelek, I'd add ½ to 1 teaspoon of apple cider vinegar. Start with ½ teaspoon and taste the marinade and add if you'd like extra tanginess.
Marinate the tofu - You have to marinate for at least an hour. When you are marinating the tofu, don't forget to flip them over halfway so both sides of the tofu can absorb this delicious marinade.
Baste the tofu with leftover marinade halfway of baking - this sauce is pure goodness. So do NOT discard the sauce when you transfer the tofu on a baking sheet. Save the marinade and use them to baste the tofu once you flip the tofu in midway in the oven.
Honestly, this oven-baked hoisin tofu is seriously addicting. It is not only great in my summer rolls, it would make a great sandwich, wrap, and buddha or sushi bowl! Speaking of sushi bowl, I have a beautiful and delicious sushi bowl recipe coming your way using this hoisin tofu soon. So stay tuned!!
Until then, happy eating, my friends!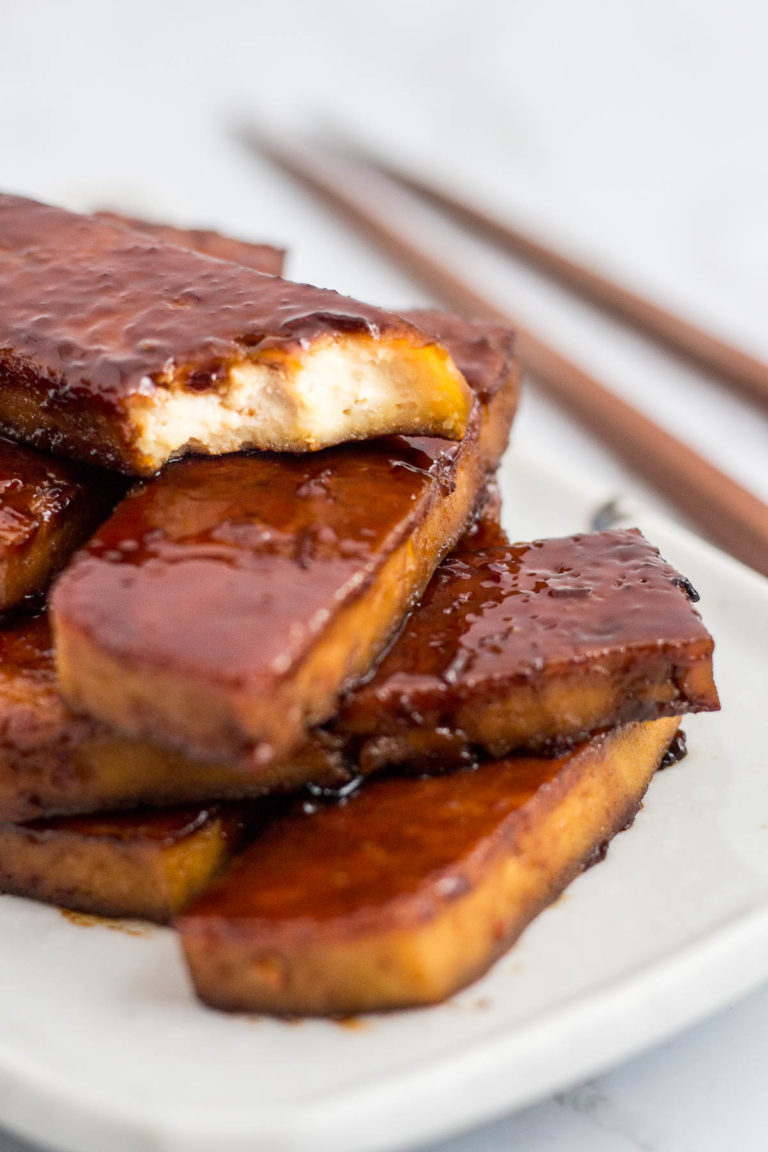 Print
5 ingredients Oven Baked Hoisin Tofu
The best oven baked hoisin tofu - With only 5 ingredients, you now can make this sticky, spicy, and sweet goodness. Be aware - it's super addicting!
Author:
Prep Time:

65 min

Cook Time:

30 min

Total Time:

1 hour 35 minutes

Yield:

4

servings

1

x
Category:

Side Dish

Method:

Bake

Cuisine:

Asian

Diet:

Vegan
1

block of extra firm tofu

¼ cup

Hoisin sauce 

2 tablespoons

soy sauce

2 teaspoons

garlic chili sauce (optional - if not using, add about

½

-

1

teaspoon of apple cider vinegar)

2 teaspoons

brown sugar 

2 tablespoons

water
Instructions
Blot the tofu with a clean kitchen paper towel to get as much water out of the tofu as possible.

Cut the tofu into strips, about ½ inch thickness.
In a large dish, mix together the rest of the ingredients and coat the tofu. 
Marinate the tofu in the fridge for at least 30 minutes. Then flip the tofu and marinate for additional 30 minutes. 
Preheat the oven to 400F. 
On a baking sheet lined with silicone mat or parchment paper, place the tofu. Do NOT discard the leftover marinade. 
Bake the tofu for 12-15 minutes. 
Take the tofu out of the oven and flip them over. Baste the tofu with leftover marinade. 
Bake for additional 12-15 minutes. 
Enjoy 
Notes
If you are not a fan of spicy food, use apple cider vinegar in the place of chili garlic sauce. Taste your marinade and adjust the amount to your liking.
Keywords: oven baked tofu, hoisin tofu, oven baked hoisin tofu, tofu, vegan tofu recipe