Quick & easy stir-fried kimchi recipe (vegan kimchi bokkeum) - a simple way to use up your fermented sour kimchi in a delicious way!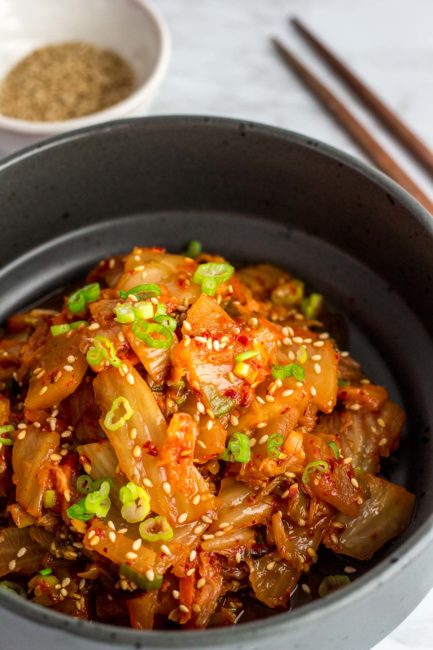 Stir-fried Kimchi, also known as Kimchi Bokkeum 김치 볶음 (Bokkeum 볶음 means stir-frying), is a very familiar side dish to Koreans. Because stir-fried kimchi tends to be sweeter and milder in flavor than uncooked, fermented kimchi, it is one of the most popular items to pack in many people's lunches. It certainly is a nostalgic dish that reminds me of my school days in Korea.
Ever since I made my own vegan kimchi, I usually have an abundance of sour kimchi in my fridge. If that's the case for you, this is definitely a recipe you need to try!
Why you will love this recipe:
This is such a quick and easy recipe (ready in less than 15 minutes)
This is a great way to use up your sour/fermented kimchi
It is so versatile - Stir-fried kimchi goes well with noodles, Buddha bowls, or any Korean meal
Frequently asked questions about Stir-fried Kimchi
Do you eat kimchi hot or cold?
Kimchi can be eaten both hot and cold. You can serve kimchi straight from the container and enjoy it cold. Or you can eat them hot in different dishes like kimchi soup, kimchi fried rice, and kimchi pancake.
What is the difference between Kimchi and Stir-fried kimchi?
Kimchi is an uncooked dish. You can enjoy fresh kimchi or you can eat them after fermentation. Stir-fried kimchi is a cooked dish that uses fermented/sour kimchi.
What does fried kimchi taste like?
Stir-fried kimchi tastes sour, spicy, and sweet with a hint of umami. Stir-fried kimchi is sweeter and less pungent in flavor than uncooked kimchi. When frying the kimchi, sugar is added to balance the sour and pungent flavor of the fermented kimchi.
How to make stir-fried Kimchi
Cook the green onion in neutral-tasting oil until fragrant. When you cook green onion in oil, the oil is infused with savory flavor. This process adds a hint of umami flavor to the dish.
Add the chopped, fermented kimchi and stir fry for a few minutes.
Season with sugar, sesame oil, and sesame seeds. The sugar balances the sourness and funk of the fermented kimchi. When sesame oil is cooked, it tends to lose its fragrance and flavor so it is added at the end.
Helpful tips
If you are vegan, make sure to use vegan kimchi for this recipe. You can find my vegan kimchi recipe here.
Use fermented kimchi for this recipe. If you were to use fresh kimchi, it simply won't taste the same.
When chopping/cutting kimchi, cut them with scissors. It is not only easier to cut them but also you don't have to potentially stain your cutting board with kimchi juice.
If you want extra umami flavor, you can use butter (use vegan butter if you are vegan) instead of oil. The butter surprisingly goes well with kimchi. It helps tame down the pungent flavor and spiciness of the kimchi. But if you are looking for the traditional flavor, stick with using neutral-tasting oil.
If you are not a fan of spicy food, you can wash your fermented kimchi prior to stir fry them. Make sure to squeeze all the water out before you cook them. My mom used to use washed kimchi for my sister and me when we were young.
If you want your stir-fried kimchi to be spicier, you can add a teaspoon or two of gochugaru (Korean red pepper flakes). When the kimchi is fermented, it loses its vibrant red color and develops more of a warm orange hue. By adding the gochugaru, you will not only revive the color but also add additional heat to the dish.
Other recipes with fermented kimchi
Kimchi pancake - You will absolutely love this savory and spicy pancake!
Kimchi fried rice - This is a classic kimchi fried rice recipe. This recipe is for both vegan and vegetarian.
Kimchi ramen fried rice - If you are looking to give your kimchi fried rice a nice upgrade, this recipe is for you. Although it is packed with flavor, it only requires 3 ingredients!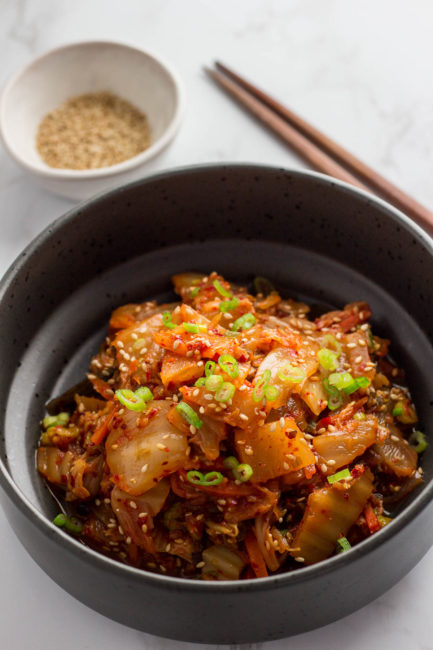 Print
Quick & easy stir-fried kimchi recipe (vegan kimchi bokkeum)
Quick & easy stir-fried kimchi recipe (vegan kimchi bokkeum) - a simple way to use up your fermented sour kimchi in a delicious way!
Author:
Prep Time:

10 minutes

Cook Time:

5 minutes

Total Time:

15 minutes

Yield:

4

servings

1

x
Category:

Side Dish

Method:

Sauté

Cuisine:

Korean

Diet:

Vegan
1 tablespoon

neutral-tasting oil

2

-

3

green onion, diced (separate white part from the green part)

1.5 cup

sour fermented kimchi, chopped/cut into smaller bite-size

1 tablespoon

water

2 teaspoons

sugar

1 tablespoon

sesame oil

1 tablespoon

sesame seeds
Instructions
In a large-size skillet, heat up 1 tablespoon of seed oil. Add the white part of the diced green onion. Sautéed until you smell the onion, about 2 minutes.
Add the kimchi. Cook the kimchi with frequent stirring. Add about 1 tablespoon of water.
When the water in the kimchi mixture is bubbling up, add the sugar. 
Continue to cook with frequent stirring for 3-4 minutes. Add in the green part of the green onion.
Remove the skillet from the heat and drizzle sesame oil and sprinkle sesame seeds on top.
Notes
If you are vegan, make sure to use vegan kimchi for this recipe. You can find my vegan kimchi recipe here. 
To make this dish, you must use fermented sour kimchi. The fresh kimchi won't simply taste right. If your kimchi is fresh, let your kimchi sit on the countertop for a day or two until they are fermented.
To adjust the spice level of the dish, please see the "Helpful tip" section above. 
Keywords: stir-fried kimchi, kimchi bokkeum, vegan kimchi, kimchi