Immune boosting tea against cold/flu - cold-fighting tea made with immune-boosting ingredients like ginger, cinnamon, turmeric, lemon, and honey. This tea will help you get over your cold/flu in no time! Works every time!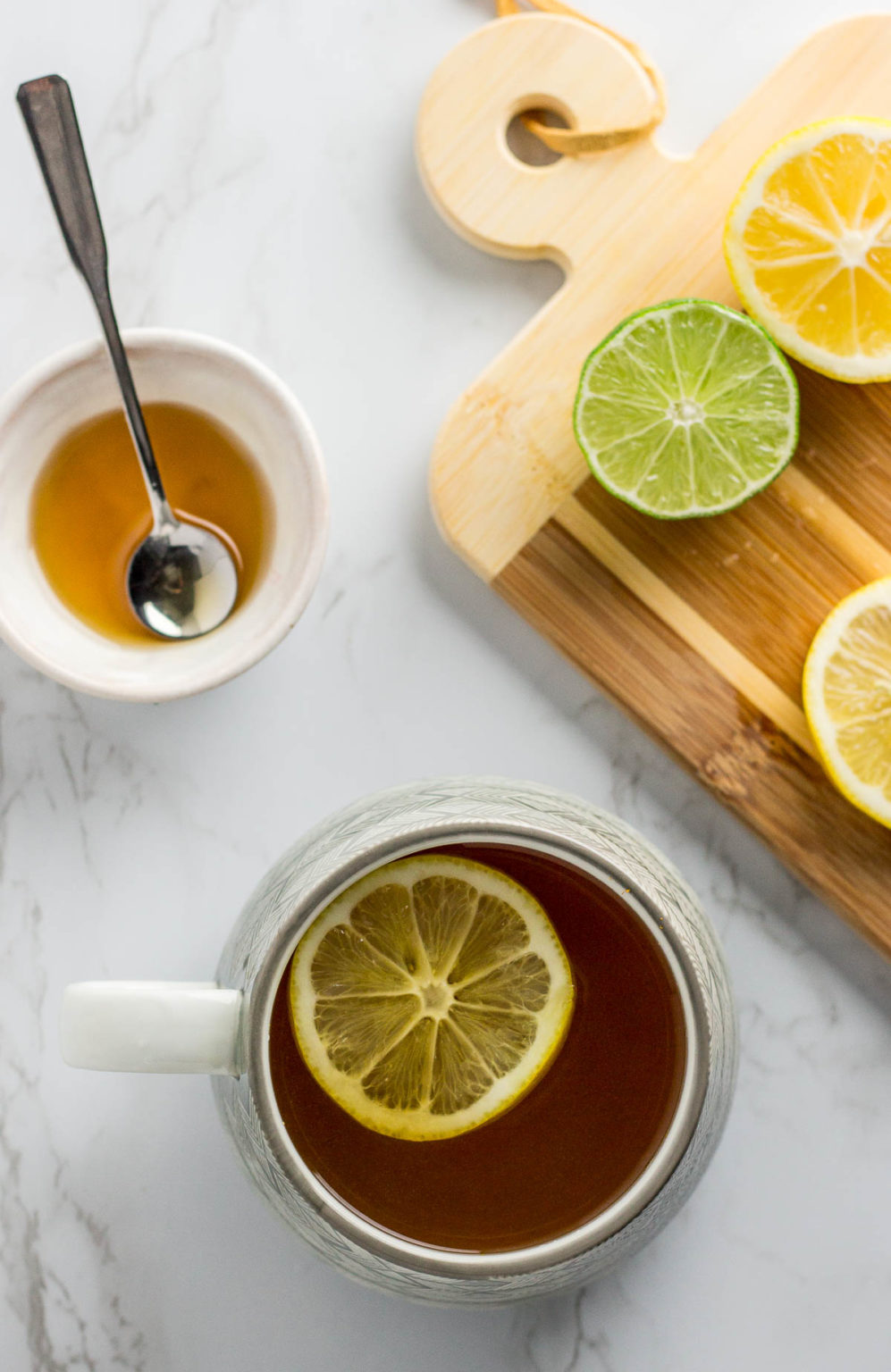 Winter is here... I don't know about you but I'm not particularly a big fan of winter. It's cold, windy, grey, and depressing. In addition to these unattractive characteristics of winter, it also is a season of cold/flu.
This tea was a winter staple in my house growing up. My mom would make a big batch of tea during winter and my sister and I had to drink up whether we have a cold or not. So this actually is my mom's recipe. The only small change I made was to add some turmeric powder.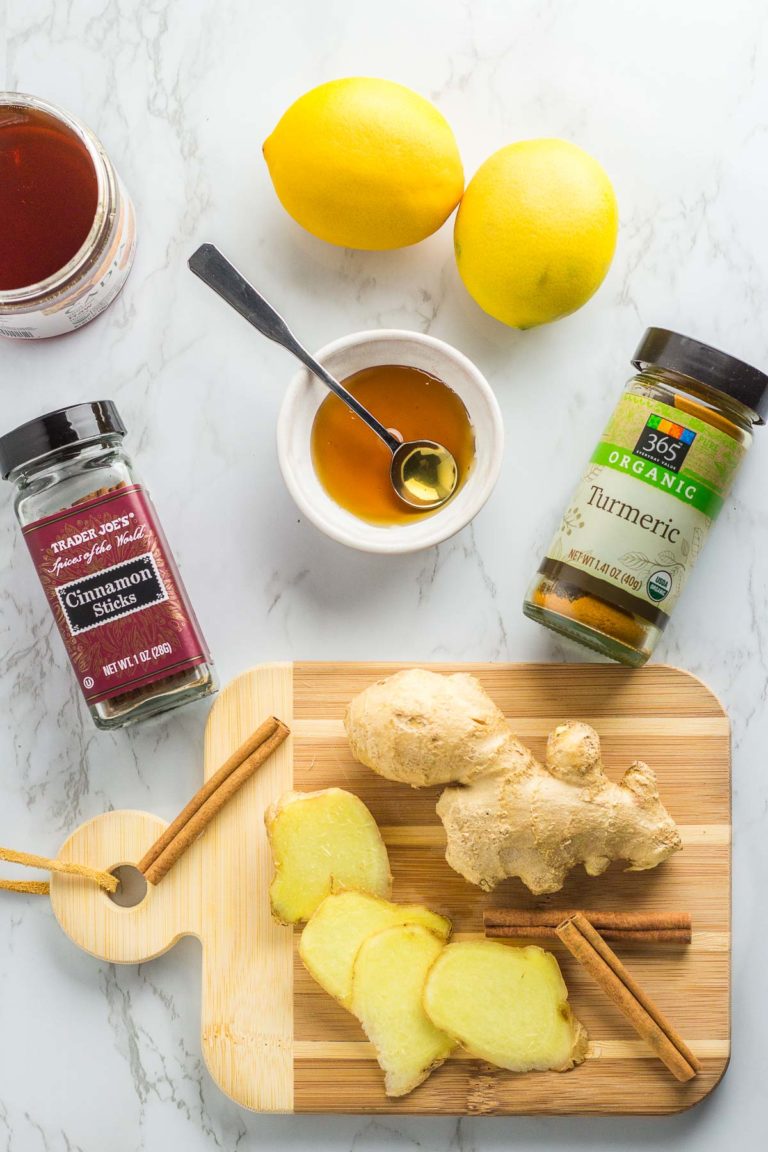 What are the ingredients for my immune boosting tea?
Ginger - One of the first symptoms of cold/flu is a sore throat. Ginger's anti-inflammatory property will help you manage this symptom. Ginger is also known to have anti-oxidant that can help you fight diseases.
Cinnamon - Cinnamon is also anti-inflammatory and high in anti-oxidant. In addition to that, cinnamon is known to increase blood circulation. Such a boost can help you stay warm.
Turmeric - It is not only anti-inflammatory and high in antioxidants, but it is also antibacterial and can help fight viral infection as well.
Lemon - Everyone knows how vitamin C is good for cold/flu and lemon is full of it. Vitamin C is a powerful antioxidant and it certainly can give you a big boost in your immune system.
Honey - Honey is antibacterial and antimicrobial. It also provides great relief in sore throat and cough.
Do you see the common theme here? Every single ingredient is anti-inflammatory and high in antioxidants. Such a great boost can support your immune system and help you recover quickly.
Tips on preparing the tea:
Use cinnamon stick instead of cinnamon powder - If you take a look at cinnamon, it pretty much looks like a wooden stick and it essentially is. What does a tree have? Lots of fiber! If you were to make this tea with cinnamon powder, the fiber from the powder may absorb water and become slimy. When you are sick from cold/flu, you are already suffering from lots of mucus. You don't want anything slimy. So I use a cinnamon stick instead of cinnamon powder. But if you don't have cinnamon sticks but have cinnamon powder? Don't be afraid to use them. You still can get the same benefit. The slime is not harmful to your body. It just is my preference.
Cool your tea a bit before adding lemon juice - vitamin C is heat sensitive so you don't want to boil them with ginger and cinnamon.
Use fresh lemon juice - not only the fresh lemon juice has more vitamin C than the bottled stuff, but it also tastes significantly better! The bottled juice won't have the same refreshing lemony flavor and brightness.
I use raw honey instead of regular honey - raw honey is not processed so it has more beneficial nutrients and antioxidants than regular honey.
Adjust the ginger amount accordingly - although the spiciness of ginger can provide relief to your sore throat, it can be pretty spicy if you use a lot and steep it for a long time. If you are not a big fan of spicy stuff, I would recommend staring with an inch or two of ginger root.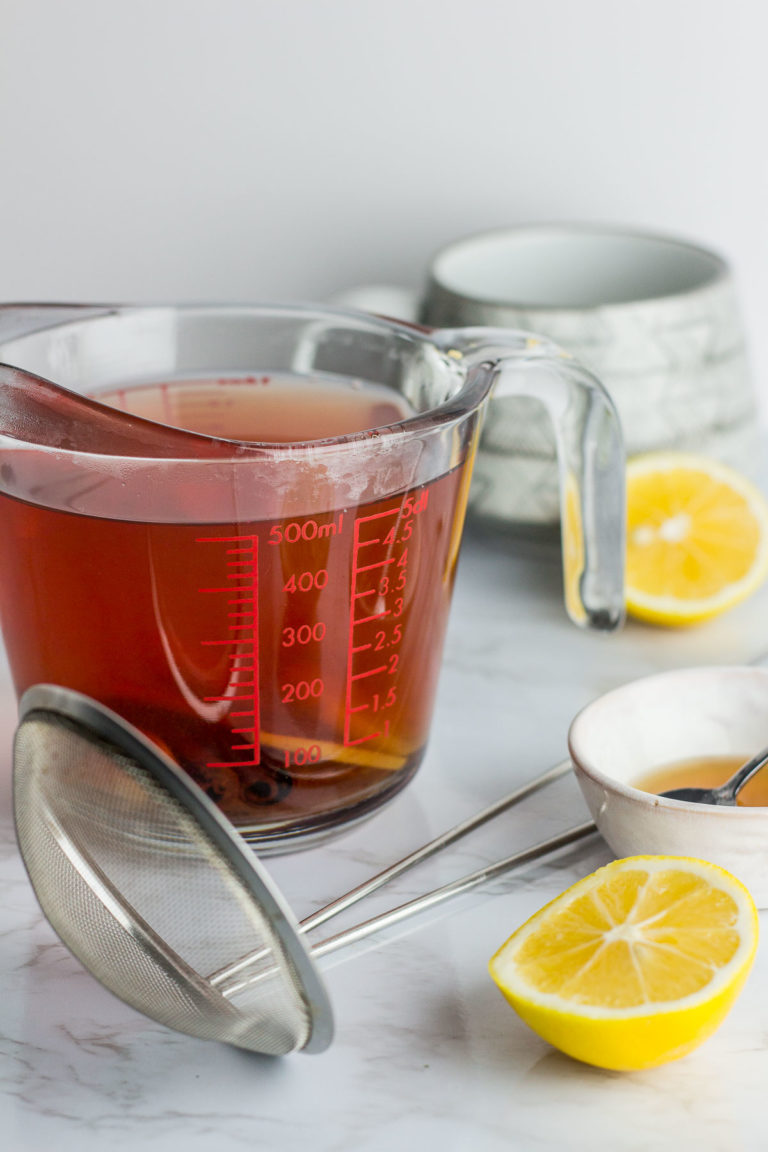 Does it work?
A week ago, I caught a pretty nasty cold. My throat was hurting, my voice was gone, lingering headache, sneezing, coughing, nasal congestion but my nose was constantly runny, and felt very tired and weak in general. So what did I do?
I made a huge batch of my "Immune boosting tea against cold/flu" and drank it three times a day.
I drank at least 60 ounces of water.
I slept (rest) a lot.
I ate foods that are very high in antioxidants. I ate the apple, persimmon, pomegranate, garlic, onion, pepper, and mushroom. Speaking of pepper and mushroom, I made myself some Shishito pepper and mushroom stir-fry to have with my brown rice and seaweed paper.
After just two days and a half of doing things I described above, I was able to achieve a quick recovery.
I am not saying my tea will guarantee a quick recovery from cold/flu (although it always has worked wonders for me). Everyone is different. Their immune overall health condition can play important role in cold/flu recovery. What I know is that my tea can help support your immune system to fight the illness and provide some relief to your symptoms. But you don't have to be sick to enjoy this tea. This tea certainly can be used as a preventative measure!
Happy drinking, my friends.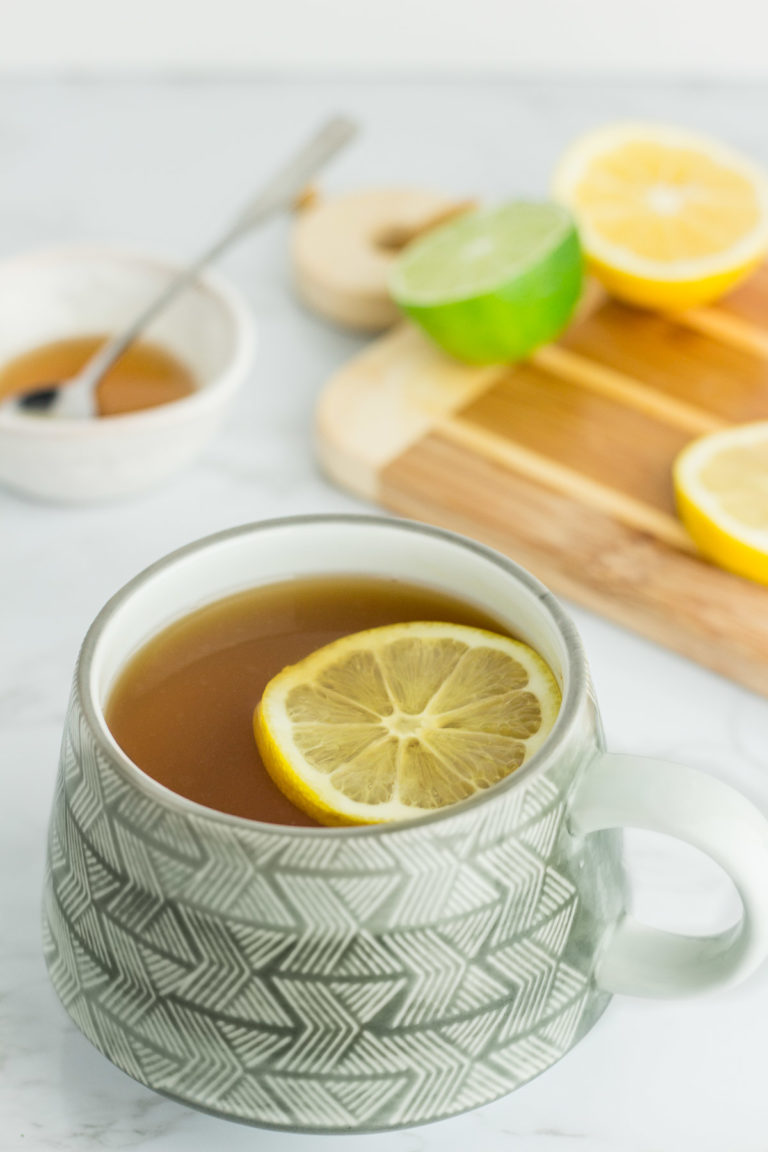 Print
Immune-boosting tea for cold and flu
Immune boosting tea against cold/flu - cold-fighting tea made with immune-boosting ingredients like ginger, cinnamon, turmeric, lemon, and honey. This tea will help you get over your cold/flu in no time! Works every time!
Author:
Prep Time:

5 min

Cook Time:

8 min

Total Time:

13 minutes

Yield:

1

large mug

1

x
Category:

Drinks

Method:

Boil

Cuisine:

American
2 cups

of water

1

-

2

inches of ginger root, sliced

2

sticks cinnamon stick
Juice of

one

lemon

½

to

1

teaspoon turmeric powder
Honey 
Instructions
In a small pot, add water, ginger, and cinnamon stick and bring it to a boil. 
Once it comes to a boil, add turmeric powder.
Reduce heat and simmer for 5 minutes. 
Remove the pot from the heat and let it cool until it is warm enough to drink.
Strain the mixture to a cup and add fresh lemon juice and honey. 
Notes
If you use cinnamon powder instead of a cinnamon stick, the tea can get a little slimy due to the fiber in cinnamon powder absorbing water. This slime is not harmful and perfectly safe to ingest. However, if you don't want any slime, use a cinnamon stick instead of cinnamon powder. 
Let your tea cool a little bit before you add your lemon juice so it won't destroy the vitamin C. 
I preferred to use raw honey because it has more beneficial nutrients and a higher level of antioxidants.
Keywords: immune boosting tea against cold/flu, immune boosting tea, cold fighting tea, tea for cold/flu