Vegan creole sausage cacciatore - Tasty Creole twist on your chicken cacciatore, vegan style! Easy, healthy dinner in 30 minutes!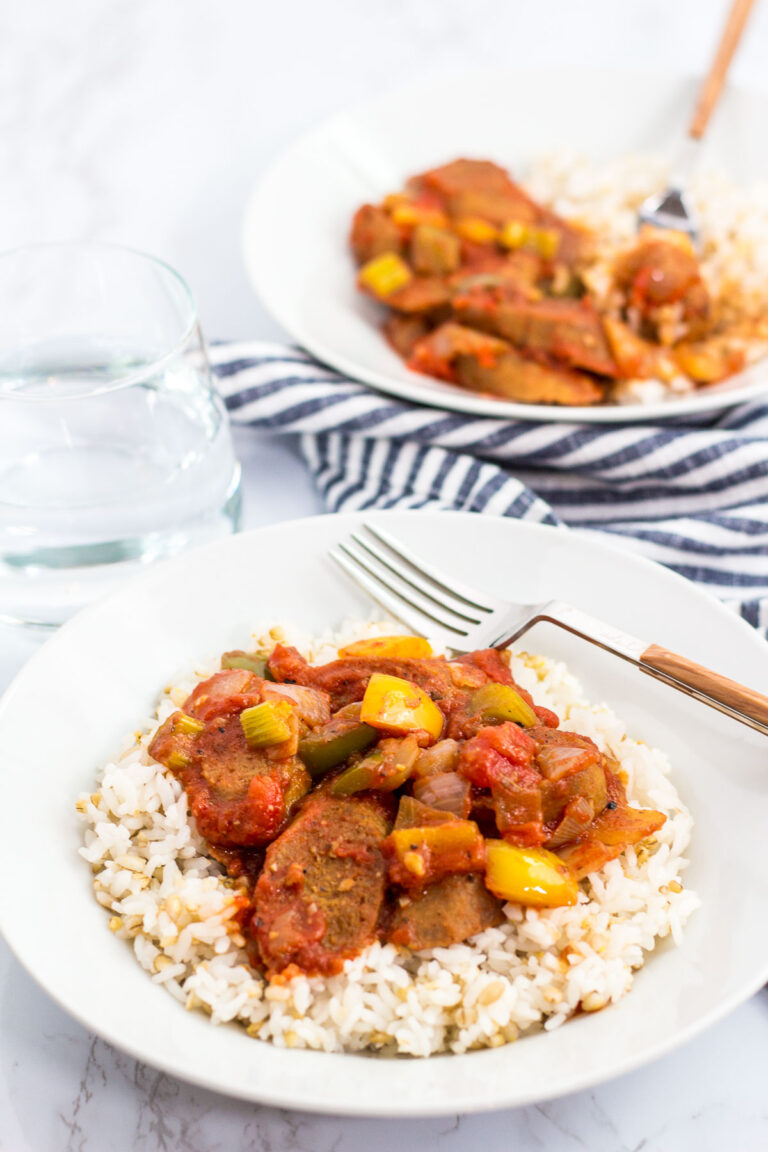 I have been making this dish (with shrimp, chicken, and Kielbasa or smoked sausage) for as long as I can remember. I wanted to make Jambalaya one day and decided to make the sauce and rice separately. That's how the original dish was born. Now that I'm a vegetarian, I transformed the recipe into a vegan and vegetarian-friendly dish.
Cacciatore vs. Jambalaya
I thought about how to name this dish. Since my dish has no seafood and the rice is not cooked in the sauce, I decided to name this dish cacciatore with a creole twist.
What is cacciatore?
Cacciatore means "hunter" in Italian and it is referred to as meal prepared "Hunter-style." Most people are familiar with chicken cacciatore. The dish has chicken, onion, herbs, bell pepper, mushroom in a spicy tomato sauce. Short grain pasta, polenta, mashed potato, or rice are usually served with cacciatore.
What is sausage cacciatore?
Instead of using chicken as a main protein source of the dish, sausage is used in making cacciatore. The benefit of using sausage instead of chicken are:
Shorter cooking time - Because you are not waiting for the chicken to cook through in the sauce, it takes half the amount of time.
The seasoning and flavor from the sausage build a more complex flavor.
Ingredients in Vegan Creole Sausage Cacciatore
Vegetable - I'm using garlic, onion, celery, bell pepper, and tomato.
Seasoning - What makes this dish Creole is the seasoning I use. I'm using Tony Chachere's creole seasoning. They have 'original' flavor and 'more spice' flavor. I've been using the more spice flavor (picture below) because I love spicy food.
Vegan Sausage - I use Beyond sausage (Brat flavor) for this recipe.
Creole cuisine is a result of influences from French, Spanish, Portuguese, German, English, African, and Native American. Most people are familiar with creole cuisine from dishes like jambalaya, gumbo, and boudin (sausage). So what makes this dish creole and not cajun?
Creole vs. Cajun
Both creole and cajun cuisine are native to Louisiana. But there are two main differences.
Creole - Creole cuisine typically uses tomato. And the creole seasoning has lots of herbs.
Cajun - Cajun cuisine usually doesn't have tomato and the seasoning relies heavily on different types of peppers.
Since this dish is simmered in tomato sauce with extra oregano, I thought it was appropriate to name it creole rather than cajun. I learned about the differences in two cuisines from this article from New Orleans if you want to check it out.
What vegan sausage should I use?
You can use any type of plant-based sausage you like but I love Beyond sausage in this recipe. They have three different flavors:
Beyond Brat sausage - This is what I use for this recipe. It has the most 'porky' flavor, in my opinion.
Beyond Italian sausage - This will work well if you want to emphasize the flavor of herbs.
Beyond Hot Italian sausage - If you like your food spicy, this is a great option.
If you are exploring different types of plant-based sausages, I find this Youtube video very helpful.
Helpful tips on making Vegan Creole Sausage Cacciatore
If you are using Beyond sausage (either Brat or Italian), you don't have to add oil when cooking the sausage. It will release oil as it cooks. This may not be true for other plant-based sausages. Cook your sausage according to its package.
Once the sausage is cooked, slice them and brown the sausage further. This will help your sausage hold its shape better when you simmer them in the sauce.
This recipe has thick sauce. If you preferred to have more 'gravy,' I recommend adding another can of diced tomato, tomato sauce, or vegetable broth to thin out the sauce. Just make sure to season your sauce accordingly.
How to customize this recipe according to your diet
For vegan/vegetarian - Use the vegan sausage of your choice. I'd like to note that Tony Chachere's creole seasoning is manufactured on equipment that uses milk, soy, and wheat. If this is a problem, you can use Old Bay seasoning in place of Tony Chachere's creole seasoning. Another option is to make your own creole seasoning with the spices that you have in your pantry. I personally have not tried this recipe but it has 5 stars review from close to 500 people. The recipe can be found in Allrecipes.
For pescatarian - In addition to plant-based sausage, you can add shrimps to make the dish more like jambalaya.
For omnivore - I highly recommend using kielbasa or smoked beef sausage. You can also add boneless chicken thigh and shrimp to bulk up the dish.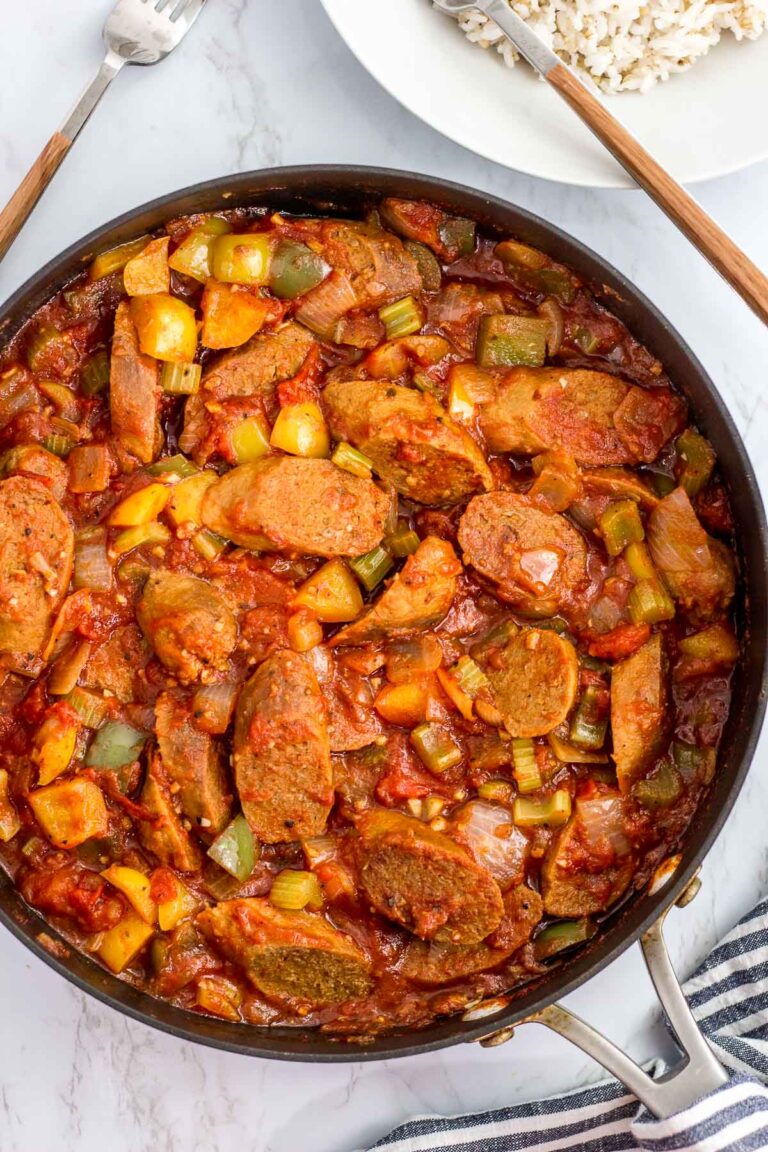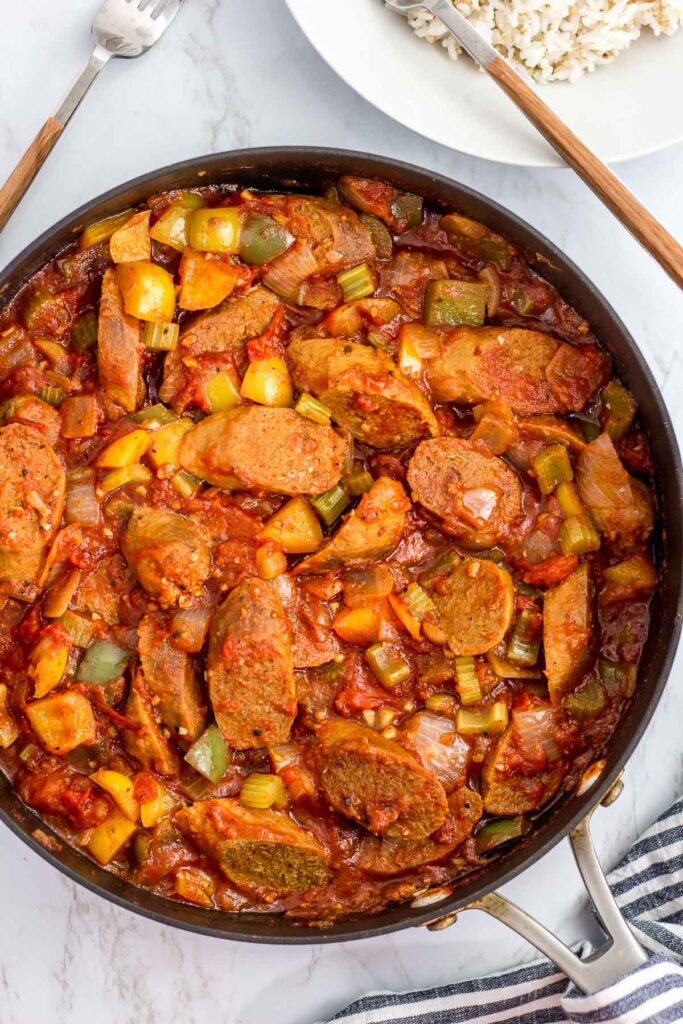 Print
Vegan Creole Sausage Cacciatore
Vegan creole sausage cacciatore - Tasty Creole twist on your chicken cacciatore, vegan style! Easy, healthy dinner in 30 minutes!
Author:
Prep Time:

10 minutes

Cook Time:

20 minutes

Total Time:

30 minutes

Yield:

Serves 4

Category:

Main course

Method:

Simmer

Cuisine:

American

Diet:

Vegan
1

package of vegan sausage of your choice (I use Beyond sausage Brat flavor)

1 tablespoon

vegetable oil

½ cup

chopped celery (

2

to

3

stalks)

1 cup

diced onion

3

cloves of garlic, minced

1 cup

diced bell pepper

1

can diced tomato (

14.5 oz

)

2 teaspoons

sugar

1 tablespoon

creole seasoning

1 teaspoon

dried oregano
Black pepper to taste
Cooked rice, short-grain pasta, mashed potato, or polenta (for serving)
Instructions
On a large skillet, cook the vegan sausage according to its package. If you are using Beyond sausage, there is no need to add the oil. As the sausage cooks, it releases oil from the sausage. 
Once the sauce is cooked, take them out and slice them into bite-size pieces. Return the sausage to the pan and brown the sausage pieces for a couple of minutes. 
Take the sausage out of the pan and set them aside. 
On the same skillet, add 1 tablespoon of oil, celery, and onion. Cook them until the onion becomes translucent. 
Add the minced garlic and cook with frequent stirring for 30 to 45 seconds until you smell the garlic cooking.
Add the bell pepper to the mixture. Cook for a minute or two. 
Add the diced tomato, sugar, Creole seasoning, oregano, and black pepper to the mixtures. 
Bring the sauce to a boil. Once it comes to a boil, reduce the heat to simmer, put the cooked sausage back into the skillet. Stir to mix and place a lid. Cook for an additional 10 to 15 minutes. 
Serve over cooked rice. 
Notes
If you are not using Beyond sausage, you may have to add additional oil to cook the sausage. 
This recipe makes rather a thick sauce. If you want your sauce to be thinner, you can add more tomato or vegetable broth. Season accordingly with more Creole seasoning or salt. 
Keywords: Vegan creole sausage cacciatore, sausage cacciatore, vegan cacciatore, creole cacciatore, vegan jambalaya