Vegan Jajangmyeon (Korean Black Bean Noodles) - Very popular Chinese style-Korean noodle dish that's sweet and savory. Delicious and easy recipe!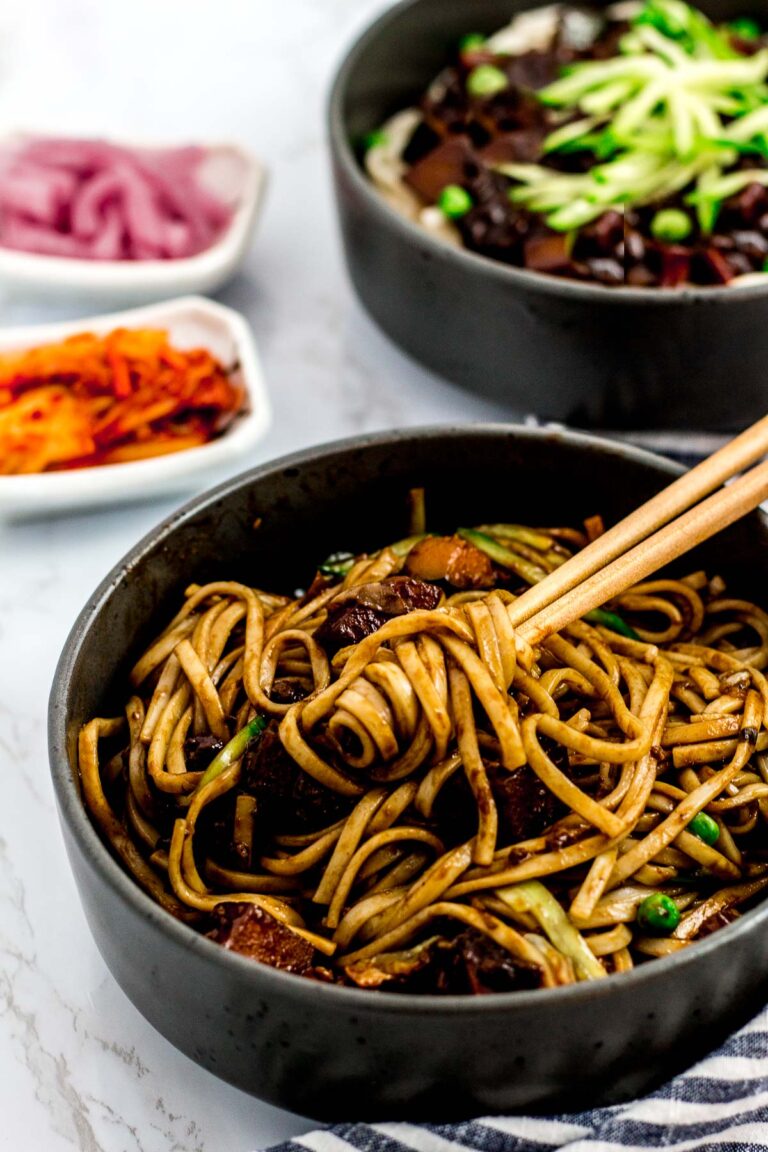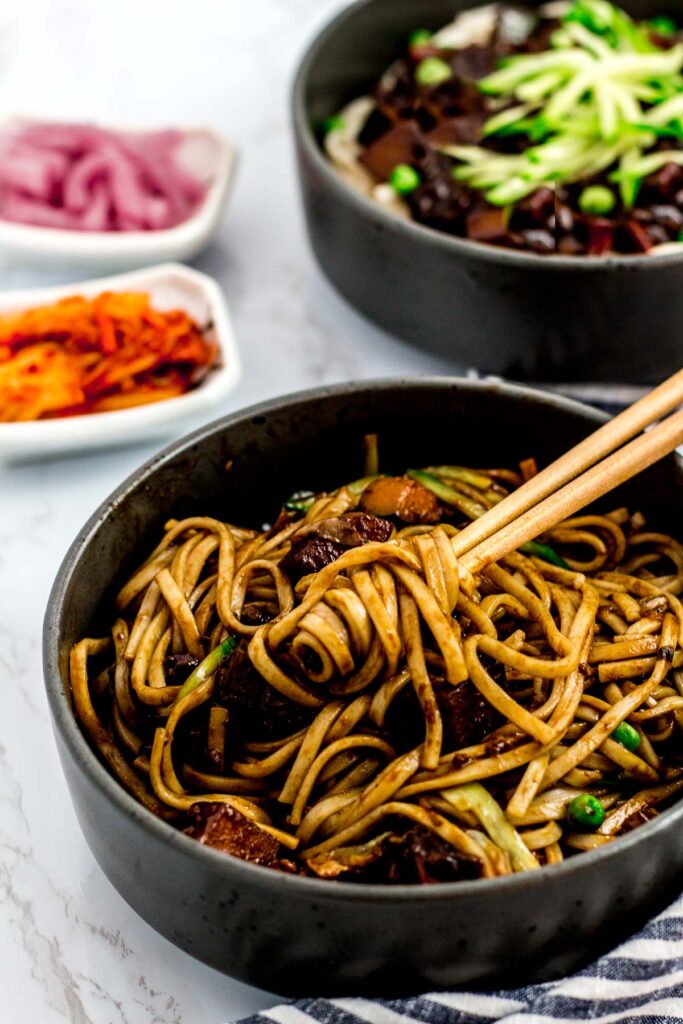 Jjajangmyeon has a couple of different names. It is called "Jajangmyeon (with only one consonant of J)" or "Korean Black noodles". I'm here to tell you that they all are correct names for this dish.
Jjajangmyeon is extremely popular in Korea. Along with Jjamppong 짬뽕(Chinese style-Korean spicy seafood noodle dish) and Tangsuyuk 탕수육 (Chinese style-Korean sweet and sour pork), Jjajangmyeon is such a loved dish in Korea.
In America, you often eat pizza on your moving day due to its convenience. For the same reason, you'd order Jjajangmyeon in Korea. It is probably the most delivered food in Korea.
What is Jjajangmyeon/Jajangmyeon 짜장면/자장면?
Jajjangmyeon is a Chinese style-Korean noodle dish that's also known as Korean black bean noodles because of its signature black bean sauce (Jjajang). It is a dish with sweet, savory, and velvety sauce with lots of vegetables that is served over a bowl of noodles.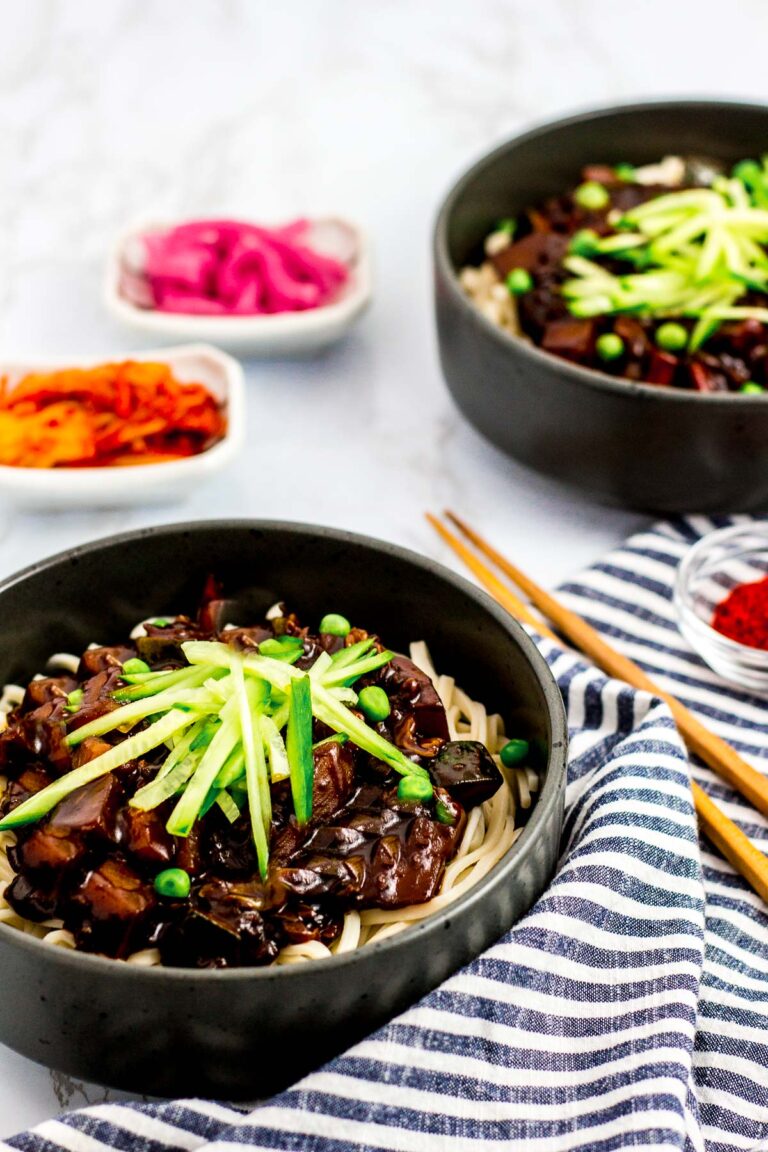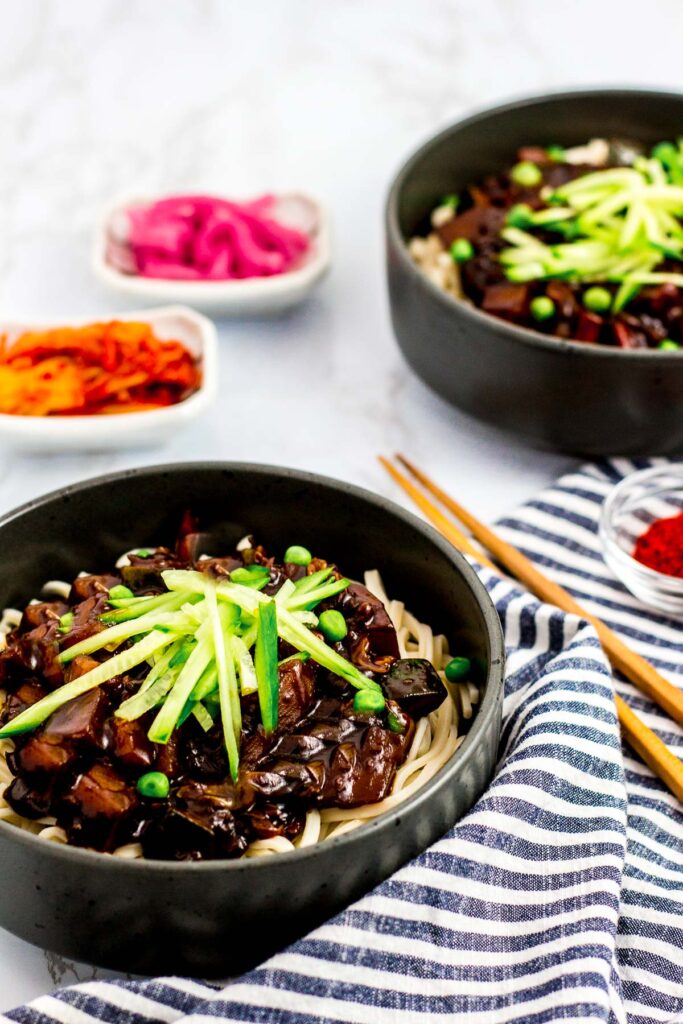 What does it taste like?
I don't think there is any food in America that has a similar taste profile as Jjjangmyeon. The flavor comes from Jjajang sauce (black bean sauce). The sauce is sweet, salty, very umami front flavor with a hint of pleasant bitterness.
But I'd say the major flavor you will notice at first would be sweet, salty, and savory. Because of its sweet taste profile, it is one of the most popular dishes among Korean children.
Is Jajangmyeon Vegan?
Traditional Jajangmyeon is NOT vegan. It is often made with pork. The pork meat (usually the fatty part) is cooked to render the fat and the vegetables and chunjang are fried in the pork fat. So the traditional jjajangmyeon is not halal.
How to make Vegan Jajangmyeon
The good news is other than the pork in the traditional recipe, everything else is vegan friendly. This dish has a bountiful amount of vegetables like onion, carrot, zucchini, cabbage, and potato.
Instead of using pork, I'm using plant-based ground meat in this recipe. By not using pork, this dish is not only vegan-friendly but also halal-friendly!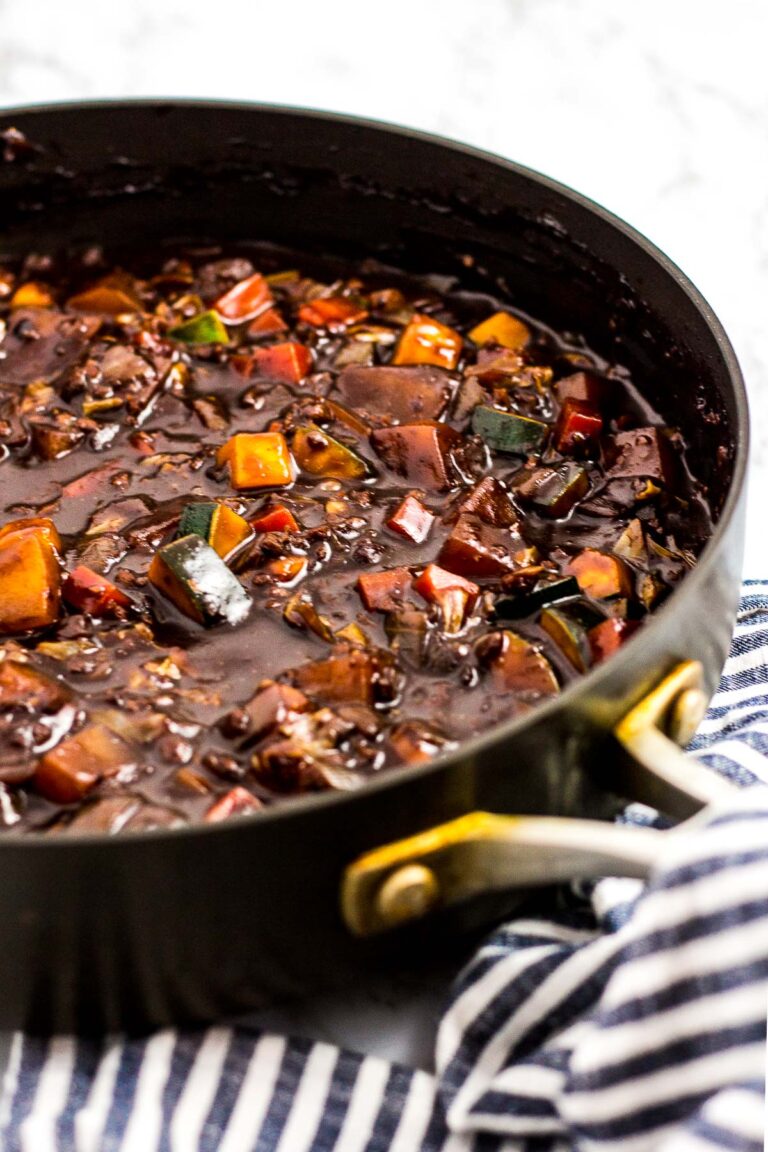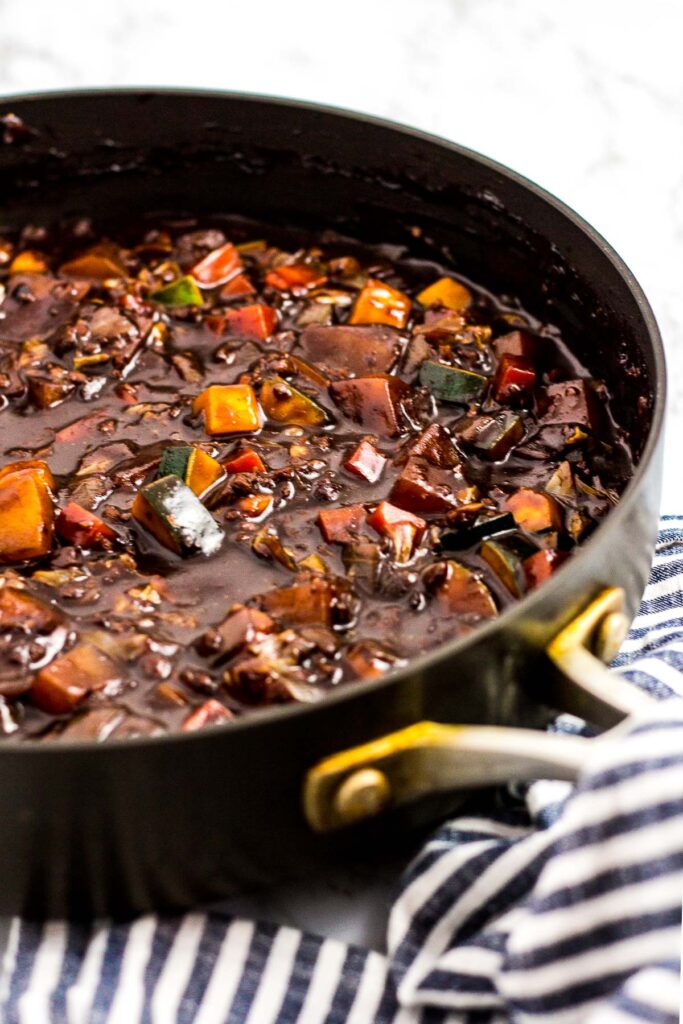 Ingredients
Traditional Jjajangmyeon is NOT vegan. Often, jjajangmyeon has pork or seafood but chunjang itself is vegan friendly.
Chunjang 춘장 - This is a must ingredient There is no substitution in making this dish.
Vegetables - The classic vegetables for Jjajang sauce are onion, potato, zucchini, cabbage, and carrot.
Aromatics - I used minced garlic and minced green onion to deepen the umami flavor.
Plant-based ground meat - I used Gardein's beefless ground in place of pork.
What is Chunjang?
Chunjang 춘장 is an absolute necessity in making Jjajang 짜장 sauce (black bean sauce).
Chunjang is a salty fermented soybean paste that is colored with caramel. It is bitter, very salty, and has a note of umami. To get rid of the bitterness of the chunjang, it is often fried in oil. Once fried in oil for a while, it develops a deeper umami flavor with a mellow hint of bitterness.
Most Korean chunjang we buy at the stores are already fried in oil. But it won't hurt to fry chunjang again to make the dish. This process will only make your dish jam-packed with savoriness.
You can purchase Chunjang in most Asian grocery stores but you can also order them online.
Other pork/meat substitution for vegan jjajangmyeon
Plant-based ground meat - As long as the plant-based ground meat doesn't have a strong taste of its own (such as beyond meat), it will work in this recipe. Beyond meat has too much smoky flavor that will crash with the black bean sauce. Although I'm a huge fan of beyond meat products, I do not recommend them in this recipe.
Mushroom - Mushroom is great in this recipe. However, I recommend mushrooms that can hold up their firm texture. I recommend king oyster mushroom and shiitake mushroom. Button mushrooms tend to lose their texture once cooked so I don't recommend them in this recipe.
Noodles for the Vegan Jjajangmyeon:
Although all the flavor of vegan jjajangmyeon comes from the black bean sauce, you need a vehicle to transport the yummy sauce into your stomach. And Korean serve this sauce over noodles.
Myeon (면) means noodles. Noodles used in this dish are usually thicker than ramen noodles. The traditional noodles are made with only flour, salt, and water so they are vegan friendly. You can easily find fresh noodles at your local Asian grocery store in the refrigerated section. But if you don't have access to these stores, you can substitute for udon noodles (dried, fresh, and frozen will all work).
Not a fan of noodles? No worries! You can serve the vegan jjajang sauce over rice as well. Korean calls it Jjajangbap 짜장밥 ( Jjjajang is the black bean sauce and bap means rice).
Toppings and Garnishes
Thinly sliced cucumber and sweet pea
For vegetarians (not vegan), a fried egg makes an amazing topping for this dish.
Gochugaru 고추가루 (Korean red pepper flakes) - If you are craving something spicy other than a healthy serving of kimchi, I recommend you sprinkle some gochugaru on top of the noodles.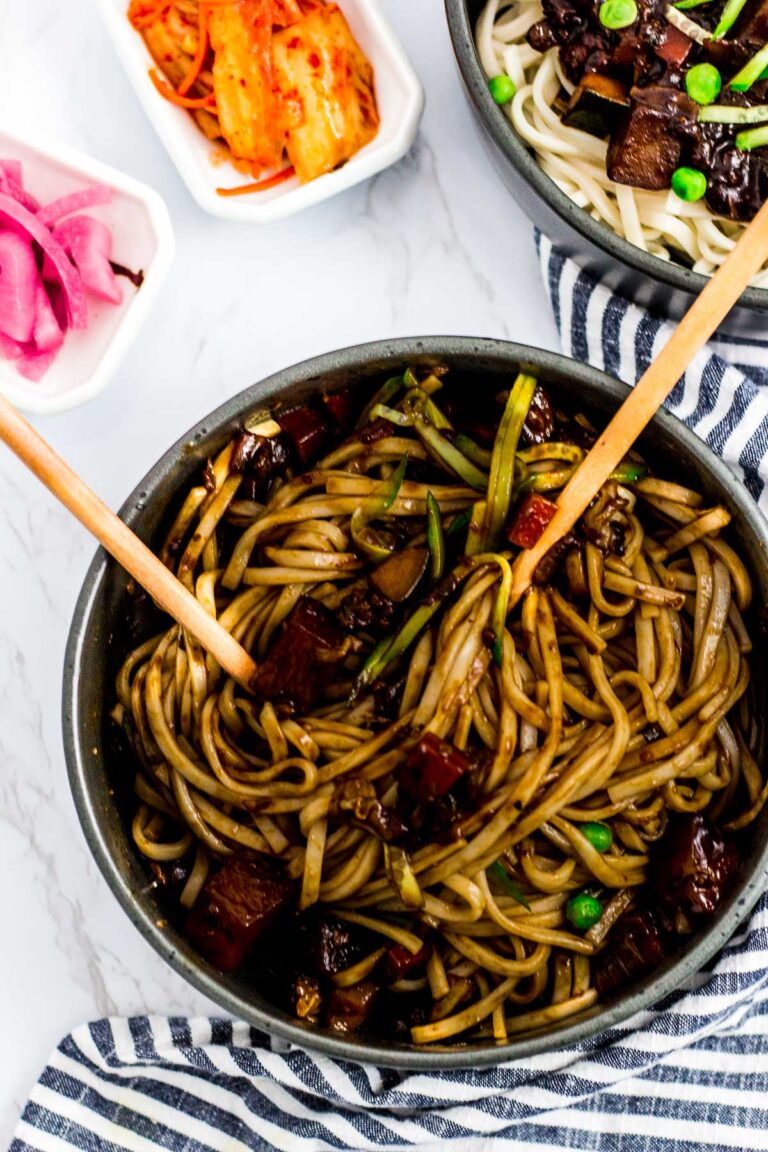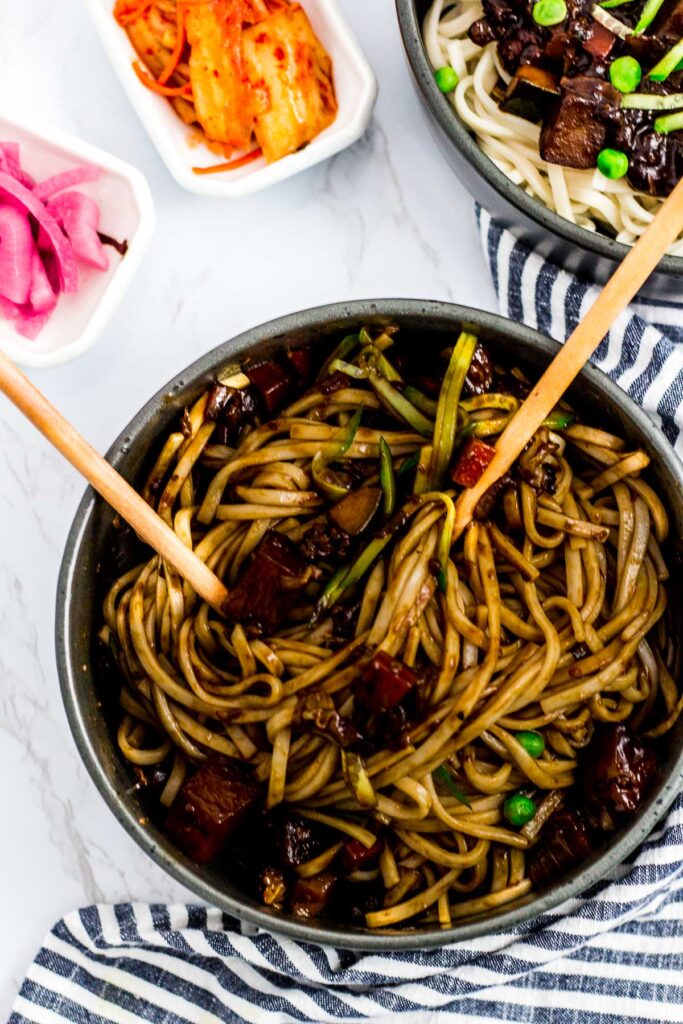 Fun story about Jjajangmyeon and Black Day
In Korea, we have a day dedicated to eating this noodle dish. It's called "Black Day" (not to be confused with Black Friday).
Among couples, we have two major holidays in Korea, Valentine's day and White day. Valentine's day is the day that women gives chocolate to their romantic partner. And the White day is the day that men gives candy to their romantic partner.
But what if you are not currently dating anyone or don't have a romantic partner? Well, that's what the Black day is for. People who didn't get to participate in either Valentine's day and White day eat Jjajangmyeon to console their loneliness. Because Jjajangmyeon is black, Korean call it "Black day"!
I don't know about you but regardless of celebrating Valentine's day, I will always be down to eat a big bowl of vegan Jjajangmyeon!
Print
Vegan Jajangmyeon (Korean Black Bean noodles)
Vegan Jajangmyeon (Korean Black Bean Noodles) - Very popular Chinese style-Korean noodle dish that's sweet and savory. Delicious and easy recipe!
Author:
Prep Time:

10 minutes

Cook Time:

30 minutes

Total Time:

40 minutes

Yield:

4

servings

1

x
Category:

Noodles

Method:

Boil

Cuisine:

Chinese-style Korean

Diet:

Vegan
3

cloves garlic, minced

2

green onion, finely chopped

3 tablespoons

grapeseed oil

⅓ cup

chunjang

½

large onion, diced

1

  medium-size potato, diced (about a heaping cup)

1

small-size zucchini, diced (about

1 cup

)

1

medium-size carrot, diced (about

1 cup

)

1 cup

chopped cabbage

½ cup

plant-based ground meat (or

2

large king oyster mushroom, finely diced) (See note)

1 cup

of water

1 tablespoon

sugar

1 tablespoon

corn starch
Noodle of your choice or rice (for serving)
Thinly sliced cucumber and sweet pea (garnish)
Instructions
In a large skillet, add 2 tablespoons of oil, minced garlic, and green onion. Cook with frequent stirring until fragrant, about 1 to 2 minutes.
Add the onion and cook until onion is translucent, about 3 minutes. 
Make a well in the middle of the pan by pushing the cooked onion to the edge and add the remaining oil and add the chunjang. Cook the chunjang with frequent stirring for a couple of minutes. Mix the chunjang with the cooked onion and continue to cook with frequent stirring. 
Add all the vegetables except zucchini, plant-based grounds, or mushrooms of your choice, add the water and sugar to the mixture. 
Bring it to a boil and lower the heat until the mixture comes to a low simmer. Place a lid and cook until the potatoes are cooked, about 10 minutes.
Take the lid off and add the zucchini. Cook for a couple of minutes.
Meanwhile, prepare the slurry. In a small bowl, add 1 tablespoon of corn starch and 2 tablespoons of water. Mix until all the corn starch dissolves and add it to the mixture. Stir the mixture. The sauce should thicken. 
Continue to cook for a couple more minutes and serve the sauce over cooked noodles or rice. Garnish with thinly sliced cucumber and sweet peas. 
Notes
If you do not want to use plant-based ground meat, you can use any mushroom of your choice. I have used minced king oyster mushroom before and it was delicious in this dish. 
I recommend using ramen noodles or dried udon noodles for this dish. But rice is also delicious with this sauce. 
Keywords: vegan jjajangmyeon, jjajangmyeon, vegan Korean black bean noodles, black noodles, Korean recipe