Vegan Yukgaejang with Mushroom - You now can enjoy the Korean spicy beef soup vegan style! The meaty texture of mushroom and spicy and savory broth will make you crave this soup during cool weather! If you are looking for an authentic spicy Korean soup to go with your big bowl of rice, this is it!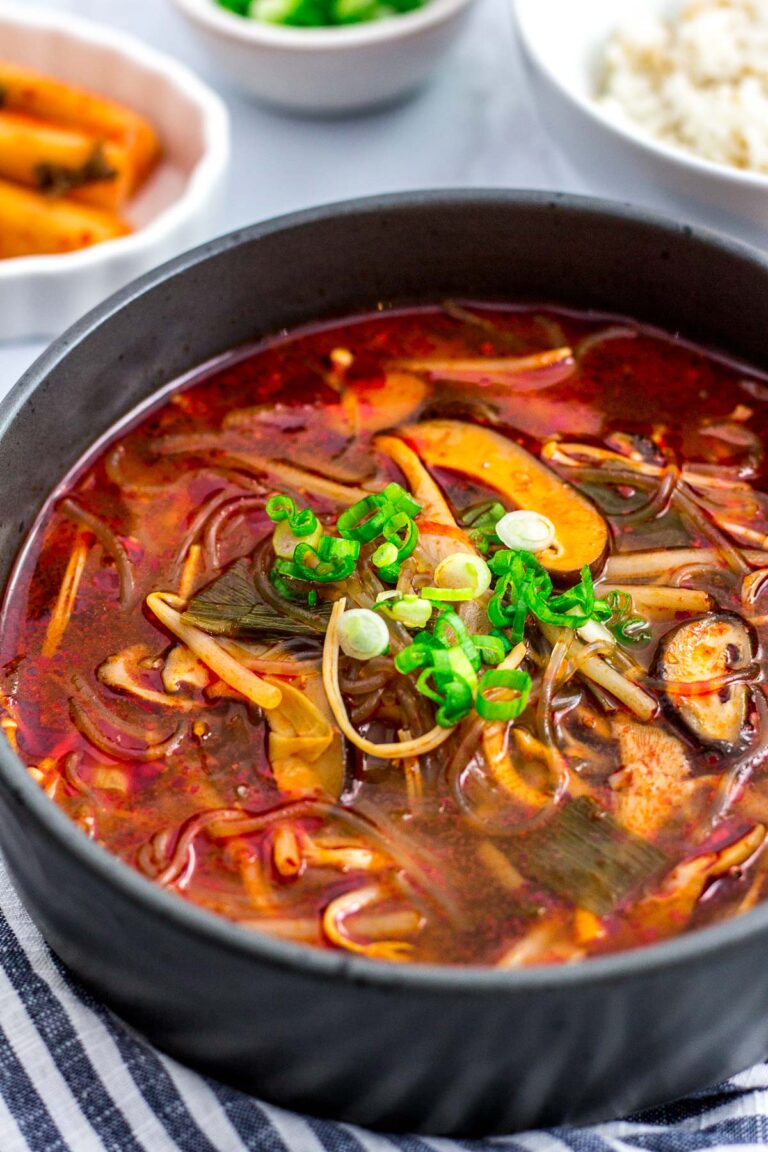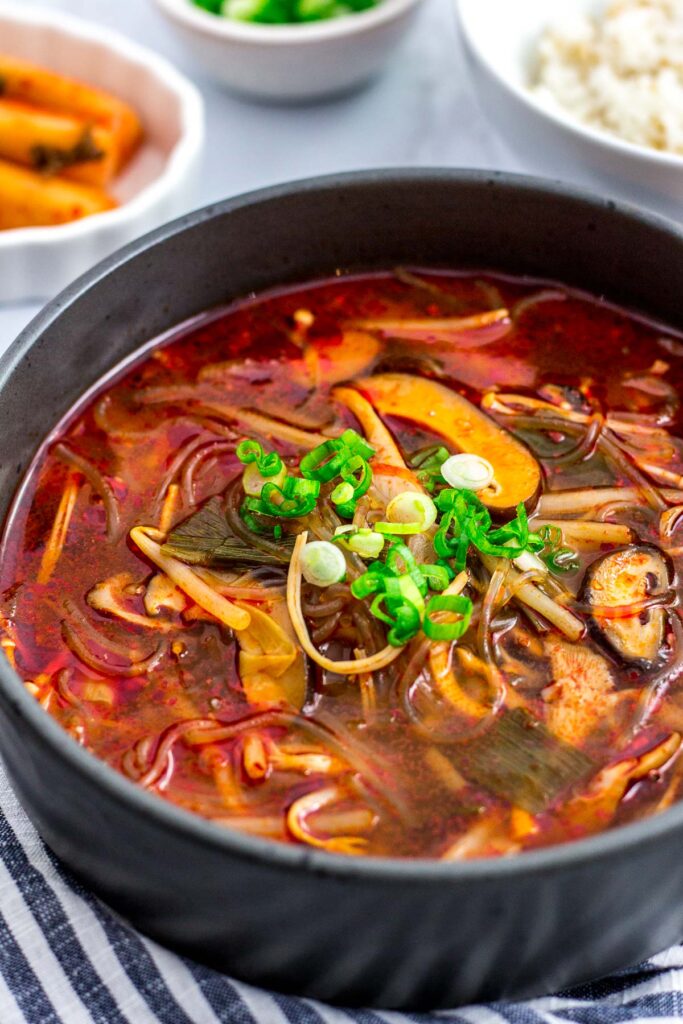 What is Yukgaejang 육개장?
Yukgaejang is a Korean spicy shredded beef and vegetable soup. The soup uses flank steak or brisket. The soup usually takes at least 2 to 3 hours to make because the meat is boiled for a while to make the broth. If chicken is used in place of beef, it is called Dakgaejang 닭개장 or chick yukgaejang 닭육개장.
Traditional yukgaejang VS. Vegan mushroom yukgaejang
Ingredients for the traditional yukgaejang - Traditional yukgaejang is made with beef. Also, traditional soup has eggs in the soup. Adding an egg to the soup makes the soup thicker and gives more substance. You often find Korean radish/daikon, baby fern, and taro stems as additional vegetables in the soup.
Ingredients for the vegan yukgaejang - In vegan mushroom yukgaejang, different mushrooms take the place of beef for meaty texture and savory broth. To enhance the umami in the vegan version, I used Yondu (Korean liquid vegetable soup base).
Cooking time - Because you have to boil the beef for a while to make the broth, the traditional yukgaejang takes at least a couple of hours to make. But my vegan mushroom yukgaejang can be ready in 30 minutes!
How to make it vegan:
Different types of mushrooms take the place of beef in making this soup. Oyster mushroom has a soft texture like a tender piece of meat yet withstands the boiling process. Shiitake mushroom is great for creating a savory broth. Enoki mushroom, which is an optional ingredient, will give additional texture to the soup. It resembles the stringy texture of meat and great in many different types of Korean soup.
How to make it vegetarian:
All you have to do is to add an egg at the end of the soup to make it vegetarian. The traditional yukgaejang has an egg in the soup. The egg gives thicker broth and adds additional protein sources.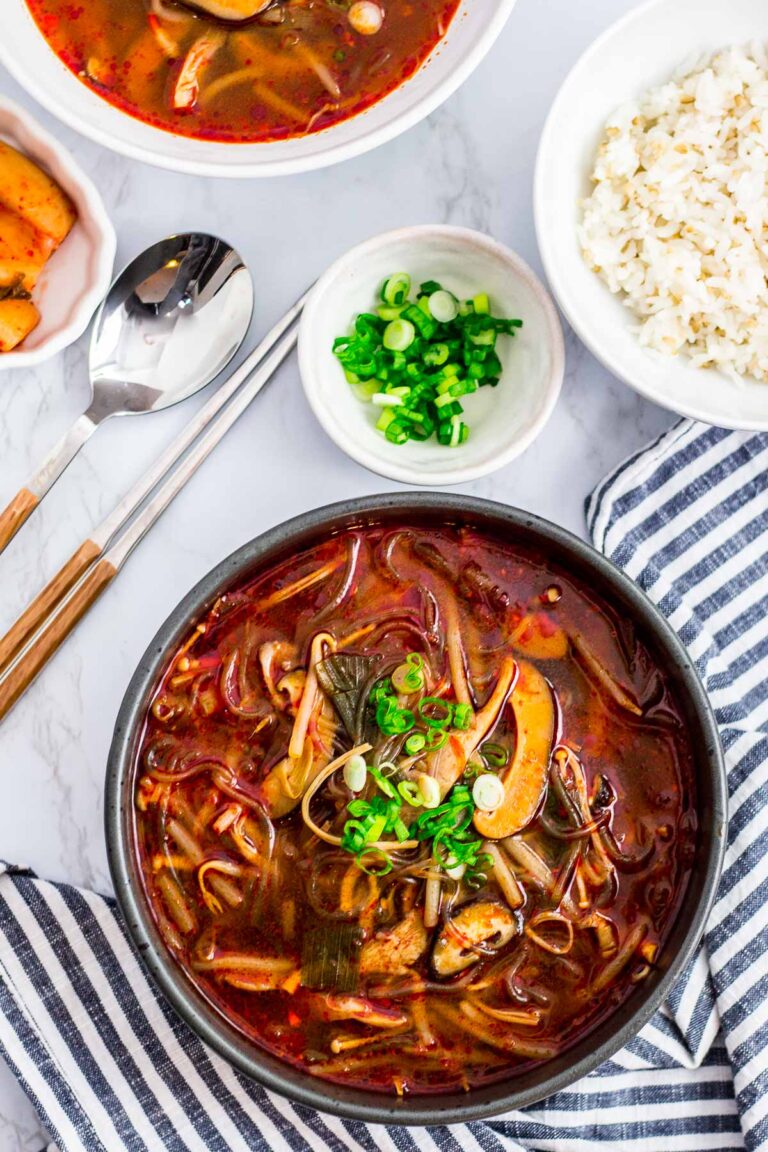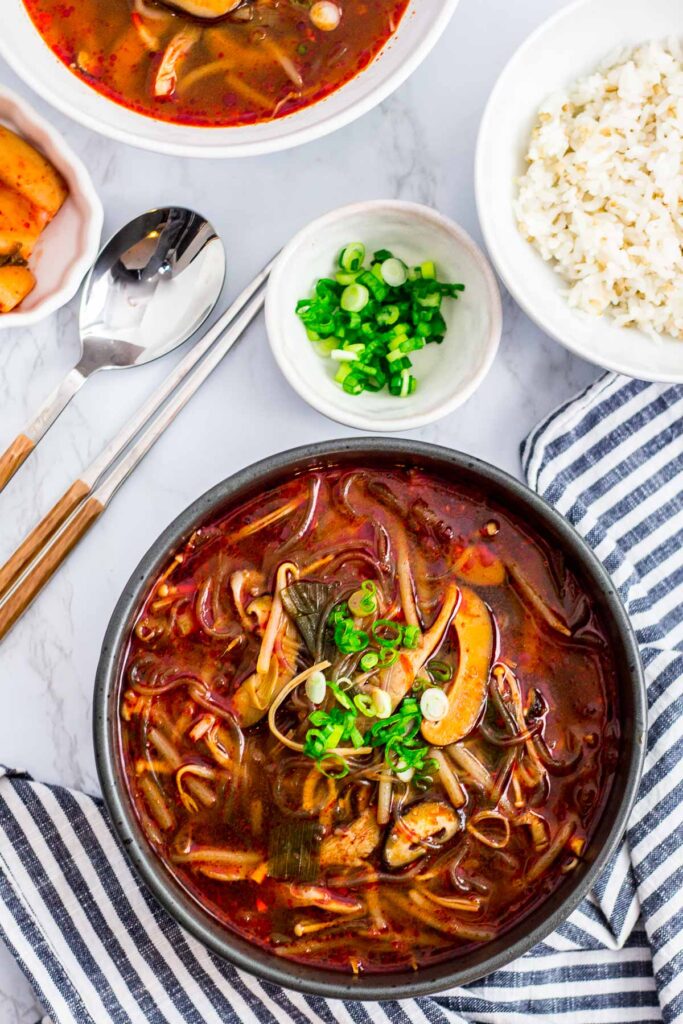 What to serve with the soup
Rice - Sushi rice/short-grain rice is what Korean people eat on daily basis. You can add the cooked rice to the bowl and mix it before eating. Korean people tend to put an entire bowl of rice in the soup and finish the whole thing!
Kimchi - I have a vegan kimchi recipe that is out of the world! Kimchi is the most popular side dish that you serve with most of the meals in Korea.
Other side dishes/banchan - A traditional Korean meal consists of a bowl of rice, soup, a main dish, and different side dishes (also known as banchan). In this case, my vegan mushroom yukgaejang soup is the main dish. Other than Kimchi, you can serve your meal with spicy braised potato, teriyaki tofu, and shishito pepper and mushroom stir fry (they are all vegan-friendly side dishes).
Warnings for the soup!!
Do NOT wear white clothes when eating this soup. As you can see in the photos, the soup is full of chili oil. When you slurp and fish out delicious vegetables and mushrooms to eat, it will splash the soup and the oil. We don't want to have permanent red stains on our shirt, do we?
This is NOT a first date type of soup. As much as I love this soup, I have to admit that I feel less attractive when eating this soup. This soup will have your nose running and sweating a little from the heat and spice. I'd say this soup is more appropriate when you feel under the weather because this soup will clear out your sinus for sure!
Most likely you will be in a food coma. This is a hearty soup that is meant to be eaten with a big bowl of rice. After eating the whole thing, you will definitely be in a happy food coma.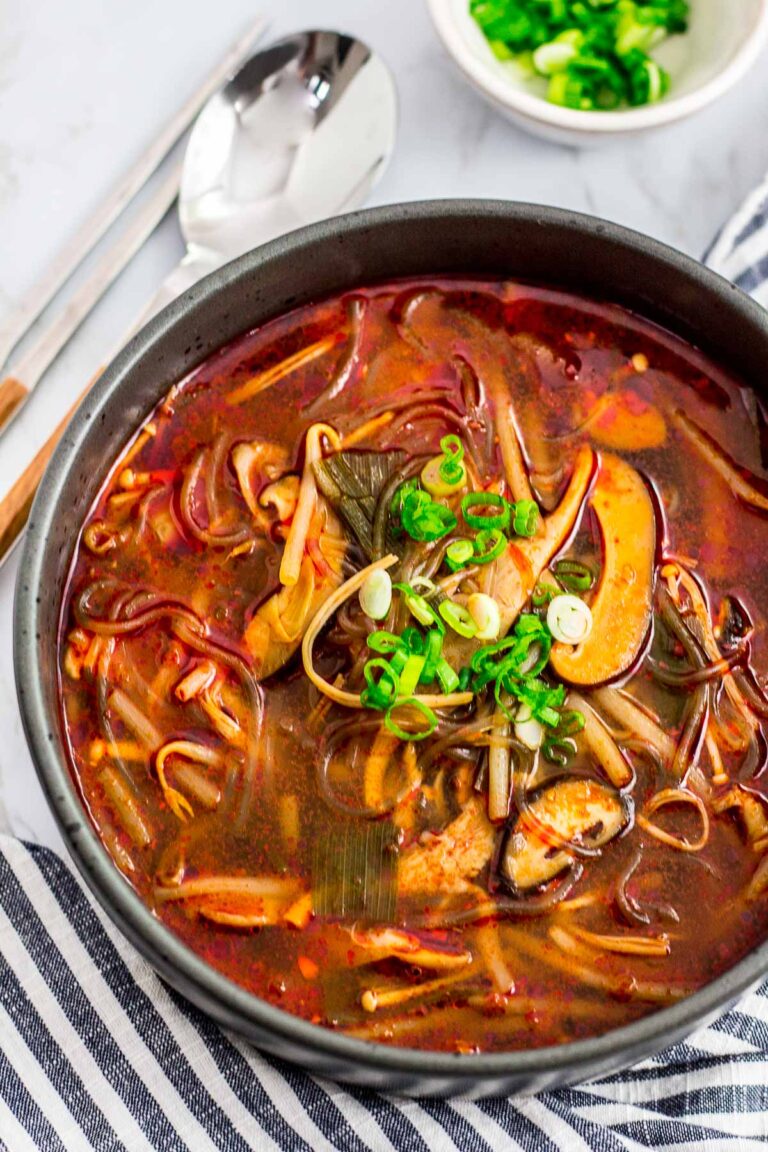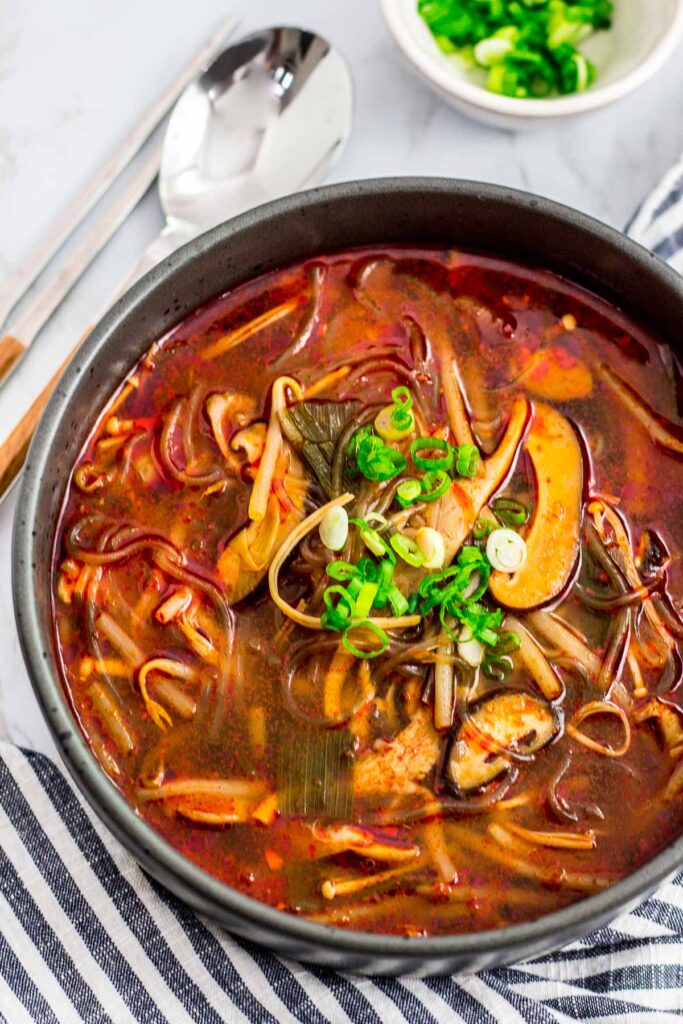 Print
Vegan Yukgaejang with Mushroom
You now can enjoy the Korean spicy beef soup vegan style! This spicy and meaty vegan mushroom yukgaejang is a perfect meal for cool weather!
Author:
Prep Time:

10 minutes

Cook Time:

20 minutes

Total Time:

30 minutes

Yield:

4

servings

1

x
Category:

Soup

Method:

Boil

Cuisine:

Korean

Diet:

Vegan
5

to

7

green onion, cut into

2

-inch pieces

3 tablespoons

sesame oil

1 tablespoon

grapeseed oil

1

to

2

tablespoons gochugaru/Korean red pepper flakes (use

1 tablespoon

if you don't want it too spicy)

5 cups

of water

4

to

6

ounces oyster mushroom, shredded with hands

4

to

6

ounces shiitake mushroom, stems removed and thinly sliced

2 ounces

Enoki mushroom (optional)

3

to

4

cloves garlic, minced

3 tablespoons

low sodium soy sauce (if you are not using low sodium, use

2 tablespoons

of regular soy sauce)

1 tablespoon

Yondu (Korean liquid vegetable base)(See NOTE)

1

to

2

cups bean sprouts
Salt and black pepper to taste
Instructions
In a large container, pour boiling water over glass noodles. Let it soak for 10 to 12 minutes. Drain and rinse under cold water. Set aside. 
Place the water for the soup near the stove. 
While the noodle is soaking, add sesame oil, grapeseed oil, and green onion to a large-size pot. Turn on the heat and cook the green onion with frequent stirring, about 3 minutes. You should smell the green onion as it cooks. 
Add the gochugaru/Korean red pepper flakes to the pot. Stir continuously until the oil turns bright red in color. 
Once the oil turns red and you can see the oil bubbles (about 45 to 60 seconds), add the water right away so the pepper flakes are not burning. 
Add the mushrooms and minced garlic to the pot. 
Bring the soup to a boil. 
Add the soy sauce, Yondu, and bean sprouts to the soup. 
Continue to boil the soup on medium-heat for additional 5 minutes. 
Place the noodle and cook for a minute or two. 
Taste the soup and add salt and pepper to your liking.
Serve with a bowl of rice and kimchi. 
Notes
If you don't have Yondu, you can add more soy sauce (1 tablespoon). But you can easily purchase Yondu on Amazon. 
If you are vegetarian, you can also add eggs to the soup. Whisk two eggs in a small bowl and when you add the noodle to the soup, add the egg to the soup and give it a quick stir. 
Keywords: vegan mushroom yukgaejang, vegan yukgaejang with mushroom, yukgaejang, Korean soup, soup, Vegan Korean recipe