Canned Chickpea Salad Sandwich - No fail, super easy recipe! Vegan friendly and healthy chickpea salad sandwich made with a can of chickpea. This salad is perfect for sandwiches or wraps. Find out how to make your soon to be favorite lunch right here!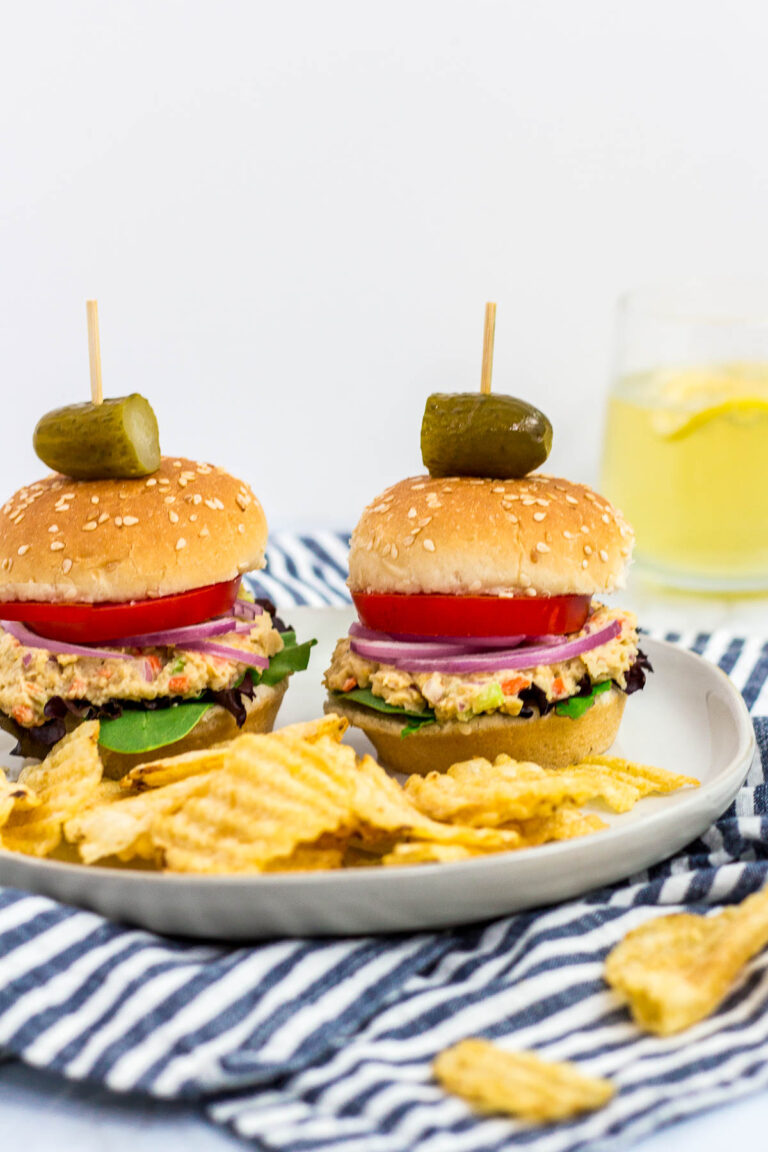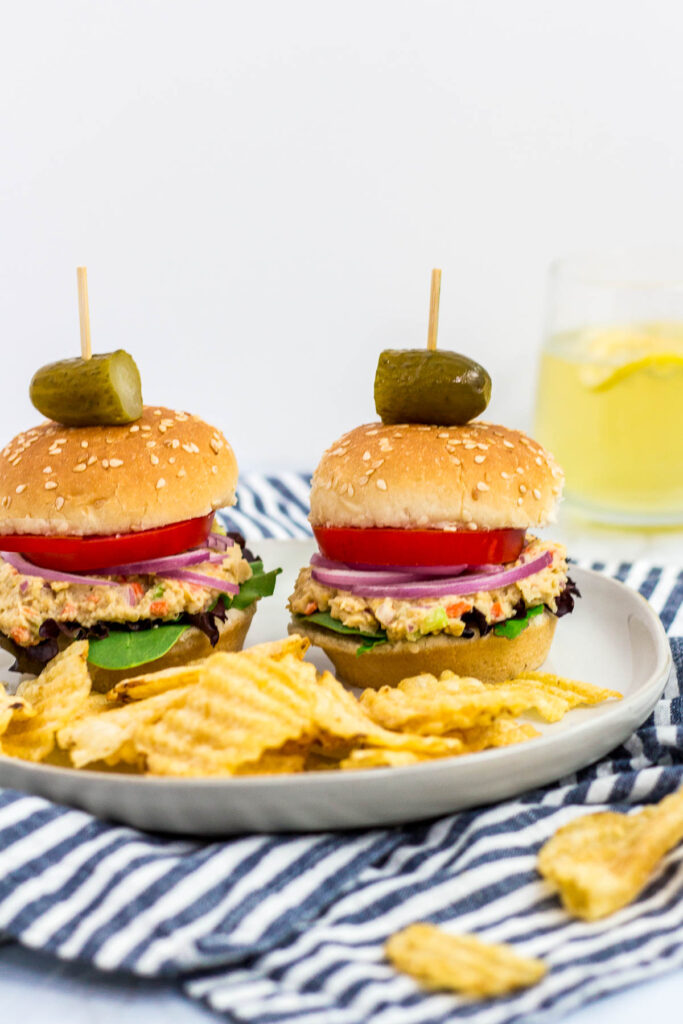 Back when I was still eating meat and fish, one of my go-to, quick lunch used to be tuna salad. It is perfect for making a wrap or a sandwich. And once I became a vegetarian, I was sure that I will miss out on one of my favorite lunch menu items. Then I started to find so many "vegan tuna salad" recipes on Pinterest using chickpea. So I decided to make my own chickpea salad using the exact same recipe that I use to make tuna salad.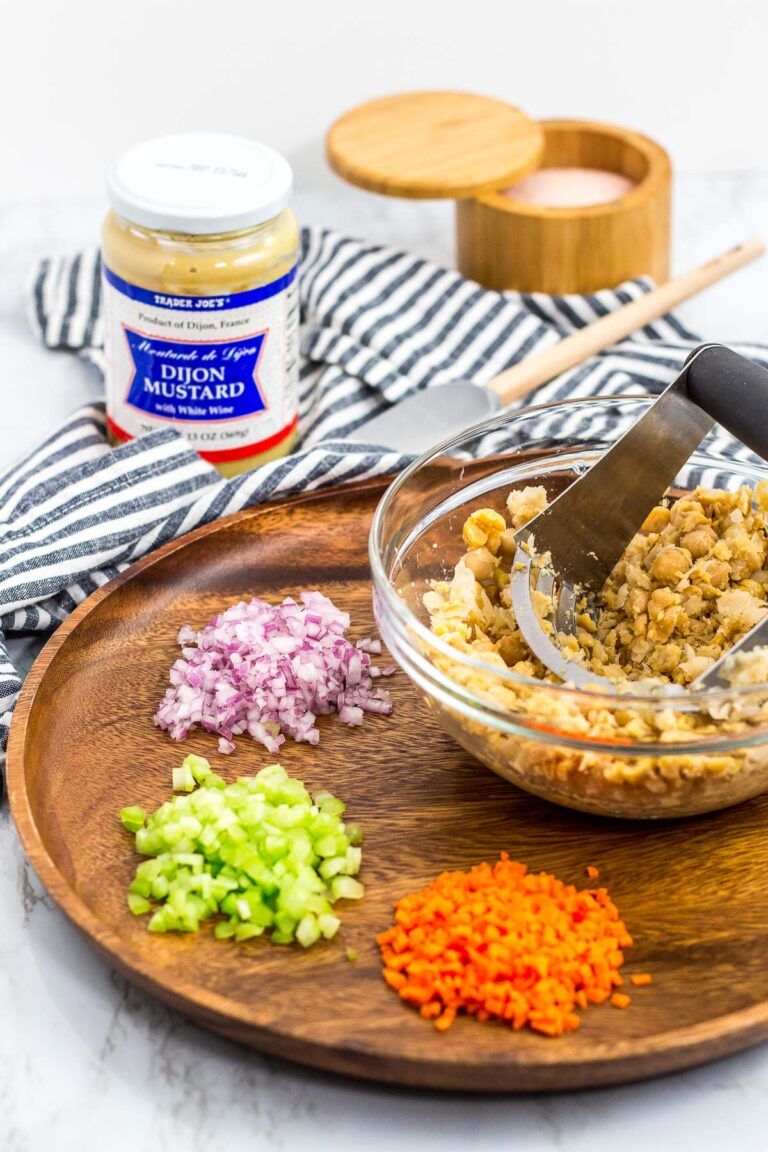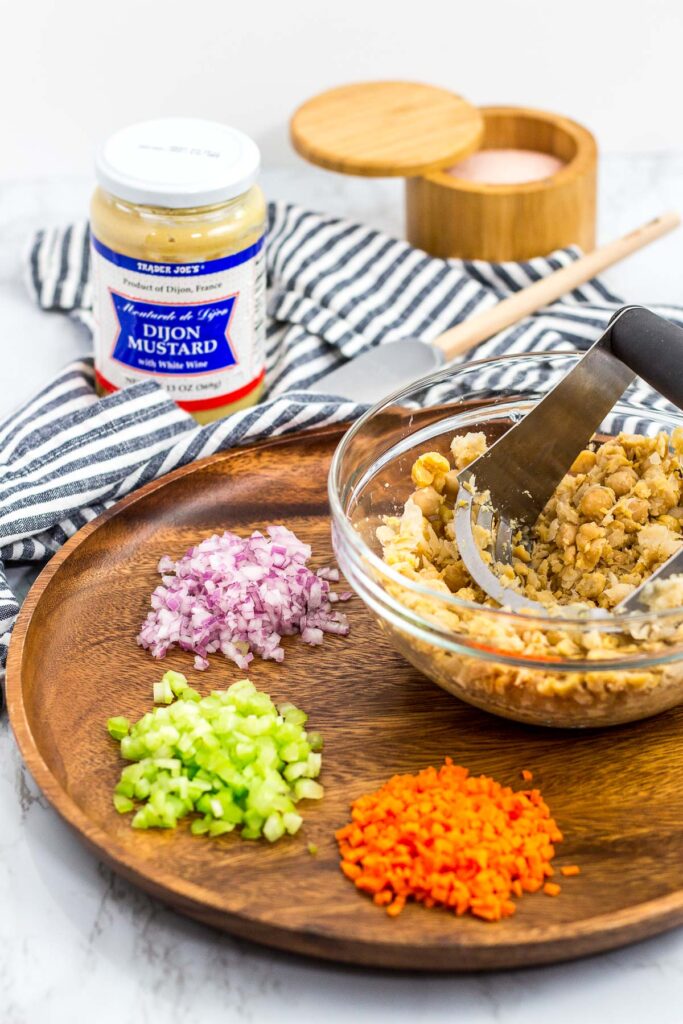 Does canned chickpea salad sandwich taste similar to canned tuna salad sandwich?
The answer is NO. Chickpea salad is missing the ocean-y flavor and the texture of tuna. But it does not fail to deliver the creamy component of the salad and it tastes wonderful with the classic veggies in the tuna salad like celery, carrot, and onion. I actually use the exact same recipe that I use to make tuna salad. The only difference is that I use less mayo (this recipe calls for 2 tablespoons of mayo but use 3 tablespoons of mayo for tuna salad). So whenever I make myself this delicious chickpea salad, I make sure to chop extra veggies so I can make tuna salad for my hubby who is not a big fan of chickpea.
How to mash canned chickpea:
You can use whatever tool you have in the kitchen to make your mashed potato, you can use it to mash the chickpea. But if you don't own a masher, you can use a fork. For me, my favorite tool to mash chickpea is a pastry cutter! I bought a pastry cutter when I was super into making homemade biscuits for a very brief time. Since then this tool has been neglected and forgotten until I started to use it for mashing chickpeas! I actually believe this tool should be re-named and marketed as a chickpea masher. So if you have a pastry cutter at home, forget the potato masher and use the pastry cutter to mash your chickpea!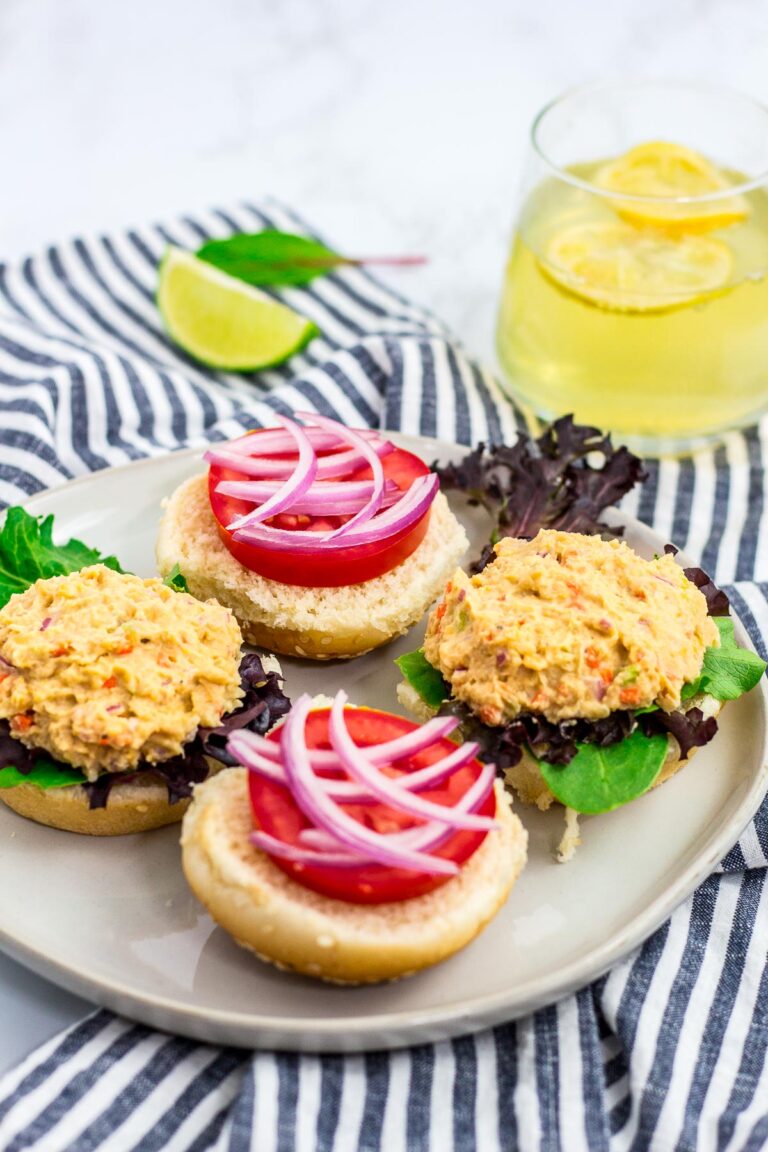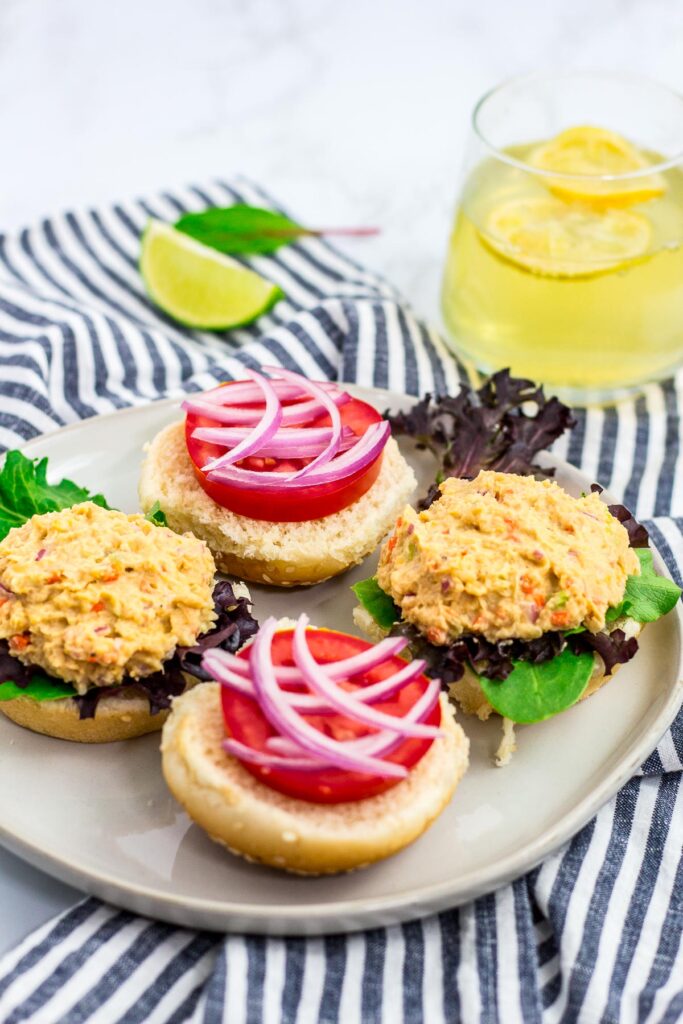 How to assemble canned chickpea salad sandwich
You can pretty much use whatever toppings you like in a sandwich. Mine happens to be the same toppings as I use in hamburgers. A little bit of mixed greens or lettuce, tomato slices, and red onion is what I used. Avocado slices and pickled onion or jalapeños also make great toppings for the sandwich!
What to serve with chickpea salad sandwich
Chips/Potato chips - Who doesn't like chips with their sandwich? They are perfect for one another and meant to enjoy together.
Tater tots - If you want to bulk up your meal, tater tots are a great choice.
Salad - If you want a low carb meal, skip the bread in the sandwich and serve the chickpea salad on top of a big bed of lettuce.
Veggie sticks - Another healthier option! Carrot and celery sticks or cucumber slices will add a healthier crunch to the meal!
So how about a canned chickpea salad sandwich for your lunch today? Since the recipe requires zero cooking, I think it's perfect for a quick and healthy lunch! If you are interested in watching a quick 1 minute video on how to make this, click here to check it out!
Happy eating, my friends!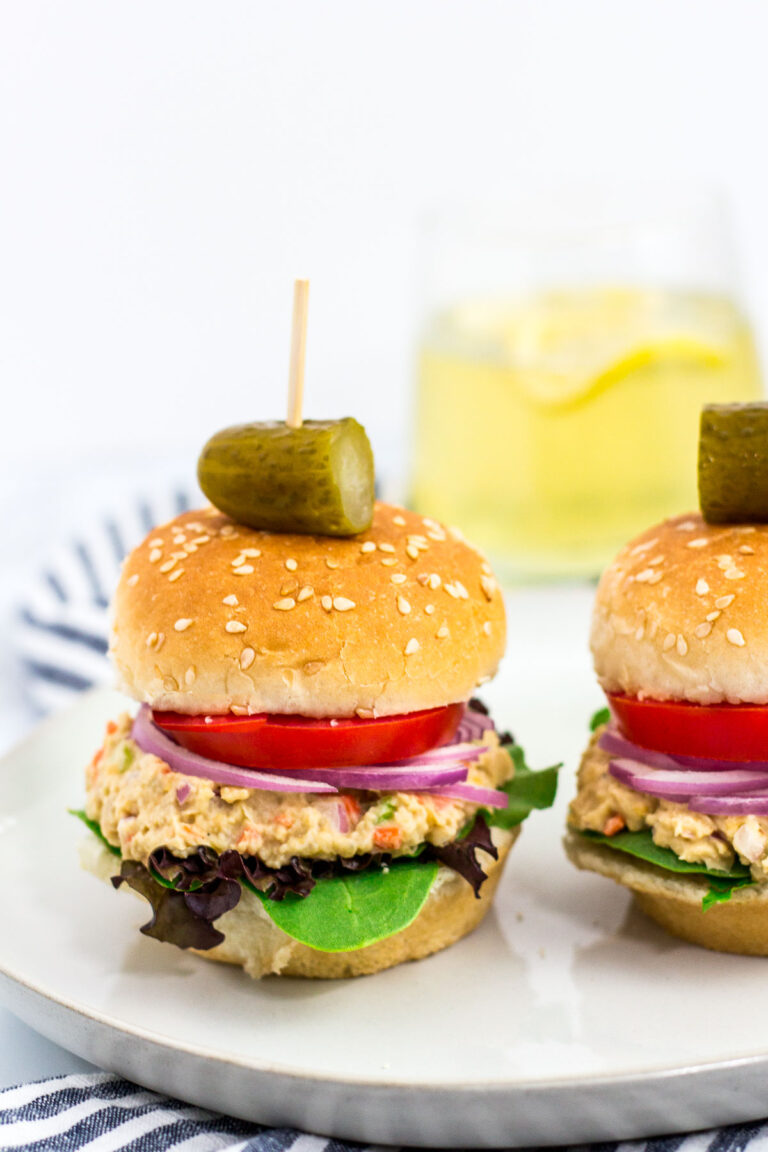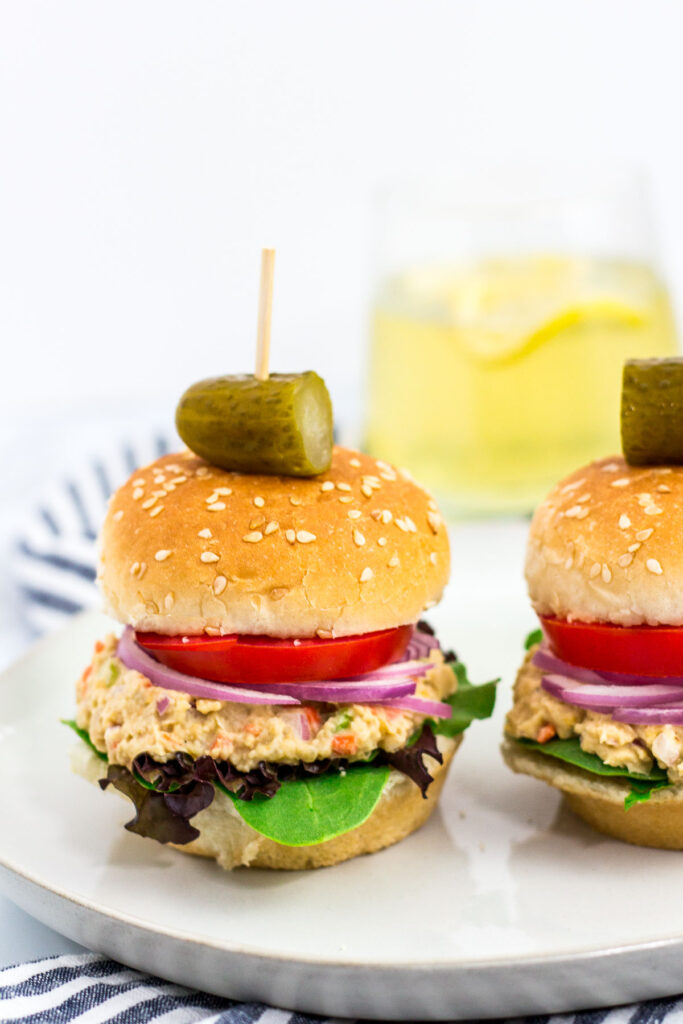 Print
Vegan Chickpea "Tuna" Salad Sandwich
Vegan Chickpea "Tuna" Salad Sandwich - Vegan-friendly chickpea sandwich that's perfect for your healthy lunch! No-fail, super easy recipe!
Author:
Prep Time:

10 minutes

Total Time:

10 minutes

Yield:

4

sandwichs

1

x
Category:

Salad

Method:

Mix

Cuisine:

American

Diet:

Vegan
For Chickpea Salad
1

can chickpea, drained and rinsed

½ teaspoon

salt

½ teaspoon

sugar

¼ teaspoon

black pepper

2 tablespoons

minced onion

2 tablespoons

grated carrot

2 tablespoons

minced celery

2 tablespoons

vegan mayo (or regular mayo if you are not vegan)

1 teaspoon

Dijon mustard

1

-

2

teaspoons fresh lemon juice
For Sandwich
Sandwich buns of your choice
Mixed greens or lettuce
Tomato
Onion
Instructions
Mash the chickpea in a medium-size bowl.
Add all the ingredients and mix until everything is well incorporated.
Assemble the sandwich with the toppings of your choice.
Notes
You can use this exact same recipe to make tuna salad. The only thing you need to adjust is the mayo amount - 2 tablespoons to 3 tablespoons for the tuna salad. 
Please see the section "What to serve with chickpea salad sandwich" above for ideas.
Keywords: canned chickpea salad sandwich, chickpea salad sandwich, vegan chickpea salad, chickpea sandwich, vegan sandwich