How to make healthy egg quinoa fried rice - Gluten-free, high protein, and high fiber healthy dish that's easy, satisfying, and tasty! 7 ingredients and 15 minutes is all it takes to enjoy this delicious quinoa fried "rice".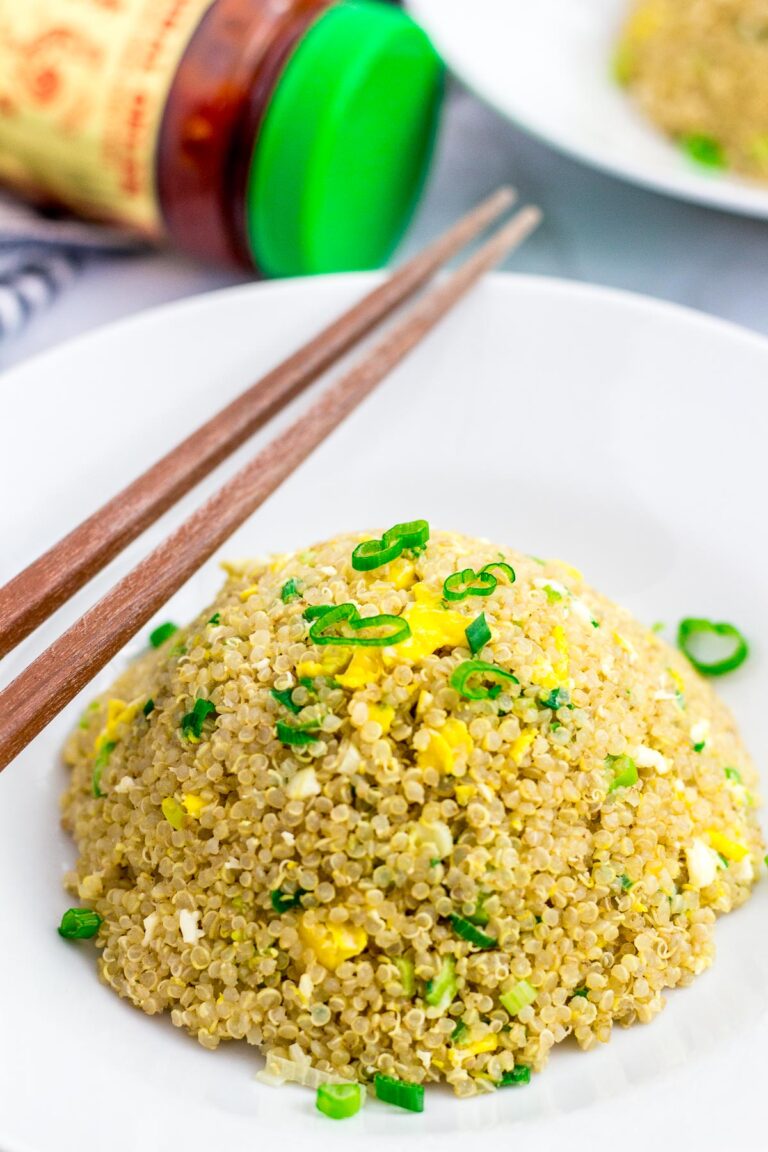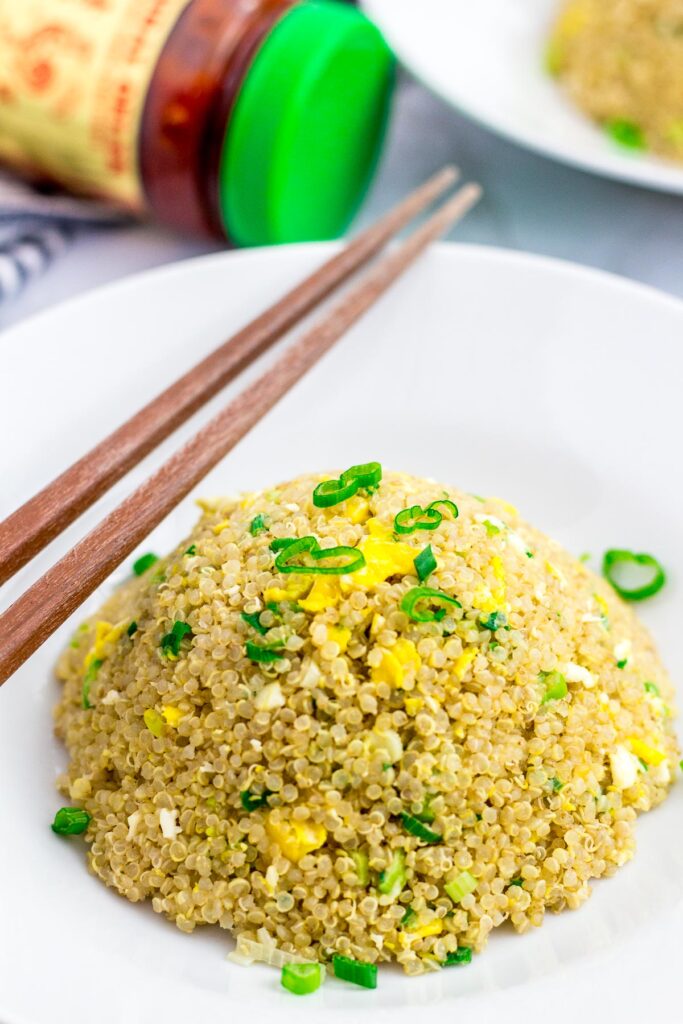 Do you remember the Bud Light commercial several years back a guy wearing a Philadelphia Eagles Jersey grilling a quinoa burger? Well, I think that's the time I was really into quinoa, not because of the commercial though. Since then, quinoa has been making a steady appearance on our dinner table as a feel-good side dish.
But during my recent candida cleanse, I made my Super Easy 5 Ingredients Egg Fried Rice using quinoa and liquid aminos. And it was a hit! My husband and I both enjoyed the dish so much that we have been making this regularly.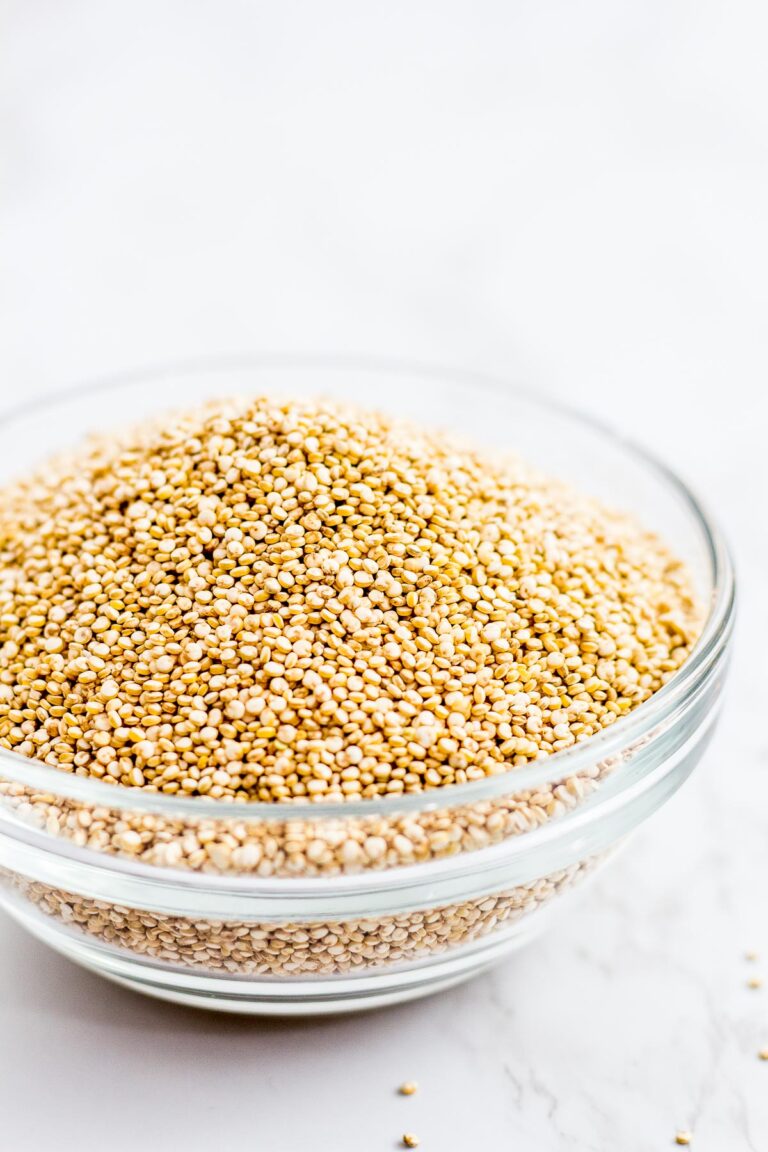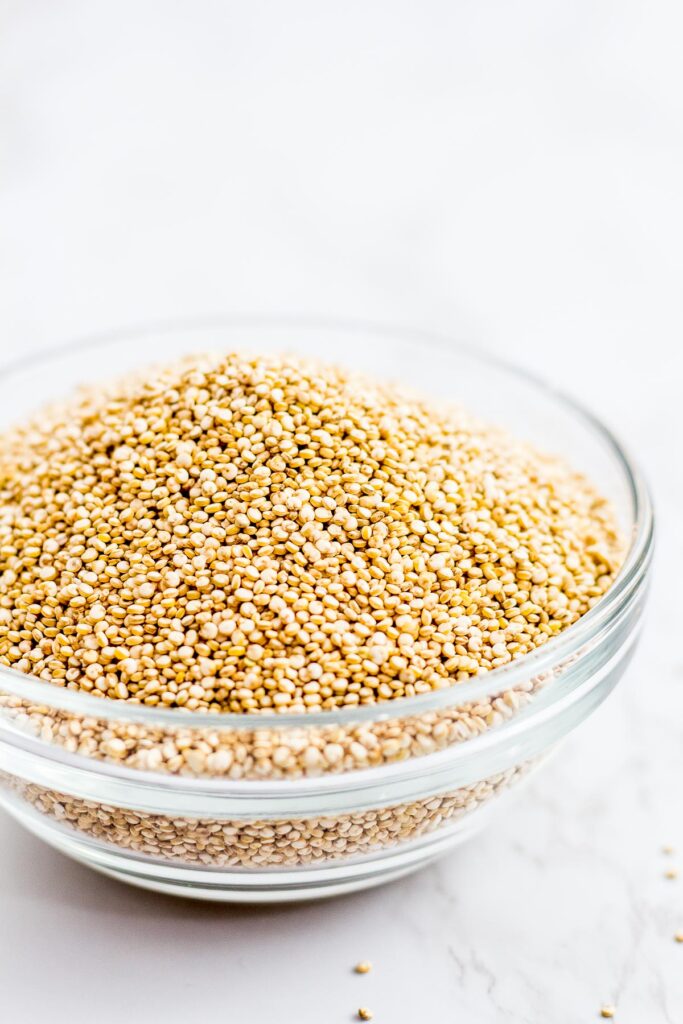 What is Quinoa?
Quinoa (pronounced KEEN-wah) is edible seeds that's eaten as grains. Because of its numerous health benefits, it is receiving its status as a superfood.
It is gluten-free, high in protein, high in fiber, high in antioxidants, and full of micronutrients. Although quinoa has a low-glycemic index, it is NOT low in carbohydrates. For these reasons, quinoa is a better choice of carbohydrate than rice.
Different types of Quinoa (Which one should I use to make fried "rice"?)
There are white, red, and black quinoa. There are actually little to no difference in terms of their nutrients. However, there is a slight difference in its taste and texture.
White quinoa tends to have the least amount of bitterness. And red and black quinoa tends to be a little chewier than white quinoa once cooked. But the difference is very minor so you can use any type of quinoa for making fried "rice". I'm using white quinoa for my healthy egg quinoa fried rice.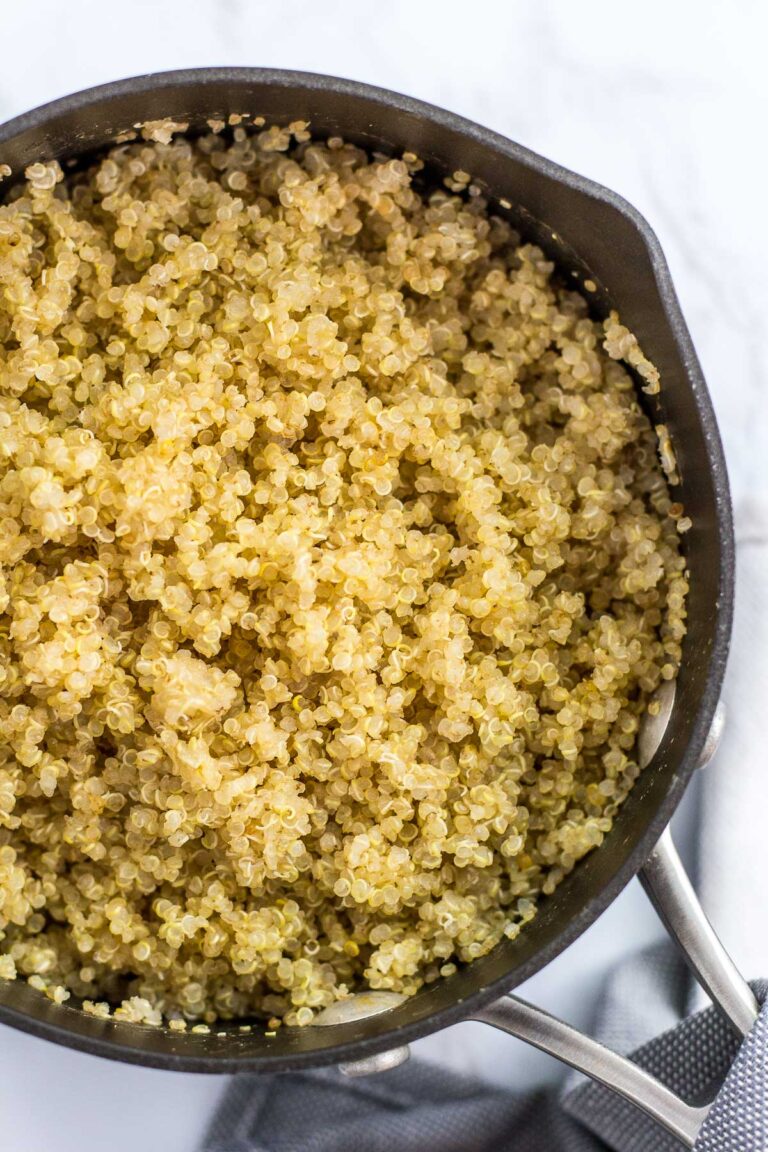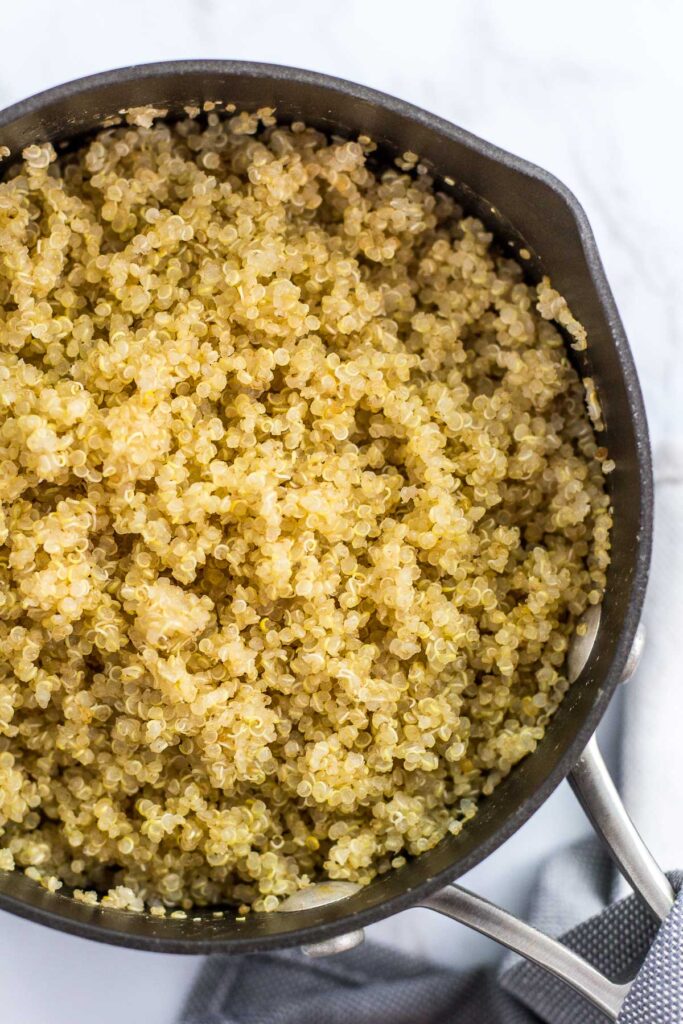 How to cook quinoa on stove-top
Rinse the quinoa before cooking. Even if you purchased pre-washed quinoa, give the quinoa a proper rinse. This step is crucial in making your quinoa not bitter. I found that when I rinse my quinoa with warm water, it tasted less bitter. I usually rinse my quinoa at least 4 to 5 times.
Add the rinsed quinoa to a pot and add water. The ratio I use is 1 cup of quinoa to 1 and ¾ cup of water (NOT 1 cup quinoa to 2 cups water ratio as the most package indicates). Bring them to a boil and reduce the heat to simmer.
Place a lid on the pot and continue to simmer for 12-15 minutes until all the water is absorbed by the quinoa.
Turn off the heat and let it sit for 5 to 10 minutes. Fluff with a fork.
You can store the cooked quinoa in an airtight container and place it in the fridge for up to 5 days. Or you can even freeze the cooked quinoa in the freezer for up to a month.
Now that we took care of how to cook quinoa, shall we get started on how to make this healthy egg quinoa fried rice?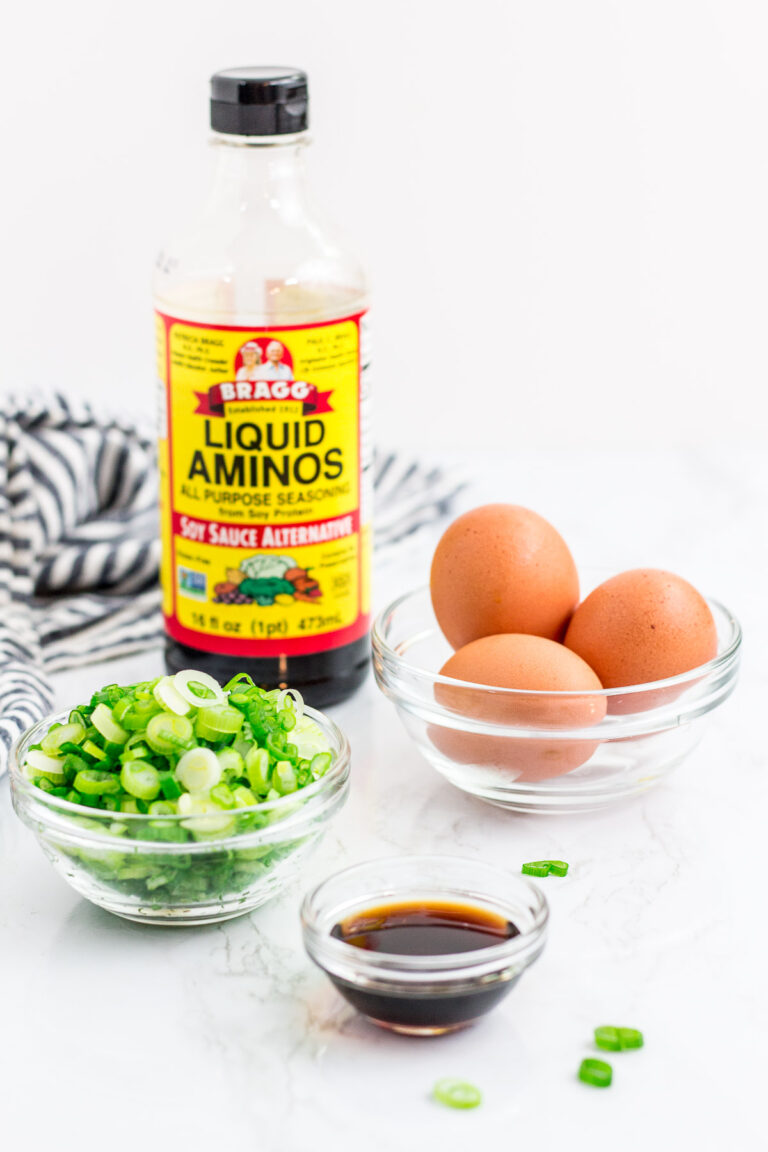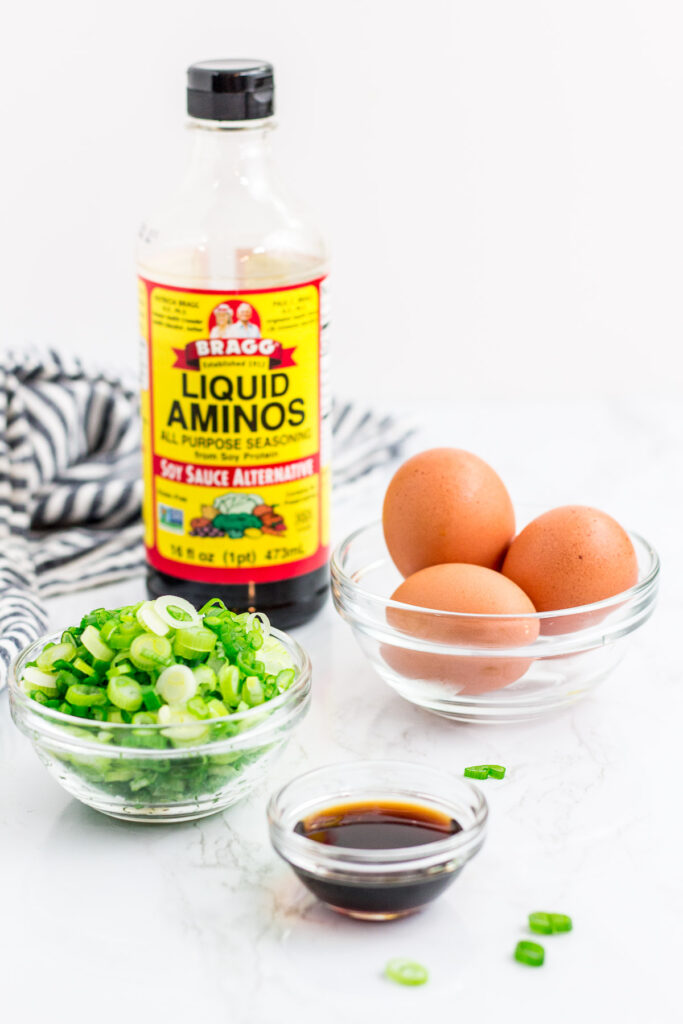 Ingredients in Healthy Egg Quinoa Fried Rice
Green onion
Egg
Liquid Aminos (for gluten-free option) or Soy sauce
Seasoning - garlic powder, black pepper, and salt
Cooked quinoa (please see the section above on how to cook quinoa)
The same principle of fried rice applies here. So a day old cooked quinoa is better than freshly cooked quinoa because it is drier. Drier grains (seeds in this case) can be coated with oil better and able to achieve the chewier texture we like in fried rice.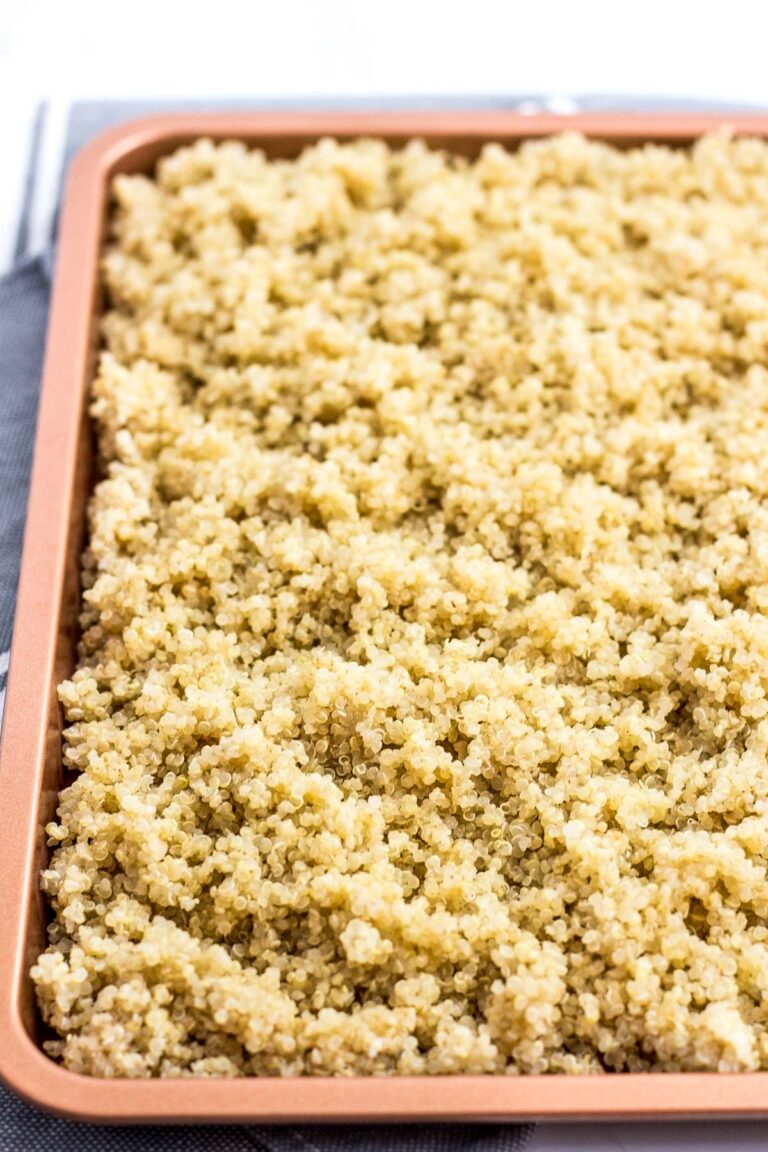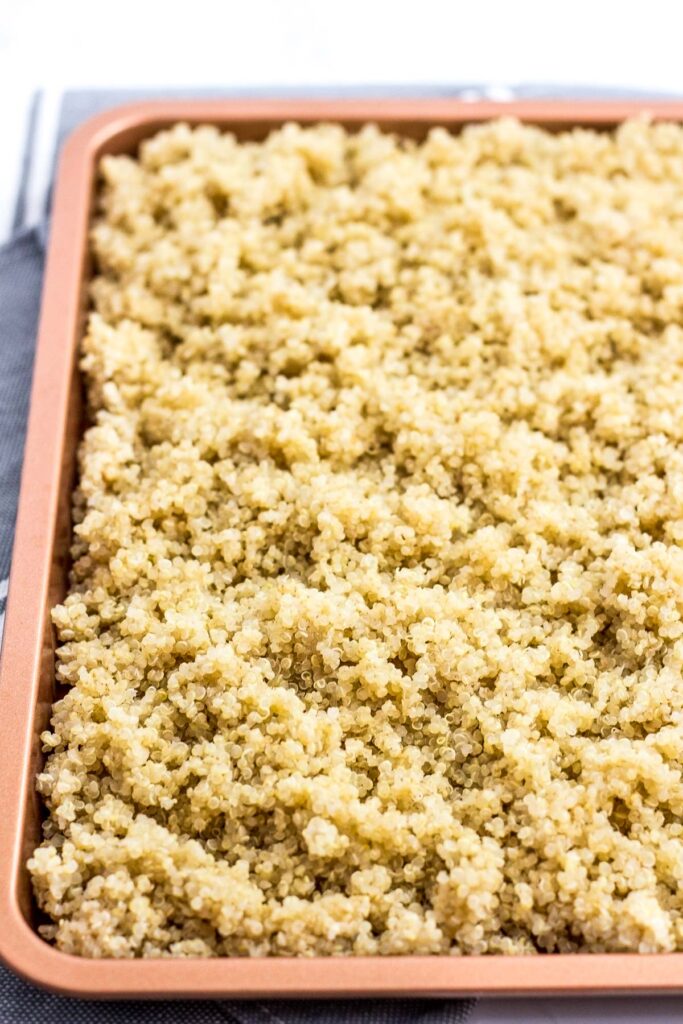 In case you are using freshly cooked quinoa:
If you are using freshly cooked quinoa, do these steps below to cool your quinoa.
Fluff your quinoa with a fork
Transfer your fluffed quinoa on a baking sheet and spread them evenly
Place in the refrigerator for about 20 minutes or freezer for about 10 minutes
Tips on making Healthy Egg Quinoa Fried Rice
Use a day old cooked quinoa if you can. Oil coats dried quinoa better and create better texture overall. If you only have freshly cooked quinoa, see the section above to see how I cooled/dried my quinoa.
Use the Korean style scallion/green onion oil as a base. A scallion/green onion oil sounds fancy. But it really isn't. You are simply flavoring your oil with green onion. To do so, you are adding your green onion and oil to the pan WITHOUT THE HEAT THEN apply the heat after to slowly infuse your oil with green onion. This is a well-known technique many Korean people use.
Customize it however you'd like. Personally, my husband and I like this egg quinoa fried rice as is without adding any vegetables. But if you want to bulk this up with more vegetables, be my guest! Frozen mixed vegetables work really well in this recipe. You just need to adjust the seasoning (add more liquid aminos or salt).
This egg quinoa fried rice makes a perfect quick meal or a great side dish. It's simple, clean, healthy, and satisfying. I really do hope that I've convinced to you give this dish a try. But if you are skeptical of quinoa (or not a big fan of quinoa), maybe you can try my egg fried rice instead.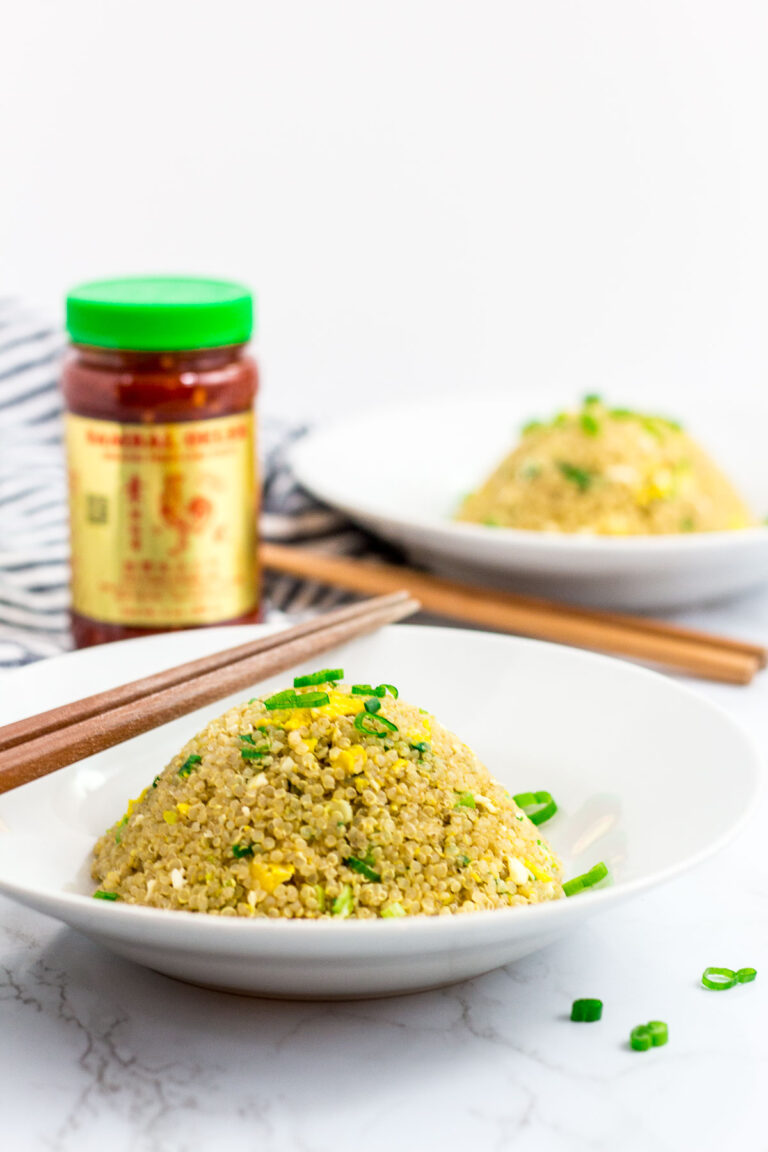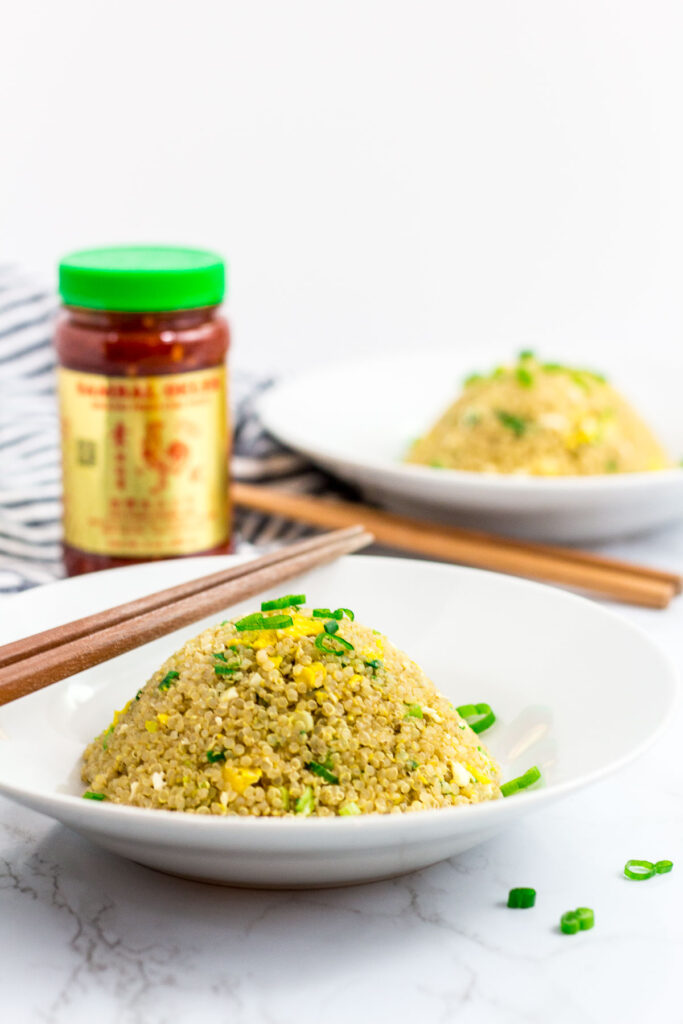 Print
Easy Quinoa Fried "Rice" with Egg (gluten-free)
Easy Quinoa Fried "Rice" with Egg - Gluten-free, high protein, and high fiber healthy dish that's easy, satisfying, and tasty! 7 ingredients and 15 minutes are all it takes to enjoy this delicious quinoa fried "rice".
Author:
Prep Time:

5 minutes

Cook Time:

10 minutes

Total Time:

15 minutes

Yield:

2

servings

1

x
Category:

Fried Rice

Method:

Stir fried

Cuisine:

Asian

Diet:

Vegetarian
2 Tablespoons

neutral-tasting oil 

4

green onion, sliced (reserve some for the garnish)

3

eggs

3 cups

cooked quinoa

1 tablespoon

Liquid Aminos (see notes)

¼

to

½

teaspoon garlic powder
Salt and pepper to taste (I used white pepper)
Instructions
On a large non-stick skillet, add the oil, sliced green onion, and a pinch of salt. Turn on the heat and cook the green onions until they are tender and the oil is fragrant about 2 to 3 minutes. 
Crack the eggs into the pan and scramble the egg with green onion. 
When the white of the egg starts to turn white but still runny, add the cooked quinoa to the pan. Mix until the quinoa and eggs are well mixed. 
Add the liquid aminos and garlic powder. Mix until everything is well incorporated. Season with salt and pepper to taste. 
Notes
If you want to know how to cook quinoa (stovetop method) and how to cool them to make the fried rice, please refer to the section above. 
If you don't have liquid aminos, you can use soy sauce. Liquid Aminos is a lot saltier than my low sodium soy sauce. If you are using soy sauce, start with 1 and ½ tablespoons and adjust the amount to your liking. 
I used white pepper instead of black pepper to season my fried rice. I find white pepper to be more mild tasting than black pepper but it's not necessary. If you only have black pepper, you can use them in the dish or omit it altogether. 
The cooking time of the recipe does NOT include the cooking and cooling time of quinoa. 
This recipe yields 2 LARGE servings. It should be enough to feed 3 people. 
Keywords: healthy egg quinoa fried rice, egg quinoa fried rice, egg fried rice, quinoa fried rice, fried rice, quinoa