Umami packed vegan miso soup recipe that's made without bonito flakes! You now can have restaurant-style miso soup at home, vegan style!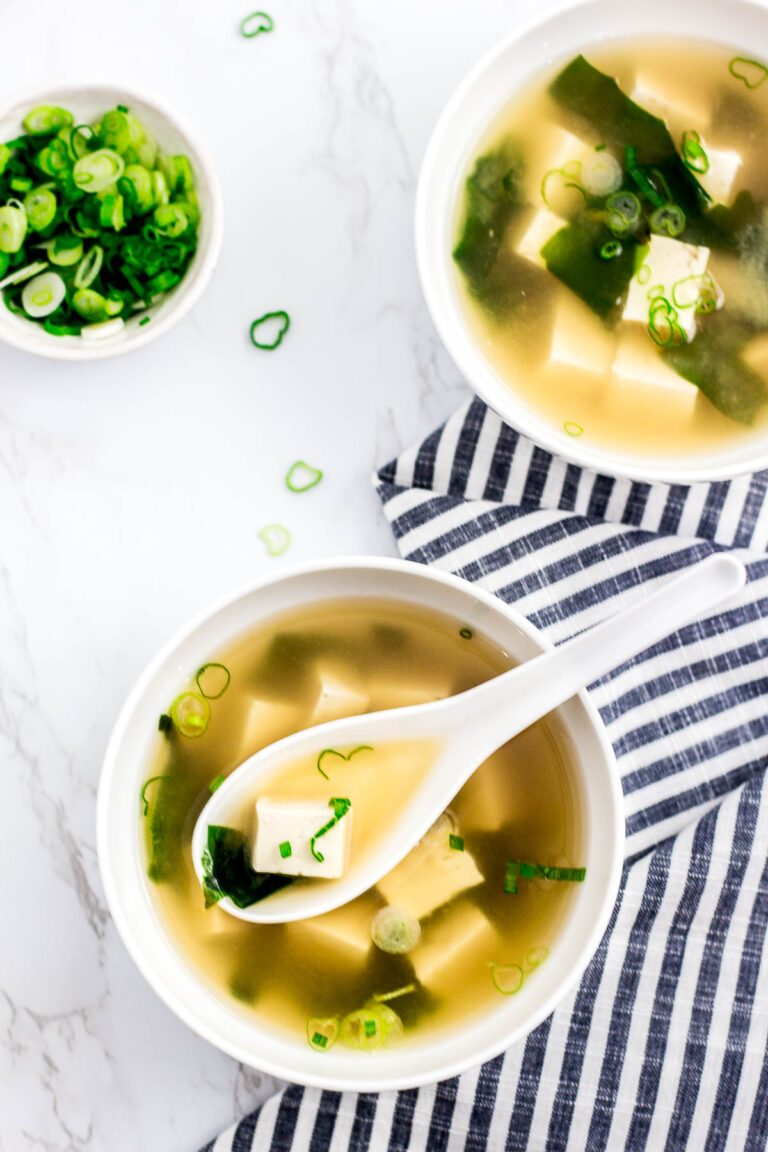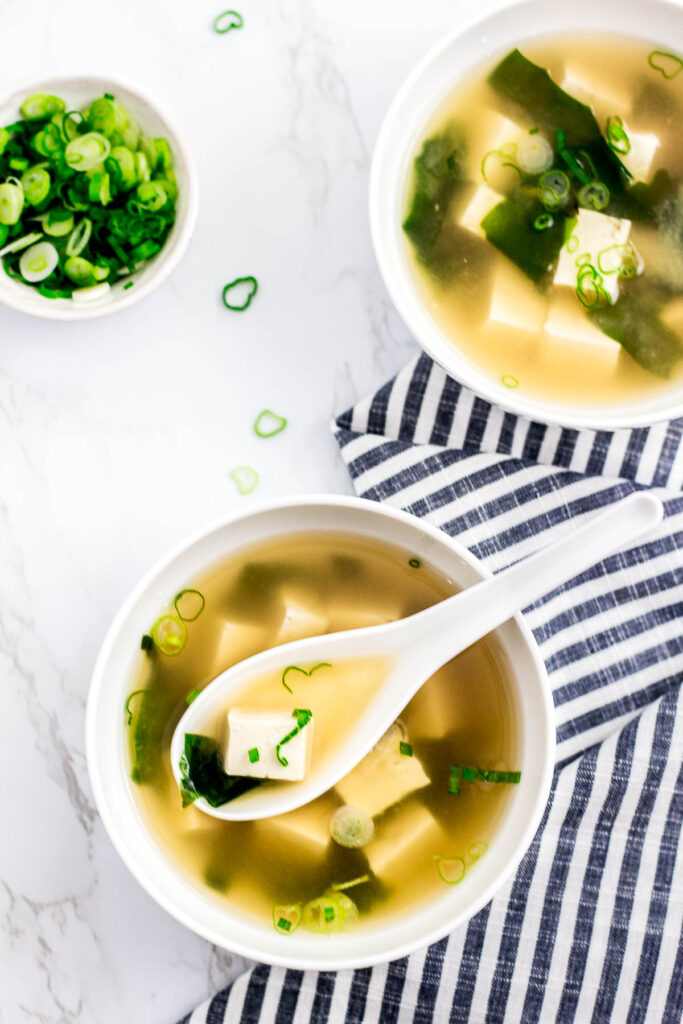 I have never met anyone who does not like a bowl of umami-packed miso soup. I mean, what is there not to like? It's savory, brothy, tasty, and soul-warming! Miso soup is definitely something I almost always order when I go to a Japanese restaurant.
And because I love miso soup so much, I learned how to make it at home! Then.... I became a vegetarian. So I had to say good-bye to my miso soup (sad face). Wait, what?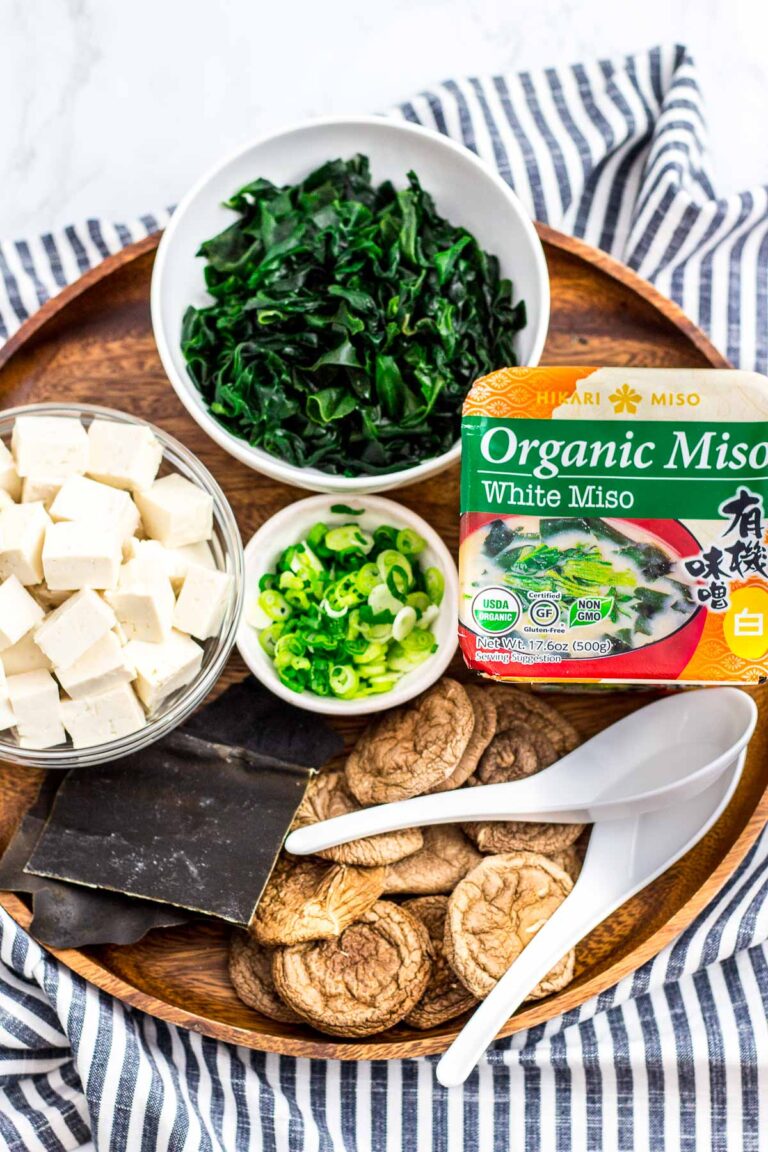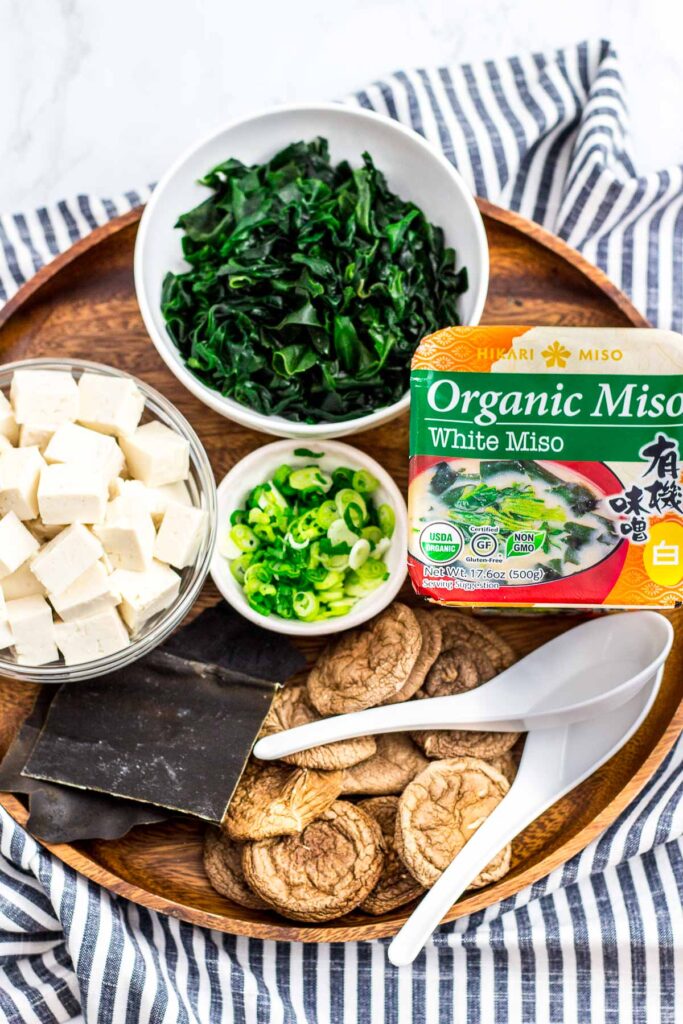 Is miso soup vegan?
If you thought miso soup was vegetarian or vegan-friendly, I'm sorry to burst your bubble but miso soup is NOT vegan. Traditional miso soup (and most restaurant miso soup) uses bonito flakes (also known as Katsuobushi) to make the broth.
What is bonito flakes/katsuobushi?
Katsuobushi (bonito flakes) is dried, fermented, and smoked tuna fish. You have seen them as a topping for takoyaki, okonomiyaki, and sometimes udon.
How to make vegan miso soup without bonito flakes?
A traditional miso soup uses kombu/dried kelp and bonito flakes to make the broth (dashi). The combination of these two ingredients gives the signature umami flavor that we all love so much.
Many vegan miso soup recipes often just omit the bonito flakes and make the soup using only dried kelp. However, I use dried kelp, dried shiitake mushrooms, and Yondu. By adding these ingredients, I was able to create umami-rich broth/dashi for my vegan miso soup!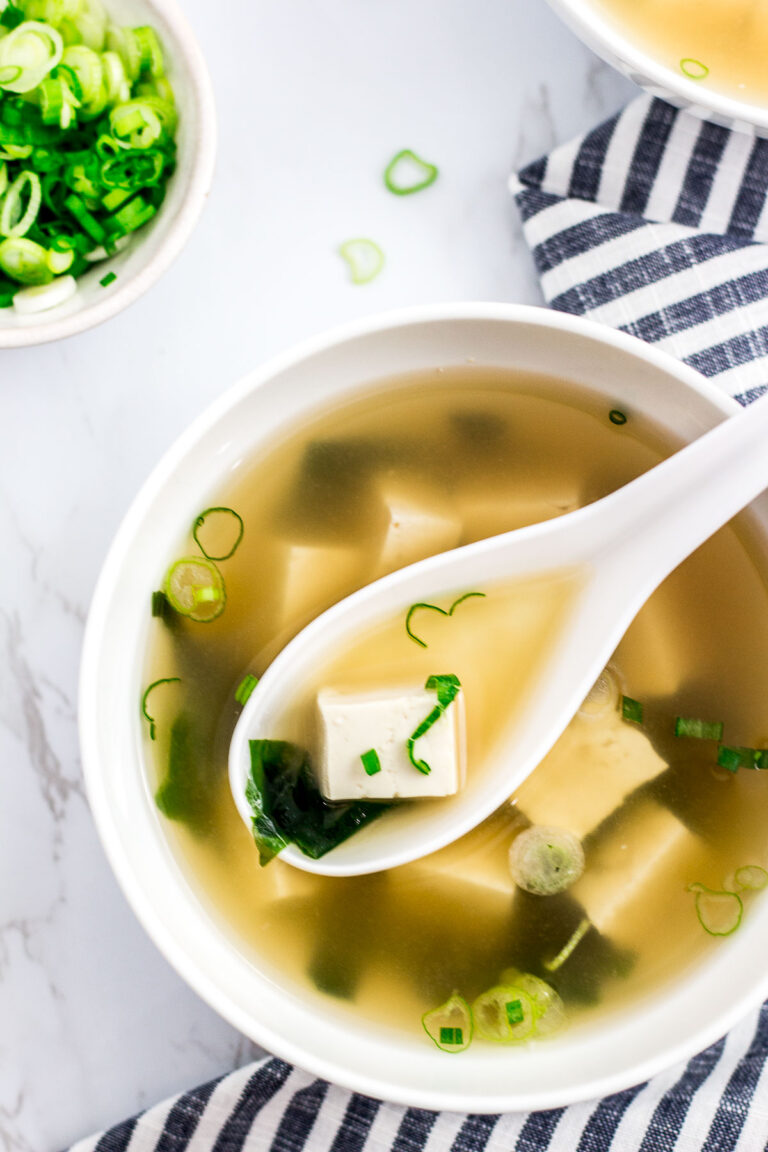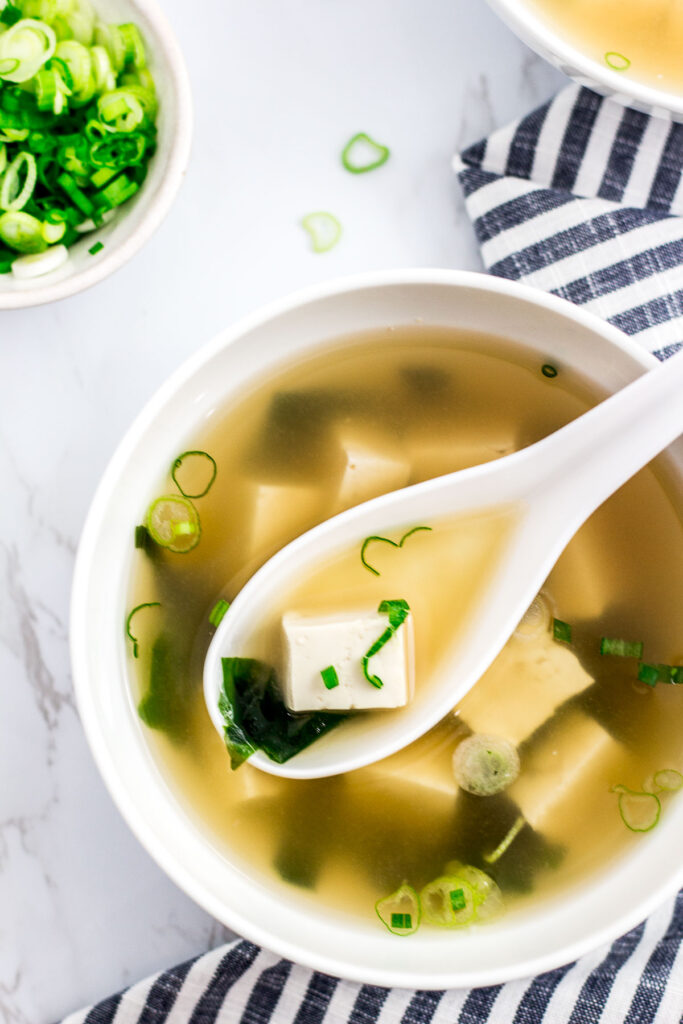 Ingredients in dashi/broth:
Dried Kelp/Kombu - Dried Kelp boosts the umami flavor as well as gives a pleasant yet subtle briny flavor to the broth. This ingredient is one of the main ingredients in a traditional dashi broth.
Dried Shiitake Mushroom - Dried shiitake mushroom is my secret ingredient to compensate for the umami flavor that you get from bonito flakes. It gives the soup a deep savory flavor and a gorgeous brown hue to the soup.
Yondu - Yondu is a Korean plant-based, all-purpose umami seasoning sauce. The flavor is similar to soy sauce but with a whole lot more savoriness. You can easily purchase them at a Korean grocery store or you can order them on Amazon.
Helpful Tips:
After making the broth/dashi using dried shiitake mushrooms, squeeze out the water from the mushroom and save them for your stir fry. It has a very meaty texture and it holds its shape very well.
I like to soak my wakeme/seaweed flakes in cold water for about 5 minutes. Once it is rehydrated, you can give it a quick rinse, squeeze out the water, and cut it into small pieces before adding it to the soup. If you don't rinse the wakeme, it may make your soup briny and salty.
Heat destroys the good bacteria in miso paste. So what I like to do is to add tofu and re-hydrated wakeme to the broth first to lower the temperature of the soup. Then I dissolve the miso paste using a small fine-mesh strainer and a spoon (photo below).
If you can't find Yondu, use a little bit of soy sauce to season your miso soup for a deeper umami flavor.
Frequently asked questions
How long can you keep the miso soup in the fridge?
You can keep the miso soup in an airtight container for up to 3 days in the refrigerator.
How do you reheat miso soup?
You can reheat them on a stovetop or in a microwave. However, know that the good bacteria will be destroyed in these reheating methods.
What type of miso should you use?
I used white miso. White miso is mild and sweeter in flavor than yellow or red miso. But I'm not an expert on miso. Nami from Just One Cookbook did an amazing post on miso here and you can read more about it there.
How do you season miso soup?
You can season with more miso paste, Yondu, or soy sauce.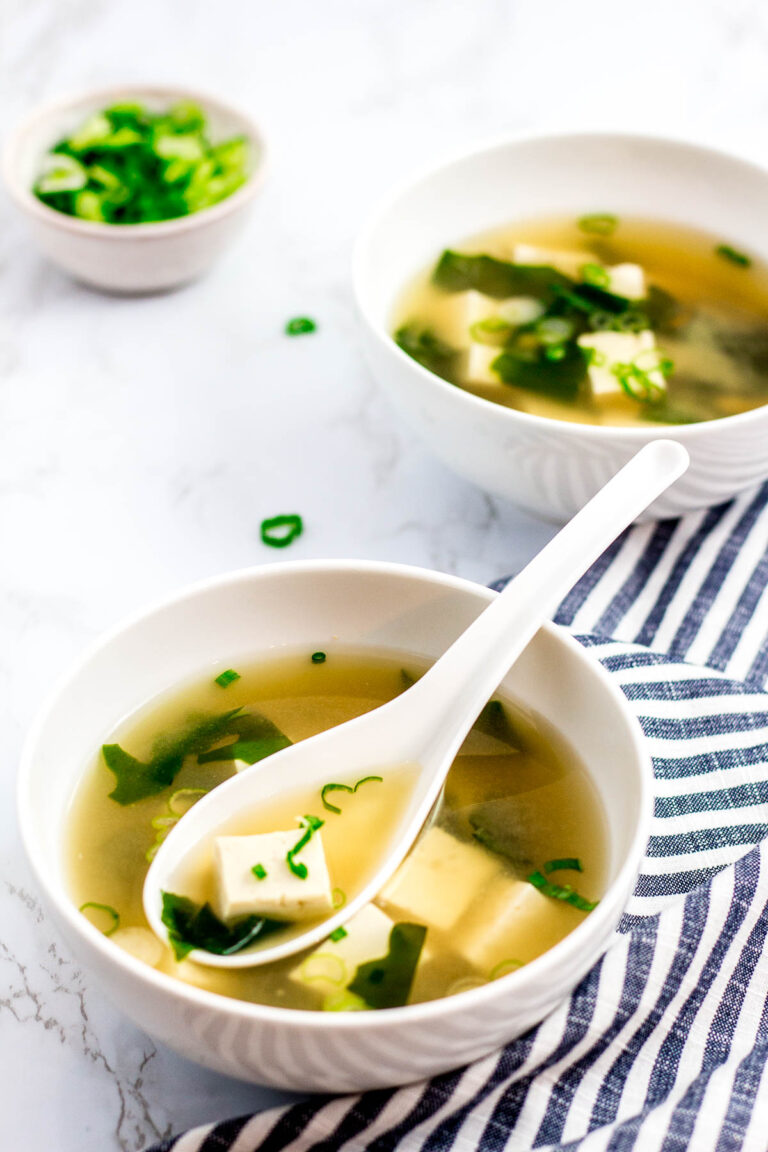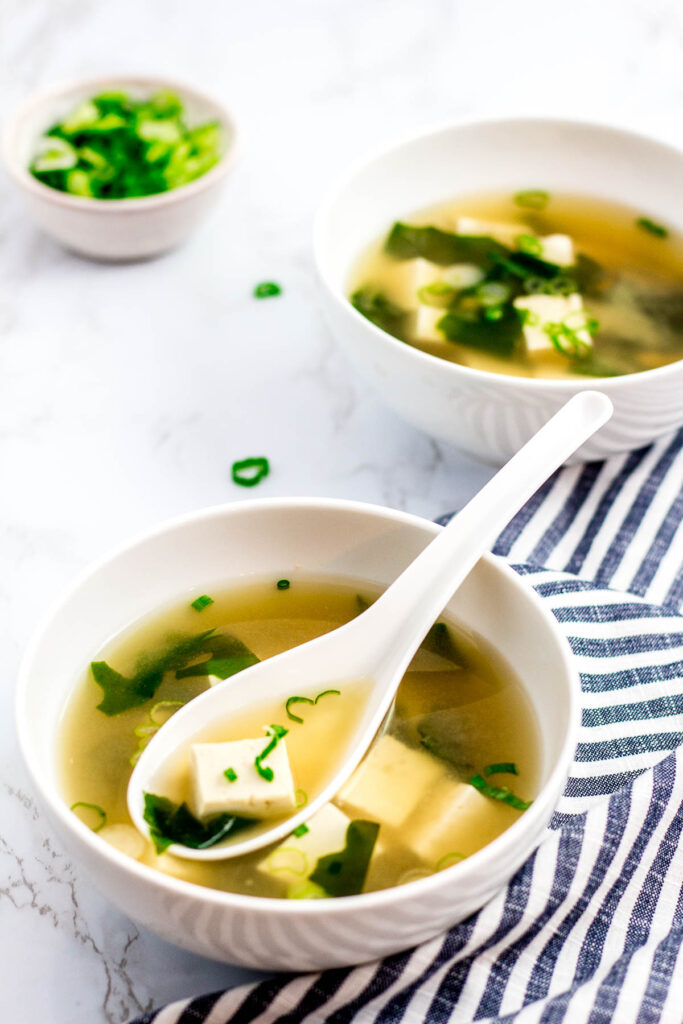 What to serve with vegan miso soup:
Sushi and miso soup is a classic combination that everyone loves, right? I have some vegan sushi and sushi bowl recipes that you will absolutely love!
Did you know bibimbap (Korean mixed rice bowl) and fried rice also go great with miso soup??!!
Print
Vegan Miso Soup without Bonito Flakes
Umami packed vegan miso soup recipe that's made without bonito flakes! You now can have restaurant-style miso soup at home, vegan style!
Author:
Prep Time:

5 minutes

Cook Time:

15 minutes

Total Time:

20 minutes

Yield:

4

large servings

1

x
Category:

Soup

Method:

Boil

Cuisine:

Japanese

Diet:

Vegan
6 cups

of water

2

to

3

pieces of Kombu/Dried Kelp

8

pieces of dried shiitake mushroom

2 tablespoons

white miso

1 tablespoon

Yondu (or

1 tablespoon

low-sodium soy sauce)

½ cup

cubed soft tofu

2 tablespoons

seaweed/wakeme

1

green onion, finely sliced (for garnish)
Instructions
In a medium-size bowl, add seaweed/wakeme and cold water. Let the seaweed/wakeme rehydrate for about 5 minutes.
Once rehydrated, rinse under cold water and squeeze out the water. Cut the seaweed/wakeme into small pieces and set aside. 
Bring 6 cups of water, kombu/dried kelp, and shiitake mushroom to a boil. 
Once it comes to a boil, lower the heat to a simmer. Continue to simmer for 10 minutes. 
Meanwhile, prepare your tofu and green onion. 
Turn off the heat and fish out the kombu and shiitake mushrooms out of the broth. 
Add the tofu and seaweed to the soup. 
By using a small-size fine metal mesh strainer, dissolve the miso paste into the broth. 
Add Yondu to season the soup. 
Serve the soup with green onion. 
Notes
If you can't find Yondu, use low-sodium soy sauce to season the soup.
If you don't like the raw green onion flavor, you can place sliced green onion in ice water for a couple of minutes to get rid of the rawness. 
Keywords: vegan miso soup without bonito flakes, vegan miso soup, miso soup