How to make vegan seitan bulgogi - learn how to make delicious seitan bulgogi with homemade seitan! Vegan-Friendly Korean BBQ Finally!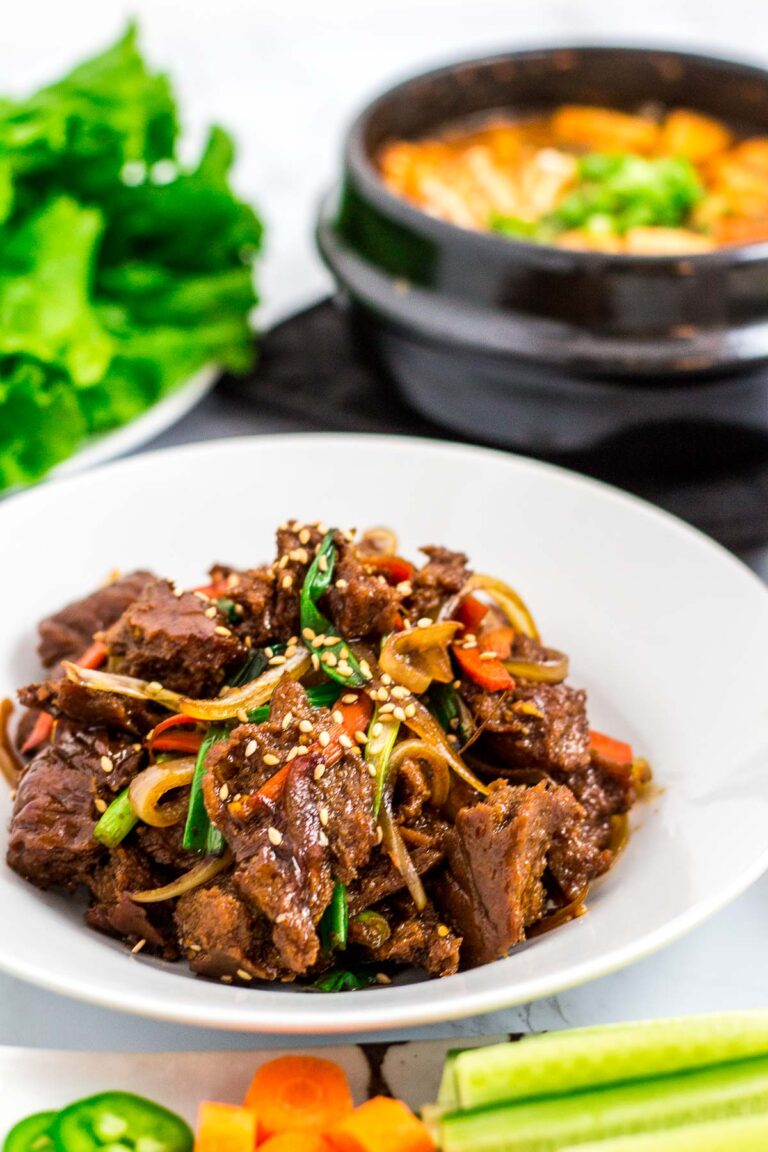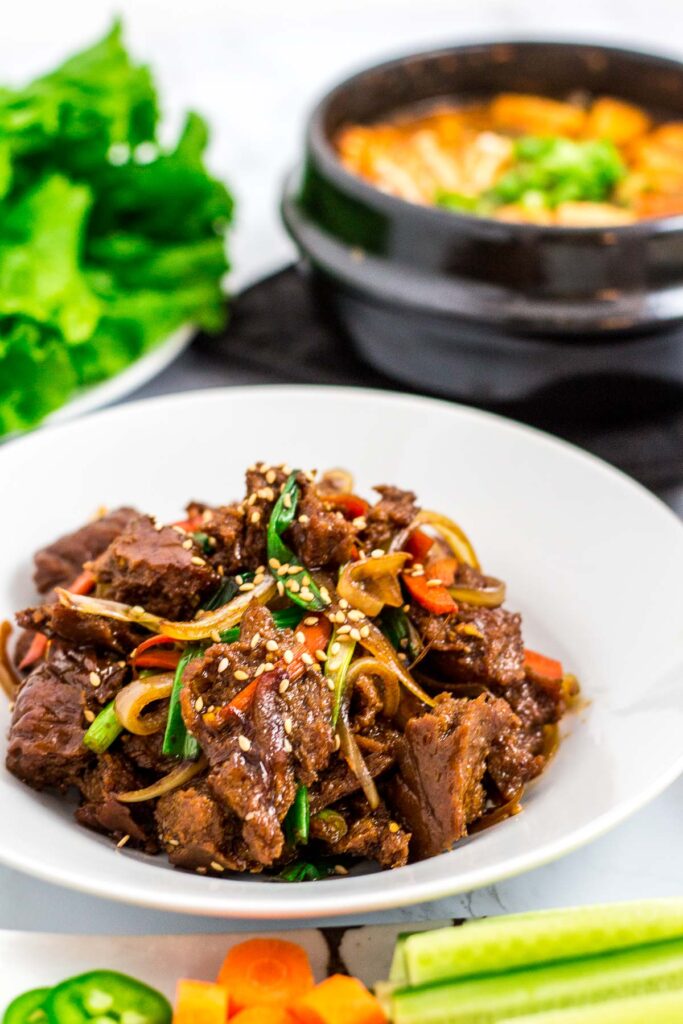 First thing first, What is Bulgogi?
Bulgogi 불고기 is a very popular Korean dish. "Bul불" means fire and "Gogi고기" means meat in Korean. So technically, if you cook your meat on the fire, you can call it bulgogi.
But the most well-known type of bulgogi is the dish with thinly sliced beef (usually, ribeye or sirloin) marinated in soy sauce. Today, I will be using homemade seitan to recreate this dish.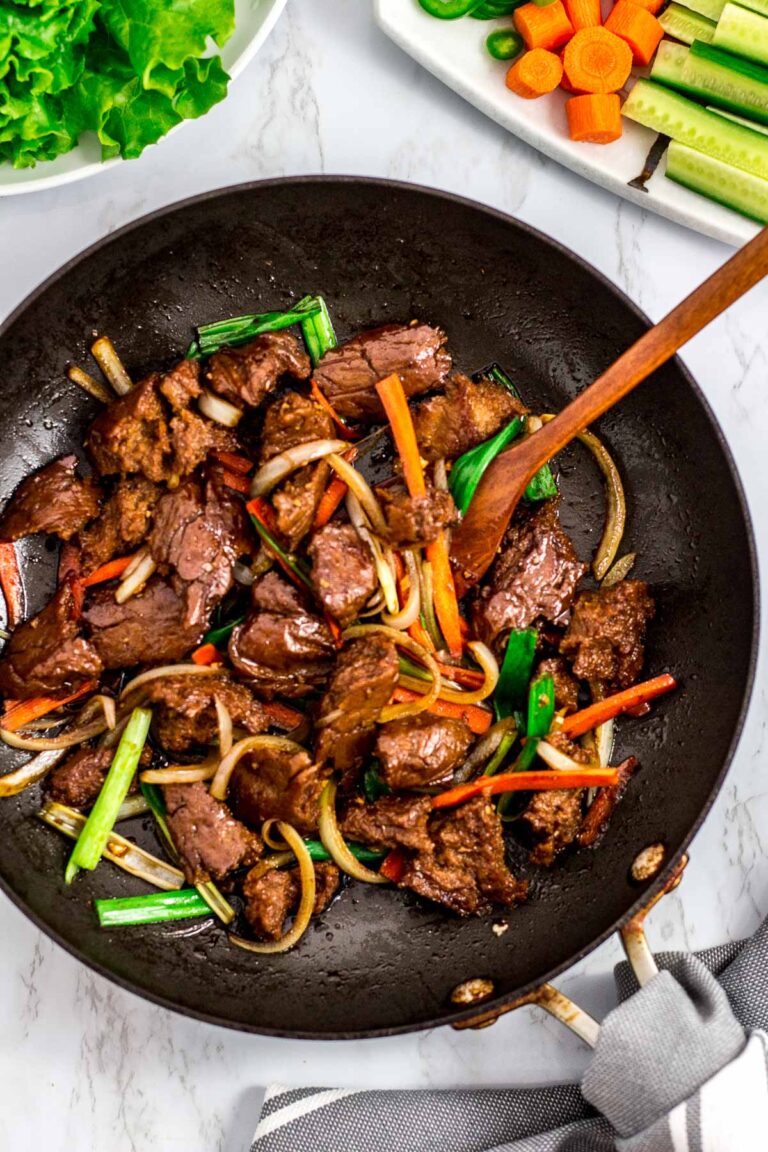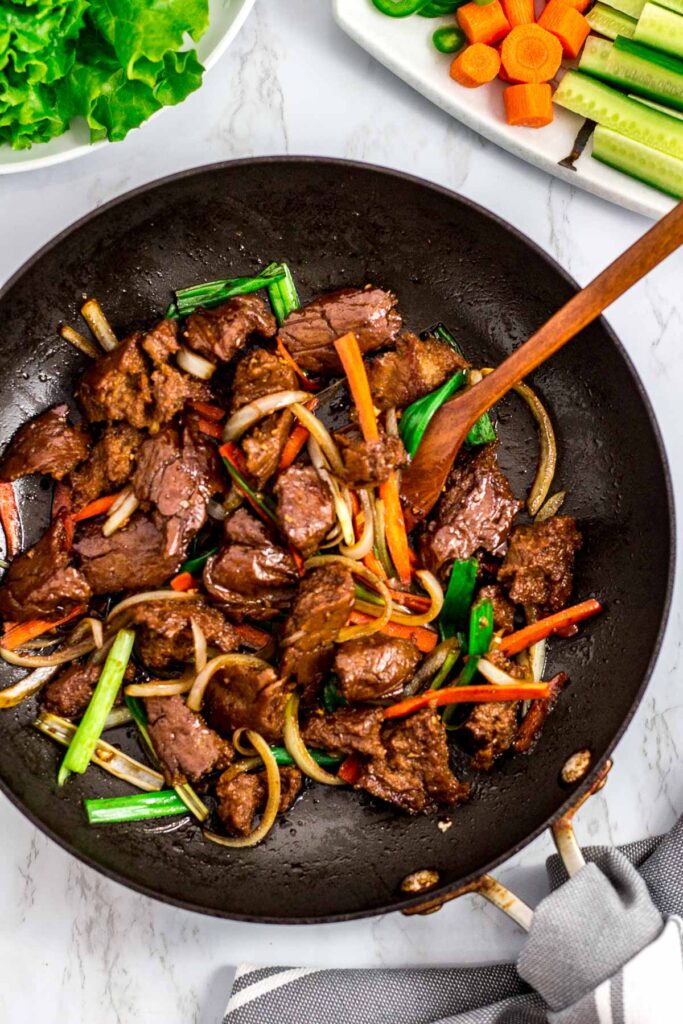 What does bulgogi taste like?
It is sweet, salty, savory, umami-rich, and meaty dish.
Bulgogi is extremely popular in Korea and it is often one of the dishes that you serve during major holidays like Seol 설 (Korean/Chinese New Year) or Chuseok 추석 (Korean Thanksgiving) in Korea.
Because of its sweet and savory sauce, bulgogi is very popular among children. So what makes bulgogi popular is in the sauce, in my opinion.
How to make bulgogi sauce
There are 4 major ingredients that make bulgogi sauce what it is.
Soy sauce
Sugar
Minced garlic
Sesame oil
The traditional bulgogi (with beef) recipe calls for grated Asian pear or apple in the sauce. The reason for these ingredients is to add sweetness and to tenderize the meat. Since we will be using homemade seitan, there is no need for these ingredients.
How to make Vegan Seitan Bulgogi
My vegan (beef-less) seitan bulgogi is easier and quicker to make than that of a traditional one. There is no need to marinate the meat so it's quicker but without no flavor compromise!
Prepare your vegetables. I am using onion, green onion, and carrot. They are the ingredients for the traditional bulgogi.
Mix together soy sauce, sugar, minced garlic, and sesame oil in a small bowl and set aside.
In a pan, add oil and seitan. Cook it until they are heated through. Add the vegetables and sauce and continue to cook.
Serve with rice and enjoy!
Easy enough, no?!
What else can be used in place of vegan beef-flavored seitan?
I am using my homemade beef-flavored seitan. If you are not using my homemade seitan (although I highly recommend it for this dish), You have other options.
You can use your favorite store-bought seitan or soy curl. If you are not a big fan of mock-meat or meat substitute, you can also use tofu or mushroom.
What to serve with Vegan Seitan Bulgogi (Vegan-friendly Korean BBQ)
Lettuce - Lettuce is a must in making a lettuce wrap. I'm using green lettuce but red lettuce and perilla leaves are popular options in Korea. This is a perfect vehicle to pile high your tasty seitan bulgogi, rice, and other toppings.
Fresh vegetables and ssamjang - Ssamjang 쌈장 is a seasoned soybean paste you enjoy with vegetables. I like to serve cucumber, carrot, and jalapeno slices.
Something pickled - Something pickled/fermented is a welcomed component in Korean BBQ. You can almost always find Kimchi at Korean BBQ. I'm serving my vegan kimchi with this delicious spread.
Korean Soybean Paste Soup 된장찌개 - When you go to a Korean BBQ restaurant, they always serve this soup with the BBQ to enjoy with your bowl of rice.
Rice - There is always a huge bowl of rice on the table in Korean households at every meal.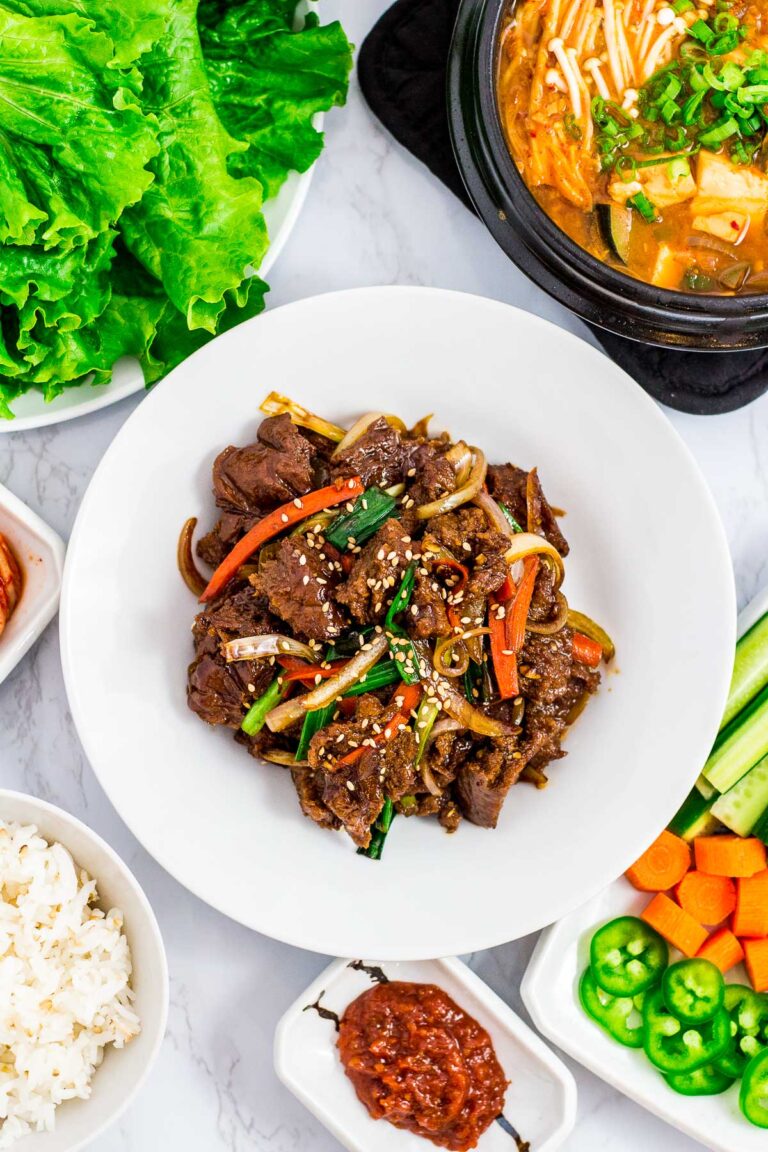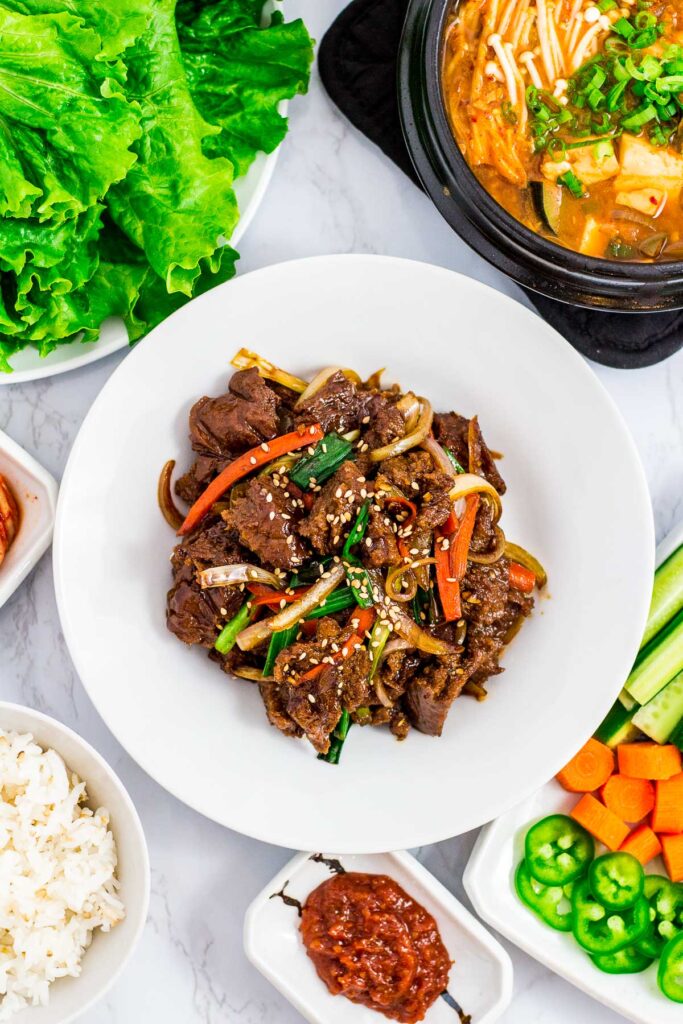 Print
How to make Vegan Bulgogi with Seitan
How to make vegan seitan bulgogi - learn how to make delicious seitan bulgogi with homemade seitan! Vegan-Friendly Korean BBQ Finally!
Author:
Prep Time:

10 minutes

Cook Time:

6 minutes

Total Time:

16 minutes

Yield:

2

servings

1

x
Category:

Main course

Method:

Stir fried

Cuisine:

Korean

Diet:

Vegan
1 tablespoon

soy sauce (I use low-sodium soy sauce)

1 tablespoon

dark soy sauce (See Note below)

1 tablespoon

sugar

½ tablespoon

sesame oil

2

cloves garlic, minced

1 tablespoon

oil

8 ounces

of beef-flavored seitan

¼

small onion, thinly sliced

1

small carrot, thinly sliced 

2

to

3

green onion, cut into

2

-inch pieces
Dash of black pepper
Sesame seeds (for garnish)
Rice, lettuce, kimchi, Korean soybean paste soup (for serving)
Instructions
In a small bowl, mix together soy sauce, dark soy sauce, sugar, sesame oil, and minced garlic until sugar dissolves. 
On a pan, heat the oil and add the beef flavored seitan to the pan. Cook for a couple of minutes until they are heated through. 
Add the onion and carrot slices to the seitan. Cook until onions are no longer raw, about 2 minutes. 
Pour the prepared sauce on top and mix until everything is well coated with the sauce. 
Add the green onion and cook for an additional minute or two. 
 Spring with some sesame seeds and serve. 
Notes
If you don't have dark soy sauce, you can substitute it with regular soy sauce. However, the color of the seitan bulgogi will not be as dark as mine in the photos. 
Please read the section above on what to serve with the seitan bulgogi to enjoy the vegan-friendly Korean BBQ experience!
Keywords: beefless seitan bulgogi, seitan bulgogi, vegan bulgogi, vegan Korean BBQ, Korean BBQ, bulgogi