Sausage pepper and onion white pizza - If you like Italian sausage and pepper subs/hoagies, this homemade pizza recipe is for you! Easy way to use up any kinds of sausage to make delicious cheesy pizza. There is a vegetarian version of the recipe available!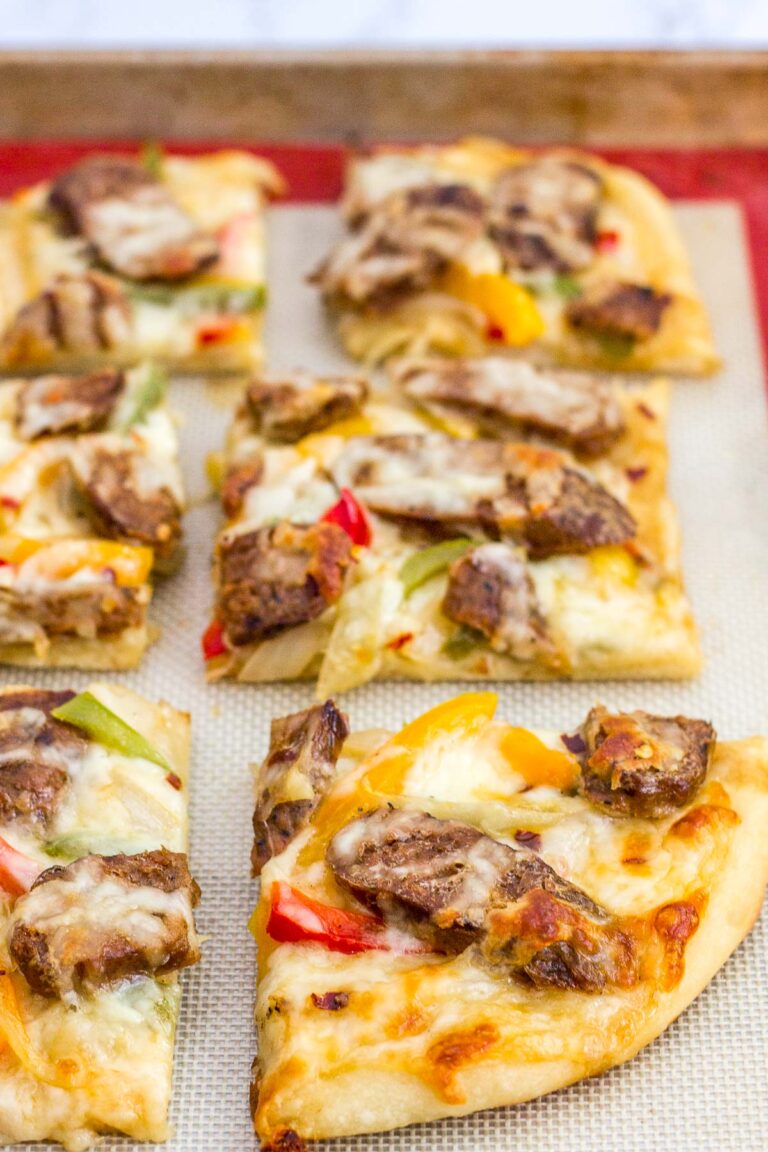 Italian sausage and pepper sub used to make frequent appearances on my dinner table. It's a quick, simple, and delicious meal that I could whip up in less than 30 minutes!
It was a couple of years back. I was picking up the ingredients to make the sausage and pepper subs. I picked up the sausage and was headed to the bread section to pick up some sub/hoagie rolls. Then I saw a nice flatbread. The light bulb went off in my head. Why not make sausage and pepper pizza?
The salty and savory sausage, sweet pepper, and onion plus the ooey-gooey cheese?! I mean, need I say more? The result was a huge success so I shared this recipe on my blog. Unfortunately, the recipe was forgotten once I became a vegetarian.
Now that I am more familiar with vegetarian cooking, I'm experimenting and reinventing my previous recipes to vegetarianize (and veganize) the dishes that I used to love. This sausage, pepper, and onion white pizza are one of these recipes. I just simply needed to swap out the Italian sausage for meatless sausage! With all the meatless substitutes out there currently, it wasn't even a challenge!
How to make sausage pepper and onion white pizza:
Crust - You can use a store-bought flatbread or a regular pizza dough! But if you are looking for a simple homemade pizza dough recipe, I got you. Here is a recipe using a stand mixer. Don't have a stand mixer? No problem! Here is a pizza dough recipe by hand. You only need half the amount and the dough freezes really well.
Cheese - I used both provolone slices and shredded mozzarella. I thought the buttery yet little more complex flavor of the provolone cheese is a great addition to mild mozzarella.
Peppers and onions - Using various color bell peppers definitely add a festive look to the dish. I sautéed the peppers and onions just enough to develop their sweet flavor without losing their crispness.
Sausage - This is where you can make your pizza vegetarian-friendly. There are many meatless options these days. I used Beyond Sausage Hot Italian. The meaty texture that I was missing in many plant-based sausages was there in Beyond Sausage. Plus, it was delicious! For the non-vegetarian option, I used cooked chicken sausage. Any sausage will do but if I can save some time by buying a sausage that's already fully cooked, I'm sold!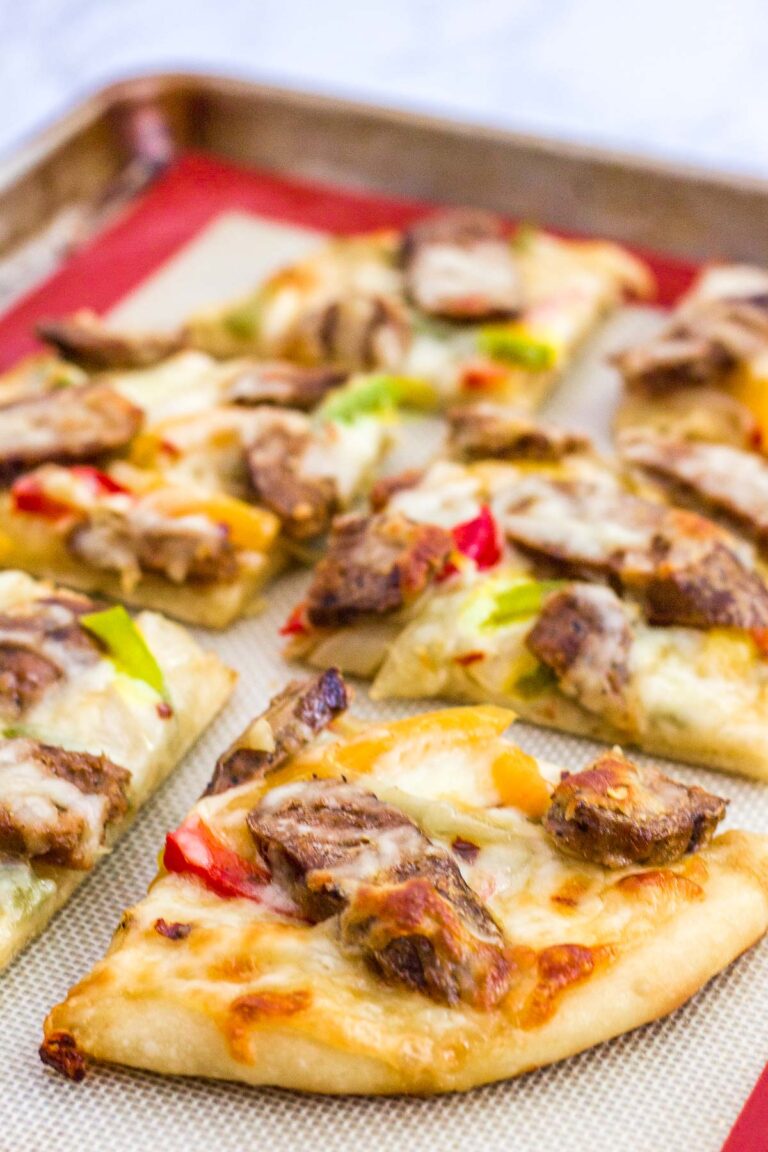 Why the white pizza? Why not add a tomato sauce?
You can add tomato sauce to this pizza if you want. I love red pizza but this is a way to enjoy the flavor of sausage and pepper subs/hoagies. The reason why I chose provolone and mozzarella cheese for this pizza is that they are complementary to the rest of the ingredients. If I were to add tomato sauce, I thought the flavor of the tomato sauce would overpower. But I know some people enjoy their sausage and pepper subs/hoagies with tomato sauce. For those of you, feel free to add the tomato sauce! But I highly recommend you give this pizza a chance!
This may be an unconventional pizza that is missing the red (tomato) sauce. But the flavor combination of the sausage and peppers with ooey-gooey cheese really is something else. You gotta try this pizza and I promise you this pizza won't disappoint!
Happy eating, my friends!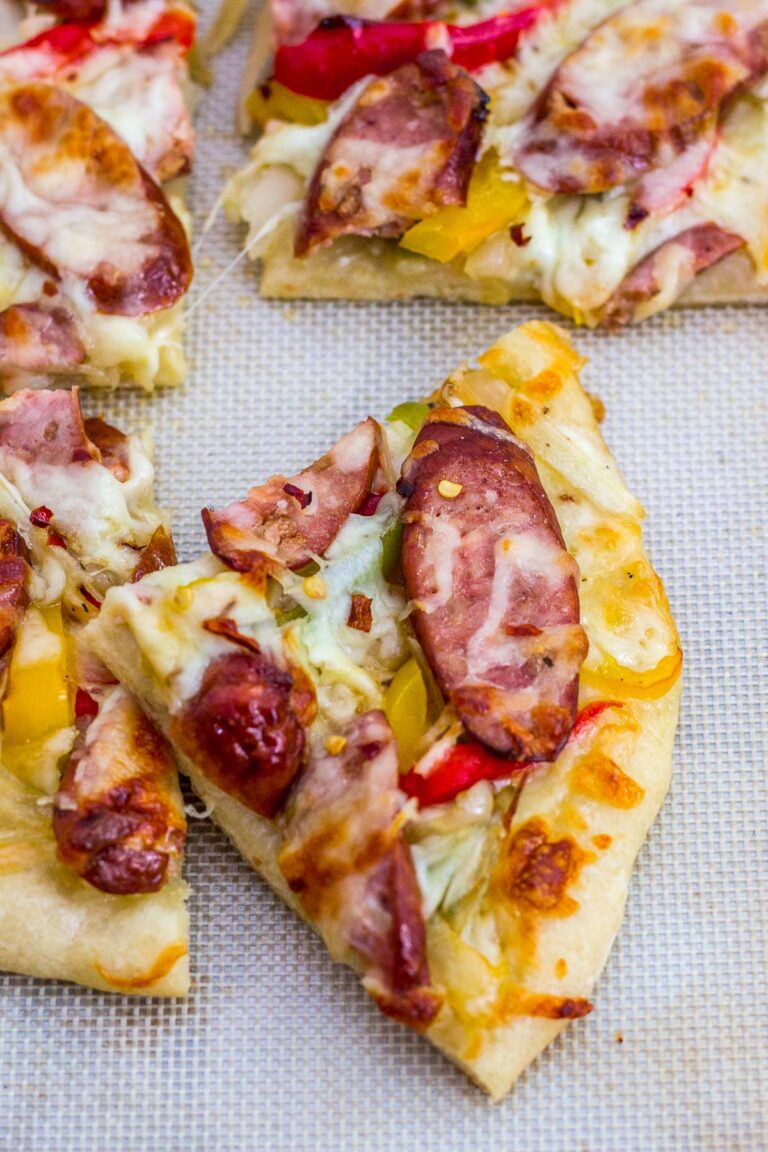 Print
White Pizza with Sausage and Pepper
White Pizza with Sausage and Pepper - if you like Italian sausage and pepper subs/hoagies, this homemade pizza recipe is for you! Easy way to use up any kind of sausage to make delicious cheesiness pizza. There is a vegetarian version of the recipe available!
Author:
Prep Time:

5 min

Cook Time:

20 min

Total Time:

25 minutes

Yield:

2

medium pizzas

1

x
Category:

pizza

Method:

Bake

Cuisine:

American
2 cups

sliced bell pepper and onion

½ tablespoon

olive oil

¼ teaspoon

salt
Pinch of freshly ground black pepper

1.5

lb of pizza dough of your choice (or half of this recipe (using a stand mixer) or this recipe (by hand)), divide in half

6

to

8

provolone cheese slices

2

links Vegan Italian Sausage, cooked and sliced (for a vegetarian option - I used beyond sausage Hot Italian)

2

links sausage of your choice, cooked and sliced

1 cup

shredded mozzarella cheese
Dash of red pepper flakes (optional)
Instructions
Preheat the oven to 450F.
In a large size non-stick skillet, heat the olive oil to the pan and cook the peppers and onions. Once the onion turns slightly transparent but still crisp (about 3-4 minutes), turn the heat off and season with salt and pepper.
On a baking sheet, place the pizza dough (I made one medium size vegetarian pizza and one regular sausage and pepper pizza).
Add the provolone cheese on top of the pizza dough.
Add the cooked peppers and onions, cooked sausage, and mozzarella cheese. Sprinkle the pizza with red pepper flakes for heat (optional).
Bake in the oven for 10 to 12 minutes until all the cheese melts. Serve right away.
Notes
This recipe makes one medium size vegetarian pizza using vegan sausage and one medium-size regular sausage and pepper pizza. But if you want to make it all vegetarian or regular, either double the vegan sausage or regular sausage to make one large pizza. 
Red pepper flakes are totally optional but it adds mild heat that can pair very well with the rest of the ingredients.
This recipe does not add tomato sauce to the pizza. My intention is to replicate the flavor of the original sausage and pepper subs. You are more than welcome to add the tomato sauce but I highly recommend you give this recipe a try 🙂
Keywords: sausage pepper and onion white pizza, pizza, white pizza, sausage pizza