Vegan marinated beet poke bowl - Tasty vegan poke bowl with soy sauce marinated beets with refreshing veggies! A healthy and delicious meal in a jiffy!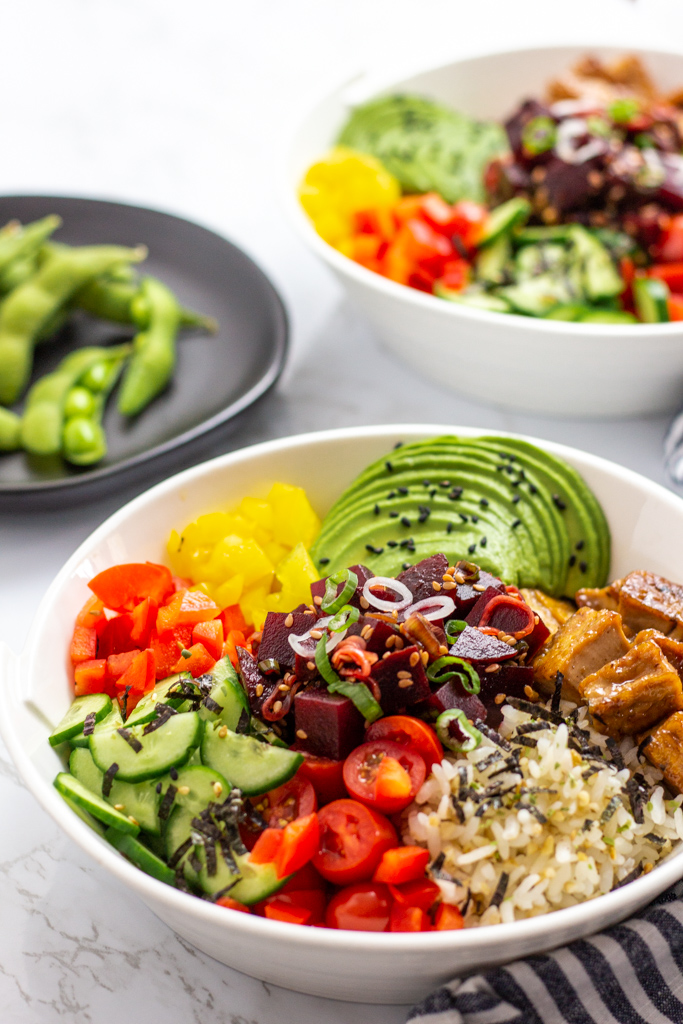 I know I'm not the only one craving something refreshing and light during warm weather! I am sharing a very easy, healthy, and refreshing vegan poke bowl with marinated beets today. Doesn't deep ruby red cubes of beet look like tuna? I don't know about you, but it almost fooled me! Shall we get started?
What is Poke?
Poke (pronounced Poh-Keh) bowl is a dish in native Hawaiian cuisine and the literal translation is "to dice and cut" raw chunk of meat. Usually poke has raw Ahi tuna or cured octopus but as it became popular, people started to use other ingredients to make poke bowl.
So the traditional poke bowl is NOT vegan-friendly but I'm using cooked diced beets to have a very similar appearance to Ahi tuna to make poke bowl.
How is Poke different from Sushi and Ceviche?
The rice in the Poke bowl is NOT seasoned. However, the rice in sushi is seasoned with vinegar, sugar, and salt. And the main difference between poke and ceviche is in the marinade. Ceviche uses some sort of citrus juice to partially "cook" the meat/seafood where poke uses soy sauce, sesame oil, and onion for its marinade.
How to marinated beets for the poke bowl
Dice cooked beets into small cubes. I like to buy beets that are already cooked like this one.
Add thinly sliced green onion, sesame seeds, soy sauce, and mirin to diced beets.
Mix until everything is well coated with the marinade.
Let it sit for at least 10 - 15 minutes to enjoy in your poke bowl.
As mentioned above, the conventional way of marinating seafood in poke uses soy sauce, sesame oil, and green onion. However, I'm using sesame seeds instead of sesame oil in addition to mirin in my marinade.
Mirin is a Japanese cooking wine that has higher sugar content with lower alcohol content than sake. The sweetness of the Mirin helps tame down the earthy flavor of beets. And I found that using sesame oil tends to coat the beets and takes a long time to marinate. So I use sesame seeds instead to maintain the flavor without potentially marinating the beets for a longer period.
How to assemble poke bowl
There are 4 components to making a great poke bowl:
Base - It can be rice (the traditional bowl), salad greens of your choice (for a light meal), or noodles of your choice
The main ingredient for poke - I'm using marinated beets as the main star of my poke bowl. Conventionally, this would be marinated Ahi tuna or cured octopus
Toppings - Colorful and refreshing vegetables and additional proteins like tofu (such as teriyaki tofu) or beans (edamame works great in poke bowl)
Sauce - I highly recommend spicy sriracha mayo or soy sauce with wasabi.
Poke bowl toppings and substitution
We all eat with our eyes first so I highly recommend using colorful ingredients to elevate your poke bowl to the next level.
Avocado - Creamy avocado is always a great addition to any poke bowl or sushi bowl.
Cucumber - The refreshing crunch is a must in the poke bowl, in my opinion. I like to use Persian cucumber or English cucumber. But if you are using a regular cucumber, I recommend peeling a cucumber and take the seeds out. If you are not a fan of cucumber, try radish.
Bell pepper - I am using yellow and red bell pepper. These bell peppers are sweeter than green ones. Plus, we are already using green vegetables like cucumber and avocado.
Cherry tomato - I know it's unconventional to use tomato. But the sweet and tart flavor of the cherry tomato goes well in the poke bowl.
Tofu - I added teriyaki tofu to my poke bowl for the additional protein and texture. I love how chewy and savory tofu adds sweetness to the dish. But you can use other proteins or skip it altogether!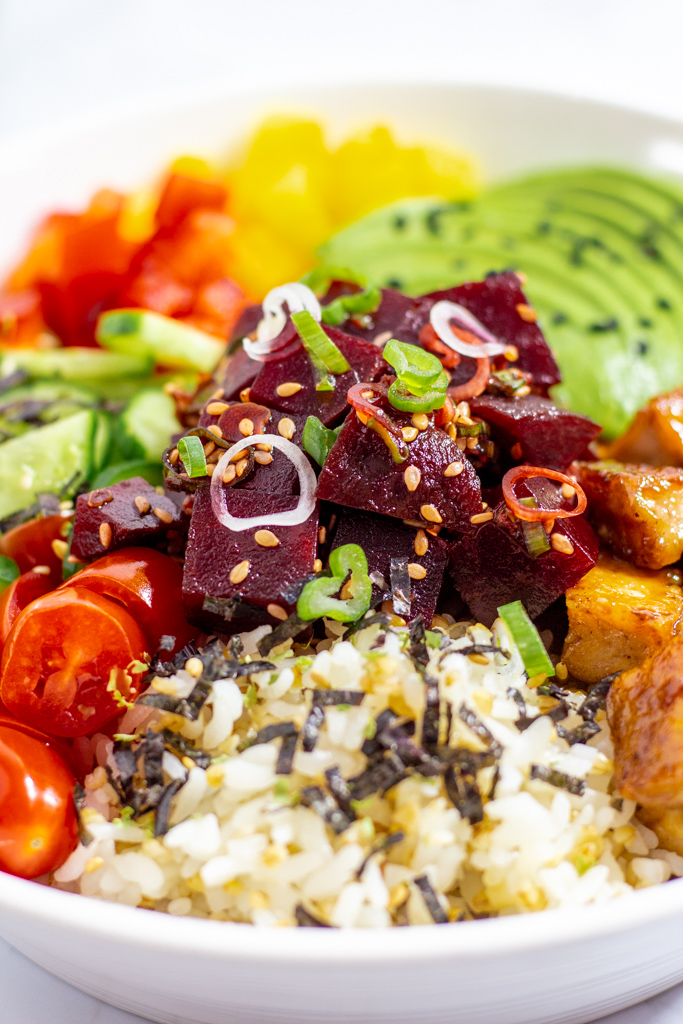 Tips on making Vegan Beet Poke Bowl
I can't stress enough how using colorful ingredients can make the dish so much more appealing. Don't be shy to add your favorite color vegetables in the poke bowl!
When making the beet poke bowl, marinate your beet first thing! As the beets sit in the marinade, it develops great flavor. Make sure your beets are marinated for at least 15 minutes! While your beets are marinated, you can prepare other vegetables for the poke bowl.
Would you like more heat to the bowl?

Add jalapeno slices
Add more sriracha to your spicy mayo
Dissolve some wasabi in a small bowl with soy sauce and drizzle over your poke bowl

Don't want too much heat in your spicy mayo?

Put less sriracha in your spicy mayo
Add a sweet component to your spicy mayo such as sweet chili sauce
How to prep ahead and store
You can prepare all the vegetables and marinate beets ahead of time. Make sure to store your vegetable separately though especially beets. The marinade and the juice from beet will bleed out to other vegetables so you need to store them in a separate glass container. If you were to use a plastic container to store the beets, it will stain your container. The vegetables and marinated beets are good for 2 days in the fridge.
What to serve with
What more sushi and poke bowl recipes?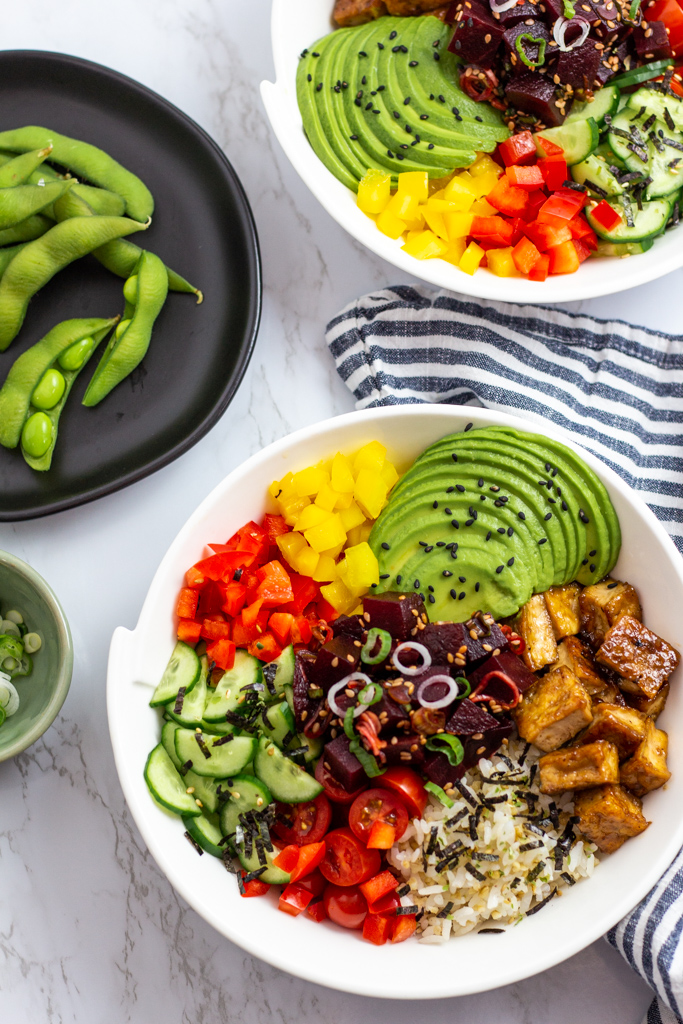 Print
Vegan Poke Bowl with Marinated Beets
Tasty vegan poke bowl with soy sauce marinated beets with refreshing veggies! A healthy meal in a jiffy!
Author:
Prep Time:

25 minutes

Total Time:

25 minutes

Yield:

4

servings

1

x
Category:

Main course

Method:

Assemble

Cuisine:

Asian

Diet:

Vegan
Beets for the poke bowl
1

box of cooked beets (8.8 oz, about

3

-

4

beets), diced 

1

green onion, thinly sliced

1 tablespoon

of sesame seeds

1 tablespoon

mirin

3 tablespoons

soy sauce
For the poke bowl
½ cup

diced red bell pepper

½ cup

diced yellow bell pepper

2

Persian cucumber, sliced

1

large avocado, sliced or diced

1

and ⅓ cup teriyaki tofu (optional)

1 cup

cherry tomato

1

and ⅓ cup cooked sushi rice
Seaweed flakes (optional)
Spicy mayo (optional)
2 tablespoons

vegan mayo

2 teaspoons

sriracha 
Instructions
Mix everything for the marinated beet in a bowl and let it sit in the fridge for at least 15 minutes. 
While you are marinating the beets, prepare other vegetables.
Assemble poke bowl.
Drizzle spicy mayo on top if using. 
Notes
Make sure you are marinating your beets for at least 15 minutes so the beets can soak up the flavor.
You can use any vegetables you want. I always add cucumber and avocado in my poke bowl but you can customize your poke bowl any way you like!
Keywords: Vegan marinated beet poke bowl, beet poke bowl, vegan poke bowl, poke bowl, sushi bowl, beet