Korean Vegan Japchae (stir-fried glass noodles) - This is a vegan version of my mom's Japchae recipe. Sweet and savory noodles with tons of healthy vegetables! Perfect for both party and weeknight meal!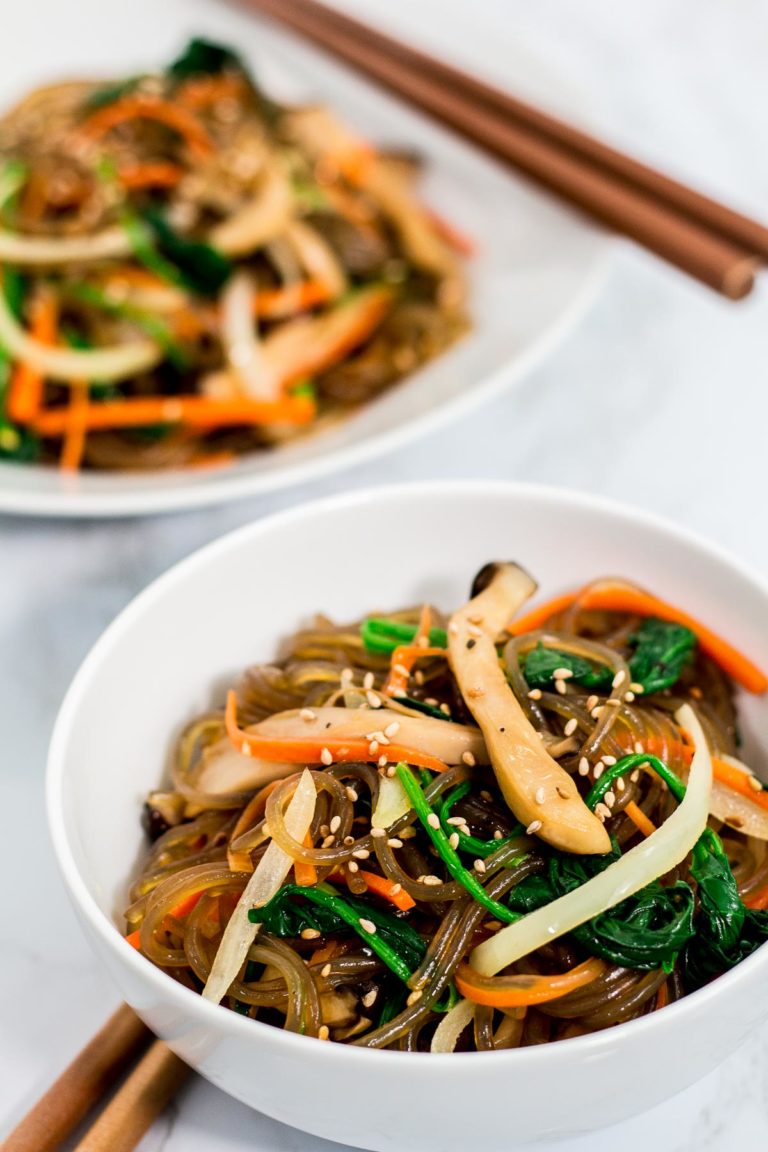 I immediately think of Japchae as a party food. Growing up, my mom made japchae during the major holidays like Lunar New Year/Chinese New Year, Korean thanksgiving, wedding, birthday parties, and large gatherings. It is one of the main and popular dishes that everyone looks forward to eat.
There is nothing anyone wouldn't love about Japchae. I mean who wouldn't love sweet and bouncy noodles stir-fried with tons of delicious vegetables? This is a vegan version of my mom's Japchae recipe. Traditionally, Japchae is made with beef but I'm using an extra amount of king oyster mushroom to make the dish vegan.
What is Japchae 잡채 and is it vegan?
Japchae 잡채 is one of the most popular dishes in Korea. It's a sweet and savory stir-fried glass noodle dish that's prepared with lots of vegetables. Traditionally, japchae has pork or beef so it is NOT VEGAN. However, I'm making a vegan version by omitting the meat and adding extra mushrooms to compensate for the meaty component of the dish.
History of Japchae
In the early 17th century, Yi Chung made this dish for the king during the banquet. The king liked the dish so much and it has become part of the royal cuisine since then. However, the original japchae that Yi Chung made for the king did not have the glass noodle. It was prepared with meat and vegetables.
It wasn't until the 1900s when the glass noodles (dang-myeon 당면) were manufactured on a large scale that people started to incorporate them into different dishes. The noodles were added to various dishes as a filler. This is when people started to add the glass noodles to a dish like Japchae and Mandu (Korean dumplings).
What is Dang-Myeon 당면?
Dang-myeon 당면 is a potato starch noodle and it is also known as glass noodle and cellophane noodle. You can find the dried version at Asian grocery stores or online.
When they are dried, they are opaque and brownish-gray in color. But once it is cooked, it becomes translucent and browner in color.
What does it taste like?
Dang-myeon 당면 is like vermicelli noodles and it doesn't really have a taste of its own. Because of it, it is great in soaking up the flavor of the sauce or makes a great filler ingredient. Dang-myeon is the main ingredient in Japchae. But it is also used in dishes like Mandu (Korean dumplings) or soup as a filler.
What makes dang-myeon 당면 such a fun ingredient to work with is its texture. It has a very bouncy texture once cooked. When you cook dang-myeon long enough, it gets softer as it absorbs the liquid.
How to make Vegan Japchae
Traditional japchae is NOT vegan because it often has marinated beef or pork. However, the rest of the ingredients are vegan-friendly. Mushroom is a common ingredient in Japchae so I simply doubled the amount to make the dish vegan. I use king oyster mushroom but shiitake mushroom or regular oyster mushroom are a great substitutions.
How to make Korean Vegan Japchae
Prep your veggies - Thinly slice your onion, carrot, and mushroom. And cut off the very bottom part of your spinach and rinse under cold water and drain.
Make the Japchae sauce - This sauce is what gives Japchae its flavor. It's sweet, savory, and magical. I made a little more sauce and use the same sauce for cooking my mushroom.
Stir fry your onion, carrot, and mushroom and set aside.
Blanch your spinach and season with salt, minced garlic, and sesame oil.
Boil the Korean glass noodle, rinse under cold water and stir fry with prepared sauce.
Time to mix everything together and enjoy!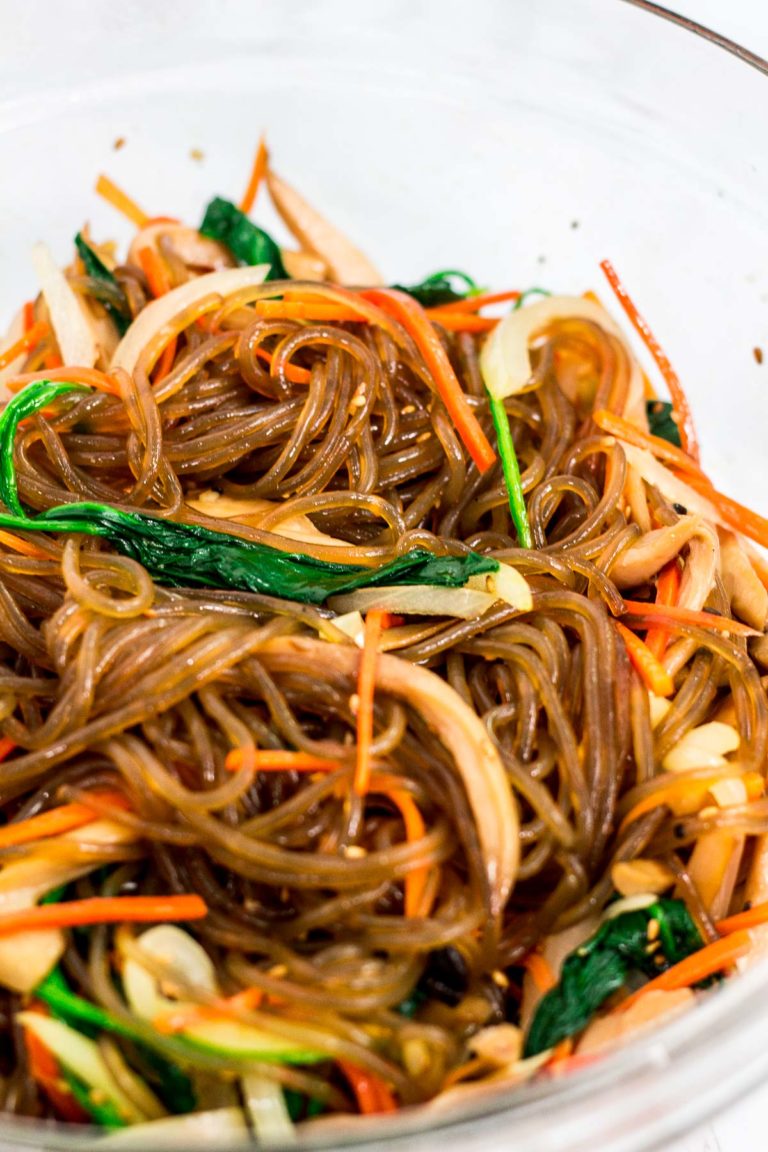 Helpful Tips
If you can't find king oyster mushroom, use shiitake mushroom or oyster mushroom. They both have great flavor and a meaty texture.
I highly recommend buying mature spinach instead of baby spinach. The stem part of the mature spinach has so much better texture and flavor that can complement the japchae sauce.
When cooking Korean glass noodles, boil the noodles one minute less than what the instruction says. The noodle will continue to cook when stir-fried so boil the noodle one minute less.
Drain and rinse the noodle with cold water. Rinsing the noodle gets rid of extra starch.
Pour about 1 tablespoon of vegetable oil over the noodle and mix until the noodle is coated with oil. This process helps your noodle not get soggy and mushy. Cut your noodle a little bit using kitchen scissors.
Storage and reheating instruction
Storing Japchae
You can store japchae in the fridge for up to 5 days and freeze them for up to 2 months. You can place the leftover japchae in a freezer-safe bag and get as much air out as possible to avoid any freezer burn.
Reheating instruction
You can microwave japchae. This is a quick method. However, noodles tend to lose their bouncy texture when reheating in the microwave. I like to pan-fry my japchae. You can simply pan-fry on medium to low heat until everything is heated through and noodles become translucent. If you placed your japchae in the freezer, place them in the fridge first to thaw and reheat them in a microwave or pan-fry.
This gorgeous and colorful dish is so much more than a staple dish in Korea. It represents celebration, good time, and comfort. My Korean vegan japchae may be missing beef but I assure you it captures all the essence of traditional Japchae especially my mom's.
Happy eating, my friends!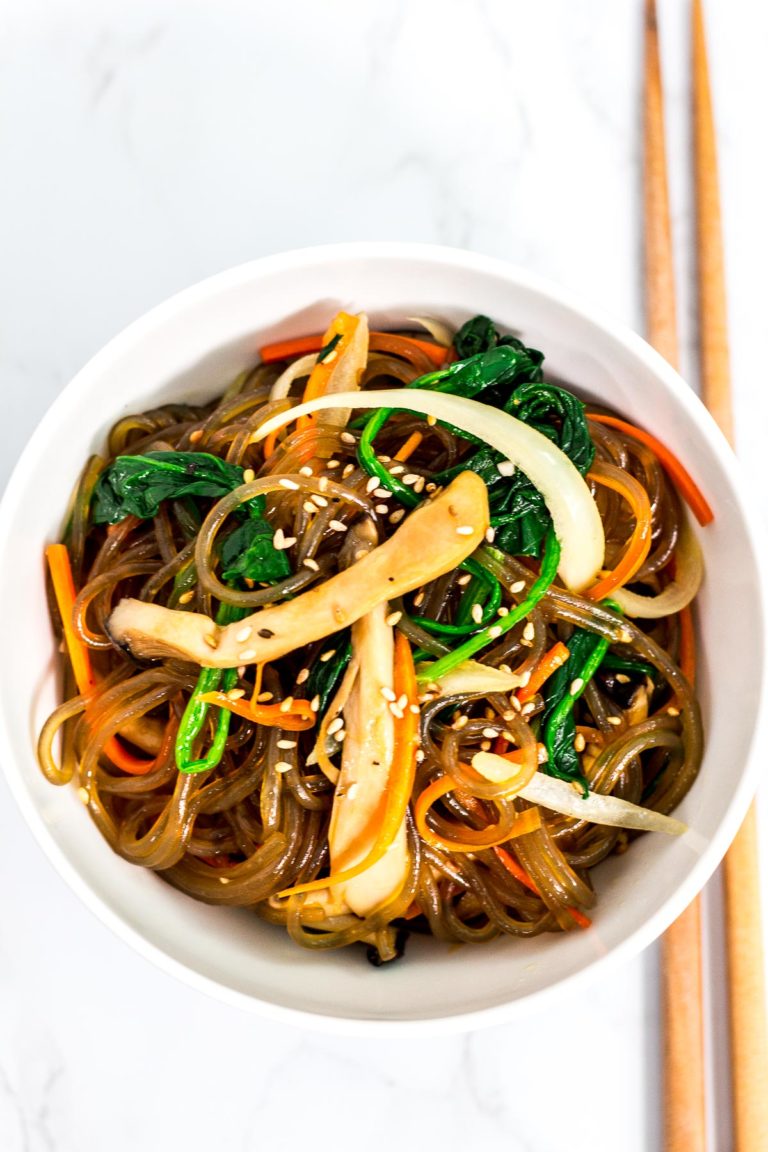 Print
Vegan Korean Japchae
Korean Vegan Japchae (stir-fried glass noodles) - Sweet and savory noodles with lots of vegetables! Perfect for party and weeknight meal!
Author:
Prep Time:

30 min

Cook Time:

30 min

Total Time:

1 hour

Yield:

Serves 4

Category:

Noodle

Method:

Sauté

Cuisine:

Korean

Diet:

Vegan
2-3 large King oyster mushroom, cut lengthwise and into thick strips

3-4 ounces matured Spinach 

½ large onion, thinly sliced

2 small carrots, julienned 

4 tablespoons soy sauce

2 tablespoons brown sugar

2 tablespoons sesame oil

2 cloves garlic, minced (divided)

¼ teaspoon fresh ground black pepper

4 ounces of Sweet potato noodle (Korean glass noodles/Dhang-myeon)

Vegetable oil

Salt 

Sesame seeds (for garnish)
Instructions
For the sauce:
In a small bowl, mix together soy sauce, brown sugar, sesame oil, fresh ground black pepper, and ¾ of minced garlic. Set aside.
For the onion:
On a non-stick pan, add a teaspoon of oil and stir fry the onion. Add a pinch of salt to season the onion.

Stir fry with constant stirring, about 2-3 min. Set aside.

 
For the carrot:
On the same pan, you cooked onion, add another teaspoon of oil, and stir fry the carrot.

Season with salt. Set aside.
For the mushroom:
On the same pan you cooked carrot, add the mushroom and cook for 3-4 minutes until it releases its water.

Add about a tablespoon of prepared Japchae sauce and stir fry for an additional minute or two. Set aside.

 
For the spinach:
In a large bowl, prepare an ice bath.

Blanch the spinach for a minute or two. By using a skimmer or kitchen spider, get all the spinach out of boiling water.

Place them in the ice bath.

Drain and squeeze as much water out as possible.

In a bowl, add the blanched spinach, 2 teaspoons of sesame oil, the rest of the minced garlic (about half a clove), and salt to taste.

Mix well using your hand. Set aside.

 
For Japchae:
Boil the noodle and cook for about 5-7 minutes. The noodle will soften and become slightly translucent.

Drain and rinse with cold water.

Add about 1 tablespoon of vegetable oil and mix it with the noodle. Using kitchen scissors, cut the noodle couple of times.

On a large pan, heat about ½ tablespoon of vegetable oil and add the noodle. With constant stirring, stir fry the noodle for 3-5 minutes.

Pour in the prepared sauce to the noodle. Continue to stir fry the noodle for additional 2 minutes until the noodle becomes almost translucent and cooked all the way (you can taste to see if it needs to be cooked a little longer).

 

In a large bowl, transfer the noodle into the bowl with the rest of the ingredients. Mix until everything is well incorporated.

Garnish with sesame seeds. Enjoy.
Notes
Please refer to the "Helpful Tips on making Korean Vegan Japchae" section above. 
Keywords: Vegan Japchae, Korean glass noodles, Vegan korean glass noodles, Korean glass noodle stir-fry, Korean glass noodles, Japchae