Vegan Korean Vegetable Pancake (Vegan Yachaejeon) - Savory pancake filled with delicious vegetables. It is crispy on the edges and tender in the center. Perfect appetizer for any occasion!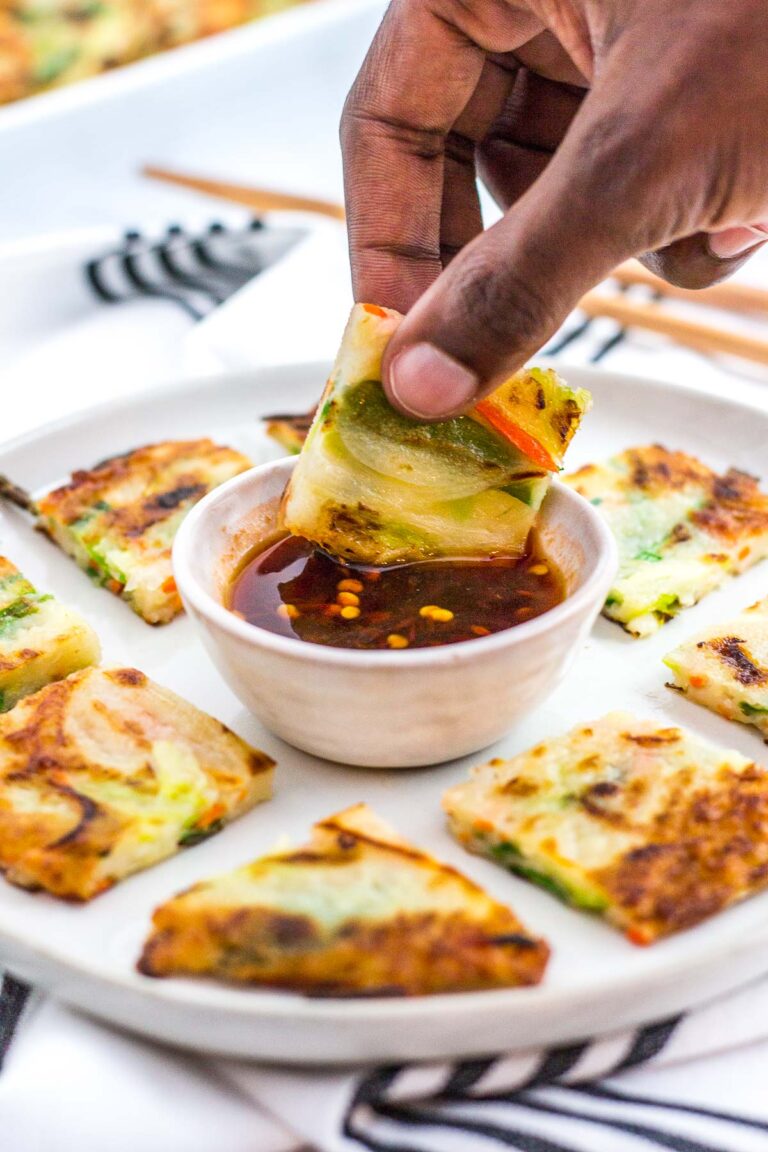 Have you tried Korean vegetable pancakes (Yachaejeon) yet? If you have, it is something that you will crave often. It's delicious, comforting, and hard not to eat the whole pancake in one sitting! But what is a savory pancake? How is it different from a sweet pancake?
Savory Pancakes VS. Sweet Pancakes
Batter ingredients - Sweet pancake batter consists of flour, water/milk, and a leavening agent. Savory pancake batter consists of flour, water, and seasonings such as salt, onion powder, and garlic powder.
Other ingredients - You can fill your sweet pancakes with chocolate chips and/or fruits. But in savory pancakes, you are filling the batter with different vegetables and sometimes, with seafood.
Syrup VS. Dipping sauce - Most often, we like to have our pancakes with something sweet like a syrup. But savory pancakes are served with a dipping sauce that is usually salty and sour.
When to serve - Sweet pancakes are many people's go-to breakfast. Savory pancakes, on the other hand, make a great appetizer or a light lunch or dinner.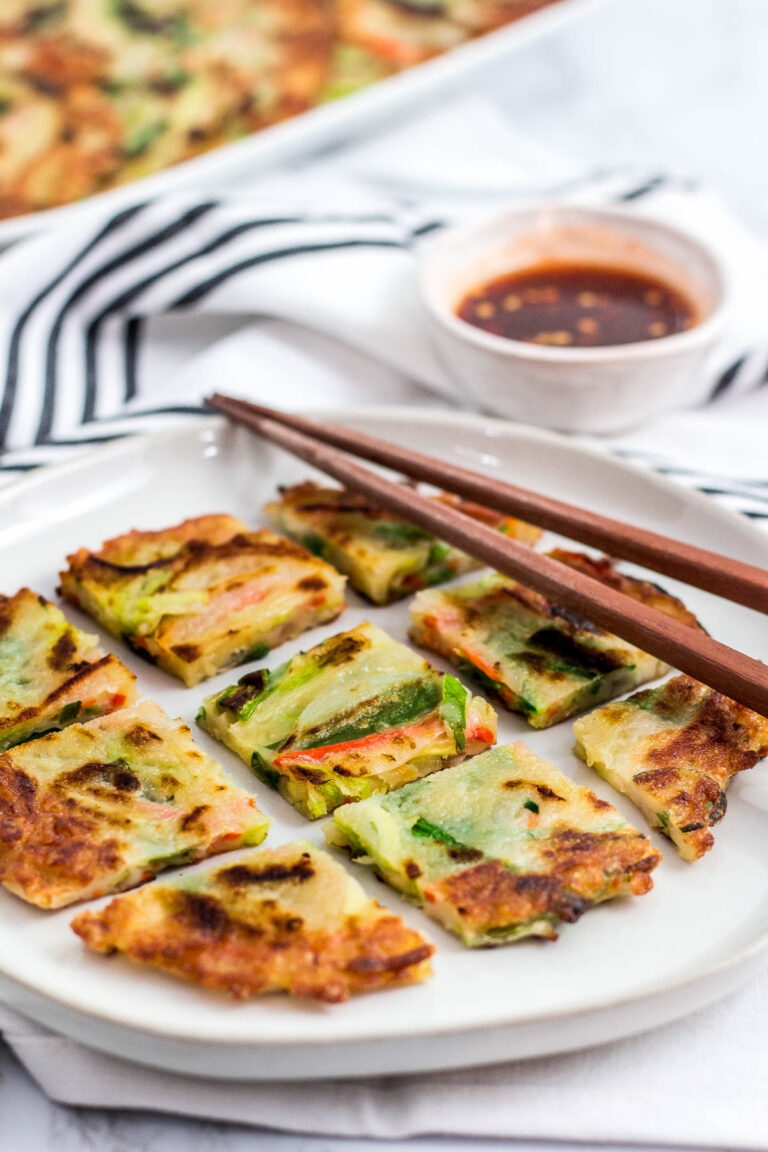 Korean vegetable pancakes VS. Chinese scallion pancakes
Some people mistake Korean savory pancakes (vegetable pancake, also known as Yachaejeon) with Chinese scallion pancakes but they are different!
Ingredients - Scallion is often the only vegetable in the Chinese scallion pancakes. But Korean pancakes usually have a lot more ingredients. Koreans often add onion, carrot, zucchini, and seafood.
Batter - Chinese pancake "batter" is really not a batter but it is a dough. The green onion/scallion is folded into a dough, flattened then pan-fried. Chinese scallion pancake has a deliciously chewy texture. However, the Korean pancake batter is a liquid base. Most Koreans use store-bought savory pancake mix and add water and eggs to make their batter.
In America, scallion pancakes are the most popular and well known. However, there are so many different types of savory pancakes in Korea. Let me introduce you to a few of them!
Different types of Korean savory pancakes
Scallion pancakes - The scallion pancake has scallion and other different vegetables. I am sharing a vegan version here today. But if you'd like a vegetarian version, check out this post here.
Kimchi pancake - Kimchi pancake is another popular savory pancake. The fermented kimchi gives pancakes its spicy kick and tang. I have a delicious vegan version of kimchi pancake right here!
Seafood scallion pancakes - You can add shrimp, squid, clams, and/or mussels in the batter to make "Seafood scallion pancake." I have made the seafood scallion pancakes using a frozen seafood mix when I was an omnivore.
Garlic chive pancakes - It is very similar to scallion pancakes. Garlic chives take the place of scallion in the batter. Garlic chives have a much stronger garlic and onion flavor.
Potato pancakes - It consists of grated potato and potato starch. It is thinner and has a chewier texture than latkes.
Ingredients
Scallion - Also known as a green onion. Green onions and scallions are exactly the same things.
Other vegetables - I'm using onion, carrot, zucchini, and Enoki mushroom. If you can't find Enoki mushroom, you can skip this ingredient but I love the texture of this mushroom in the pancake!
Flour - The main ingredient in making the batter. I use all-purpose flour.
Seasonings - I use salt, onion powder, and garlic powder.
Potato starch - Most of the time, Korean savory scallion pancakes have eggs in the batter to hold different ingredients together. But I'm adding potato starch in the batter to do what eggs do. Plus, potato starch helps the pancake develop its crispy edges. If you can't find potato starch, no worries! You can use corn starch as well.
Ice-cold water - Another key ingredient in making a crispy-edged pancake is to use ice-cold water to mix the batter.
Helpful Tips
Use ice-cold water to make the batter. This helps create crispy edges.
Use starch in your batter. I used potato starch but you can use corn starch as well.
Use small to medium size non-stick skillet. By using a small to medium-size non-stick skillet, it makes it easy to flip the pancakes.
Use plenty of oil. Essentially, you are pan-frying these Korean savory scallion pancakes. So don't be stingy on the oil.
Spread the pancake batter thinly and evenly on the skillet. This is another way to achieve that crispy edges.
Serve right away. The edges will lose their crispiness as soon as half an hour. So you want to enjoy this while it's hot and crispy.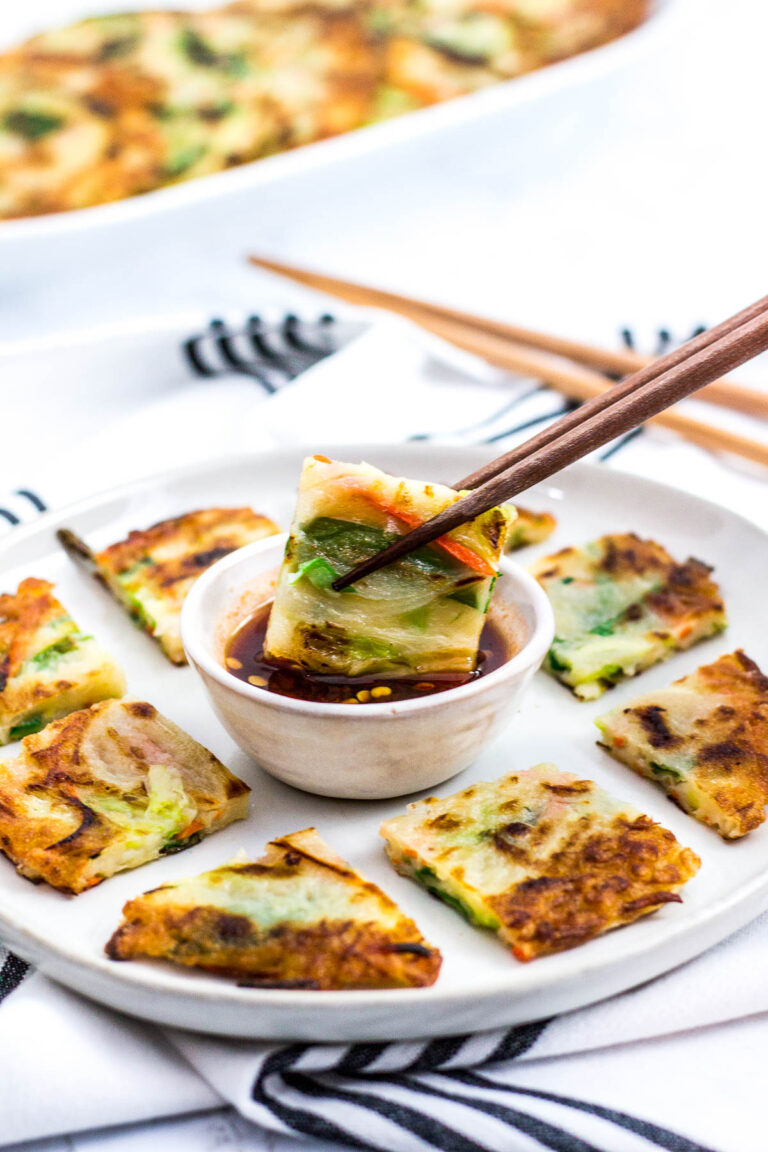 Print
Vegan Korean Vegetable Pancake (Vegan Yachaejeon)
Vegan Korean Vegetable Pancake (Vegan Yachaejeon) - Savory pancake filled with scallion and other veggies. The pancake is crispy on the edges and tender in the center. Perfect appetizer for any occasion!
Author:
Prep Time:

15 minutes

Cook Time:

30 minutes

Total Time:

45 minutes

Yield:

7

pancakes

1

x
Category:

Appetizer

Method:

Pan fried

Cuisine:

Korean

Diet:

Vegan
For the pancakes
1 cup

all-purpose flour

2 tablespoons

potato starch (or corn starch)

1 cup

plus 2 tablespoons ice-cold water

1 teaspoon

salt

1 teaspoon

onion powder

½ teaspoon

garlic powder

8

to

10

scallions/green onion, cut diagonally and thinly

1

carrot, cut into match sticks

1

small-size zucchini, cut into match sticks

½

medium-size onion, thinly sliced

3.5 ounces

Enoki mushroom (see note)

7

to

8

teaspoons vegetable oil
For Dipping Sauce (see note)
1 teaspoon

agave nectar (or sugar)

1 teaspoon

Sambal oelek (or sriracha)

1 tablespoon

soy sauce

1

to

2

teaspoon apple cider vinegar
Instructions
On a large bowl, mix together flour, potato starch, salt, onion powder, garlic powder, and ice-cold water until it resembles the pancake batter (it might be slightly thicker but not by much).
Add all the vegetables to the batter. Mix until all the vegetables are well coated with flour mixture. It may look like it is not enough batter but as time goes on, the water from all the vegetables will release, and the seasoning from the batter wilt the vegetable so it will be easier to work with.

 

In a small bowl, mix together all the ingredients for the dipping sauce and set aside. 
On a small-size non-stick frying pan (I used 8-inch non-stick frying pan), add 1 teaspoon of vegetable oil on medium heat. 
Add ½ cup of vegetable pancake mixture to the pan. By using a spoon, carefully spread the pancake mixture until it covers the bottom of the pan evenly. 
Cook for 2 minutes. After 2 minutes, the edges should be brown. Flip them over and cook for an additional 2 minutes. 
Take the pancakes out of the pan and add another teaspoon of oil. Remove the frying pan from the heat and add ½ cup of pancake mixture to the pan. Once you spread the pancake mixture evenly, return the pan to the heat and cook it for 2 minutes on each side. 
Repeat until all the pancake batter is used up. You should end up with about 7 small-size pancakes. 
Serve with dipping sauce. 
Notes
Enoki mushroom is optional here. I personally like the texture of Enoki mushroom but it may not be an easy ingredient to find outside of an Asian grocery store. 
Traditionally the dipping sauce uses gochugaru (Korean red pepper flakes) but not everyone has this ingredient in the pantry. I found sambal oelek to be a good substitute for gochugaru in this dipping sauce. If you don't have sambal oelek, you can also use a small squirt of sriracha. If you are not a fan of spicy food, you can omit the spicy component altogether. 
Keywords: Vegan friendly Korean savory scallion pancake, vegan Korean pancake, scallion pancake, savory pancake, Korean appetizer