How to make Vegan Bulgogi Mandu/Dumplings - Have you had the beef bulgogi mandu from Bibigo yet? This is my vegan version of their mandu/dumpling copycat recipe! The sweet and savory bulgogi beefless ground and vegetables make absolutely delicious, crowd-pleasing appetizer!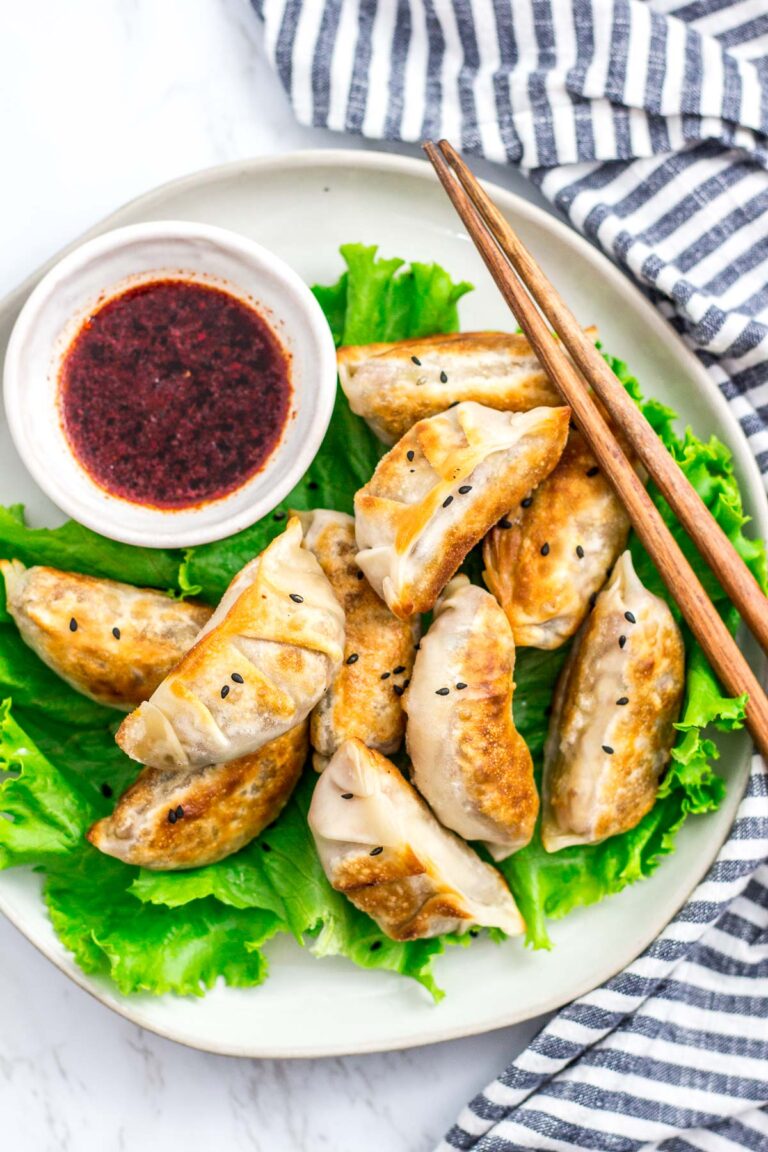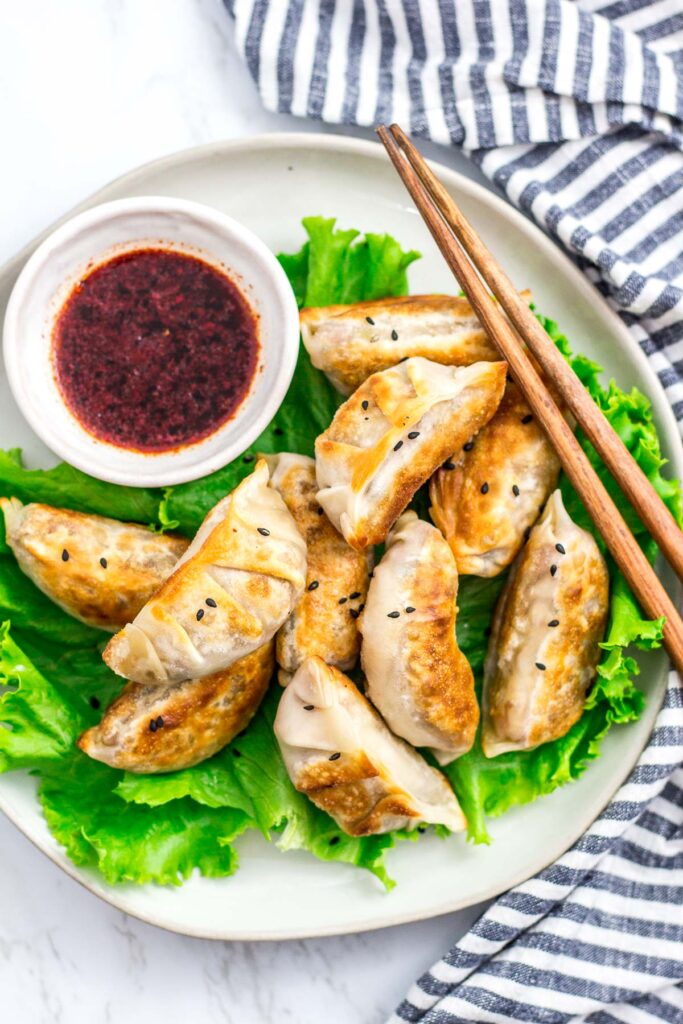 What is mandu?
Mandu 만두 is the Korean version of dumpling/gyoza/momo. In Korean, we have many different types of mandu - it can have different fillings (such as beef, pork, kimchi, or veggie mandu) or cooking method (steamed, boiled, pan-fried, and deep-fried). Korean also enjoys mandu in soup, stew, tteokbokki (떡볶이 spicy rice cake dish), and noodle dish.
What is Bulgogi?
Bulgogi 불고기 is a Korean beef dish that has been marinated in sweet soy sauce. There is a spicy pork version of bulgogi, too ( Jae-yuk-bbok-um 제육볶음). Bulgogi is one of the most famous and popular Korean dishes.
What is Bulgogi Mandu?
Bibigo first introduces bulgogi mandu 불고기 만두 in America. You can find their beef bulgogi mandu easily at your local Costco and it used to be my favorite store-bought mandu (and continue to be my husband's favorite). This is pretty much traditional mandu filling with bulgogi seasoned ground beef. So you will experience the sweet, savory, and smoky flavor of bulgogi in a mandu form.
How I made my bulgogi mandu vegan?
Instead of using ground beef, I used vegan beefless ground from Gardein to make my bulgogi flavor filling.
Can I use other plant-based meat?
Sure! Although I'm a huge fan of Impossible and Beyond meat, I find their flavors too over-powering and bulgogi seasoning was not coming through. I considered meatless grounds from Quorn but it contains egg white and I wanted to keep this recipe vegan. I have not yet to try Lightlife plant-based ground meat. When I do, I'll update you guys!
Ingredients
Bulgogi filling - I used beefless ground from Gardein and seasoned with classic bulgogi marinade (soy sauce, sesame oil, sugar, garlic, pepper, and ginger)
Classic mandu vegetables - cabbage, carrot, green onion are classic mandu fillings.
Korean sweet potato noodle 당면 - It provides more substance to mandu and makes it more satisfying.
Mandu/dumpling wrappers - You can make the mandu wrappers at home but folding mandu is already labor-intensive so I use the store-bought wrappers. You can easily find them at your grocery store these days.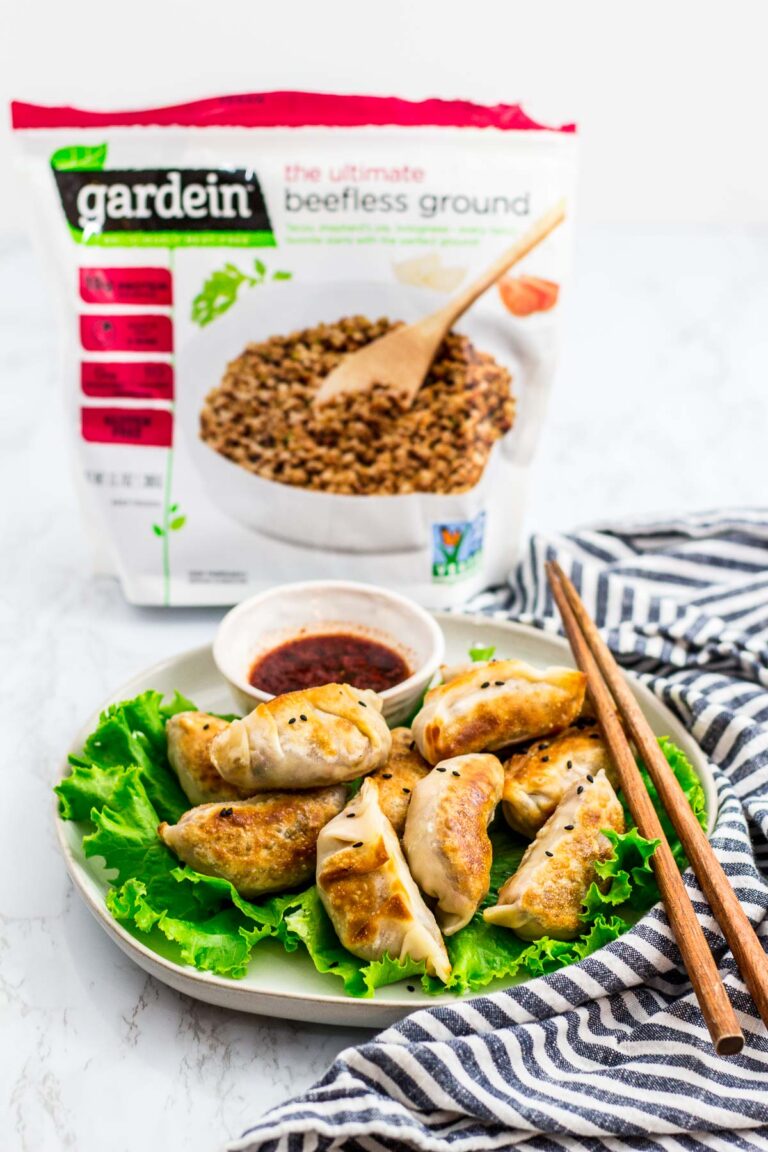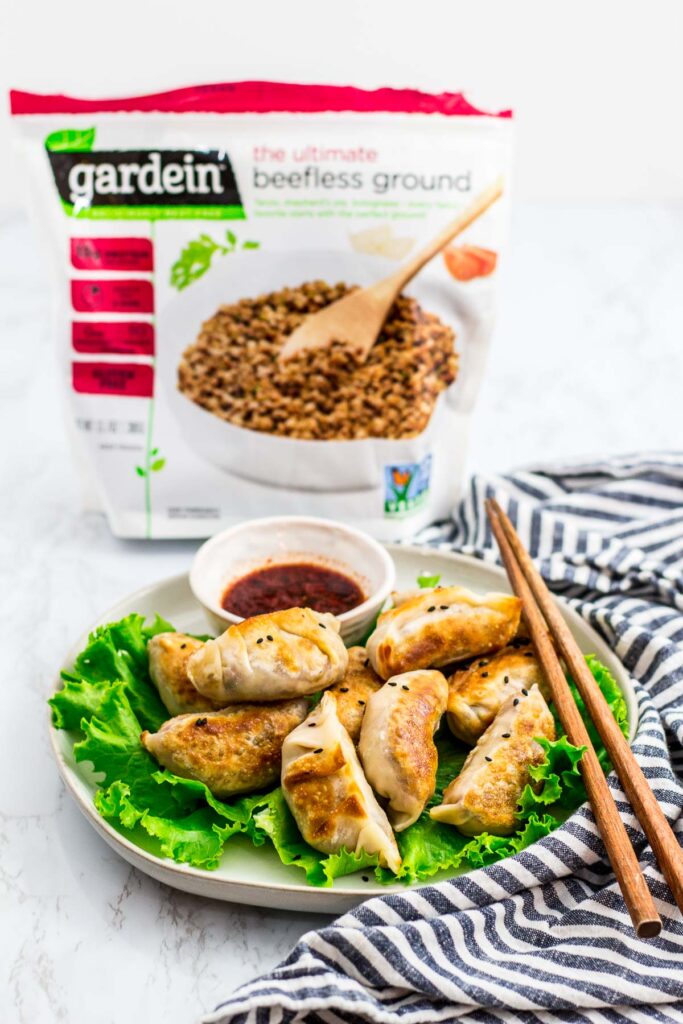 How to fold mandu?
I know it seems intimidating to fold mandu. It looks delicate and difficult to do but I'm telling you it gets so much easier after several tries. Down below is the step by step picture of how to fold mandu.
Wet the edge of the dumpling wrapper with water and add about a tablespoon of filling in the middle
Gently fold the mandu in half and pinch the middle so the fillings won't spill out
Carefully fold the bottom part of the wrapper towards the center while pinching the top part of the wrapper together so they are sealed together
Repeat on the other side (fold towards the center) and pinch the edge once more to seal the mandu completely
Would you like to see the actual video of how it's done? You got it! Here is a quick video that I posted on Instagram how I fold my mandu!
Frequently Asked Questions about Mandu
What is the best way to cook these (best cooking method)?
You can steam them or deep-fry them. You can cook these like you would cook gyoza where you crisp up the bottom, add a small amount of water, and place a lid to finish cooking by steaming them. But I recommend the pan-frying method for this recipe. Instead of adding water, you will brown all sides of the mandu to crisp up the wrapper. I think the crunchy wrapper adds a textural element to the dish and it's so good like that!
Can I freeze them?
YES!!! Mandu freezes beautifully. This recipe makes 50 mandu/dumplings. You can place the mandu on a freezer-safe tray and freeze them until they are firm. Then transfer them into a freezer bag. You can store them in the freezer for at least a couple of months. But honestly, it never lasts that long in my household, haha. When cooking a frozen mandu, you can add the frozen mandu directly to the pan to cook. No need to thaw them!
Do you eat mandu hot or cold?
I recommend eating them hot while they are crispy. But room-temperature mandu is as delicious. If you decide to keep the mandu in the fridge, I'd at least microwave them so they are not cold.
What do you serve with mandu?
Usually, mandu is served with soy dipping sauce. The sauce has soy sauce, vinegar, sugar, and Korean red pepper flakes. But for this vegan bulgogi mandu, it is flavorful as its own so no sauce is necessary.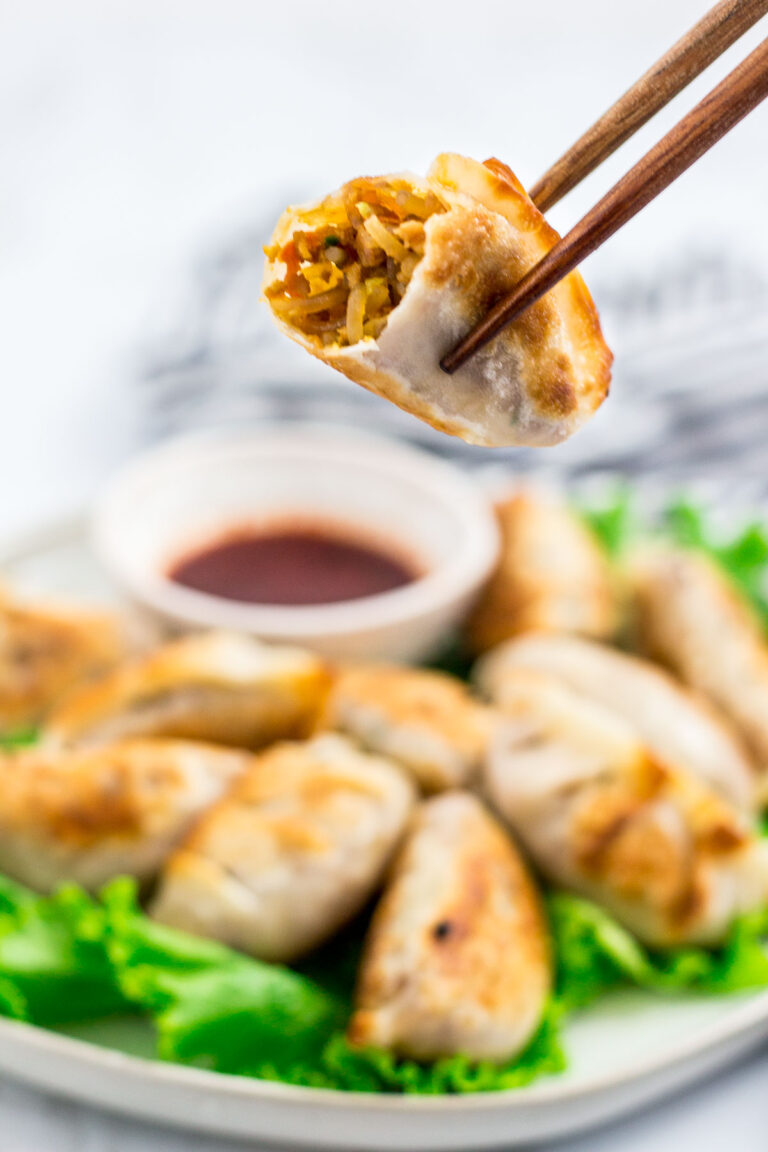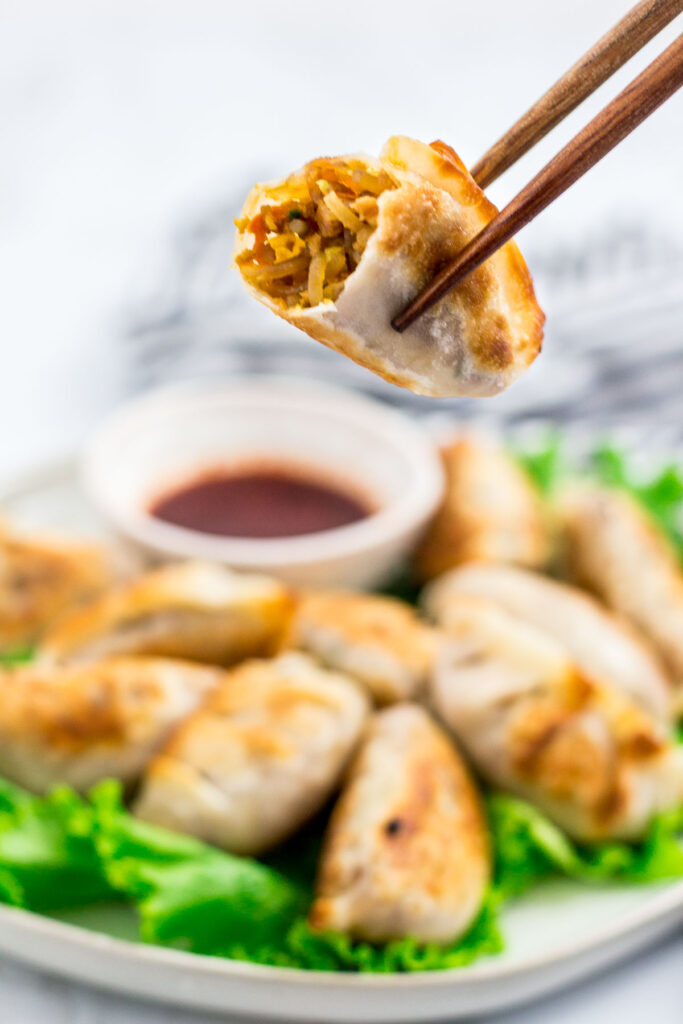 How to enjoy my vegan bulgogi mandu
You can serve this vegan bulgogi mandu as an appetizer for any dish but I also find them to be a great side dish! You can serve these with the following dishes to make your meal extra special!
Did you enjoy this recipe? Don't forget to check out my other mandu recipe (vegan friendly) - Homemade Korean Veggie Tofu mandu!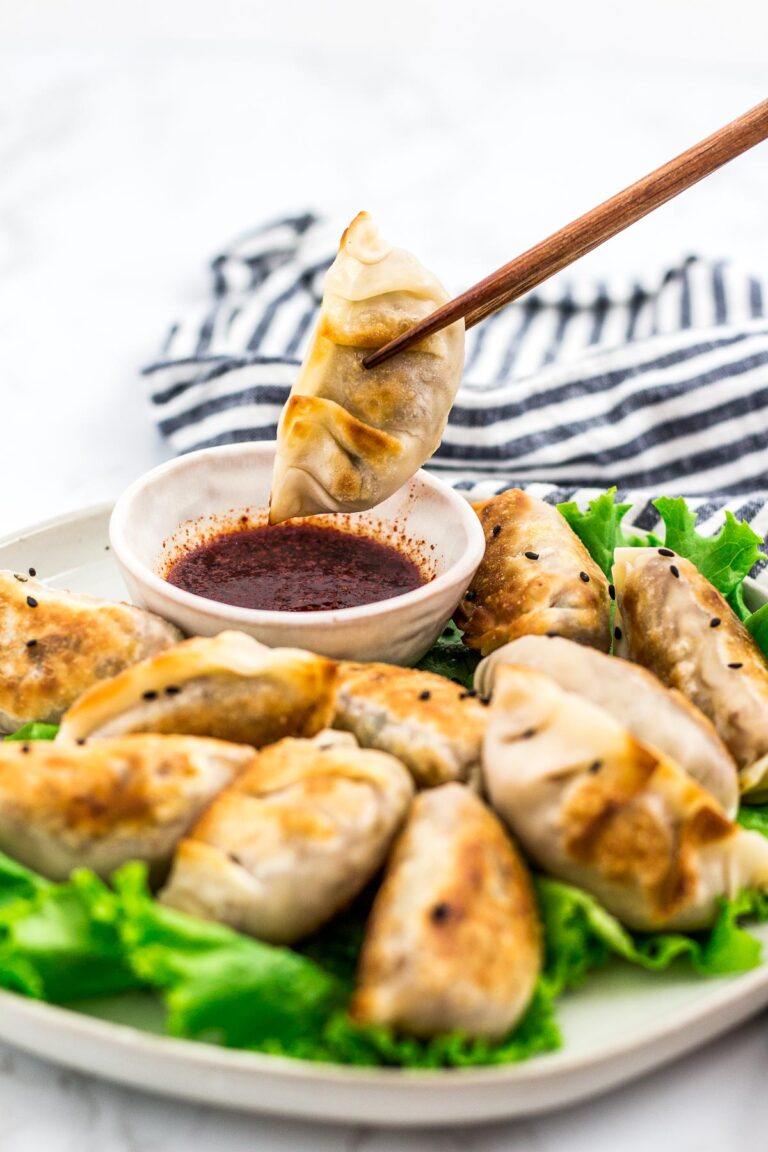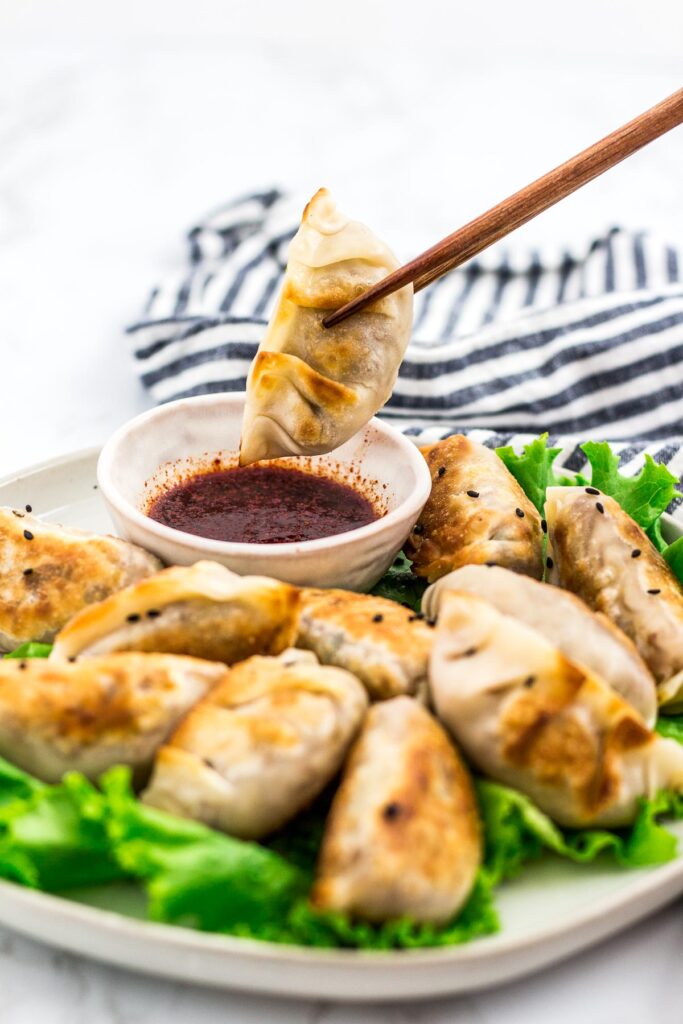 Print
Vegan Bulgogi Mandu/Dumpling Recipe
How to make Vegan Bulgogi Mandu/Dumplings - My vegan version of Bibigo Beef Bulgogi mandu copycat recipe! Crowd-pleasing, tasty appetizer!
Author:
Prep Time:

2 hours

Cook Time:

8 minutes

Total Time:

2 hours 8 minutes

Yield:

50

mandu/dumplings

1

x
Category:

Appetizer

Method:

Pan frying

Cuisine:

Korean

Diet:

Vegan
2 cups

of shredded cabbage

½ teaspoon

salt

70g

of Korean glass noodle/sweet potato noodle (dang-myeun 당면)

½ tablespoon

oil

2 cups

Gardein Beefless ground

1

clove garlic, minced

4 tablespoons

soy sauce, divided

1 tablespoon

sesame oil
Dahs of white or black pepper

¼ teaspoon

ginger powder

½ teaspoon

garlic powder

½ teaspoon

onion powder

1 tablespoon

sugar

¼ teaspoon

liquid smoke

3

green onion, minced

2

carrot, grated

1

package Mandu/dumpling wrappers (

50

pieces)
Instructions
For mandu filling
In a colander, add shredded cabbage and sprinkle salt on top. Gently toss them together and set aside while you prepare other ingredients.
Boil water and cook the glass noodle according to the package (I cooked mine for 8 minutes). Drain and rinse under cold water. Squeeze out all the water and transfer it to a big bowl. 
Using kitchen scissors, cut the noodle into very small pieces.
Add the grated carrot and green onion to the bowl. 
In a small bowl, mix together minced garlic, 1 tablespoon of soy sauce, sesame oil, white or black pepper, ginger powder, garlic powder, onion powder, sugar, and liquid smoke. It should resemble a loose paste. 
In a frying pan, add the oil and beefless ground. Cook for a couple of minutes until the ground is no longer frozen. Add the mixed sauce to the ground and continue to cook until everything is well mixed. 
Turn off the heat and add the bulgogi seasoned ground to the vegetable and noodle mixture. 
Squeeze out all the water from the shredded cabbage. Chop the cabbage into small pieces and add to the rest of the ingredients.
Add the rest of the soy sauce to the mixture and mix until everything is well incorporated. 
For mandu (see the photos in the post above)
Wet the edge of the wrapper with water.
Add about a heaping tablespoon of filling in the middle.
Fold the dumpling in half without sealing them completely but pinch the middle part together. This helps the filling to be not spilled out.
Carefully fold the bottom part of the wrapper towards the center while pinching the top part of the wrapper together so they are sealed together.
Repeat the process on the other side (folding it towards the center). 
Pinch the edge of the sealed mandu once more to secure the fillings. 
Repeat until you use up all the fillings and wrappers. 
For cooking mandu (Pan-frying method)
Heat about a tablespoon of oil on a non-stick pan over medium heat.
Add the mandu to the pan and cook for about 3 minutes or until it's golden brown. 
Flip them on the other side and continue to cook for a couple more minutes. 
Once the other side is golden brown, cook the last side until it browns. 
Serve right away.
Notes
If you do not have liquid smoke, you may omit them. I use this ingredient to mimic the smokiness of the meat but it is not necessary.
You can freeze the mandu in the freezer. 
When cooking frozen mandu, you can cook them a little longer but no need to thaw them. 
Please read the Frequently Asked Questions about Mandu section above to get more information
Keywords: vegan bulgogi mandu, vegan mandu, mandu, bulgogi mandu, dumplings, gyoza, Korean recipe