Chuseok Food Recipes - Check out these tasty vegetarian and vegan-friendly recipes to celebrate Chuseok (Korean Thanksgiving Holiday) here!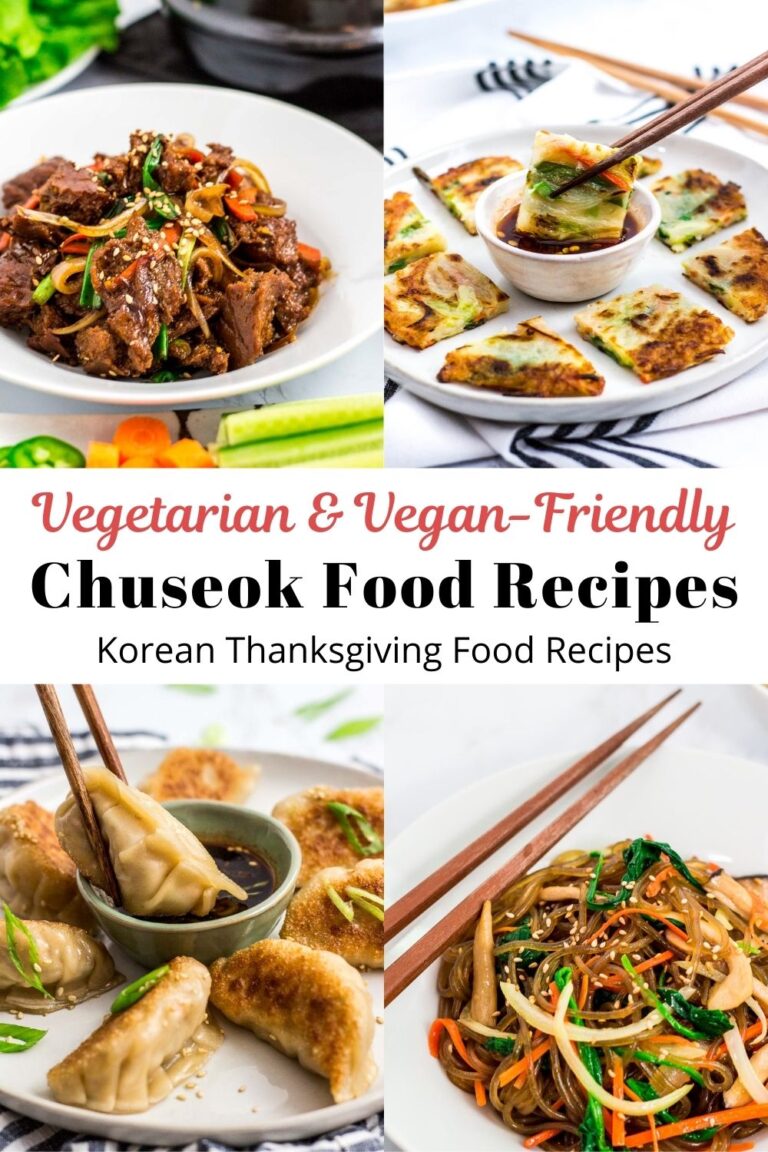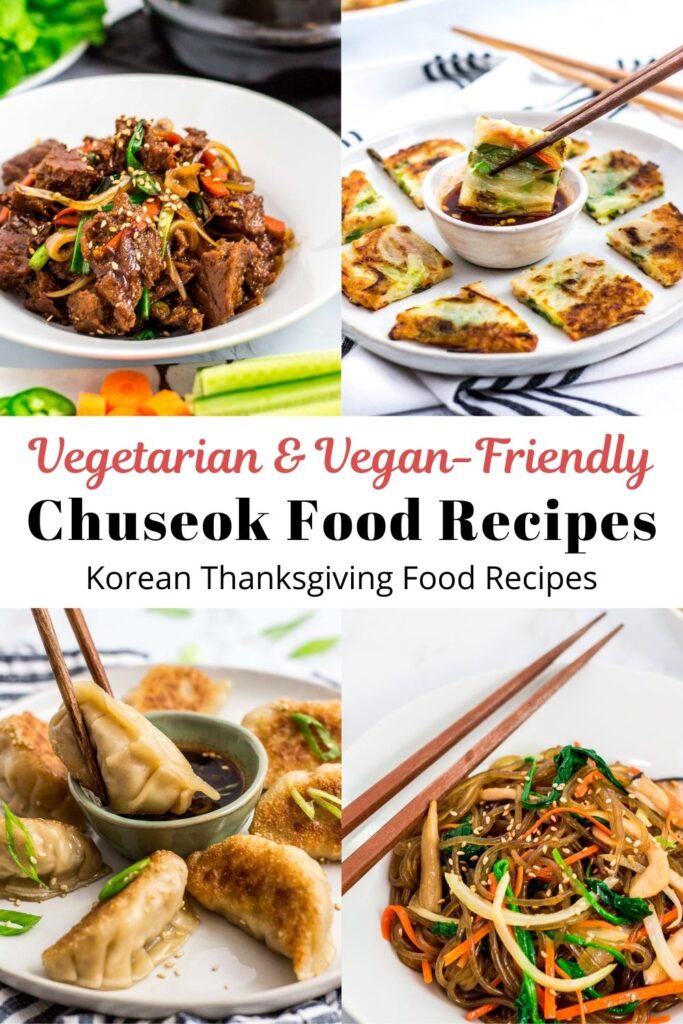 What is Chuseok 추석?
Chuseok 추석 is also known as Han-ga-wi 한가위 which translates to "Autumn eve." Korean chuseok is a harvest festival that is very similar to American Thanksgiving. In fact, Chuseok is often referred to as Korean Thanksgiving. It is one of the major holidays in Korea that is celebrated on the 15th day of the 8th month of the lunar calendar on the full moon.
Frequently asked questions about Chuseok/Korean Thanksgiving
When is Chuseok?
In 2021, Chuseok is September 21st. Because this holiday is based on the lunar calendar, the date changes every year.
Why do Korean celebrate Chuseok?
Traditionally, Korean celebrated Chuseok to thank their ancestral spirits for a successful harvest and to ask for another success in the upcoming year. However, in contemporary Korea, family is gathered to celebrate the blessings of the past year.
How do Korean celebrate Chuseok?
Many people travel to their hometown and/or visit the cemetery where their ancestors are buried to pay respect. It is a holiday of families being gathered and celebrate their blessings of the past year.
What do Koreans eat during Chuseok?
There are many dishes that people prepare to celebrate Chuseok (such as Bulgogi, Galbi (Korean beef ribs), Jeon (Korean vegetable pancake or fritter), Japchae, Namul (side dishes for making bibimbap), etc). However, songpyeon is specific to Chuseok. They are half-moon shape rice cakes filling with grains, nuts, and sweeteners such as honey or sugar.
Chuseok Food
Usually, many chuseok foods involve cooking meat or seafood. However, these are the dishes that you can make for vegetarians and vegans.
Chuseok Food - Main dish
Japchae is one of the traditional party food that makes an appearance on any holidays or parties in Korea. It is sweet, savory, and filled with many healthy vegetables.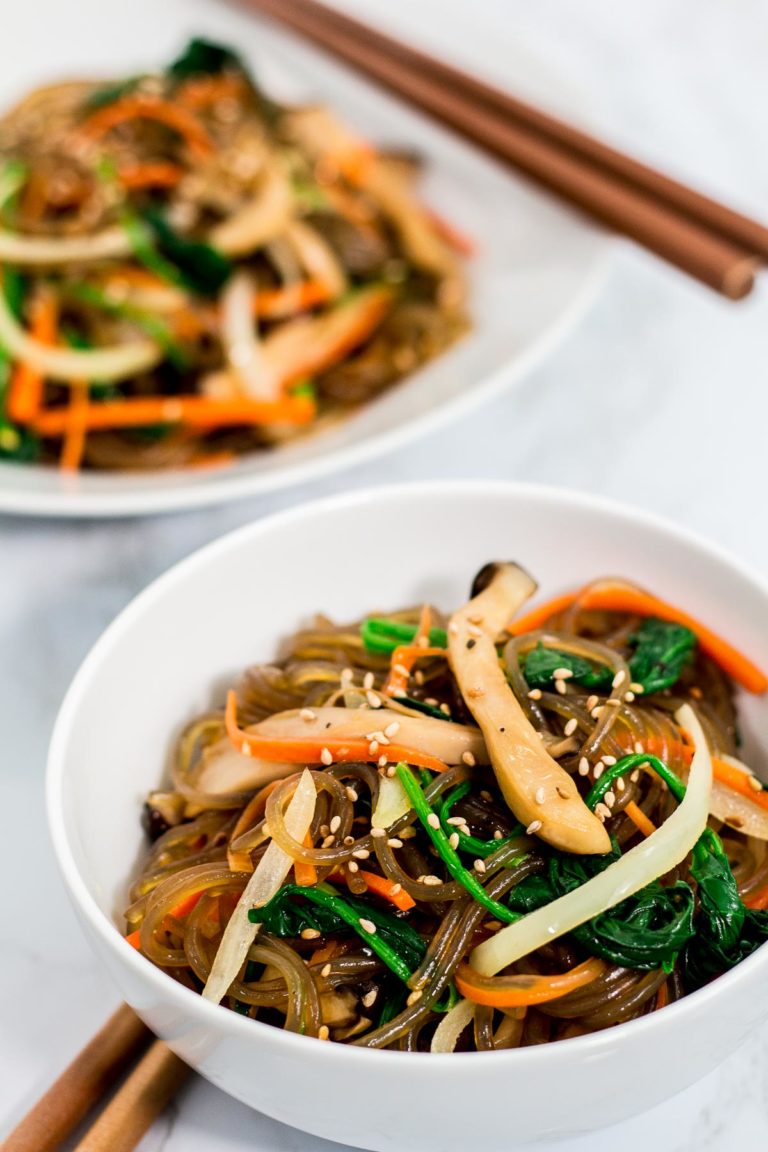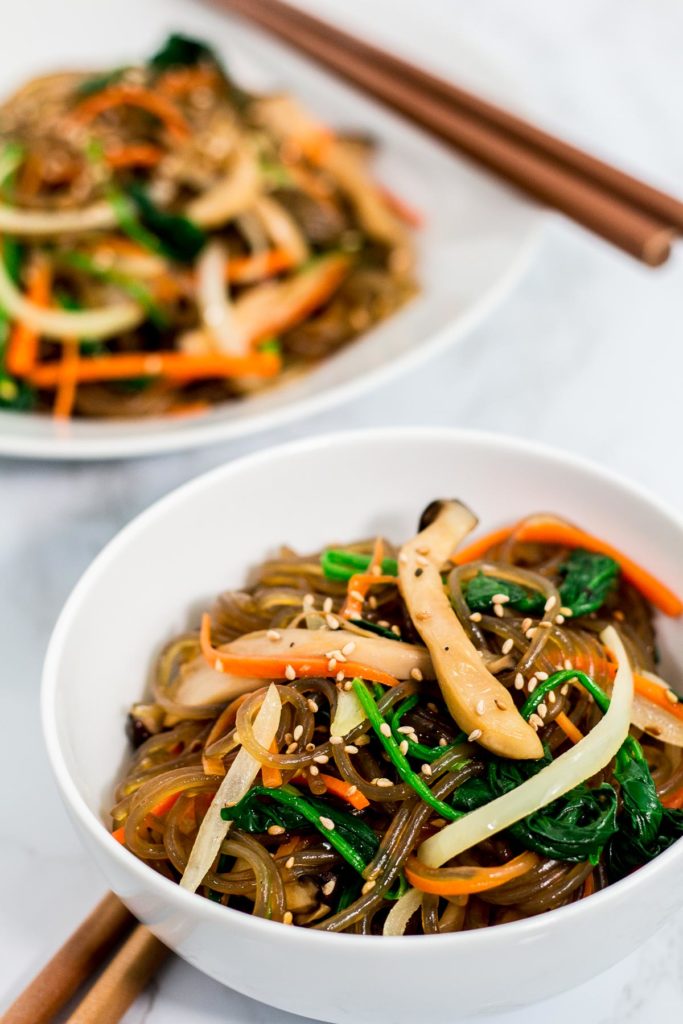 2. Vegan Bulgogi (with seitan)
Bulgogi is one of the most well-known Korean dishes. Beef is the traditional ingredient to prepare bulgogi. In place of beef, I use homemade seitan to re-create the dish. This is not only appropriate for Chuseok food, but it is also a perfect dish to make for your Korean BBQ dinner!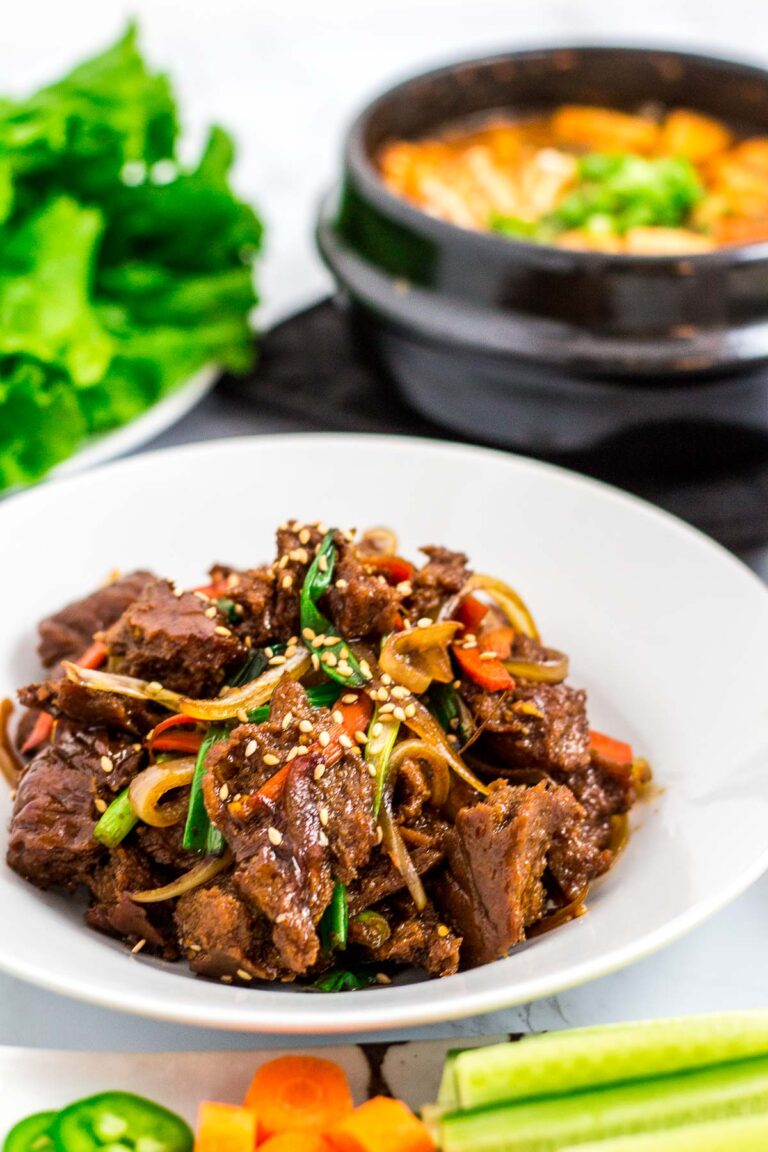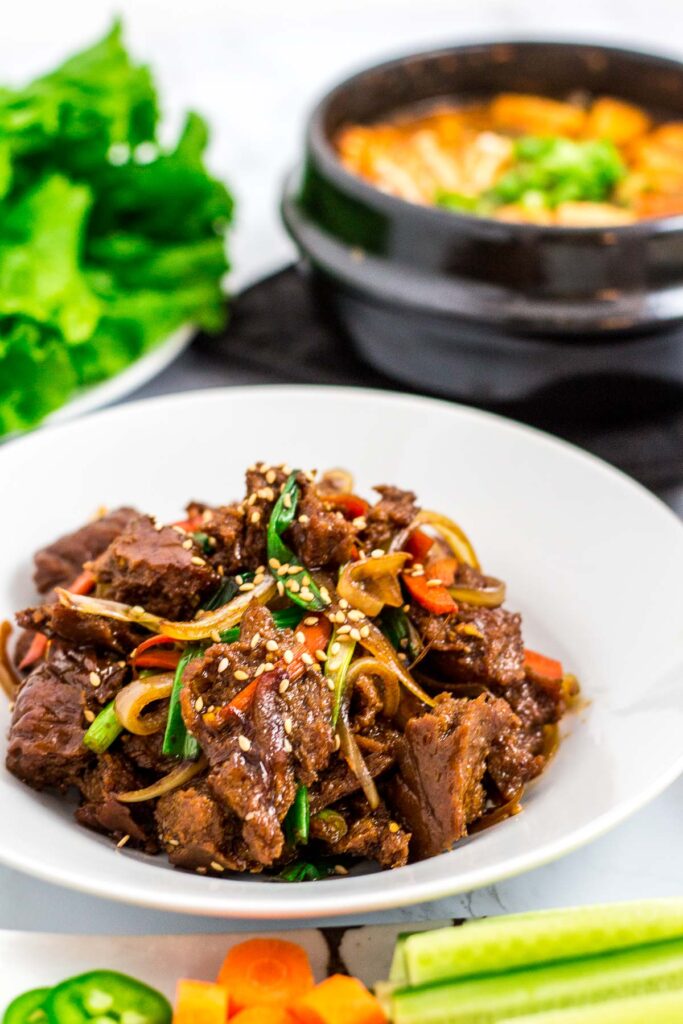 If you don't have time to make your own seitan to make bulgogi, here is an easier option to enjoy the full flavor but with so much less work. It is making bulgogi ground using store-bought plant-based meat. You can easily add this to bibimbap or serve it as one of the main dishes.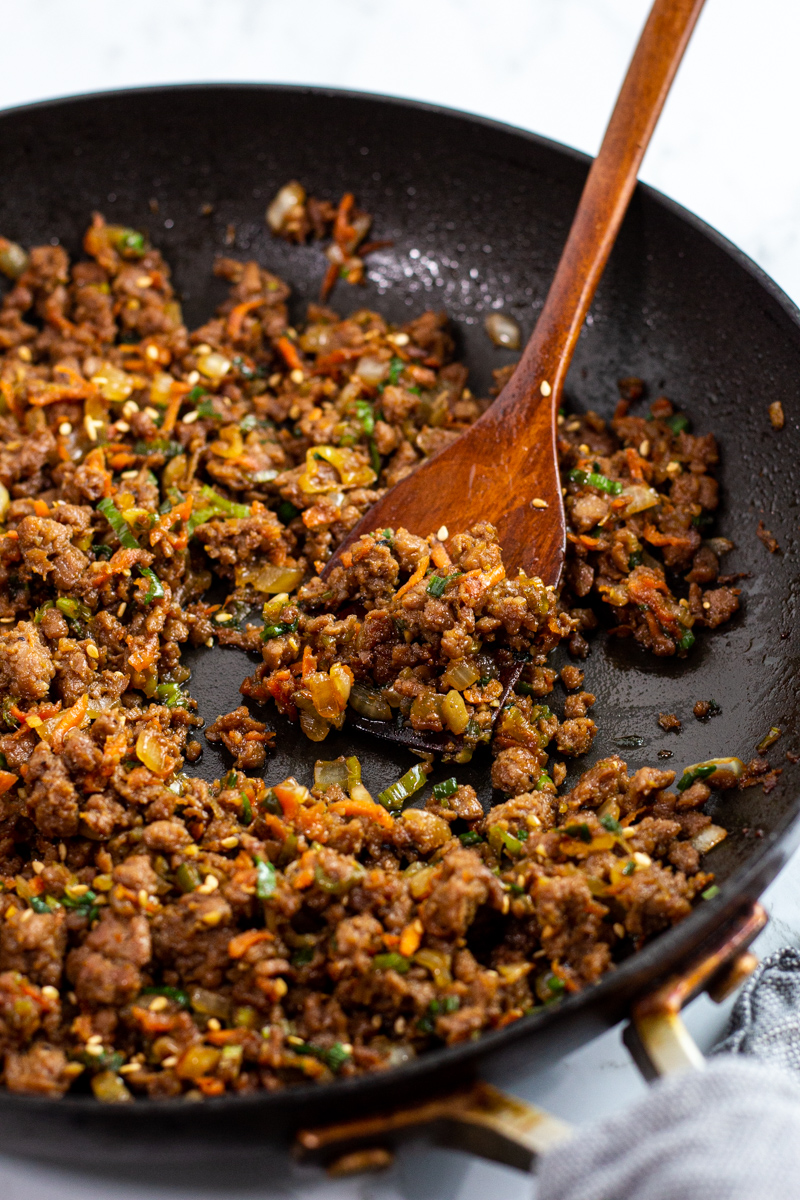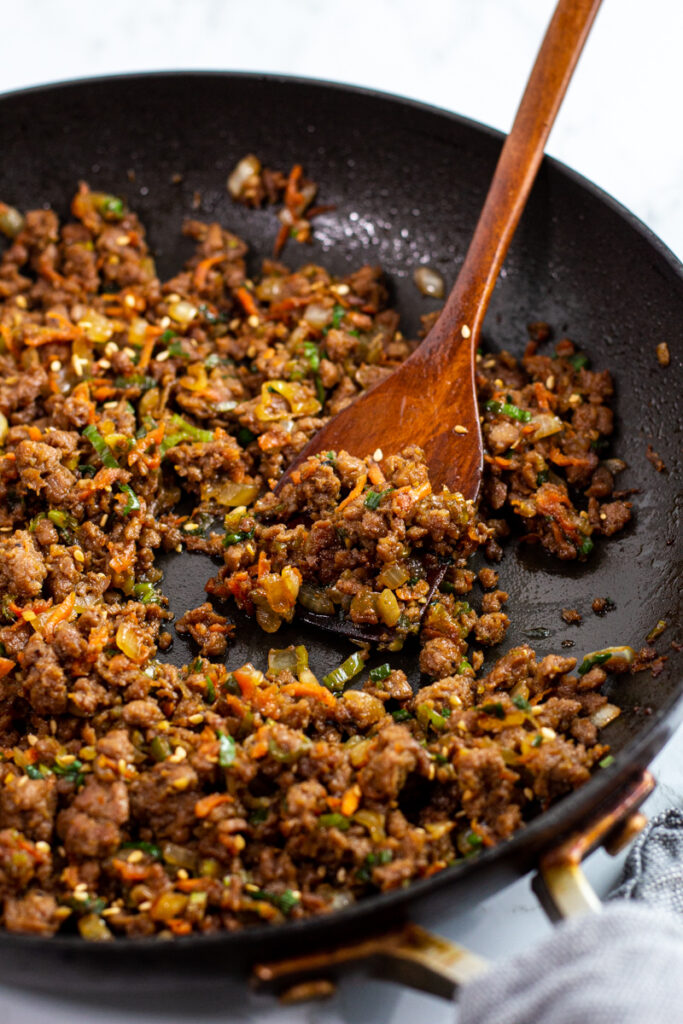 Traditionally, all the side dishes to make bibimbap are some of the dishes that you prepare for the ancestral rituals. Instead of putting everything together in a bowl to make the bibimbap, you would just enjoy them separately as side dishes. However, it is very common to make bibimbap in modern days in Korea.
Chuseok Food - Side dish
This is rather an unfamiliar ingredient to many Americans but very familiar to many Korean. It is one of the traditional ingredients in making bibimbap. It has a very unique texture with a slight bitterness that will have you coming back for more!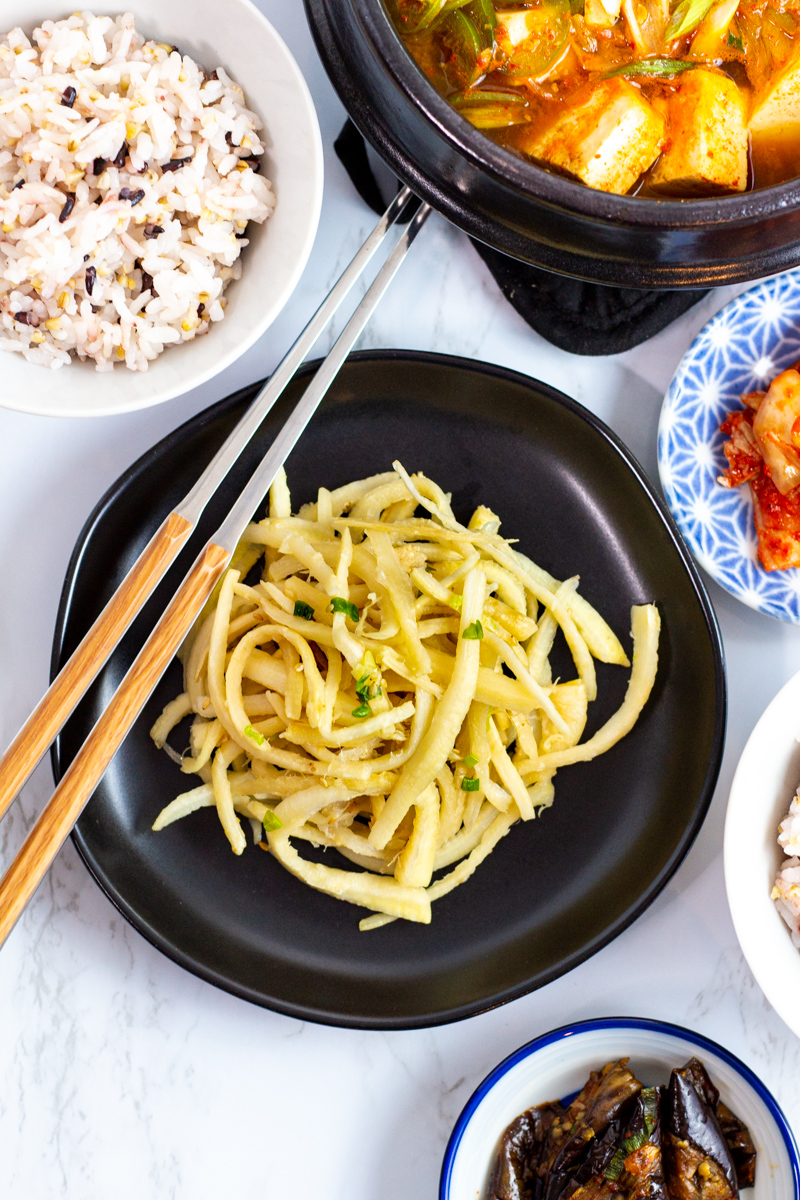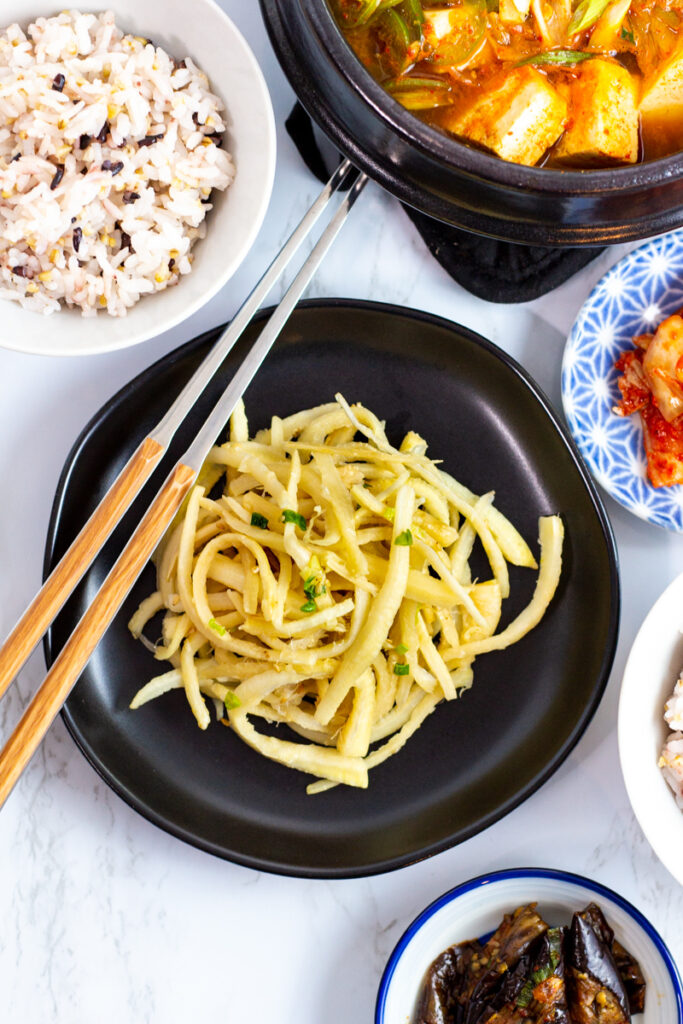 This is also many people's favorite Korean dish. Although people are familiar with this dish as their favorite Korean appetizer, it is actually one of the main side dishes during holidays in Korea. This savory pancake is full of delicious vegetables. It is crispy on the edges and tender in the center.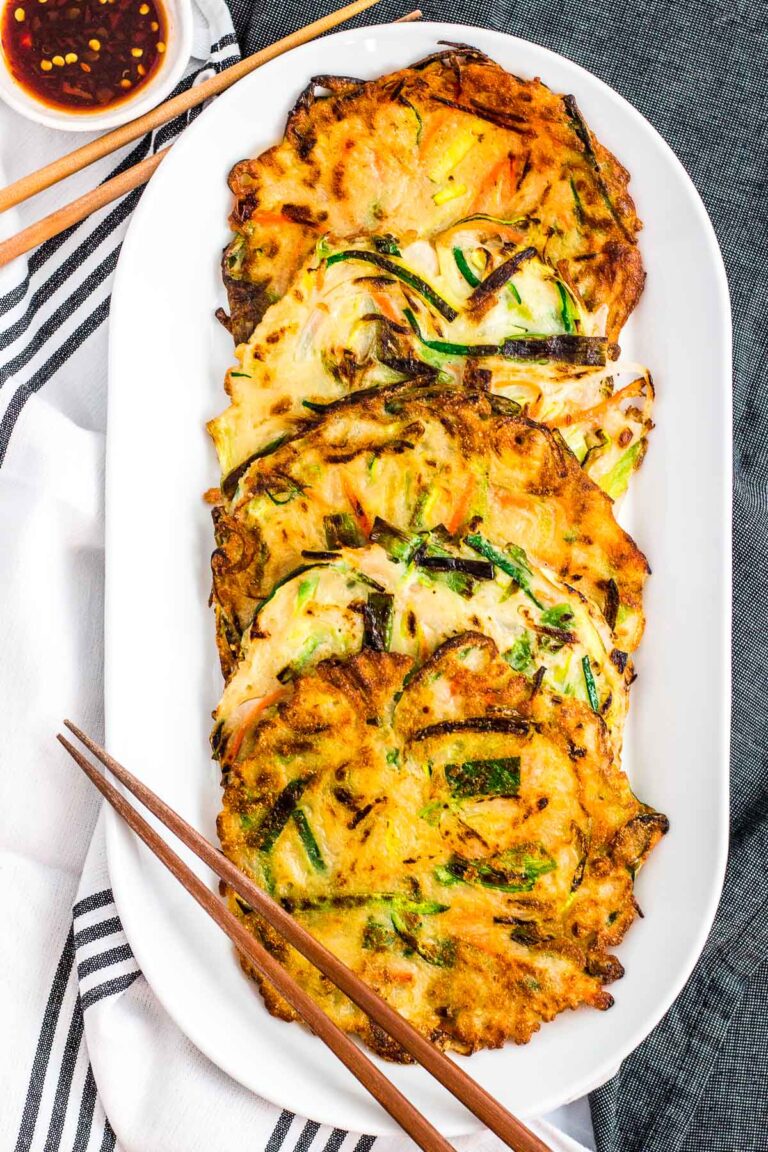 3. Mandu (Korean Dumplings)
I have two mandu recipes you can make for Chuseok. One is veggie tofu mandu (one on the left) and the other is vegan bulgogi mandu (one on the right). Many people think of mandu as being Korean New Year food but it is not uncommon to serve them during Chuseok as well.
Chuseok Food - Spicy dishes
Although spicy dishes weren't served during the ancestral worship rituals, spicy foods such as kimchi were served during mealtime. Here are some dishes I think you'll love to go with the rest of the chuseok food.
Any Korean meal isn't complete without a serving of kimchi! Whether you are serving fresh kimchi or flavorful fermented ones, they will go great with any Korean dishes!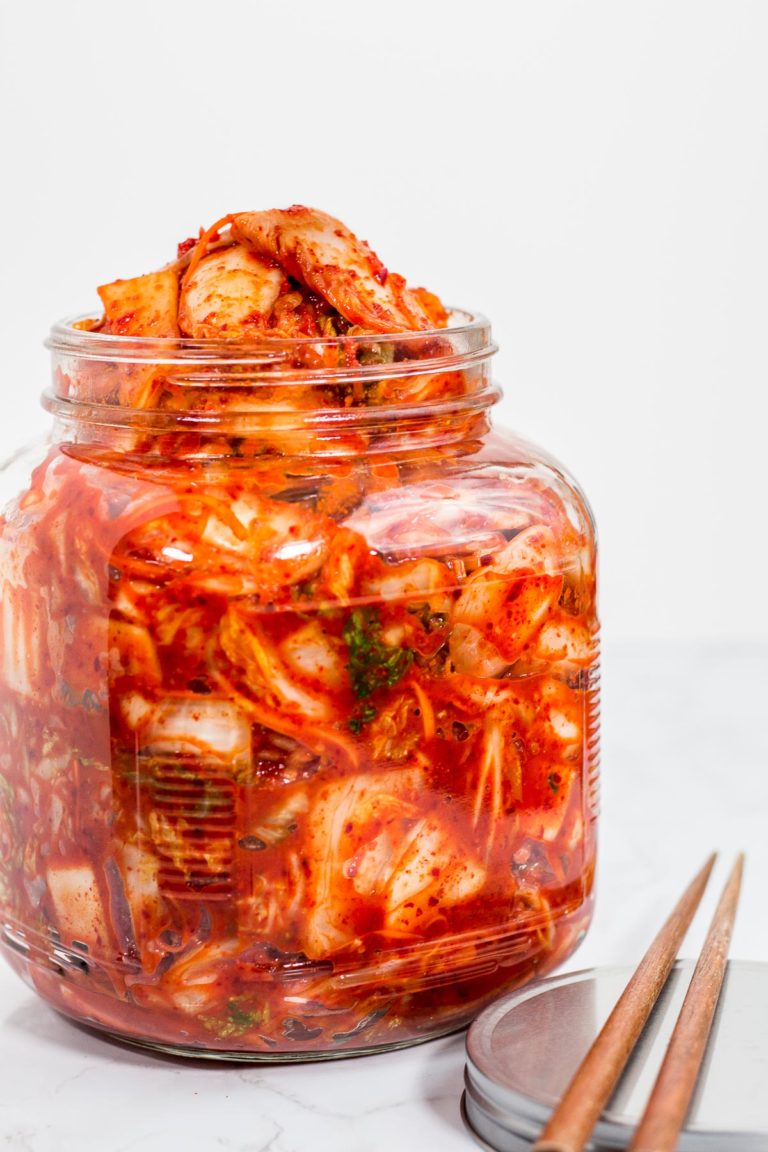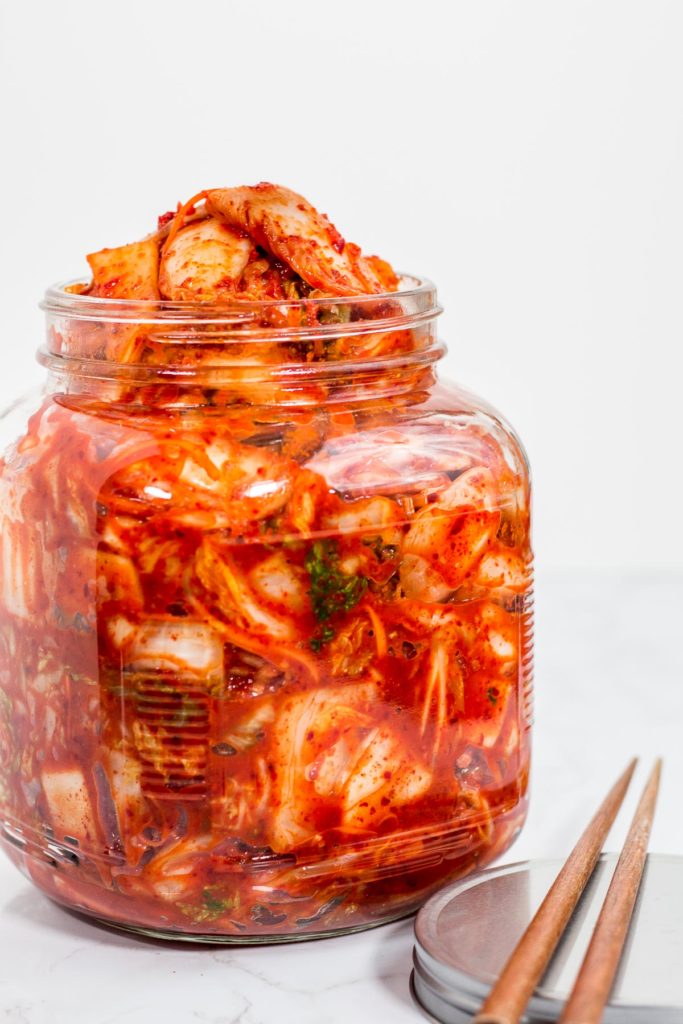 If you have plenty of sour, fermented kimchi, you can make a Kimchi pancake to serve alongside the vegetable pancake. They are spicy, tangy, and savory and make a surprisingly great side dish!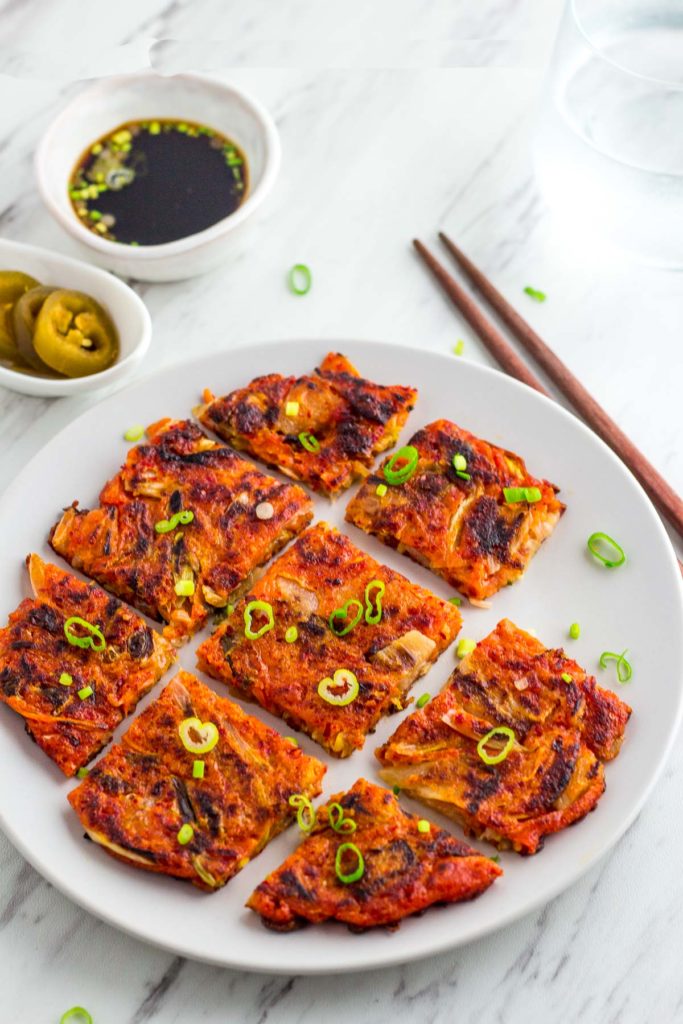 3. Spicy braised potato with shishito peppers
This is a vegan-friendly dish that you can whip up in 20 minutes! Potatoes, shishito peppers, onion, and carrots are braised in a delicious sauce that is both sweet and spicy. This is not only a great side dish that can be served on any occasion!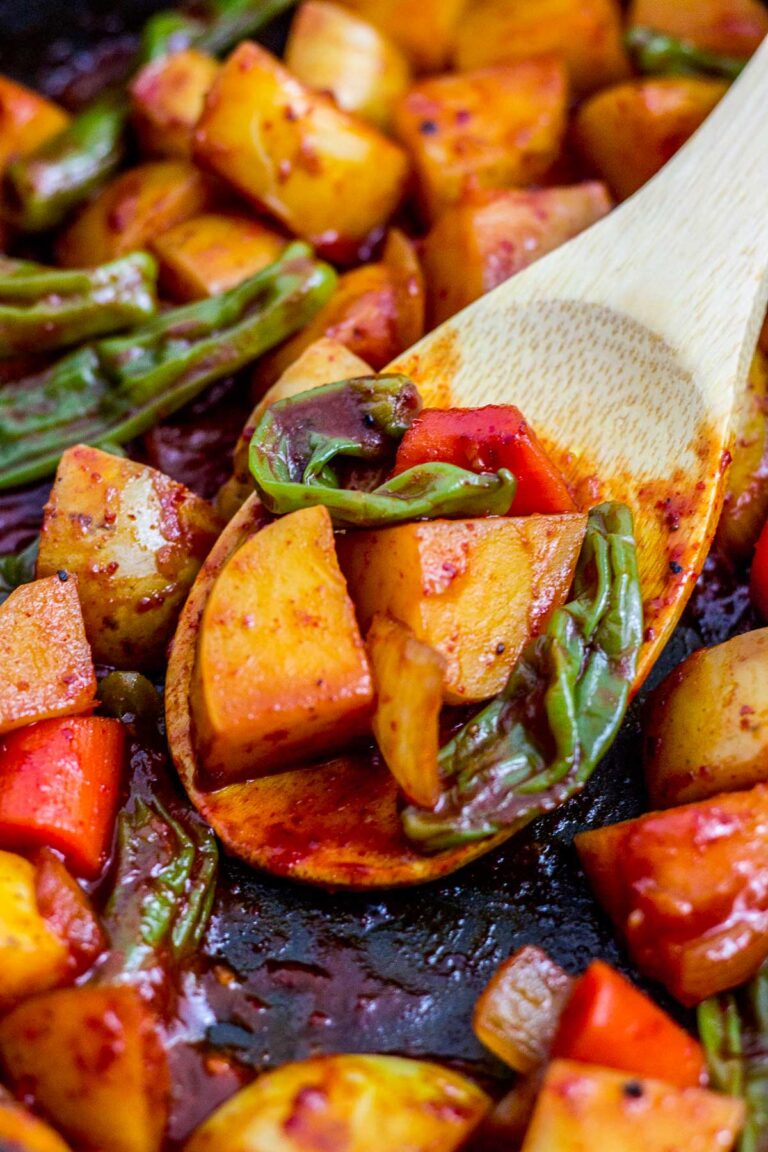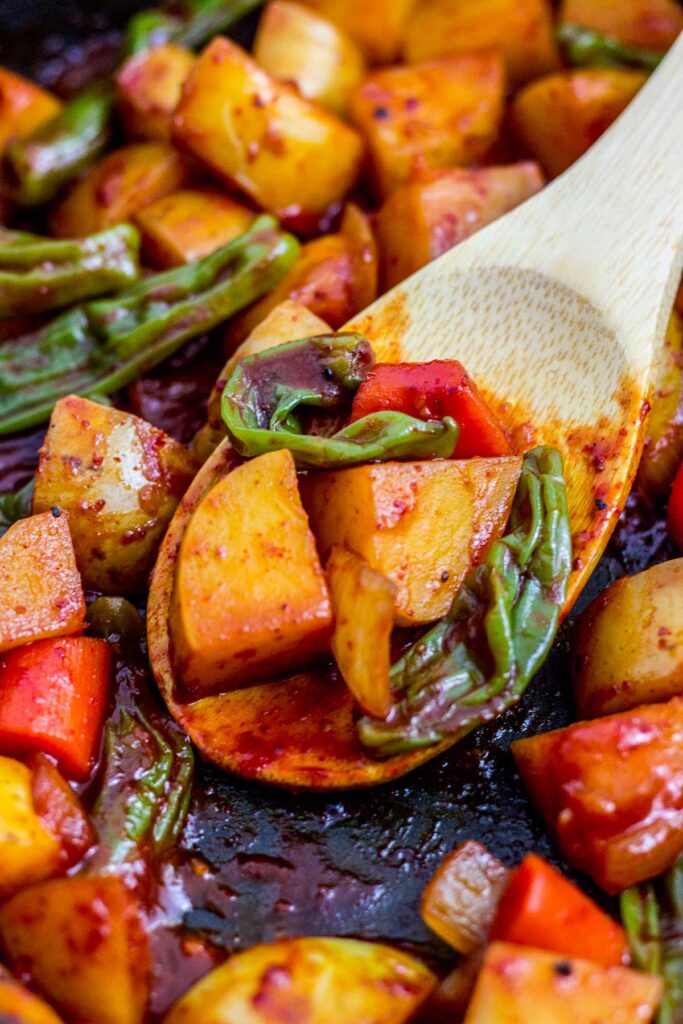 Fun Facts about traditional Chuseok food
Traditionally a big meal is prepared to perform ancestral worship rituals. And there are some rules in the preparation of the food and how to set the table for the ritual. However, people are no longer following these rules as much in modern days.
Garlic and anything spicy were not used in prepartion of the food. They believed that the spirits of our ancester did not like garlic and spicy food.
People gathered in front of the table and pay their respect to their ancesters. Thus, you place the rice and soup far back on the table. They believed that's where the spirits would sit and enjoy the meal.
You stick a spoon in the middle of the rice during the ritual. This is to let their spirits of the ancester know the meal is for them. This way of presenting a meal is only performed for the spirits of the ancester. Therefore, it is extremely rude to stick a spoon in the middle of the rice any other time.